adwoa aboah speaks out about being true to yourself
"If I'm my real self and I go out there and show you that this is me, and you don't like it, I'm not really that bothered because at least I was true to myself."
|
19 February 2018, 12:44pm
This article originally appeared in The Radical Issue, no. 350, Spring 2018.
What does it mean to be a model? i-D has always believed in the power of speaking out. Today, the voices of models are more vital than ever. Here, Cameron Russell, Adwoa Aboah, Dara Allen, Christy Turlington, Anja Rubik, Hanne Gaby Odiele, Teddy Quinlivan, Paloma Elsesser, Liya Kebede, and Doutzen Kroes champion their passions, causes, fights, and beliefs.
"Gurls Talk is my baby, the thing that gets me up in the morning. It was the first place that I was able to share my story and has now become this platform where other women and girls are able to share theirs. It's a platform that shows you that you're not the only person in the world that might be feeling that particular way, even if you think you are. You're able to realize that you're not alone. From 13 to 18 I had brilliant girlfriends, an amazing mom and dad and a beautiful sister, but there was something that was missing. I hadn't been taught how to be honest about my emotions and feelings.
I needed a place like Gurls Talk, a place where I could talk about how much I fancied that one boy, and how much I miss my parents, how I hated being at boarding school. All these quite menial things that over time built up and became something so big, far too big for me to even control anymore. I completely distanced myself from people. My relationships were deteriorating and it was all because I had let these small things bubble and bubble until they were just overwhelming. Getting out of that cycle comes day by day. I still have to work on it. Now I'm more open and more driven. I'm embracing rejection and everything that comes from putting yourself out there in the world. If I'm my real self and I go out there and show you that this is me, and you don't like it, I'm not really that bothered because at least I was true to myself.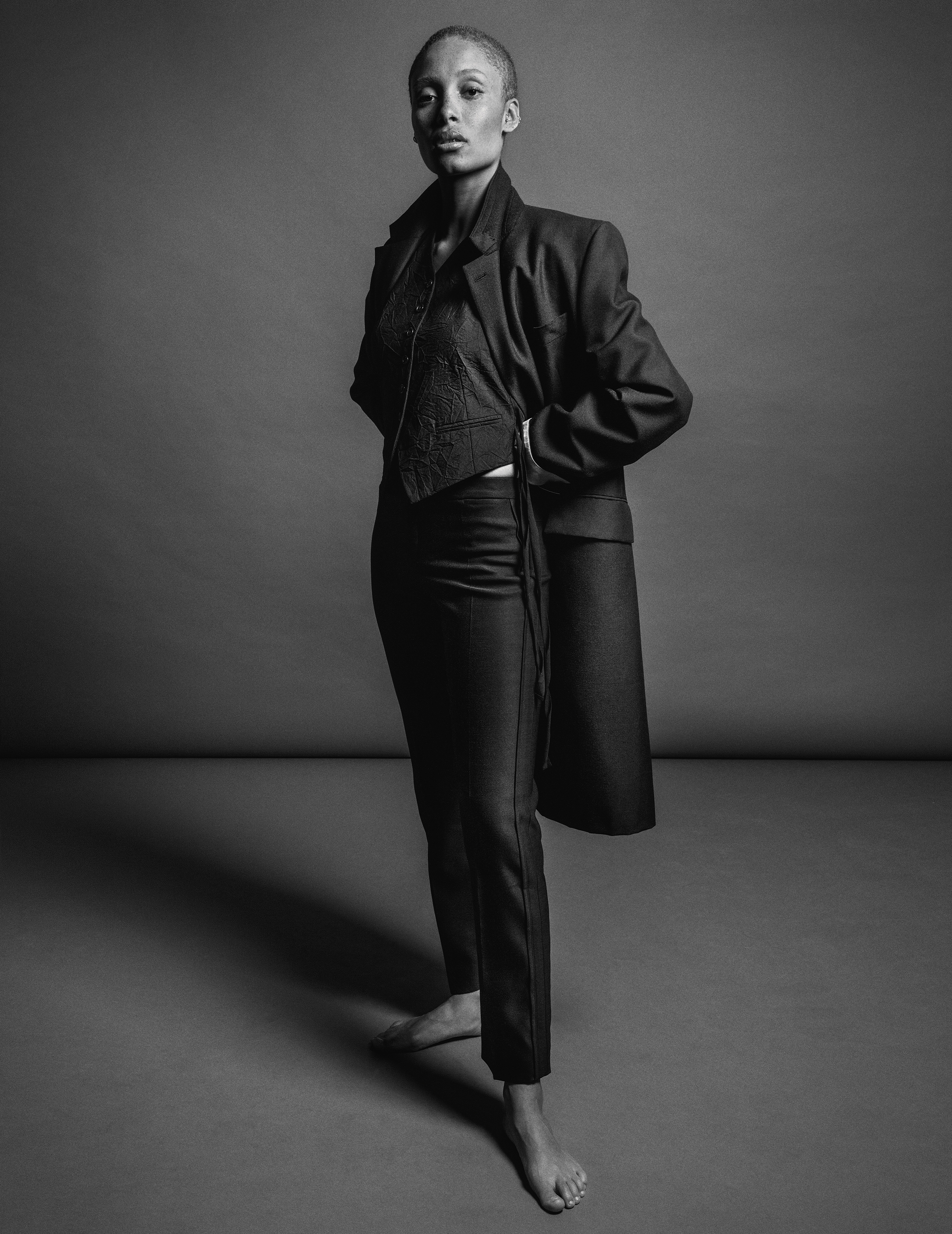 There are so many things I'd love to change about the fashion industry. There are so many grey areas, so many stories of sexual assault, it makes me so sad to even think about them. We need to first embrace everyone, listen, and not shame any victim. I truly believe there should be a minimum age for modeling. When I was 17, 16, I did bits and bobs but school was my main priority. But for someone who is sending money home, you don't know who you are. I'm still finding out who I am and I'm 25.
As a positive I think the industry has become more accepting of non-traditional beauty. It makes me really happy because there are girls that are unconventionally beautiful and they're looking through magazines and they're swiping through Instagram and they're seeing someone that looks like them."
Credits
---
Photography Inez & Vinoodh
Fashion director Alastair McKimm
Hair Christiaan. Makeup Kabuki at Kabuki Magic using M.A.C Cosmetics. Nail technician Daria Hardeman at Starworks using Deborah Lippmann. Lighting director Jodokus Driessen. Digital technician Brian Anderson. Photography assistance Joe Hume. Studio manager Marc Kroop. Styling assistance Maggie Foster, Desiree Adejde and Umi Jiang. Hair assistance Taku. Make-up assistance Yumi Kaizuka, Michael Chua and Satsuki Soma. Nail assistance Gladys Castillo. Production Tucker Bibilis at VLM Productions. Executive production Stephanie Bargas at VLM Productions. Production co-ordination Eva Harte at VLM Productions. Production assistance John Nadnazi and Michelle Murray. Casting director Samuel Ellis Scheinman for DMCASTING. Models Christy Turlington at BMC. Liya Kebede at IMG. Cameron Russell at The Lions. Doutzen Kroes, Anja Rubik and Adwoa Aboah at DNA. Teddy Quinlivan and Hanne Gaby at Women. Paloma Elsesser at Muse. Dara Allen at Heroes. These interviews have been condensed and edited.