london fashion week will host a voguing ball in tribute to judy blame
The ball will be orchestrated by Judy's frequent collaborator Gareth Pugh.
|
07 September 2018, 10:22am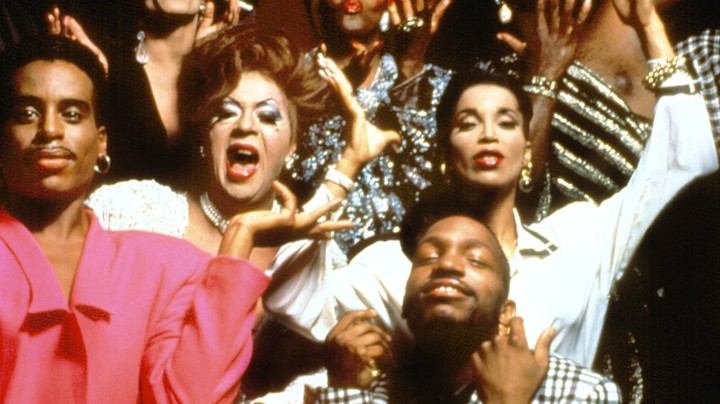 Still from Paris Is Burning.
When creative visionary Judy Blame died earlier this year, the fashion world mourned the loss of an icon. Now, Judy's incredible creativity, legacy and influence will be celebrated with a voguing ball at this year's London Fashion Week.
Orchestrated by frequent collaborator Gareth Pugh, and with an enviable judging panel that includes Kim Jones and Munroe Bergdorf, the ball will see contestants don costumes influenced by Judy's work before competing together on the runway. It's a fitting tribute to an iconoclastic personality -- a way to pay homage to the late artist's incredible legacy in a positive, energetic way. "I had been looking for a way to pay tribute to him that wasn't sad or elegiac," Gareth Pugh tells Vogue. "Something more high voltage, like an anarchic high Mass."
It certainly sounds high voltage -- the ball will see DJs fly in from across the world to perform at the event, which will see London's Old Selfridges Hotel, magically transformed into a ballroom reminiscent of voguing's New York roots. Voguing is inextricably linked to the queer POC ballroom scene in the city, specifically in Harlem, where drag queens and performers competed in various categories of dress.
"I'm excited to see Matyous LaDuree MC, and to see what the performers come up with", Gareth says. "People tend to fetishize Judy's early career but with the help of Kasia Maciejowska (author of the book The House of Beauty and Culture) we've made sure that each of the categories in the ball explores Judy's wider legacy; from his influence on pop iconography, to street style and fashion editorial. So there will no doubt be some major ensembles."
This article originally appeared on i-D UK.