yuhan wang celebrates beauty in weirdness with her debut collection
The latest addition to the Fashion East family got her very own coming-of-age moment with her first LFW show, just six months after she graduated from CSM.
|
17 September 2018, 9:45am
Photography Fernando Uceda
Weihai-born, CSM-educated, London-based emerging talent Yuhan Wang is the freshest addition to the fabulous Fashion East family. Languid yet precise, buttoned-up yet undone, prim yet playful, Yuhan built on her acclaimed MA collection to further explore the language of deshabille in her subtly nuanced debut.
"People have a curiosity about what happens 'behind the curtain' and I see that as a metaphor about how we all interact -- what we choose to share and what we choose to hide," she explained post-show as she carefully packed her delicate hand-drawn fabrics. "It's the dialogue of a woman and her self, her inner universe expressed in the outside world. That's how I feel right now. I'm discovering myself and sharing parts of my inner-self." As she made her on-schedule catwalk debut just six months after graduation, this was her coming of age moment.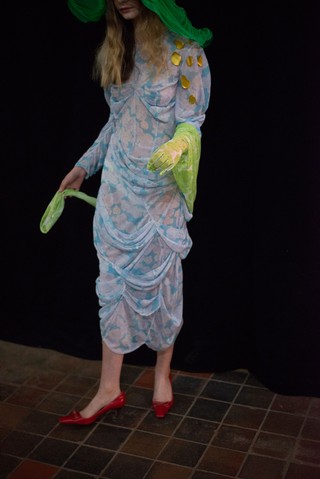 "Beauty with weirdness, softness, delicacy and sensibility," is how she herself describes her work. Growing up in the seaport province of Weihai, it was the poetic work of intimate conversation pieces of Chinese women by the Qing Dynasty artist Gai Qi Hong Lou Meng that first captured Yuhan's imagination and inspired her to draw.
Today, as Nouvelle Vague's cover of Too Drunk to Fuck echoed through the showspace, Gai Qi's women in layers of delicate colour were reimagined by Yuhan. Drawing on period portraits of Regency women as well as the vernacular of Chinese dress, the collection compared and contrasted Asian femininity with western ideals and culture, all the while treading the line between coverage and exposure.