laquan smith's asos collab is for 'all shapes, sizes, genders'
As LaQuan's bold aesthetic becomes available to a new audience, the NYC-based designer talks breaking barriers and shaping culture.
|
01 November 2018, 2:44pm
LaQuan Smith is known as a purveyor of unapologetic confidence by way of fitted dresses and crystal mesh bombers. Dressing the likes of Beyoncé, Lady Gaga, and Rihanna, the NYC-based designer has an impressive list of power women as clients. Now, approached by ASOS to design a capsule collection for the major online retailer, Smith's signature bold attitude will be available to an entirely new audience. He has adapted his fashions to accommodate the site's wider reaching market of consumers, with pieces to be worn across all gender identities and sizes. This project, Smith's first licensing deal, marks an exciting development for his career, and a step closer to creating his own version of an empire à la Ralph Lauren, whom he cites as a driving inspiration behind his business.
"That's what I think is so cool about this collaboration… to have ASOS support my company as small as it is and provide that sort of platform for me is so great," Smith tells i-D. While the collection's striking prints and provocative cuts make a statements in their own right, there is also much to be celebrated about Smith, an independent, queer designer of color, being offered a platform to reach a global market.
In his Long Island City studio, where massive yards of embellished fabrics line the perimeter of the room and the mood board to his spring/summer 19 show leans casually on a wall, LaQuan Smith chats with us about the new project and his early pursuit of fashion.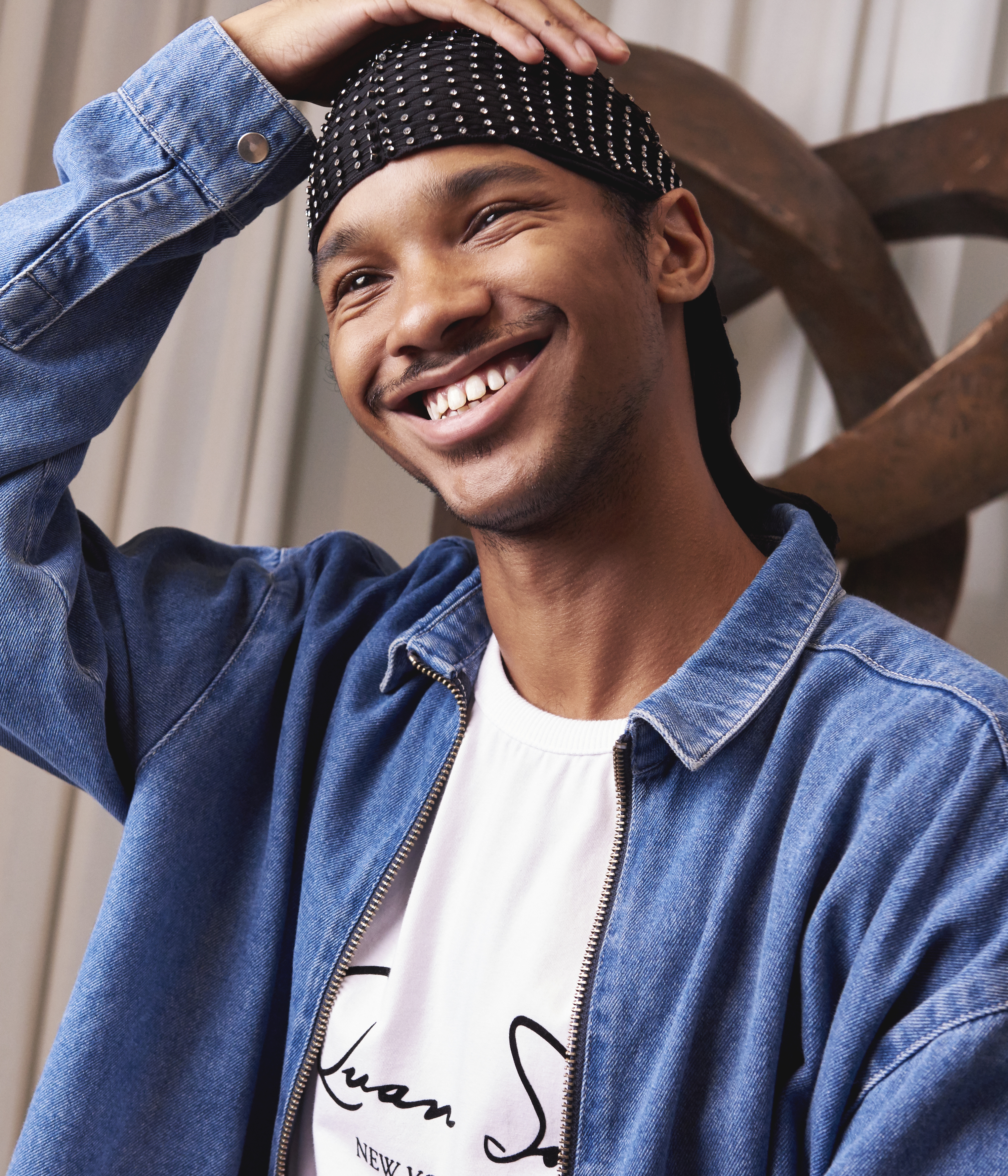 So what was your relationship to fashion growing up? I read that you were surrounded by fashionable women in your family.
I was more flamboyant than the rest, I was never into sports or anything like the other boys. I was always into art, not even fashion, but I just had a natural passion for drawing and illustrating. As I got older, I really developed a sense of women, I was always sketching stick figures and patterns and I just really started getting into that world. I would always say I wanted to be a cartoonist, and do that whole thing, but as I got older, I acquired an appreciation for textiles and fabrics. My grandmother is very big on upholstery and table settings and placements, so I would always help her during the holidays, that was my moment to shine. We'd decorate the tree to the nines! I knew that I had a creative spirit, it was just about going through the journey and finding the channel for that energy. Even then, I had that realization fairly early, I think I was in junior high, that I started designing clothes. I was raised by a lot of women, so I had this perception of what femininity and sensuality looked like. So that whole vision for me was developed subconsciously I guess through them.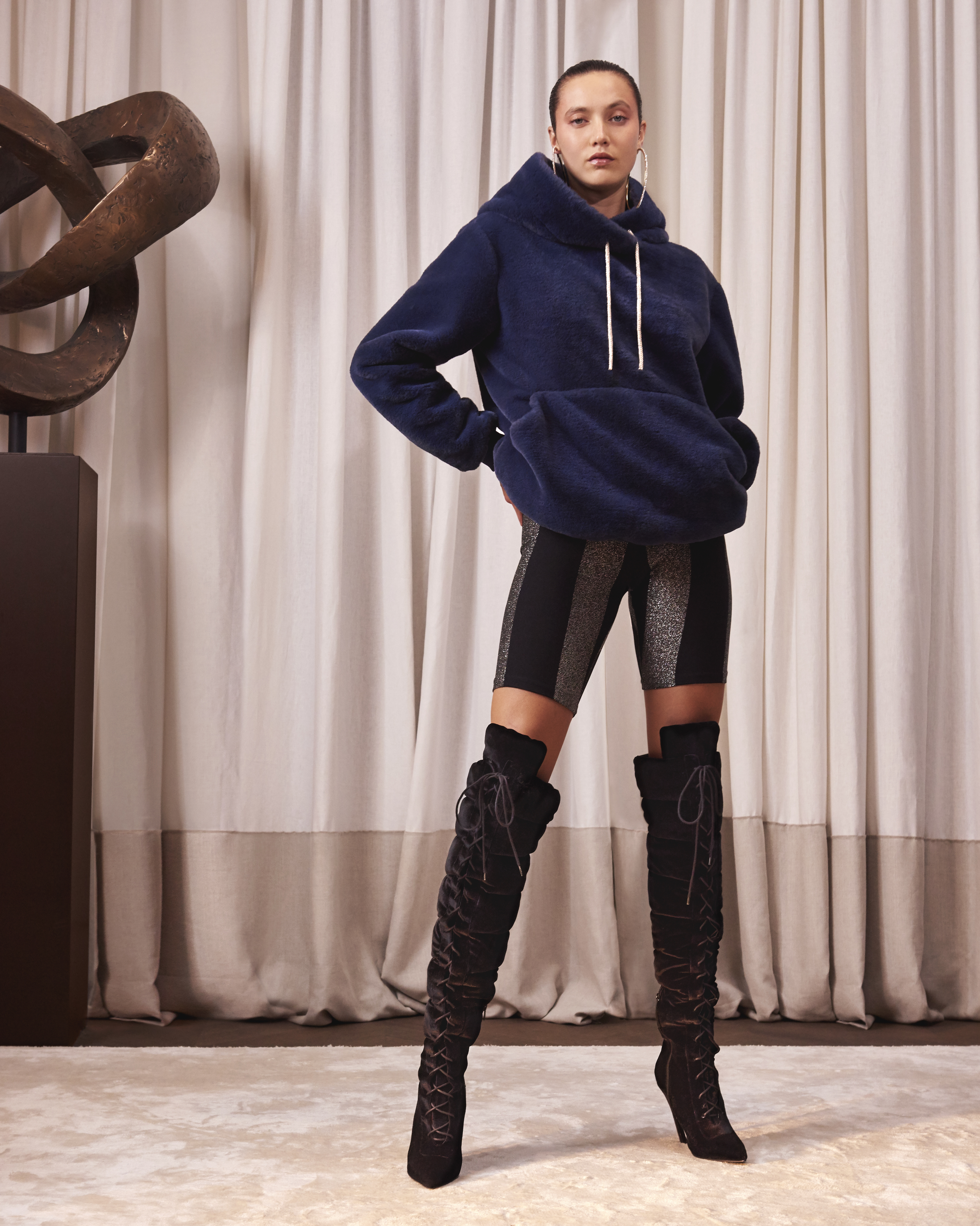 At what moment did you make the conscious decision to pursue fashion design?
It happened really organically for me. What I was told was that I had to go to school, study design, learn the ins and outs, learn the technical aspects of it all, and I did that, and then I didn't get in. I just had my heart set on fashion design. I just knew it. Because that's not what I got at the time, I was sort of rebellious in a way. So after that moment, I was doing what any other 18-year-old was doing. My first job was at Banana Republic, I was doing retail for a while, then I was a waiter, and I also had a job at McDonald's. I was hopping from job to job to job. I was trying to find some stability, and nobody else was helping me do what I wanted to do. I wanted to buy fabrics. Who was going to help me buy fabrics? I gained my own form of independence at a very early age.
And now you have a collection with ASOS, one of the largest retailers in the world! What does this project mean for you?
It's something that's exciting and something to celebrate. I never really thought that something like this would happen. It was just never on my radar. This is an opportunity for other designers like myself to be able to have these incredible partnerships and projects. It's needed for this particular time. It opens doors and breaks barriers. That's what I think is so cool about this collaboration — yes, ASOS is this major, major platform and LaQuan Smith is this young, emerging brand that's really hot and sexy, very New York, very vibrant, but I'm still competing with the fashion houses that have the bigger budgets and resources. My team and I have been working so hard, out of this small office in Long Island City, but we are creating the most beautiful pieces, shaping culture, going viral on the internet. It all happens out of here, this little room. To have ASOS support my company, as small as it is, and provide that sort of platform for me is so great. It paints a bigger picture, tells the story on a bigger scale with a wider reach. It just feels right. This is my first licensing deal, we did shoes, bags, glasses, earrings!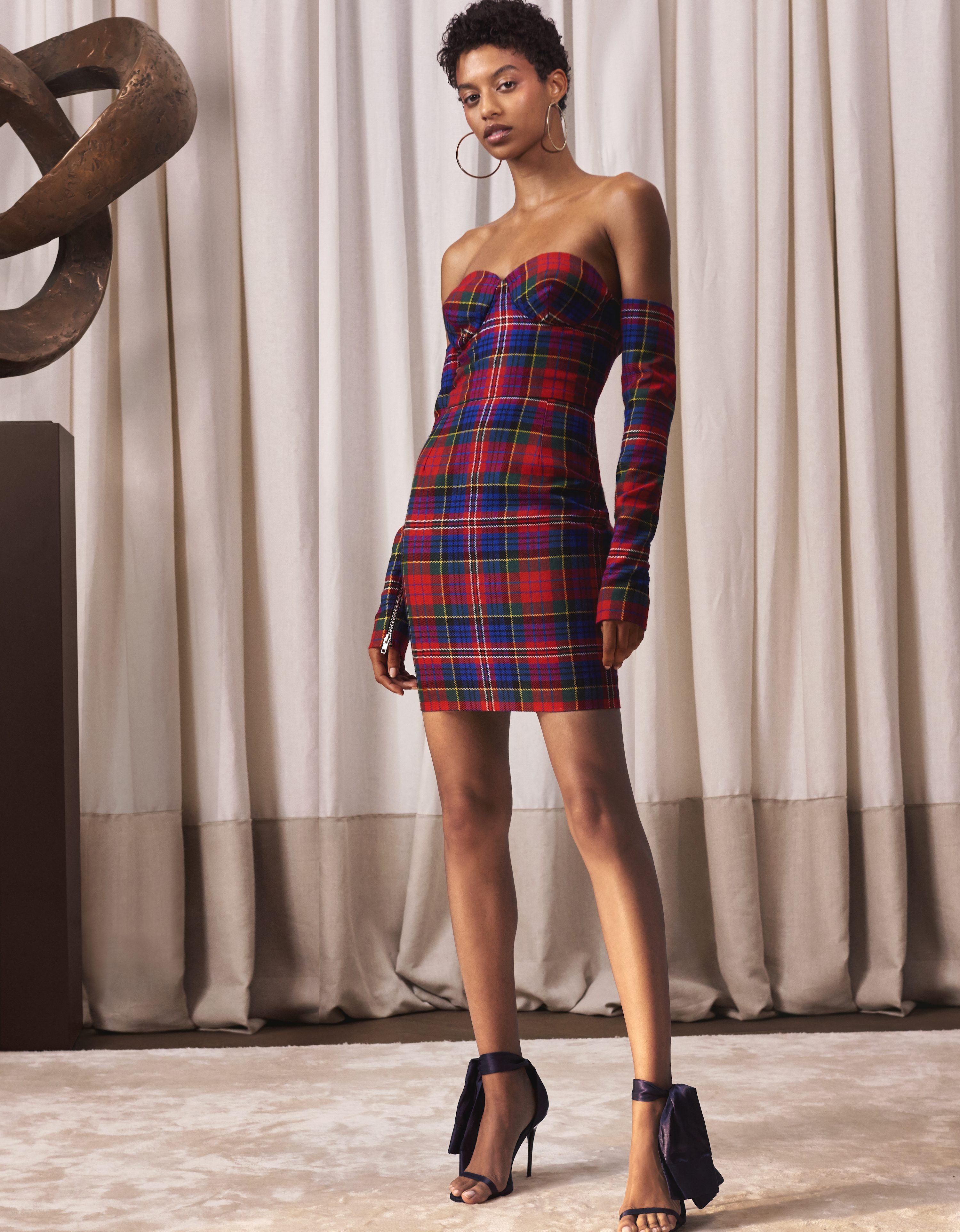 Right, and you mentioned briefly a sense of community that is inherent to your brand. There is a noticeable rise in community and gathering within the industry in New York, coming from labels like Telfar to Chromat. Where do you think that energy is coming from?
I think that it's all a scream for help. We're in the middle of so many social and political issues, but also so many movements. The fashion industry is reacting to it in the way that people are making their decisions [about] who's being selected to do what and be a part of what. I see that there's a bit of progression, but it doesn't feel complete. There's still more that needs to happen, especially in terms of diversity and inclusion. I think that the fashion industry uses that term so loosely. Seeing one black model in a cast of whomever else isn't enough. There are just other ways that we can go about really continuing to break these barriers and making sure that the projects we stand by truly are representative of our communities.
As a designer, I sometimes hate the fact that my introduction is "African-American designer, LaQuan Smith." If you're talking about my work, talk about my design aesthetic, or my success. Why does my race have so much to do with what I do for a living or for the industry or for the culture? At least as an introduction, it just puts you in a box and sets the tone. The way that we write about each other, the discourse, who we decide to bring into the LVMHs and the CFDAs, it's all a part of it, you know?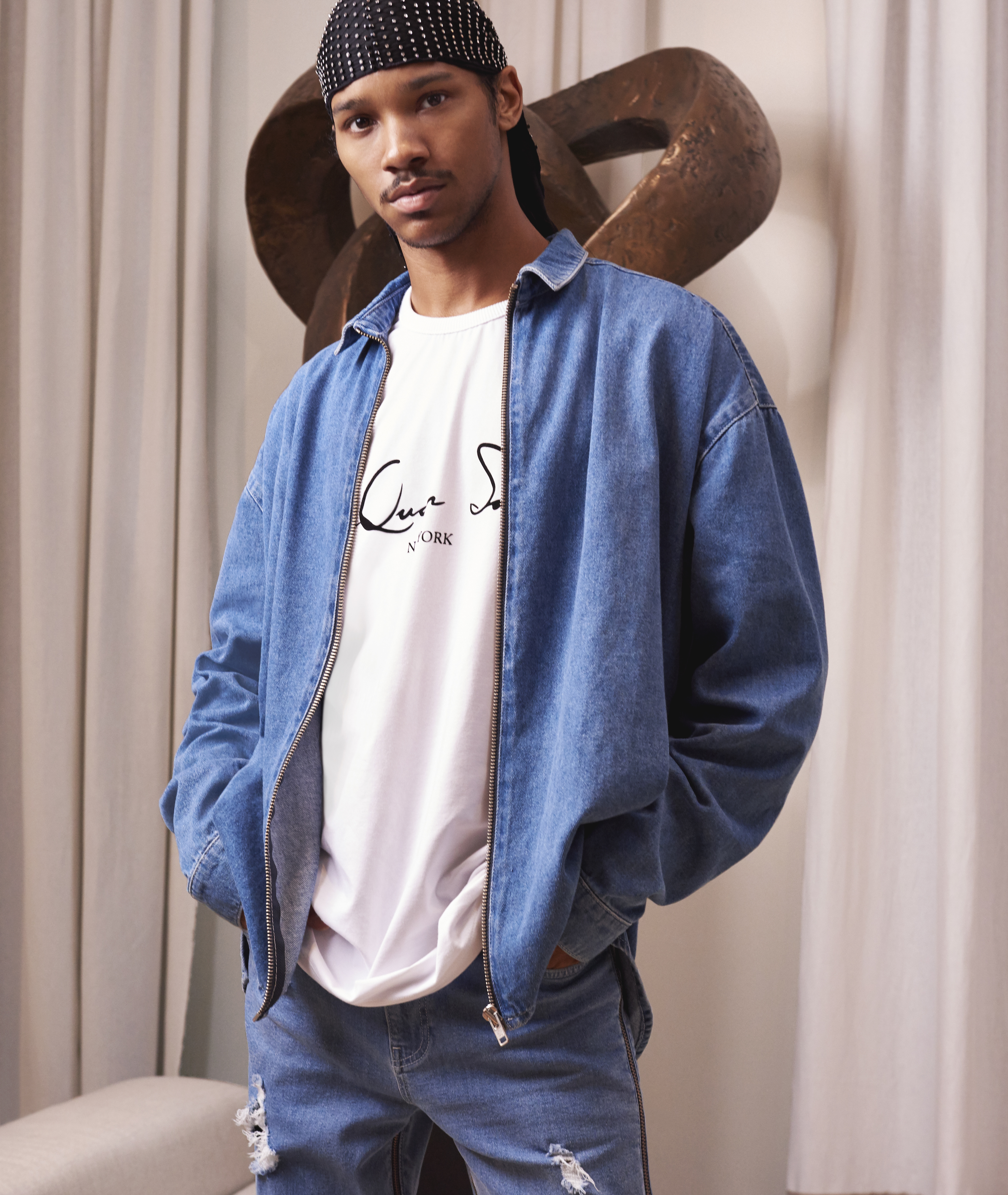 Would you say this project with ASOS is a step in that direction?
It means a lot, absolutely! Not even about me being a black designer — I mean yes, that's important — but even the way that the garments have been designed and the range of product that is available. It really embraces all shapes, sizes, genders, and fluidity. It's not about menswear or womenswear, it's all-inclusive. It's just about a mood. Do you want to be androgynous? Do you want to be a little sexy? What are you feeling? Let's celebrate that! From sexuality to race, it's just about celebrating a community of creative people and what better way to do that than with LaQuan Smith?
Exactly! What was different about designing this collection in comparison to your own main label?
Considering the ASOS consumer was a little challenging. It was interesting for me to experience, but I'm glad that I did. I had to kind of tone it down. I had amazing ideas, everyone loved them, but sometimes they were a bit too lavish, too grand. I mean I wanted to do Swarovski crystals and fur and leather and croc trim, but I had to consider who their customer is. I had to take all of these signature LaQuan Smith elements and not diffuse them, but adapt them to make the line more approachable and affordable. That's something that I never really considered for my own collection. I never really hold back, I'm unapologetic, I'm going to give you what I'm in the mood for, which is very splashy and out there and cool and sexy and expensive.
What was interesting, too, was developing a range of products. People know me for dresses — the go-to is a dress. If you want your sexy back, you go to LaQuan, so it was a great exercise with ASOS to have a full category range of tops, sweaters, jackets, joggers. I really had to get an understanding of the ASOS consumer, the 20-something year olds, with a budget of $20-300. What is he wearing during the day? What is she doing later tonight? How can we make it from school to the club? It was really about taking the ASOS consumer and giving them the LaQuan Smith experience. I think we nailed it pretty well, because I feel like each item is still a piece. If you're not someone who's going to buy the whole collection, there's still something in here for everyone.
It's LaQuan Smith for the people.
Yes, love that.
Shop the collection here.
Tagged: