guram gvasalia on the next vetements pieces everyone will want
As DHL trucks delivered limited-edition hype must-haves and tongue-in-cheek souvenirs to a Hong Kong pop-up, we spoke to Guram Gvasalia about the Vetements fashion revolution hitting Southeast Asia.
|
21 November 2017, 12:09pm
This article was originally published by i-D UK.
Whether it's collaborating with courier companies or finding Zürich's most fashion-forward pensioners to model its latest collection, nobody does it quite like Vetements. Having moved to the Swiss capital and absconded from the runway schedule in Paris, the Georgian-blooded fashion house has had a busy year. Still, Vetements has managed to channel its enfant terrible energy into a fascinating, secretive pop-up on the harbors of Hong Kong.
"Surprise is something we all miss in our adult life," Vetements's CEO Guram Gvasalia told us. This limited-edition, limited-information event was all about creating the sense of wonder we all crave. "When we are kids every little thing seems to be a miracle, but when we grow up the mystery of discovery is gone. That's why, by creating this mystery once again, for a short moment you can bring the excitement back and feel happy as a kid. The traditional model of producing and selling clothes has become so standardized that there's not much excitement left. Doing surprise events allows us to give our loyal customers a new unexpected perspective."
Previously, Demna and Guram Gvasalia have launched surprise pop-ups in the suburbs of Seoul (an homage to the salience of Vetements knock-offs kicking around Korea) and Los Angeles, but their latest event saw the barren Kai Tak Cruise Terminal in Hong Kong transform into a haggling market of brand crossovers and Wish You Were Here kitsch holiday memorabilia. Inspired by the Ladies' Market of nearby Mong Kok, the pieces on offer were a mix of streetwear collaborations (from Reebok to Umbro) and gloriously low-brow souvenirs. Customers were even given the market's famous red-and-blue checked shoppers (similar to Demna's renowned laundry bag holdalls for Balenciaga) to take their swag home in.
The souvenirs on offer referenced the brand's Swiss relocation: mugs, magnets, postcards, and tacky license plates to stick on your mantelpiece. They looked as if they'd been lifted from a Zürich gift shop and adorned with photos and illustrations of the vistas around their new home town.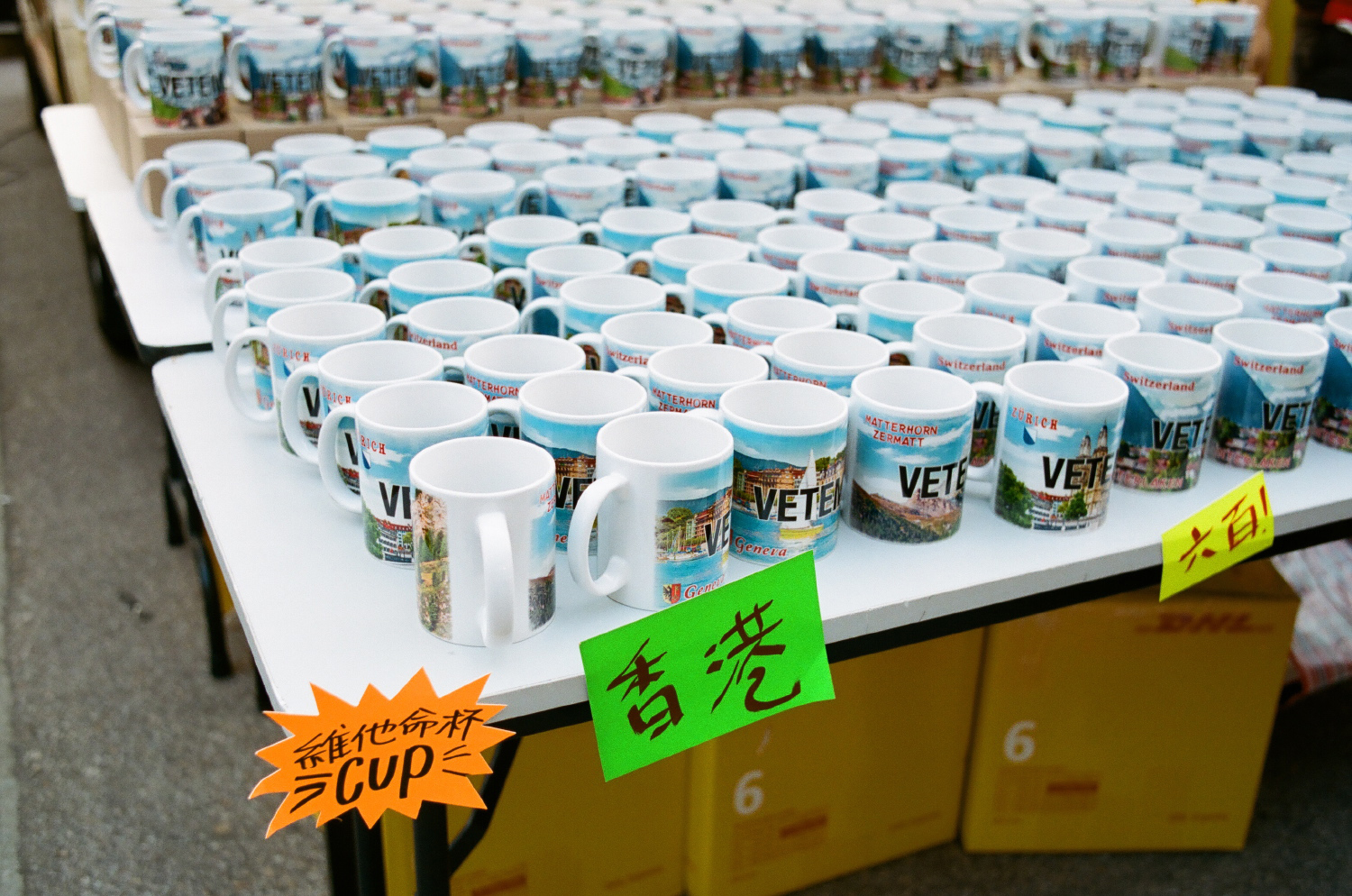 The brand truly tapped into Kai Tak as a port of call for tourists funneling in and out of Hong Kong. The lines of airport lounge-style seating stayed in place, while Vetements-branded taxi drop off and departure signs were set up to complete the look. From across the bay, you could catch the unmistakable red and yellow of DHL trucks lined up along the harbor: trunks open, crammed with T-shirts, flowers, and fridge magnets. In many ways, Vetements's original link up with the German freight company was a seismic moment for the fashion house. It was a surefire sign that Vetements was a brand worthy of its subversive reputation. Now, over two years after the bright yellow branded t-shirt was shown on a Paris catwalk, the brand used the Hong Kong pop-up to reveal its new pieces with DHL: a raincoat and its famed, stitched-together tees and hoodies in collaboration with Umbro.
Guram explained why now felt like the right time and place for the DHL collab to be resurrected. "Thinking outside of the box is a prime element of success. DHL is an international superbrand that everyone knows about, but it was never put in the context of the fashion world despite being the biggest shipping company delivering orders from online stores. After building a strong relationship by doing a limited edition T-shirt collaboration for spring/summer 16, we wanted to further explore possibilities of our partnership."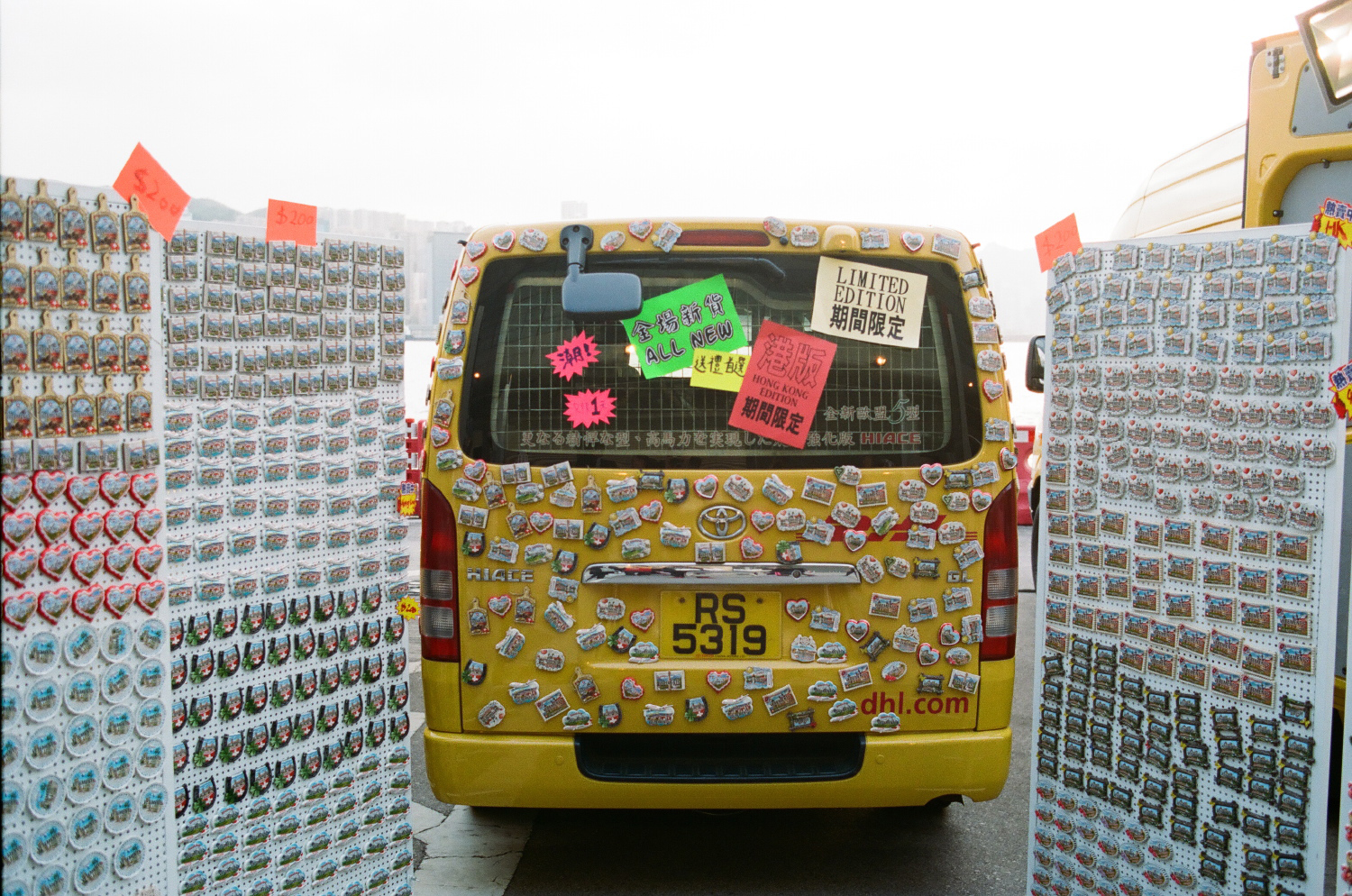 "The DHL logo and colors have become so closely associated with Vetements, and almost iconic. Being able to do an event in front of Kai Tak, the former international airport of Hong Kong, and doing installations inside 25 DHL branded delivery trucks and 13 containers seemed like such an attractive idea," Gvasalia explained. "Doing the event together felt so genuine and right."
DHL employees were even on hand to help out, assuming the roles of vendors, alongside staff from the famed Hong Kong fashion boutique Joyce. The store and Vetements also joined forces for another hot piece: a rain jacket with a "Hong Kong Play Boy" graphic on the back, complete with a cartoon of a buck-toothed bunny rabbit.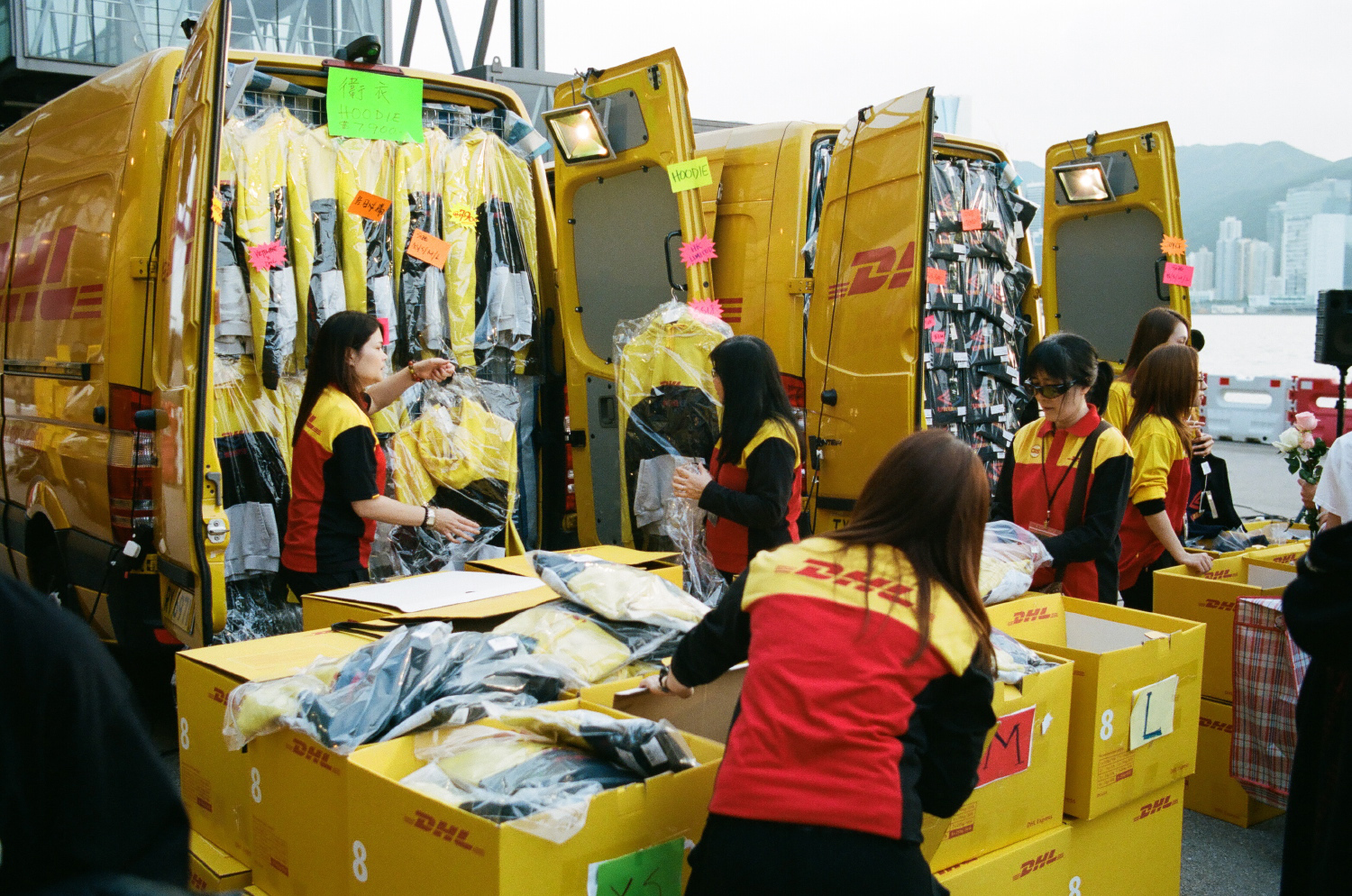 While the Instagram-teased Tommy Hilfiger hoodies were hot on the lips of those waiting in line, the day's most coveted pick-ups were the limited-edition sock runner sneakers that arrived courtesy of Reebok. Boasting a multi-part sole and a lightweight grey upper that stretches past the ankle, adorned with Vetements's famed "left" and "right" branding, the 30-year-old style was pulled from the old Reebok archives and revamped by Demna himself.
Read: Meet the Hong Kong kids who queued for hours for the latest Vetements drop.
Vetements's wishes to inject a fresh dose of desirability back into luxury fashion couldn't have worked better than in a place like Hong Kong. There, everything moves so fast that it's impossible to keep tabs on things. The Kai Tak capsule collection was no different, either: chances are, if you've fallen for any of the pieces that debuted there, you might struggle to find them elsewhere in future.
Think about it: what other major player in the fashion industry could get away with such an off-kilter and ambitious showcase? Unveiling a whole collection exclusively to a Hong Kong crowd for seven hours on a Saturday evening in a remote location announced barely a day prior would spell disaster for almost every other brand bar Vetements, because the majority of them lack the contemporary cultural insight that Demna and Guram do. The swathes of fans who showed face are a testimony to that; proof that a risk is worth taking, and that still, even two years after that DHL tee stole the runway, Vetements still has it.