Yohji Yamamoto AW21 is a refined mirror to our messy reality
Balancing feelings of restriction with flourishes of punk rebellion, Yohji-san reflects on the confusion and contrast inherent in life today.
|
22 January 2021, 10:13am
Photography Takay. Courtesy of Yohji Yamamoto
In times that call for us to adhere to the rules, the urge to rebel has never felt so strong. And while most of us have agreed to oblige and endure the harsh restrictions placed on our livelihoods, others have chosen to flout them, choosing personal freedom above all. It's a social tension that lingers everywhere right now, from the streets to social media, and now even in Yohji Yamamoto's AW21 menswear presentation, a brooding film shot in the designer's Tokyo flagship by legendary Japanese image-maker Takay.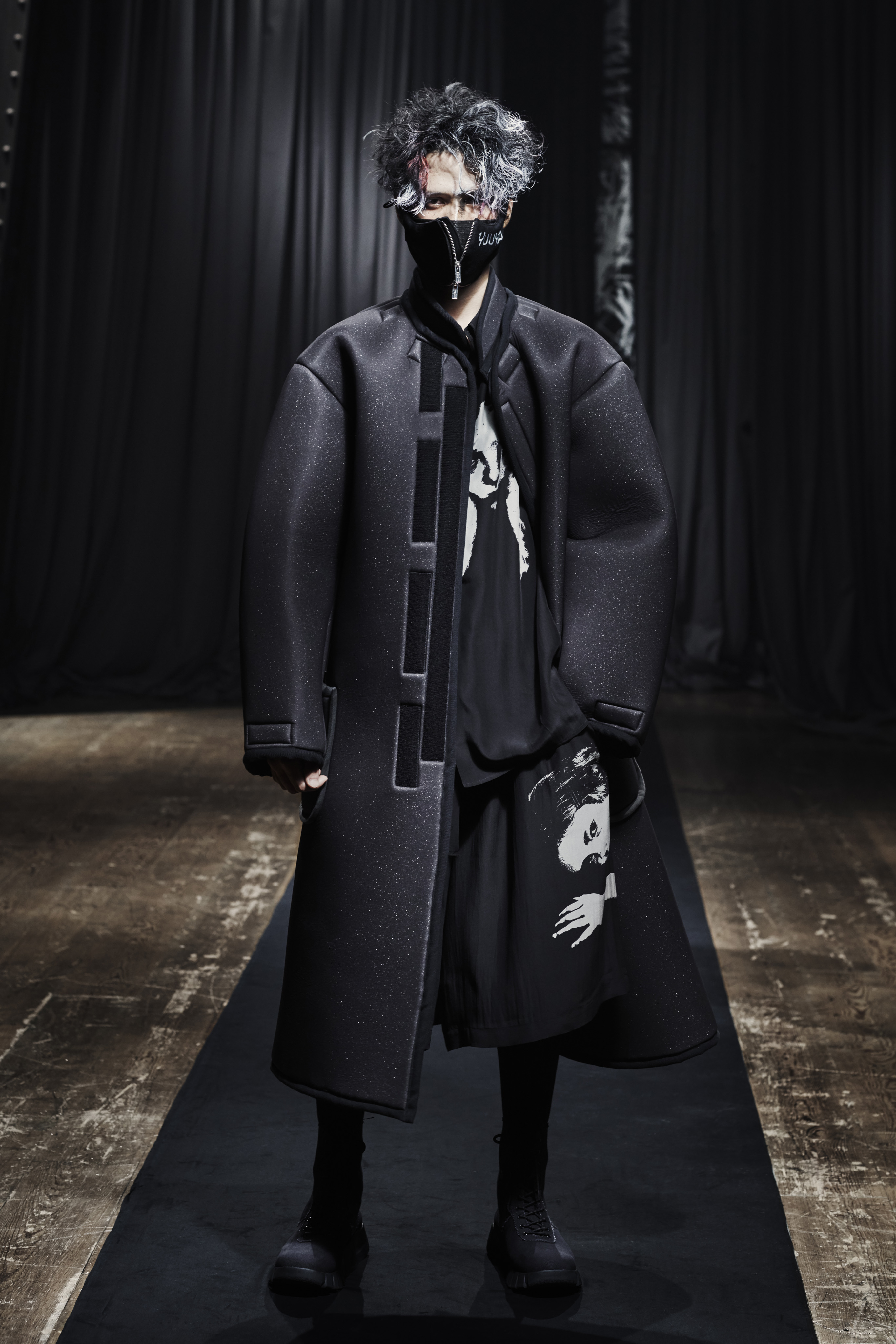 Rather than pass judgment or take sides, though, Yohji-san took this season as an opportunity to simply observe and project his vision of how he sees the world right now. In keeping with the vision he's spent four decades honing, as well as with the mournful mood of the times, the collection's dominant hue was his signature inky shade of black.
It coloured, for example, the chrome-zippered felted wool masks that the lion's share of the boys walking the show wore (others went without -- a nod towards the obstinate fools you make every effort to walk a mile around in your local Sainsbury's). The restrictions that weigh heavy on our lives made themselves felt in the corset-like squeeze suggested by glinting hook-and-eye fasteners lining the front side seams of a wool gabardine military coat, and then there were the bondage-y straps and buckles, yanking in trouser cuffs, winding around blazers and fastening flowing cloaks.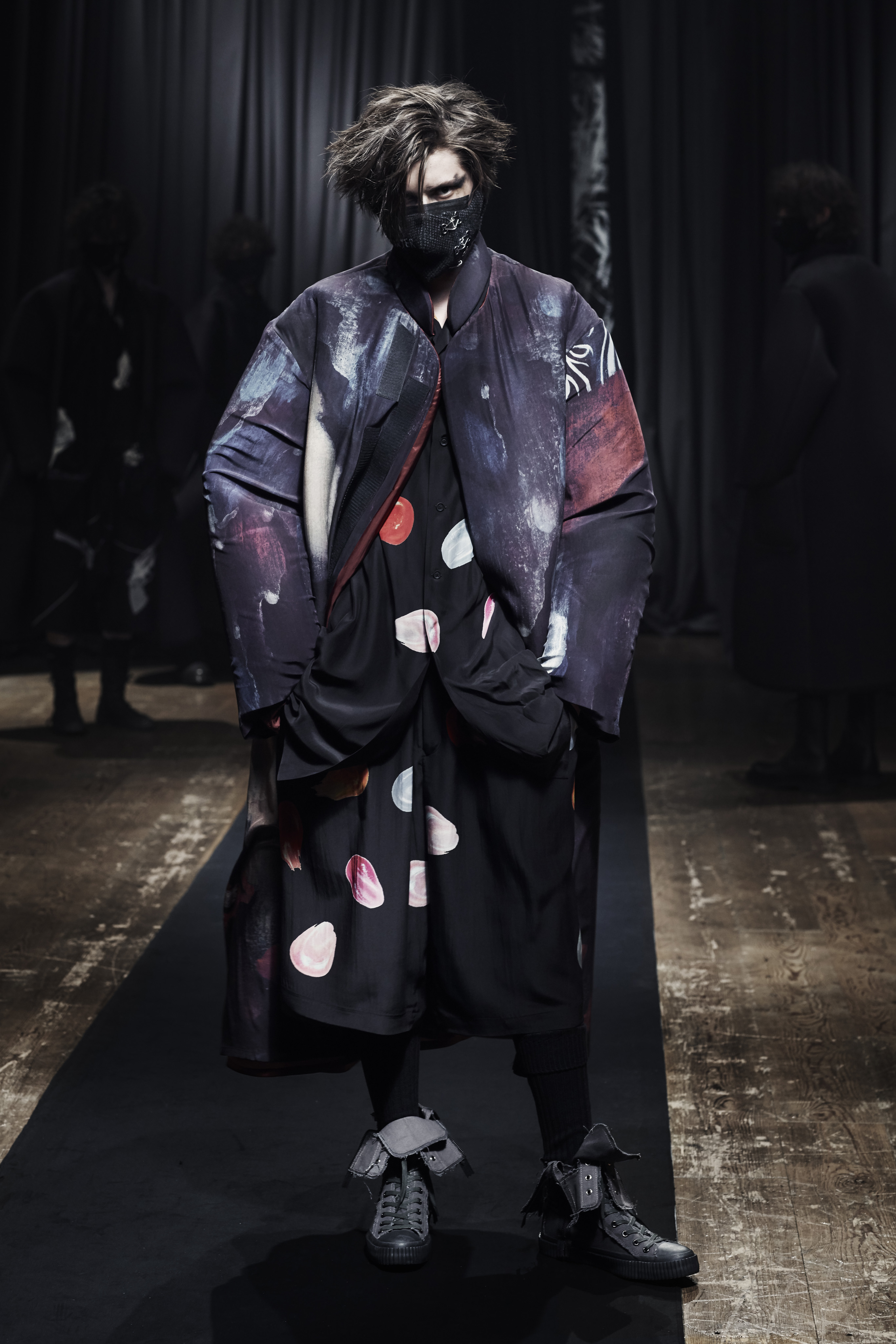 Counterposing these visual metaphors for entrapment were loose, breezy silk shirt-and-half-trouser combos, printed with expressive painterly blotches and guitar headstocks -- a foil to the presentation's steely, twanging soundtrack, carried along by the gravelly timbre of Yohji-san's own voice -- not to mention the designer's impeccable baggy tailoring in reassuringly weighty cotton velvet. The liberty these pieces implied took a turn for the explicitly punkish spirit he's well known for in the pithy slogans printed throughout: phrases including "I am proletariat", "You have to take me to hell" and "Born to be terrorist".
As much as those latter two may lean towards a nihilism that hardly seems constructive right now, this isn't a body of work intent on expressing a personal opinion: "It's not a judgment, it's an observation of the streets," the show notes explained -- it's a statement on the complex blend of anger, frustration and confusion felt so deeply today. Just as important in that mix, though, are feelings of defiance and hope, feelings that were conveyed in the collection's stand-out pieces -- cocooning coats expertly sculpted from neoprene that sparkled like a star-strewn night sky. Communicating a sense of uncompromising presence and armour-like protection, with a welcome dash of flamboyance, they're perfect tokens for the energy we ought to manifest and carry forward as we navigate our strange, new world.