Billie Eilish sings in Spanish on her new Rosalía collaboration
Watch the dreamlike Nabil-directed music video for 'Lo Vas A Olvidar' here.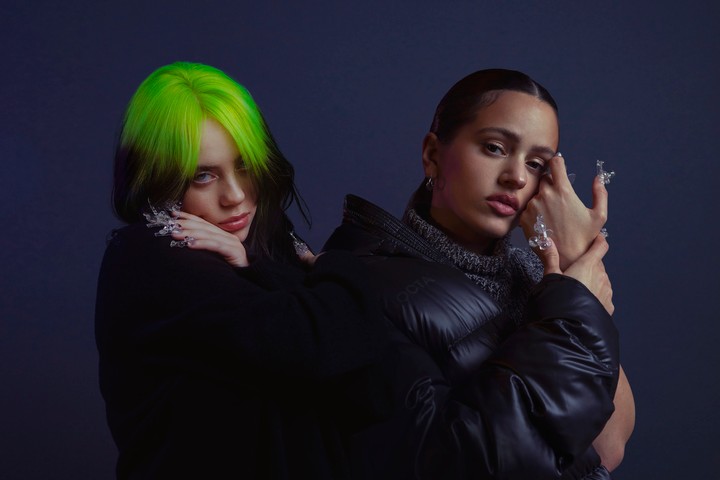 Photography Matty Vogel and Zhamak Fullad
If there's one true measure of success in the current decade, it's the prize of a place on the Euphoria soundtrack. Along with Blood Orange, Megan Thee Stallion and BTS, Billie Eilish and Rosalía have naturally both already made the cut, contributing "you should see me in a crown" and "MALAMENTE" to the first season's OST. Their new release "Lo Vas A Olvidar," however, is something special. Not only does the song mark the first collaboration between the two pop overlords, it's also the first time any of us have heard Billie sing in Spanish. Set to minimal, moody production, the musicians perform a melancholic bilingual duet, which translates to "will you forget it?" in English.
But what does any of this have to do with Euphoria? Well, the just-dropped FINNEAS-produced single is due to make its television debut in this week's new episode of Euphoria. Having previewed yesterday in the teaser for the second of two transitional episodes of HBO's best show — this one dedicated to Hunter Schafer's character Jules — the episode will air on 23 January.
The first whispers of Rosalía and Billie's collaboration came about a lifetime ago, back in March 2019, when the former teased the fact that they had been in the studio on Twitter. "Can't wait to finish our song"," she revealed at the time. Well, they did more than finish it. They went and shot a music video for it too. The Nabil-directed visual is filled with just as much emotion as the lyrics are, capturing the dream team singing and swooning in a dark, misty space, both with twinkling crystal-tipped nails and glossy lips.
But don't let us spoil it for you. Watch the evocative new video for yourself below.
Tagged: