Mainline:RUS/Fr.CA/DE makes cosy sexy for AW21
Inspired by looks they've spotted on park walks, the London collective's latest collection strikes a balance between comfort and sexiness.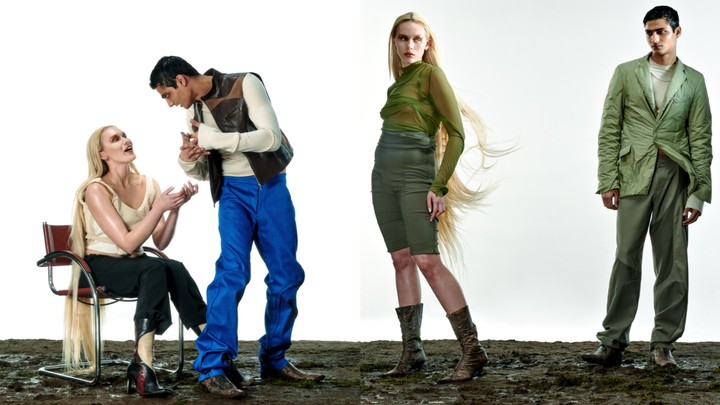 Photo credit: arl felix
As its name -- a mash-up of the country codes of its three creative directors' motherlands -- readily implies, Mainline:RUS/Fr.CA/DE has always been an international affair. Indeed, for the trio behind the London-based label, travel is both a practical necessity and a state of mind, fuelling a vision populated with skewed riffs on airport lounge-dwelling archetypes -- warp-seamed tailoring that hugs the skin a little too tight for it to be office appropriate, and slinky tops and trousers with bunched drapes that suggest an urgent sense of movement.
You'd have thought think that the past year of imposed stasis would have left the itinerant trio wanting for inspiration. Like many, though, they've leaned into the current sense of stillness to create a body of work that reflects a slightly more homely side to the steadfastly cosmopolitan brand. "Things have drastically changed with COVID-19," reflects Karl Felix, one of the label's founding trio. "This season was really about finding comfort and creating clothes which you can wear every day," denoting a shift away from the suited-and-booted vibe of previous work. "We also drew inspiration from people in our local environments, thinking about the way people are dressing for that one chance on a Sunday to go to Hampstead Heath, walk through the mud and serve a look."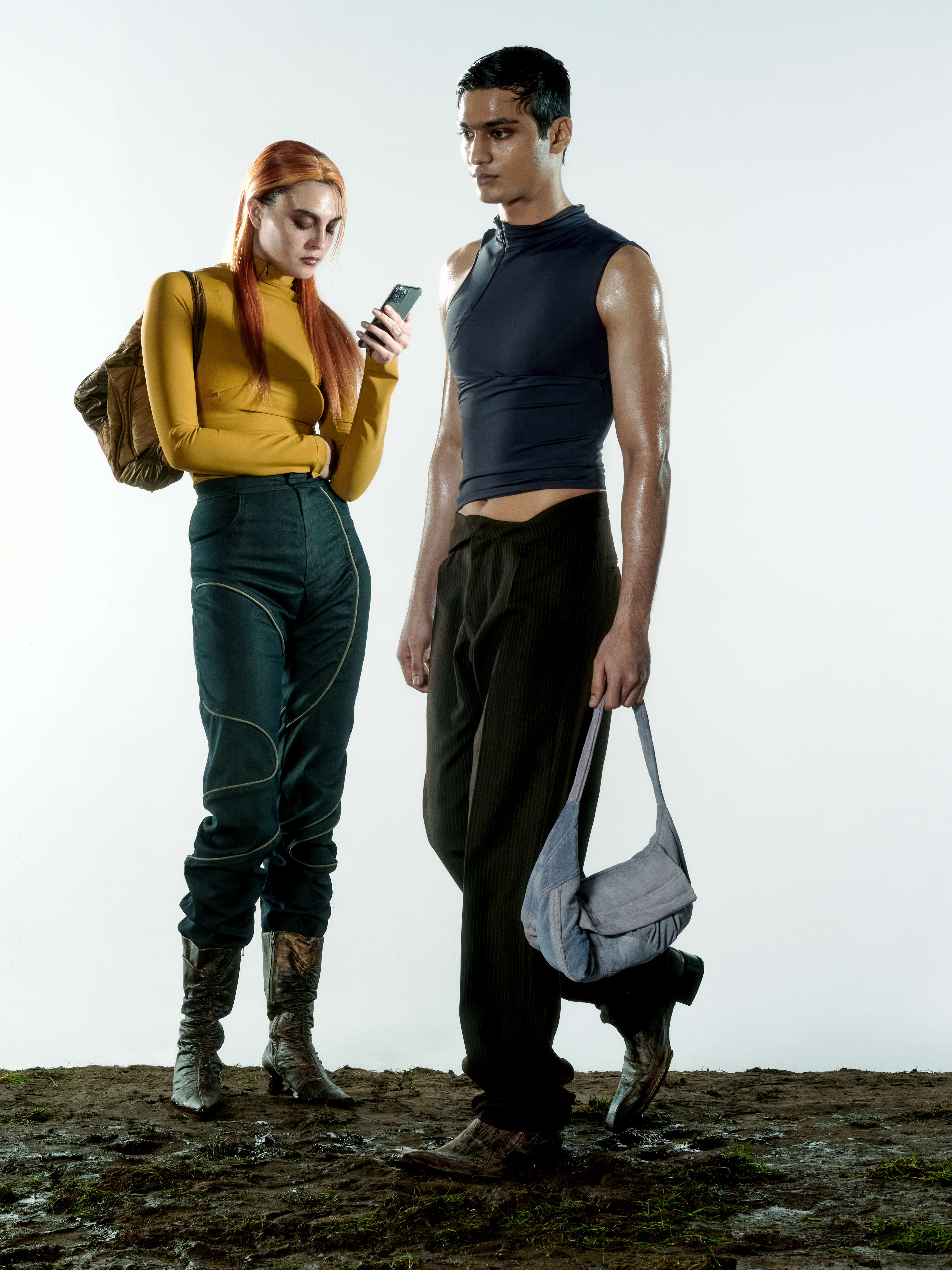 Padded jackets and earthen-hued denim jeans with undulating piped seams read of an urbanite's take on ruddy-cheeked, country dressing, a spirit only fuelled by two-tone trousers, a patched ribbed knit pullover, and a cobwebbed mesh dress in moss green hues. That's balanced out by pieces like a high-collared, zipped lycra top -- a more fashion-y take on the sort the joggers nipping past you on your daily lunchtime walk might wear. "We've always mainly been inspired by normal people," says Zarina Bekerova, another member of the trio. "Before it was more about office vibes and making that sexy, but now it's a more comfortable approach. There's still a guy wearing tailored trousers, but he's them with a puffer, for example."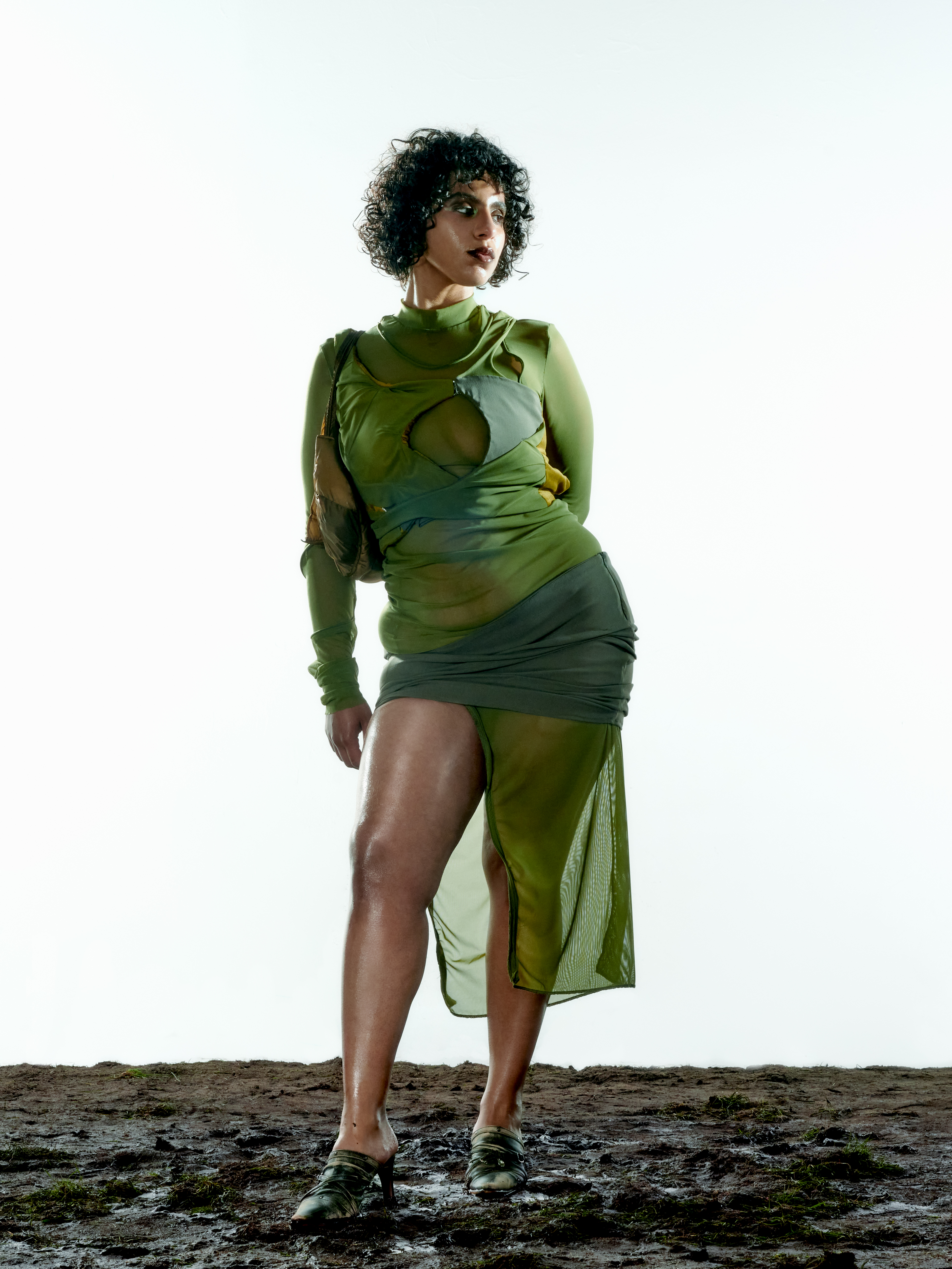 That doesn't, however, mean there've been any compromises made on keeping it sexy. Silhouettes err towards skin-tight, and the label's flagship item -- a leather jacket upcycled from couches salvaged from London's streets -- has been reimagined as a bicep-baring gilet. "People are gonna keep working from home, and want to be comfy, but people are still doing looks in their bedroom; they still want to dress in a funky way and be noticed for it, to show off," says Alexandra Vincent, the completing member of the collective. "We're all so casual at home, but when it comes to getting a coffee with the flatmates on a Sunday, I find myself standing in front of my rail for 50 minutes, deciding what look to pull for the barista around the corner!" Karl concurs. "Once we can go to parties again, I think people will want to show off, but I don't think that anyone can kind of get rid of the habits of cosiness and casualness we've developed over the past year. There needs to be a balance." Here's a collection that strikes it.