Photography Juergen Teller
Kim Jones, roller derby and haute couture debuts: what's in fashion?
Your one-stop-shop for this week's fashion news to know.
Photography Juergen Teller
When we entered this dreary month, who'd have thunk that it would turn out to be so damn CHIC! Ok, well, many aspects of it that have been quite the opposite, but that's not what you've come here to read about, is it? Just as this dispatch is your weekly respite from the morose headlines elsewhere, fashion over the past seven days has been all about fantasy and escape. We've seen a flurry of SS21 haute couture collections, with blockbuster debuts and of dazzling turns from the proudest names in sky-high dressmaking, not to mention a fresh crop of spritely spring campaigns! There is some joy in the world, after all. Anyway, let's get on with it: here's what's in fashion this week.
Couture week reminds us how to dream again
Haute couture: it's a term loaded with connotations of glamour, excess and fantasy -- of fashion with a capital 'F'. Well, lucky for you, this week was packed to the rafters with it. There were, of course, the expectedly dazzling turns of the category's doyennes -- Chanel's garage-soundtracked gala and Schiaparelli's muscular vision of contemporary glamour; Valentino's schooling in pared-back poise and Dior's opulent, historical exploration of tarot. But some of the most anticipated moments of the week came in the form of newcomers to the schedule, like Alber Elbaz's emancipatory new label AZ Factory, NYC favourites Area and Sterling Ruby's S.R. STUDIO. LA. CA., with its breezy West Coast take on the coded Parisian métier. And there was another one, wasn't there? Ah, that's right… MS
Everything you need to know about Kim Jones (and his Fendi debut)
By now, there is no doubt you will have seen it. Demi! Kate! Lila! Christy! An antique-filled crystal maze in the shape of Fendi's monogram! On Wednesday, Kim Jones picked up from the illustrious 54-year tenure of the late Karl Lagerfeld (fun fact: their birthdays are a day apart) and made his haute couture debut for Fendi with a starry show dedicated to Virginia Woolf's 1928 novel Orlando. To celebrate Kim's first-ever womenswear collection, we compiled an extensive oral history of Kim's career and impact on fashion, which you can read here. As for the show, the key takeaway was gowns, gowns, and more gowns. No expense was spared in the ornate embellishments and sumptuously draped silhouettes. If it's a taste to what's in store for Kim's vision of Fendi, then we can only hope to expect a return of OPULENCE to Italian fashion. That's right: Kim *clap* owns *clap* everything! OA
Chopova Lowena hits the roller rink for its SS21 campaign
Emma Chopova and Laura Lowena's eponymous label is one of the most exciting features on London's fashion landscape today -- but you already know that, don't you? If so, you know that their seasonal campaigns are key contributing factors to the buzz, the result of a longstanding collaboration with photographer Charlotte Wales, stylist Agata Belcen and art director Jamie Reid. Each season, a different high-octane sport becomes the prism to view their eclectic mêlée of subcultural references, vintage sportswear motifs and artisanal making methods through: equestrian vaulting for AW19, a skydiving Lily McMenamy for SS20, and now for SS21, have entered the roller rink. Replete with bloodied faces and bodies blurred from moving at break-neck speed, this latest campaign offers a "modern observation of traditional dress incorporating elements of western mainstream clothing, which the addition of roller derby's athletic attire emphasises throughout our SS21 collection," the label's founding duo say. Starring dancers and choreographers Holly Blakey, Becky Namgauds and Nandi Bhebhe, the uncompromisingly fierce images "highlight the vigour and beauty of their athleticism and [show] a reverence for female-powered sport." Get your skates on! We'll see you in the rink when this is all over. MS
Luca Guadagnino turns photographer for Salvatore Ferragamo's SS21 campaign
Back in September, Salvatore Ferragamo was one of the few brands to stage a physical show at Milan Fashion Week. It opened with a Hitchcock-inspired film made by Luca Guadagnino and Ferragamo's British creative director Paul Andrew, shot in a desolated Milan, with a cast of Anok Yai, Mariacarla Boscono, Maggie Cheng and Jonas Glöer all neurotically on edge as they teeter down empty streets and corridors, constantly looking over their leather-clad shoulders, clutching their enormous nappa handbags for protection, intensely peering through the tinted rectangular lenses of their Ferragamo sunglasses. Now, the film is frozen in time in the Italian brand's SS21 campaign, which sees Luca swap his film camera for a, err, photo one. "Usually when producing a campaign for Ferragamo, I start with the images and then video content to accompany it," explains Paul. "The process of selecting the stills from a moving image was so fascinating, I can relate it to that of pulling apart vintage garments or shoes, discovering secret beauties that perhaps would have gone otherwise unnoticed when looking at the original product as a whole." All the more reason to revisit the original show and movie, which can you find here. OA
The Telfar bag wins a major institutional award
Fashion's waters have been especially choppy over the last year, with many independent labels struggling to ride the waves. And then there was Telfar. By engaging in carefully-considered collaborations and shifting its focus to the production of a now-ubiquitous it-bag -- AKA the 'Bushwick Birkin' -- the New York label has scaled dizzying in such precarious times. A crucial part of its success has been that it has always existed outside of fashion's institutional frameworks, operating entirely on its own terms. In recent years, major institutions have been falling over themselves to applaud the label, the latest being London's Design Museum. This week, the museum awarded Telfar its 'Fashion Design of 2020' award for its vegan leather tote, seen everywhere from the streets of Chattanooga to the crook of AOC's arm. "In an era where true luxury is having a functioning health and social security system, I think their slogan – 'Not for you, for everyone' – rings very true," Emily King, guest curator at the Design Museum, says. Deserved a win as it may be, securing the bag through one of the brand's regular drops ain't gonna get any easier in 2021! MS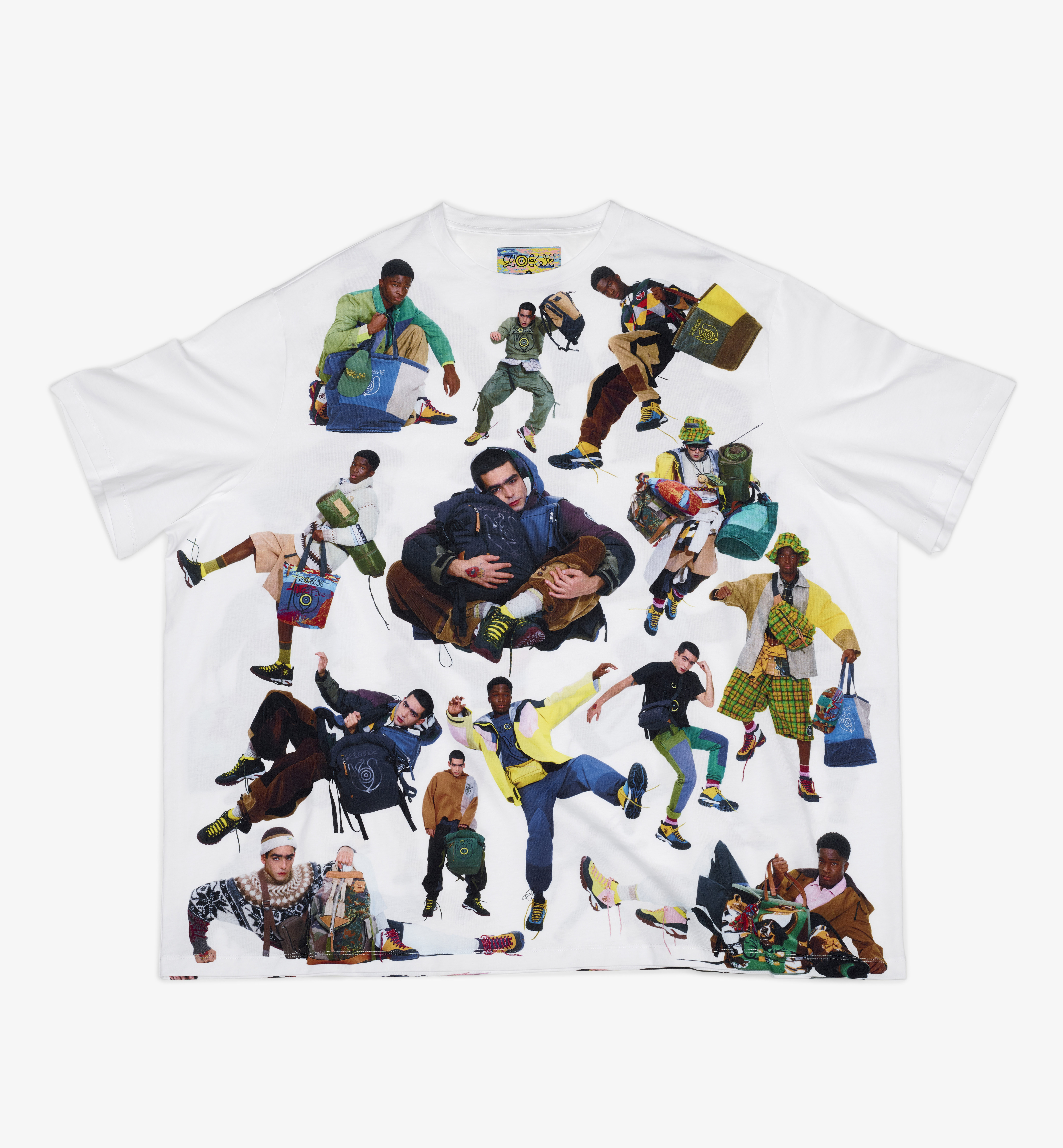 A sustainable surprise was hidden away in Loewe's 'Show in a Box'
Tucked away in Loewe's 'Show in a Book' — a celebration of the work of legendary queer artist Joe Brainard — was a 'Show on a Shirt'. A white t-shirt was printed with a collage of every look from the new Eye/Loewe/Nature collection, modelled by French and Spanish actors Stéphane Bak and Omar Ayuso. Layered up in bright sportswear and utilitarian clothes, it couldn't be further apart from Jonathan Anderson's AW21 menswear collection for Loewe, which was all about sartorial subcultural motifs. "This is really a think tank project about recycling and sustainability for us, as a company," explained Jonathan. "We now show them both at once, but it is a collection in itself. 25 per cent of it is upcycled, and by following products from start to finish we can monitor it and learn from it and implement it across the company." Eco-friendly and wardrobe-friendly. What more could we ask for? OA
Kenzo's SS21 campaign is a holiday for the mind
Travel — remember that? Well, for those of us who barely do, Kenzo's latest campaign will do a good job of jogging your memory. Building on the 'distance photography' concept that Felipe Oliveira Baptista first developed with photographer Glen Luchford and stylist Jane How last season, Kenzo's SS21 campaign transports us — or models wearing Felipe's sophomore beekeeping-inspired collection, anyway — from LA to Havana, New York to Marrakech. Things as they currently are, though, the models weren't afforded the luxury of a getaway either. The emotionally stirring landscapes and cityscapes you see are, in fact, images that Felipe selected from Glen's archives. Models were then shot under similar lighting conditions and transposed into the dreamy vistas. "I think it is a nice representation of a cultural dimension," Felipe says, "and a good message of escape in a time where we cannot travel." Well, if our only travel plans right now are from our sofa all the way to our fridges, images like these are the ultimate escapism. MS
Christopher Kane just released his most joyful product to date
Nothing says self-love like a Christopher Kane vibrator. Yes, really. This week, the Scottish designer unveiled his latest 'More Joy' collection just in time to place your orders for Valentine's Day. Forget flowers and chocolates and just do it: delete Hinge. Dates are off the cards for the foreseeable, and even the most loved-up couple are having homicidal thoughts. But romance needn't be pronounced dead just yet. In this rather gloomy year, we could all do with a bit more, well, joy. And it doesn't get more joyful than a truly self-indulgent night in with yourself, amiright? ;) OA
KARA shines a light on non-traditional Korean creative communities
Fashion campaigns typically exist to visually translate a mood and concept dreamed up by a creative director at the top of a label's pyramid, but for a couple of seasons now, New York based accessories brand KARA has been bucking that trend with its 'You Be You' campaigns. Committed to placing full creative agency in the hands of the creatives it casts, visionary young women such as Agusta Yr, John Yuyi and Gala Prudent. Each of them have put their own spin on the KARA's whatever-you-want-it-to-be world. For their latest campaign, the label's founder Sarah Law worked with stylist Monica Kim to spotlight non-traditional relationships and identities in the Korean communities, working with tattoo artists, LGBTQ+ advocates and artists. Across three shoots, they cover everything from diamante glitz to campy '70s sci-fi, with each image serving as a testament to the out-of-the-box plurality at the heart of the brand. MS
Will robots be replacing Valentino's couture seamstresses?
Haute couture is arguably one of the most human art forms, exquisite clothes made entirely by skilled white-gloved petites mains ('little hands' in English). Yves Saint Laurent once described it as the 'secrets whispered down from generation to generation', so shrouded in secrecy is its ritualistic techniques and processes. This week, Valentino's Pierpaolo Piccioli staged his first genderless couture show in Rome, which you can read all about in our review. But beyond the intricate latticework structures and glittering gold faces, there was an interesting component at play. Pierpaolo enlisted British artist Robert del Naja (AKA Massive Attack's 3D) to not only soundtrack the show — Massive Attack's 'Ritual Spirit', of course — but to create a film about the making of Valentino's couture, filmed over a three-month period and centring on the idea of 'teaching' an artificial intelligence the process and making fashion's highest form. The result is a time-lapsed video that has all the relaxing rhythmic patter of ASMR. But if it illustrates anything, it's that robots won't be replacing petites mains any time soon. Vive la couture! OA
Matthew Williams' first Givenchy campaign is a celebration of his creative community
'Another blockbuster debut, another blockbuster first campaign,' as the old adage goes. Following on from the philosophical musings of Raf and Miuccia's Prada SS21 image series, the spotlight was, naturally, always going to fall on Matthew Williams and his first official campaign for Givenchy. Rising to the challenge, he enlisted Heji Shin to shoot the tight-knit community of friends and artists that Matthew has placed at the heart of his nascent tenure at the Parisian couture house, including Bella Hadid, Playboi Carti and Anok Yai. Shot against a background chosen to express each of their individual personalities, the resulting campaign occupies the perfect middle ground between nostalgia and modernity, refinement and ease. "To me, fashion expresses a point of view where formality and informality, construction and comfort co-exist. My ethos is about the luxury of infusing clothes with your own personality, not being worn by them," Matthew says. "In each of these portraits, a strong character wears a look that reflects who they are: they're the ones who bring the clothes to life." MS
Carhartt WIP and Converse pair up on an iconic new shoe
Carhartt WIP and Converse are American fashion icons in their own right, the only thing more iconic than either being their ongoing collaboration. The two brands first paired up for SS19, when Carhartt WIP's rugged workwear-focussed aesthetic was translated to Converse's iconic hi-top Chuck 70 silhouette. Now, for SS21 -- the latest chapter in their partnership -- they've pushed their exploration of each other's heritages further, giving us two Chuck 70 makeovers in Carhartt WIP's best-loved fabrics -- a hardy canvas in a woodland camouflage print, and another in the label's iconic Hamilton Brown. Breezy, versatile footwear at its finest. Check it out here. MS