A guide to Leonardo DiCaprio's style evolution
From pint-sized child star to Hollywood heartthrob, here's your breakdown of Leo's career, through the lens of the clothes he wore.
|
17 February 2021, 1:30pm
Photos via Getty Images
There is a particular era of 90s fashion that we owe to three men: River, Keanu and Leo. The trio, who all became juggernaut stars of the decade, quietly used fashion to inform the way their acting careers were unfolding. While River Phoenix's story was tragically cut short and Keanu Reeves' proclivity for grunge stood the test of time, there's a maturation to what Leonardo DiCaprio has worn over the past 20 years. Once a fan of the low-key Americana look and rebelling against black tie codes, his style on the red carpet and off has become more refined as time has passed.
From the days of kids television to Titanic, and eventually wearing his ecological message on his sleeve, this is Leonardo DiCaprio's style evolution from the 90s to today.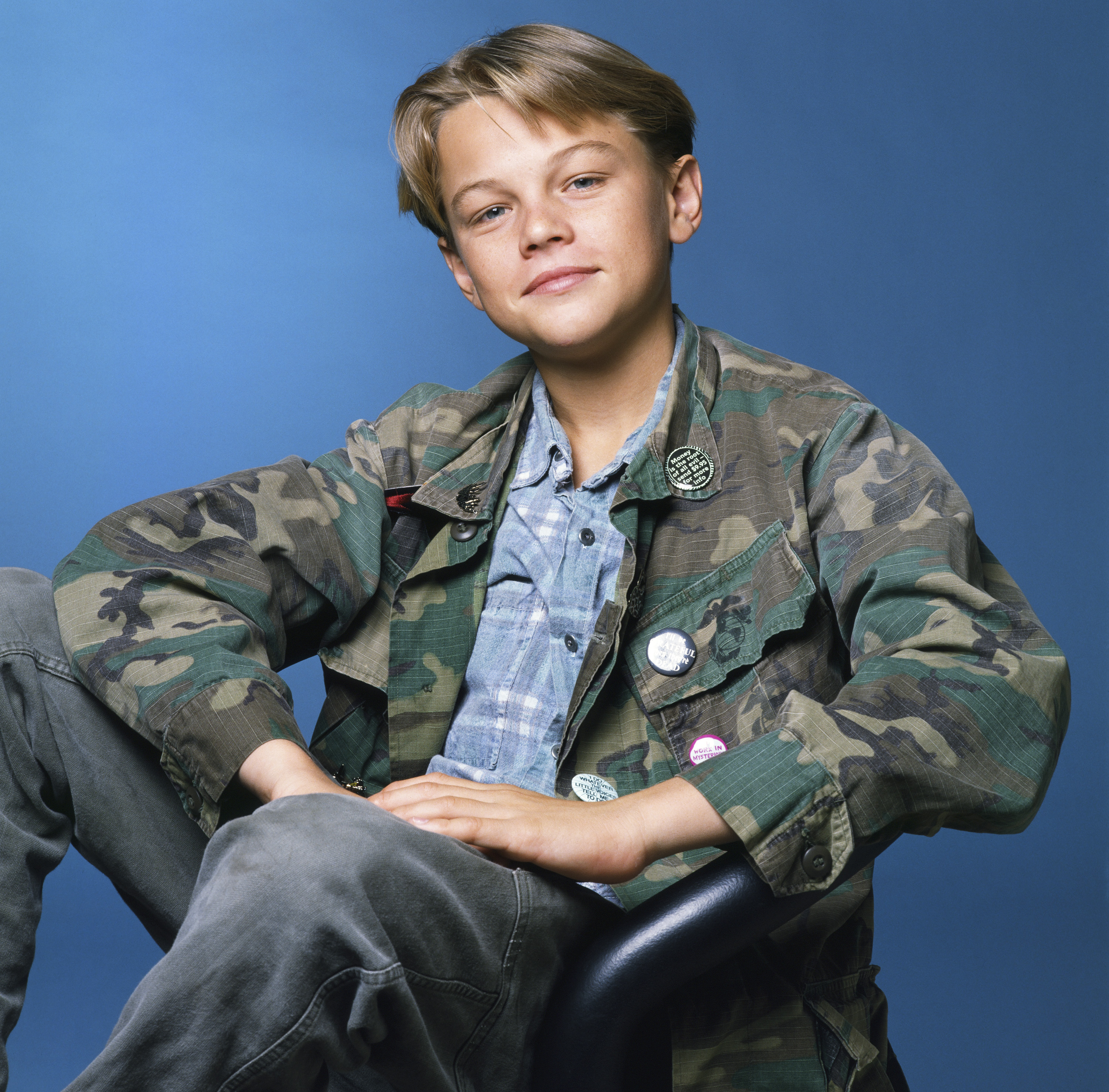 On the set of Parenthood, 1991
Before Leonardo DiCaprio became a household name, he was a plucky teenager appearing in kids TV. In the early 90s, the young actor was cast as Garry Buckman in Parenthood, a short-lived series inspired by the Ron Howard movie of the same name. It only lasted one season, but Leo's face was beamed into living rooms across America, dressed most famously in stonewash denim, vintage-style plaid and a camouflage overshirt. It wasn't his own wardrobe, but it showed off the early stages of this newly formed star.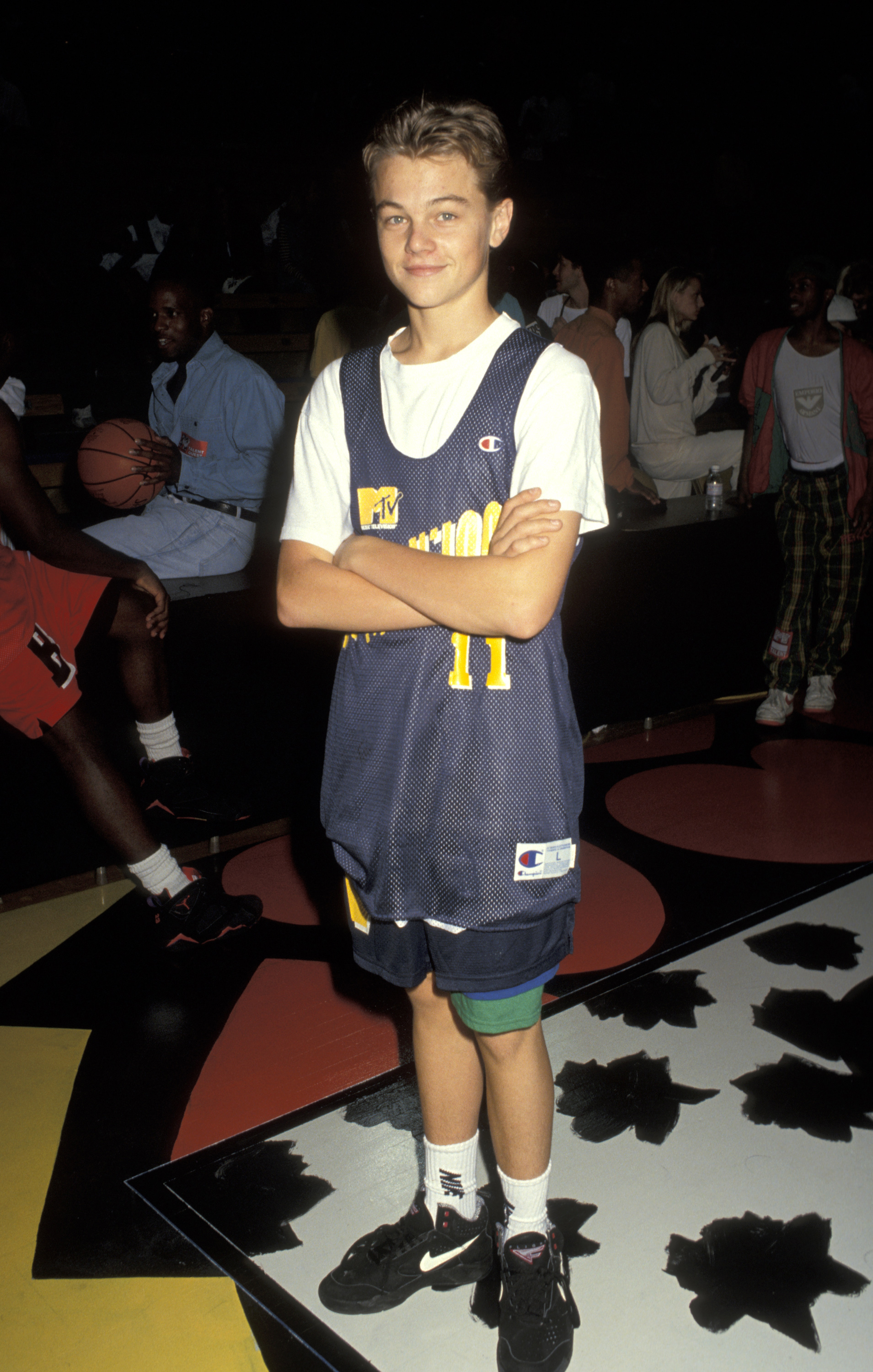 At an AIDS fundraiser, 1992
Two years before starring as the drug-addicted teen in The Basketball Diaries, and a year before his What's Eating Gilbert Grape breakout, a baby Leo rocked up to an MTV-held AIDS basketball fundraiser in full regalia. For the event (in which we assume he partook), he wore a Champion basketball jersey, white Nike tube socks and a pair of black Air Maestro Flights, a silhouette long-gone out of production. But the real piece de resistance? The triple-layered basketball shorts. An inexplicable but otherwise iconic flex.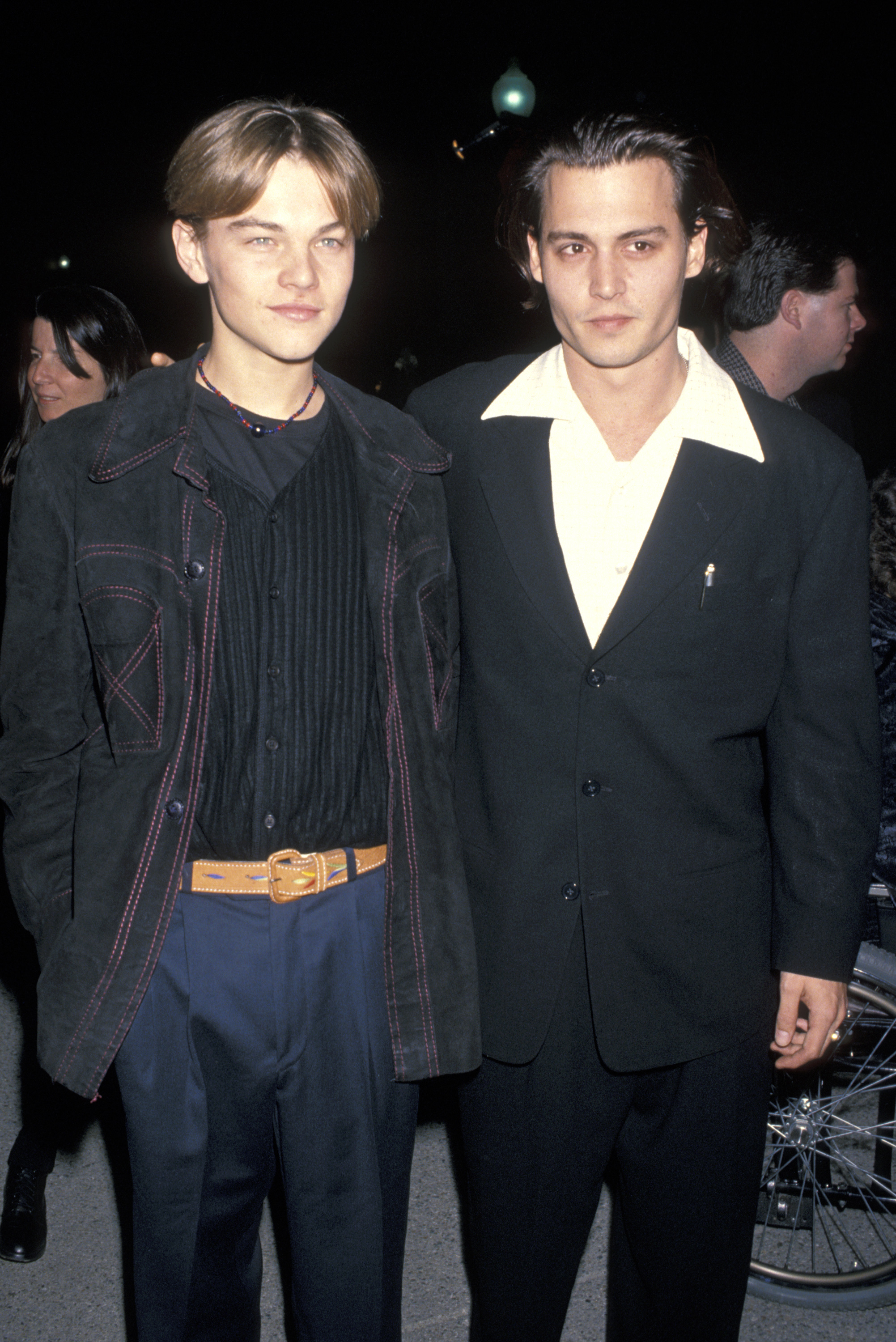 At the What's Eating Gilbert Grape premiere, 1993
In what would become a rare moment of creative casualwear for Leo, he showed up to the premiere of What's Eating Gilbert Grape alongside co-star Johnny Depp. Forgoing a suit or a standard T-shirt and jeans look, Leo paired navy slacks and a tan belt with a ribbed cardigan layered beneath a contrast stitch workman jacket. As would become standard, it's the accessories that make it memorable: a red and blue friendship-style beaded necklace.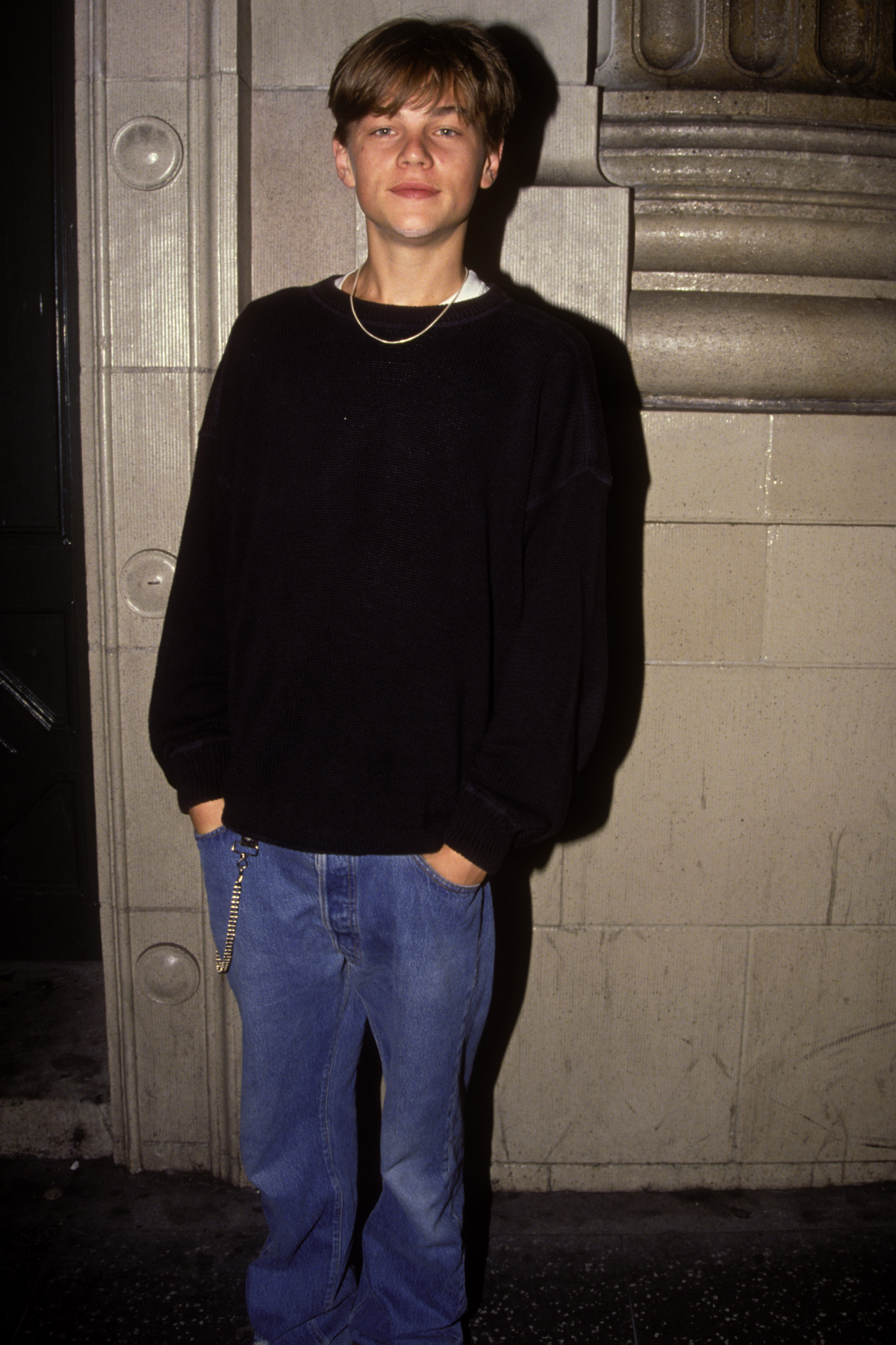 In New York City, 1993
The year is 1993 and Leonardo DiCaprio is quickly becoming Hollywood's hot property. Having just turned 19, he was in New York City (presumably doing press for What's Eating Gilbert Grape) when this picture was taken. In it, we see the first proper look at Leo's relaxed personal style, at the time akin to industry peers like River Phoenix and Keanu Reeves. Leo layered a basic white T-shirt under a black fine-knit sweater, pairing the top half with the 90s go-to, blue jeans. But it's the accessories that pop here: not only is Leo rocking a snake-chain necklace, but a silver chain attached to the waist of his jeans.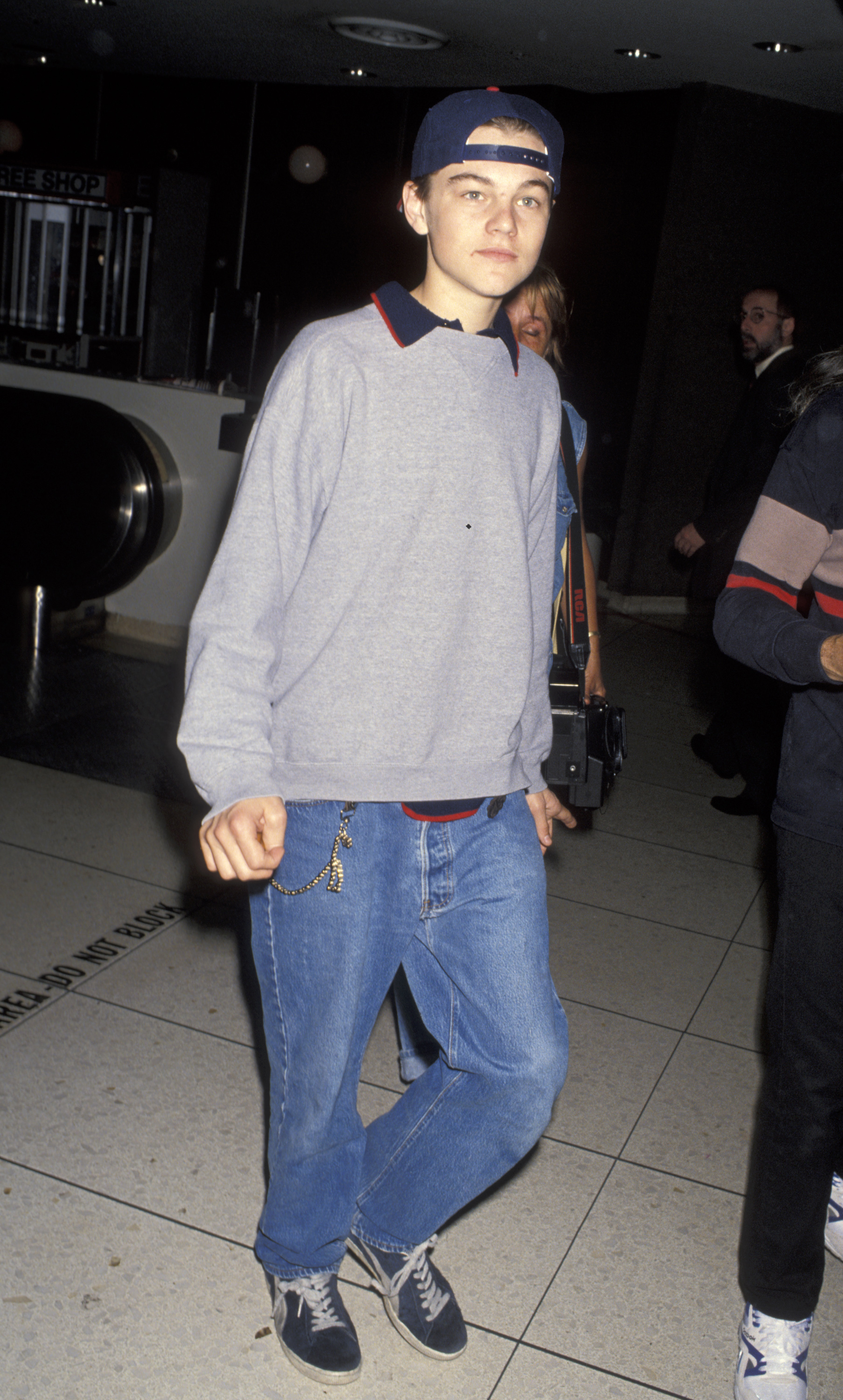 Departing LAX, 1993
In the midst of promo on his first feature film (the underseen This Boy's Life), Leo flexed this airport look for an LA paparazzo as he prepared to board a flight to Dallas, Texas. A standout image that seems to carry 90s teen style culture, Leo layered a terry polo shirt under a classic grey jersey sweatshirt, alongside his go-to blue denim and a pair of Puma Suedes. This is one of the first photos we'd get of him wearing a baseball cap (this one bears the mascot of a Cleveland team) — an accessory he's still wearing regularly today.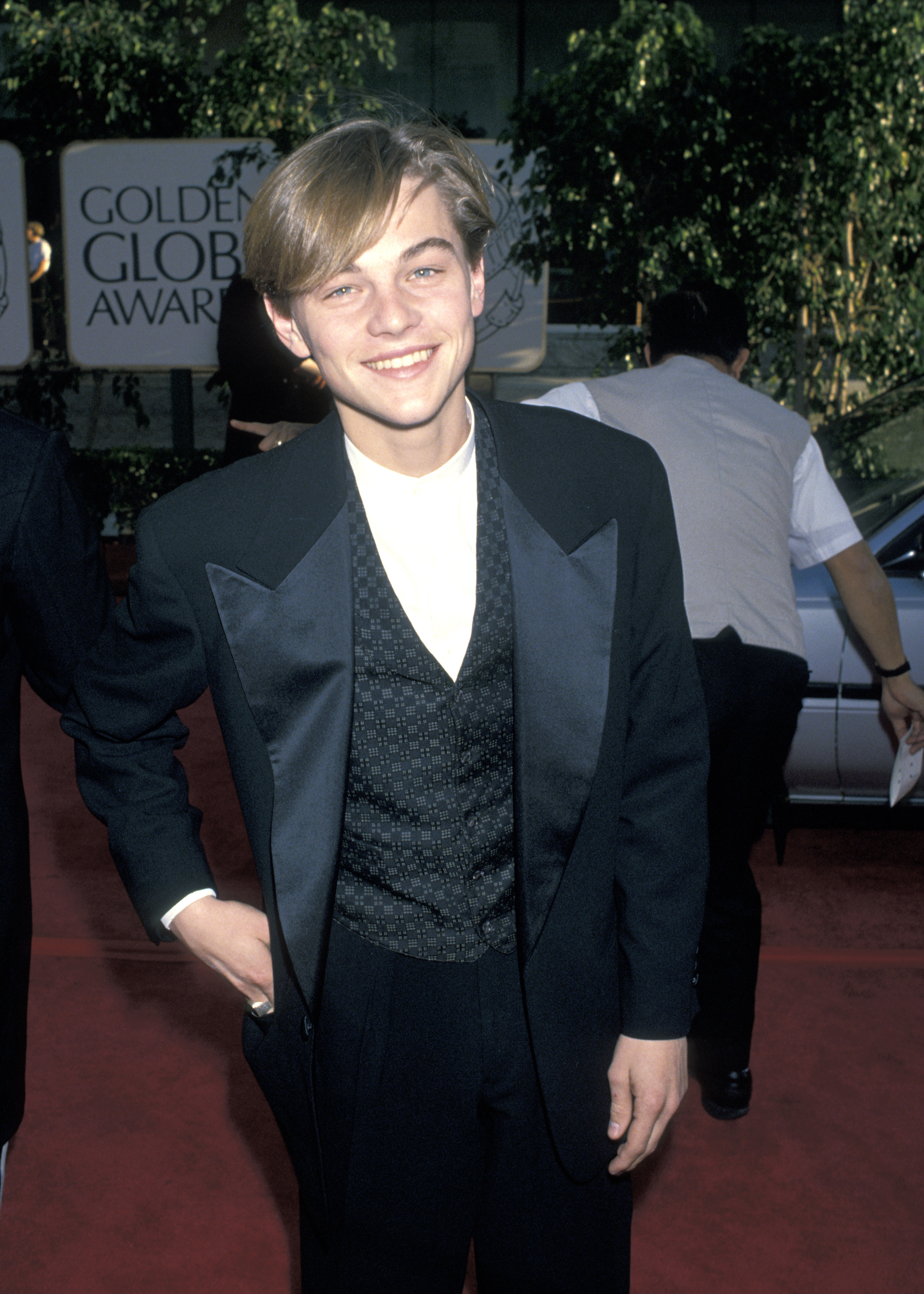 At the Golden Globes, 1994
With What's Eating Gilbert Grape deemed a critical success, Leo had become American cinema's new-found heartthrob — and racked up a Golden Globe and Oscar nomination in the process. In early 1994, Leo turned up to his first Globes in a red carpet look that remains his most ostentatious. Breaking formal codes, Leo paired his super wide-lapelled tuxedo jacket and chequered waistcoat with a monk-neck shirt — no bow tie. Intentional style statement or not, it aligned perfectly with his public positioning as the new kid on the block: roguish, and willing to take risks.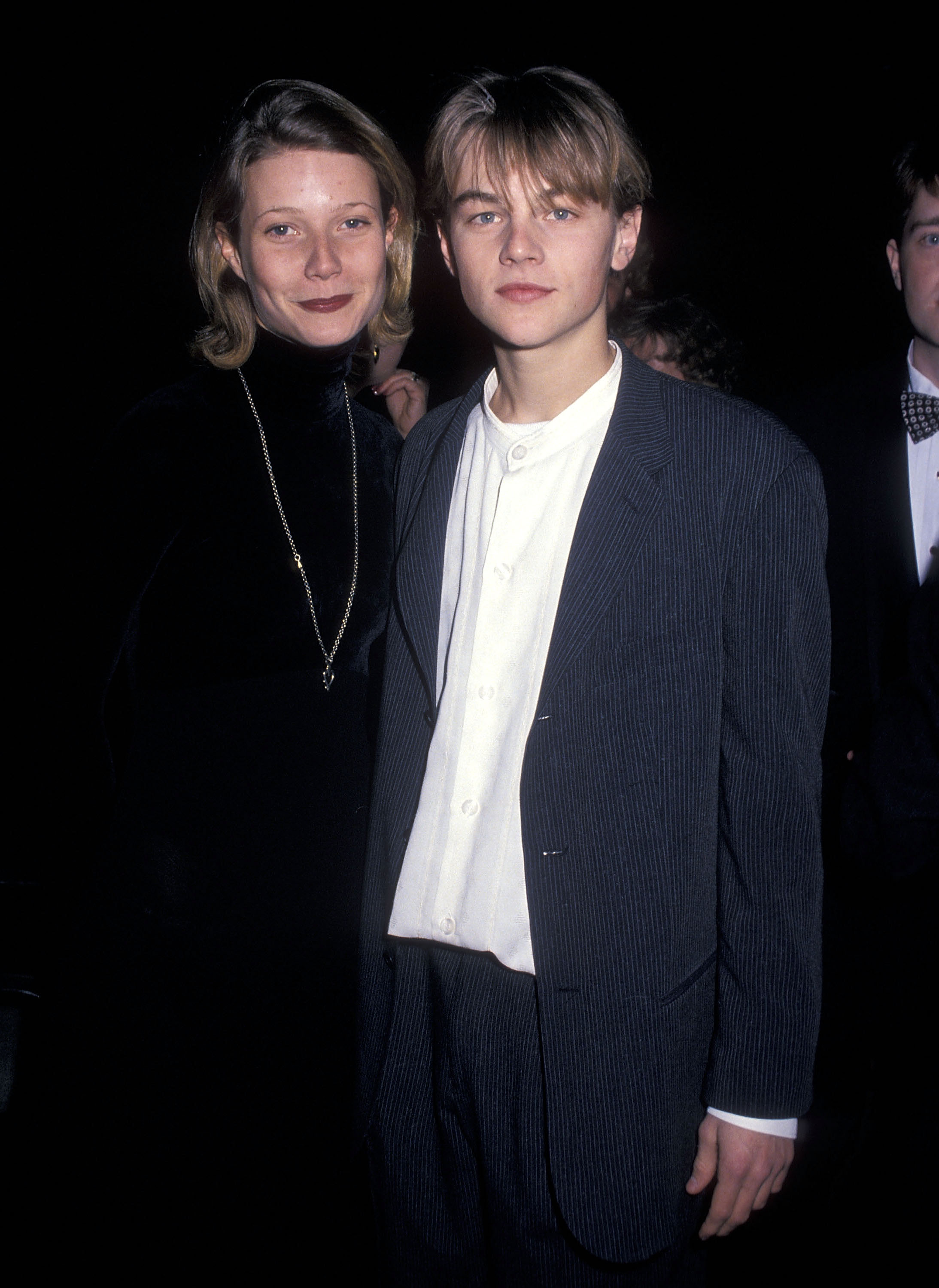 On the red carpet with Gwyneth Paltrow, 1994
Weeks after his Globes red carpet appearance, Leo was invited to the National Board of Review awards ceremony in New York. Having flaunted his laidback take on black tie a few weeks prior, here he opted for a preppier formal look. Spotted on the red carpet alongside Gwyneth Paltrow, he wore another monk neck collared shirt, this time paired with a slouched navy corduroy suit.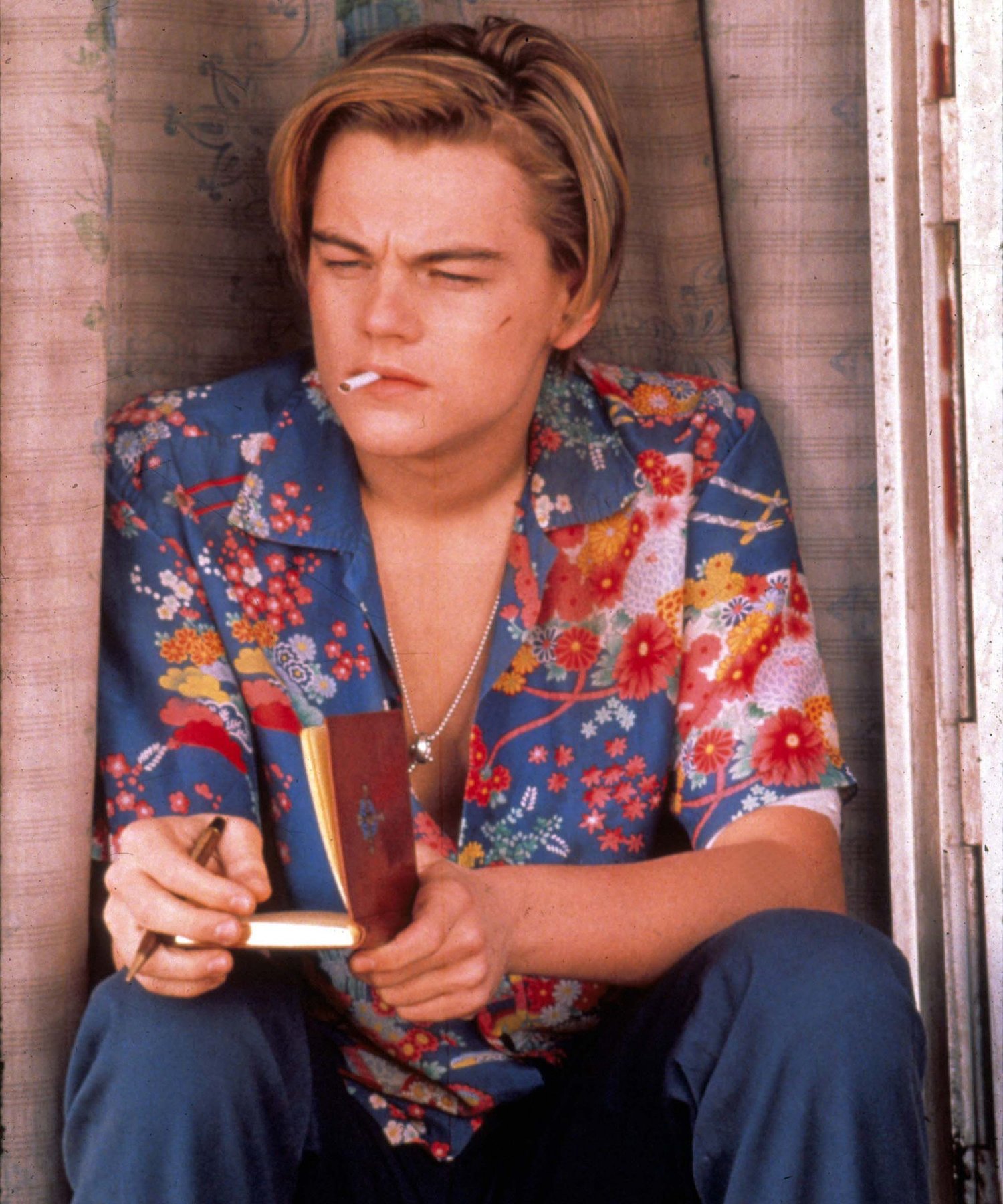 In Romeo + Juliet, 1994
This is something of a cheat move, considering it's not an original Leo wardrobe look, but it has been branded into our brains as the quintessential image of the young actor. In 1996, the Baz Luhrmann-helmed cult classic, Romeo + Juliet, blessed us with a number of iconic outfits that would become talking points decades after the movie's release. Romeo's Hawaiian shirt — a proudly off-kilter take on Shakespearean fashion — undoubtedly had an effect on Leo's position as a stylish star in contemporary Hollywood.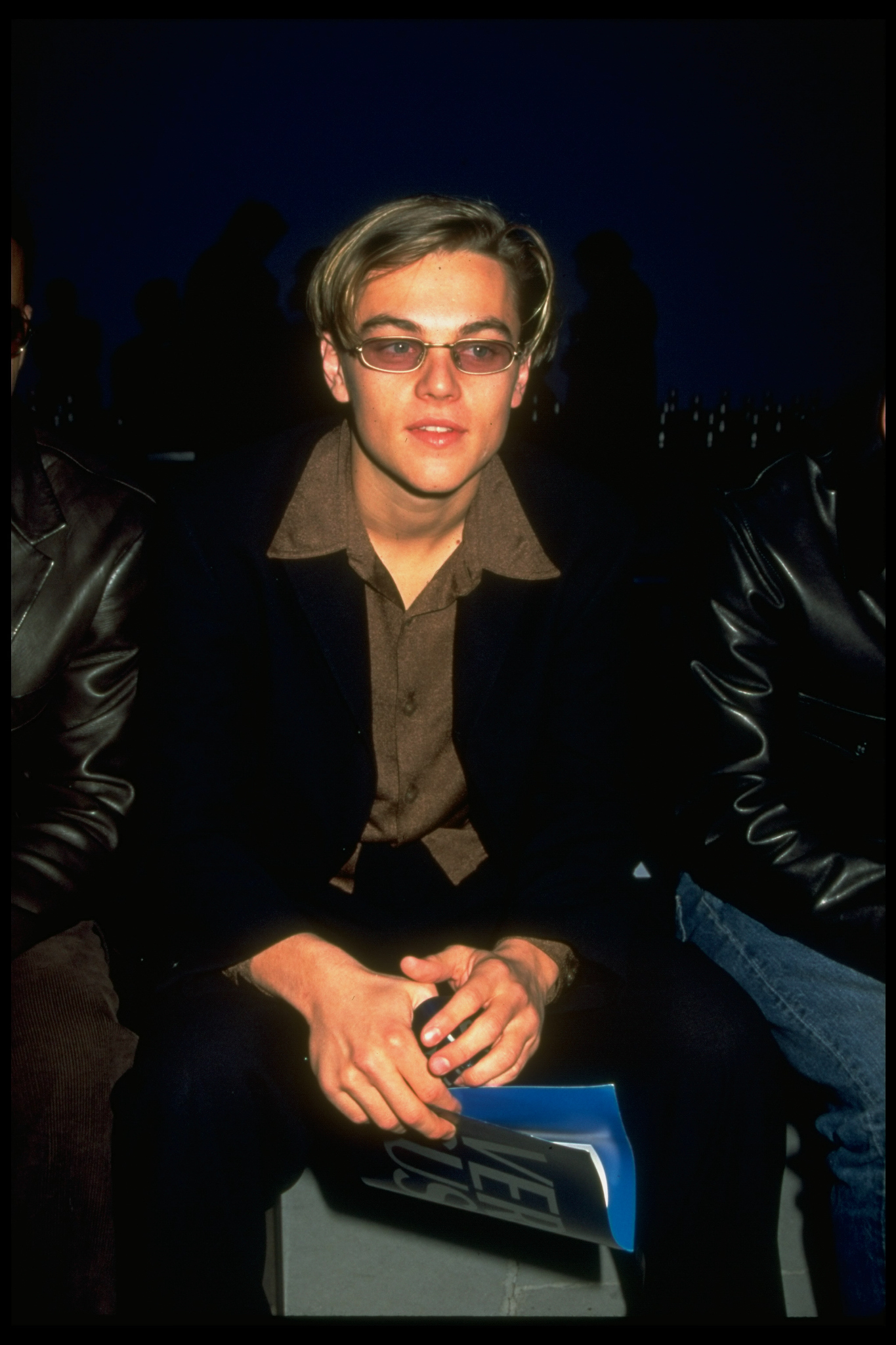 Front row at Versus Versace, 1997
In 1997, as the fashion world went starry-eyed over Leonardo's turn in Romeo + Juliet — not yet aware that he'd soon become the star of the biggest movie ever made, Titanic — Leo made a rare visit to fashion week. Despite the fact that his looks are retroactively celebrated, Leo wasn't formally engaged with the fashion world in the manner that many celebrities of his calibre were at the time. His appearance at the 1997 Versus Versace show, mere months before Gianni passed, was therefore a real surprise. He went low-key for the affair and sat front row in a casual black suit and wide-collared brown shirt. Once again, it's his accessories that stand out: those sunset orange-tinted glasses, rimmed with gold, are eyewear catnip to 2020 fashion enthusiasts.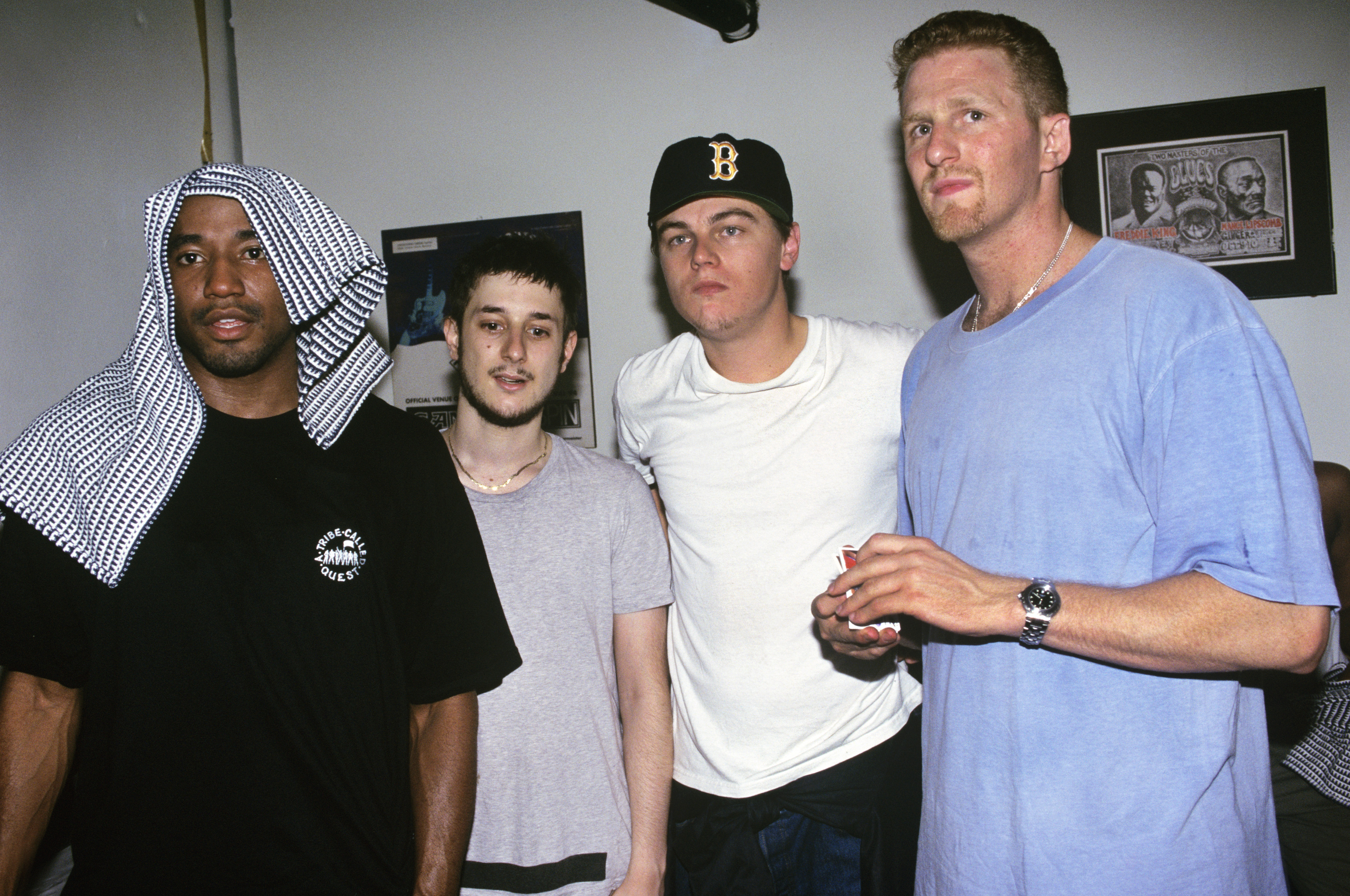 Backstage at an A Tribe Called Quest show, 1998
Six months after Titanic became a record-breaking Oscar hit, Leo had started to pull back from public life and red carpet events. As such, sightings of him were few and far between. But his style remained consistent with the slouched, unpretentious aesthetic he'd established in his teens. Backstage at an A Tribe Called Quest show in the summer, Leo appeared alongside stars Q-Tip and Harmony Korine, donning a white T-shirt and gold embroidered Boston Red Sox cap. Unfussy; a standard look he'd carry into the 00s.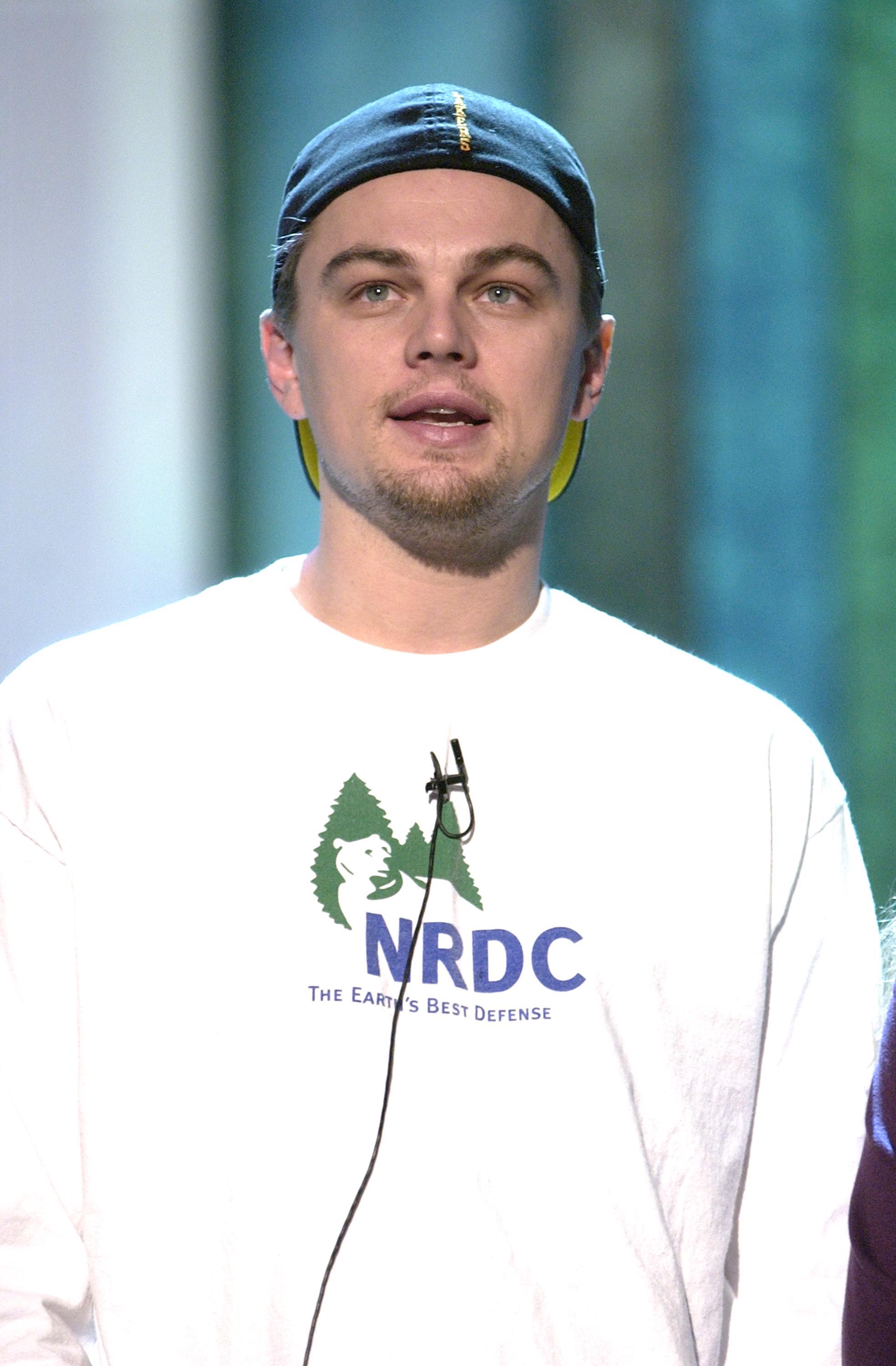 At the Screen Actors Guild Awards, 2005
The early 00s saw Leo rock up to premieres and photocalls for movies like Catch Me If You Can, The Beach and The Aviator in a series of grey or black suits — insights into his personal fashion sense were hard to pin down. But an image from the rehearsals for the Screen Actors Guild Awards in 2005 caught him casually. In it, you can see clearly what matters most to him. An advocate for environmental policy and combating the climate crisis, Leo wore a long-sleeve T-shirt bearing the logo of the NRDC, a charity that, since 1970, has worked to fight climate change.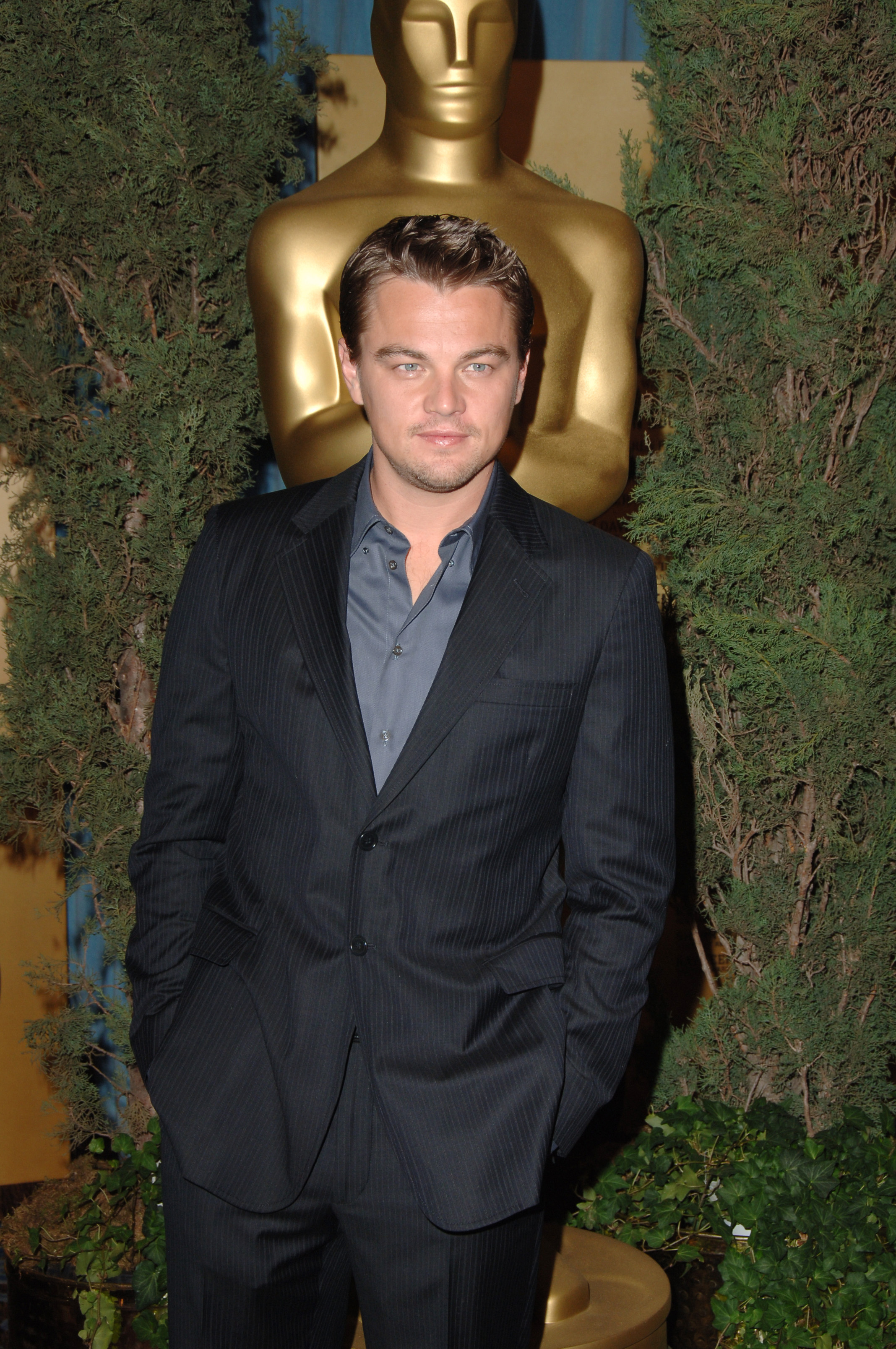 Attending an Oscar nominee luncheon, 2006
Formality shaped Leo's wardrobe by the mid-2000s. Gone were the roguish looks of his teen years and twenties; in their place, rare public appearances were shaped almost entirely by the conservative nature of red carpet wear. His get-up for the 2006 Oscar nominee luncheon (the year he was nominated for Blood Diamond) was a pinstripe grey suit with open-collared shirt. A classic.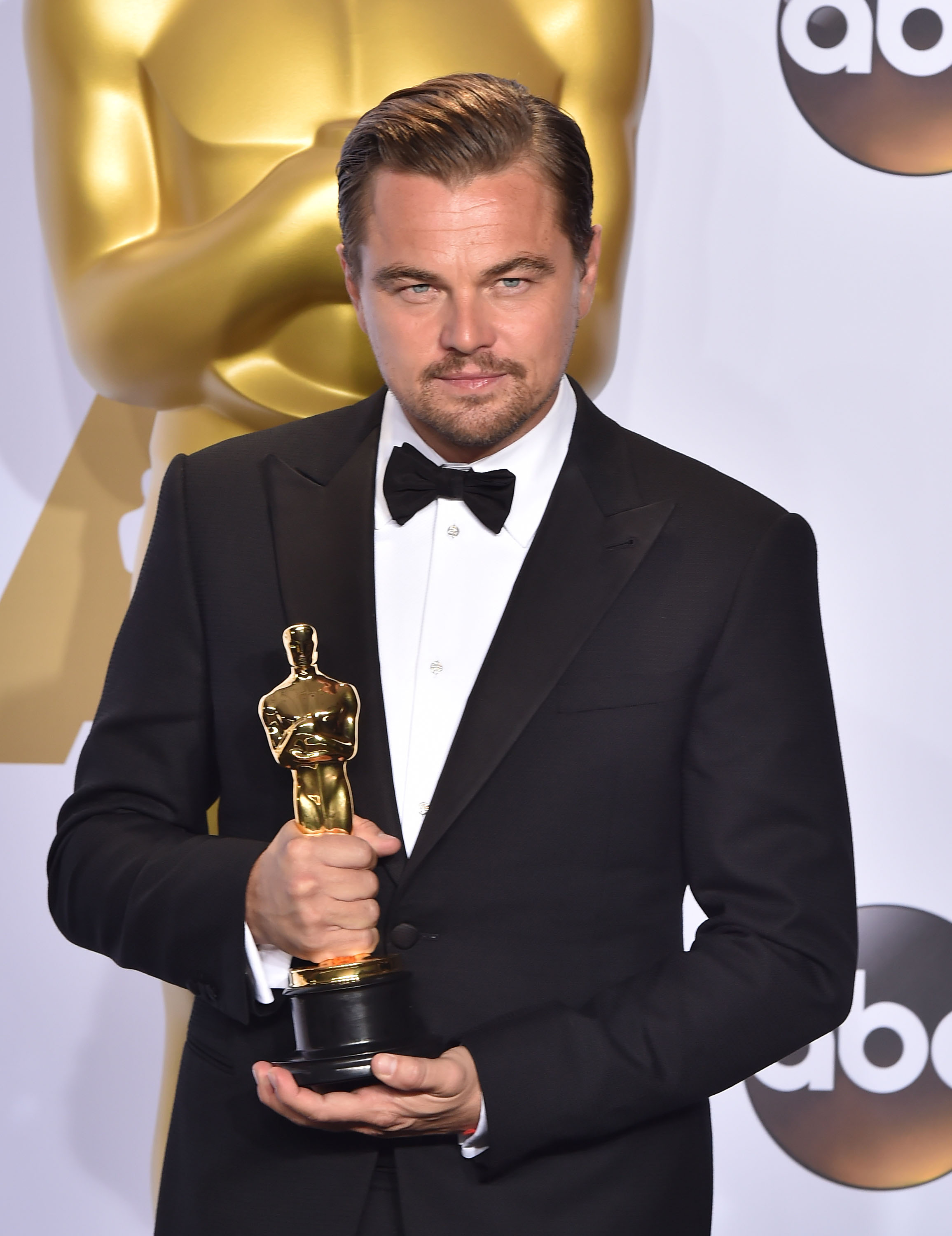 At the Oscars, 2016
Over two decades after securing his first Oscar nomination as a teenager, and with six nominations under his belt, Leonardo DiCaprio hit the red carpet at the 2016 Academy Awards in a slick Giorgio Armani tuxedo. That night, he took home the Best Actor prize for The Revenant, and dedicated a large part of his speech to the underprivileged and indigenous people: "Let us not take this planet for granted, I do not take tonight for granted". Leo had grown up, had worn his bow tie this time and, finally, won big.