Images courtesy of Courrèges
Nicolas di Felice ushers in a new era for Courrèges
The Belgian designer and Louis Vuitton alumnus presented his debut collection for house, an optimistic
Images courtesy of Courrèges
Is it really Paris Fashion Week without a hotly-anticipated designer debut? Well, it certainly wouldn't be as fun, would it? From the moment news broke last year, all eyes have been on Louis Vuitton alum Nicolas di Felice, the new artistic director of Courrèges. To say that he's in a sought-after position is putting it lightly -- adored by the fashion cognoscenti, it's arguably a house better placed than many to provide the sort of vision so many of us are hungry for right now: one rooted in refinement, future thinking and optimism. Those qualities were, after all, what fuelled the house's founding couturier during the label's 1960s heyday, resulting in distinctive silhouettes and garments -- the mini-skirt: you know her, right? -- that changed womenswear forever and remains a lodestar reference for countless designers. Oh, and this year marks the house's 60th birthday… No pressure, Nicolas!
He's the third to take the reins at the house since its 2015 relaunch, with Coperni duo Arnaud Vaillant and Sébastien Meyer, and Yolanda Zobel coming before. It goes without saying that the Belgian designer has big shoes to fill, though with his glittering CV -- highlights of which include two separate stints under Nicolas Ghesquière at Balenciaga and Louis Vuitton, and a spell at Raf Simons-era Dior between them -- hopes were always going to be high.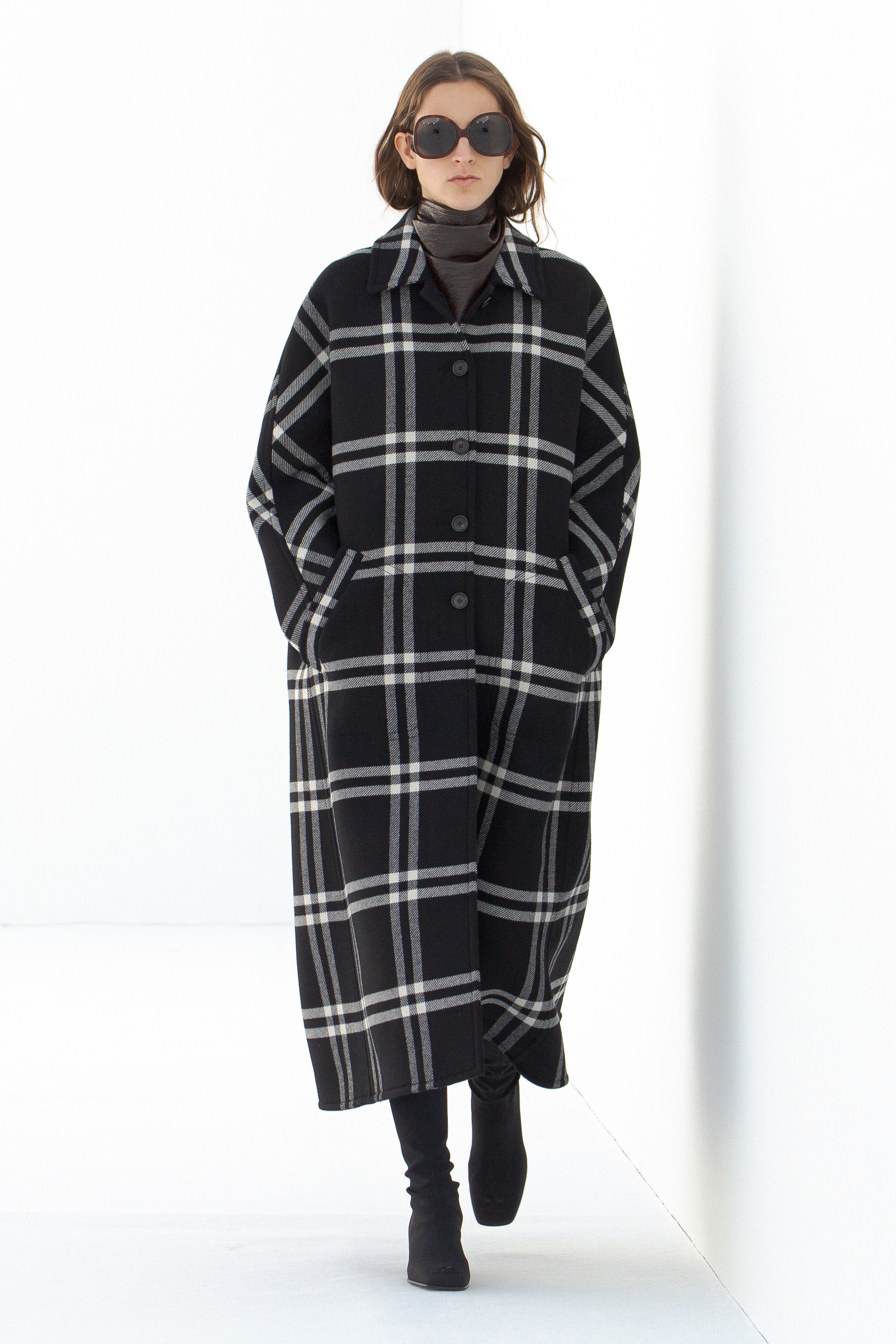 Yesterday, those hopes were fulfilled with a collection that paid necessary homage to the house's storied archives while transporting its signature motifs into the here and now. Slope shouldered greatcoats were cut in checked wool and dusky hued vinyl -- both signature Courrèges fabrications -- and the waists and hems of A-line skirts and sporty tennis dresses were hoiked sky high.
Nods to the house's heritage were certainly plain to see, but this was far from a mawkishly nostalgic. Instead, Nicolas took these codes and fashioned them into a pulse-racing uniform for the roaring '20s that lie on the other side of these wearisome times. If André Courrèges' 1960s audience thought that his geometric silhouettes were racy back then, Nicolas's torso-baring jersey dresses and skin-clinging, cut-out miniskirts are just as racy now.
Indeed, there are plenty of options here for all those post-June 21st parties you'll want to show some skin for. That party-girl spirit is, though, skillfully counterposed by a suite of elegant tailored silhouettes, featuring high-collared, body-sculpted vinyl coats, trucker jackets and halter-neck jumpsuits with slashed circular sleeves. Presented in a filmed catwalk show at a party locale on the outskirts of Paris, here was a debut well worth popping a cork or two for.