Images courtesy of Conner Ives
Conner Ives reimagines the American Dream for AW21
The CSM BA class of 2020 graduate presents an exquisitely crafted collection that grapples with contemporary American identity.
Images courtesy of Conner Ives
Though the immortal line in the Declaration of Independence states that all Americans "are created equal", the events of 2020 proved that this is anything but true. In the wake of the Black Lives Matter movement and the grave structural inequities laid bare during the pandemic, the nation is undergoing an audit of its social fabric and the myths that permeate it; myths like the American Dream. Against this backdrop, Conner Ives' like-titled AW21 collection hardly reads as innocent. Indeed, by his own admission, this body of work -- which is in fact the designer's Central Saint Martins' BA class of 2020 graduate collection -- is intended "as a means to confront my picturesque, privileged upbringing being white in America," he writes in the show notes, an attempt to "re-discover the point of the American Dream in its honest successes and failures."
Drawing on his own suburban American youth, he presents a series of "archetypes of my own experiences", ones that are, at times, tempting to conflate with our own, given how deeply ingrained these 'types' are in our collective psyche. Conner's 'Highschooler', in her hand-sequinned turquoise halter-neck top and scarlet trousers patchworked from varsity logoed jerseys, smacks of Hannah Montana perkiness; the flute-hemmed 'Valedictorian' dress in lime-green plaid suggests Cher Horowitz prep.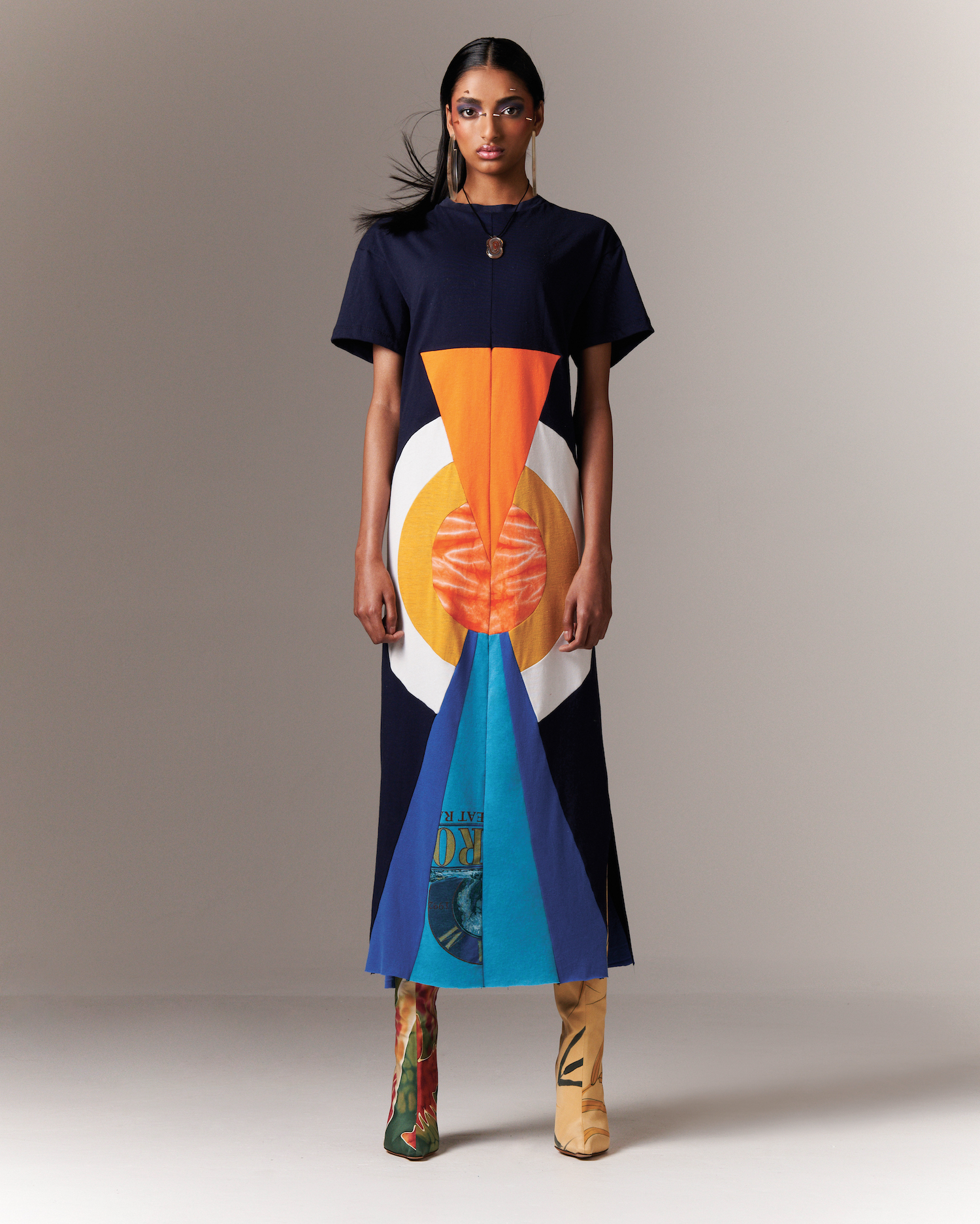 Familiar as these typologies may be, they aren't deployed for the sake of sheer nostalgia. Rather, they're part of a frank meditation on what these ideas and archetypes mean in an America that looks and feels very different now than it did then; on "what the American Dream [means] at the dawn of a new decade, what was missing from it and how could we make it better?" as the designer puts it himself. The looks here may not, in and of themselves, offer answers to these questions that probe at the heart of contemporary American identity — but that's less the point. What they do is offer a sense of the attitude that needs to be adopted in contemplating them, one steeped in rigour, innovation and optimism.
These qualities shine through in the care and attention-to-details so visibly invested in each piece: in the 'LA Crystal Girl''s shimmering halter-neck cut-out dress, its every-square-inch beading suggesting the designer's steady hand and patience of a saint; and in the collection's opening look, an exquisite felted skirt suit bearing a sunrise landscape. And they're there in the words printed on the backs of this season's upcycled T-shirts and sweatshirts, driving the point home in the plainest terms: "This America does not exist yet, but I really want it to."