Photography Thomas McCarty, Mary Manning, Darian DiCianno/BFA.com
Eckhaus Latta overcome the doom and gloom for AW21
Mike Eckhaus and Zoe Latta push the label's signature deconstructed look further than it's gone before.
Photography Thomas McCarty, Mary Manning, Darian DiCianno/BFA.com
When conceptualising their seasonal collections, Mike Eckhaus and Zoe Latta, the duo behind the bi-coastal label Eckhaus Latta, deal in moods rather than moodboards. So when asked what the mood was for the label's AW21 outing, Zoe responded, "We were in a really bad mood," with a laugh. The pair began development of their latest collection back in early autumn; it was a period mired not only in pre-election dread and ongoing pandemic anxiety — "this general confused, dark energy," as Mike put it — but also in personal turmoil for both designers. Seasoned alchemists of atmosphere, they are, however, Mike and Zoe managed to transmute the doom and gloom into one of their sharpest — and darkest — offerings to date.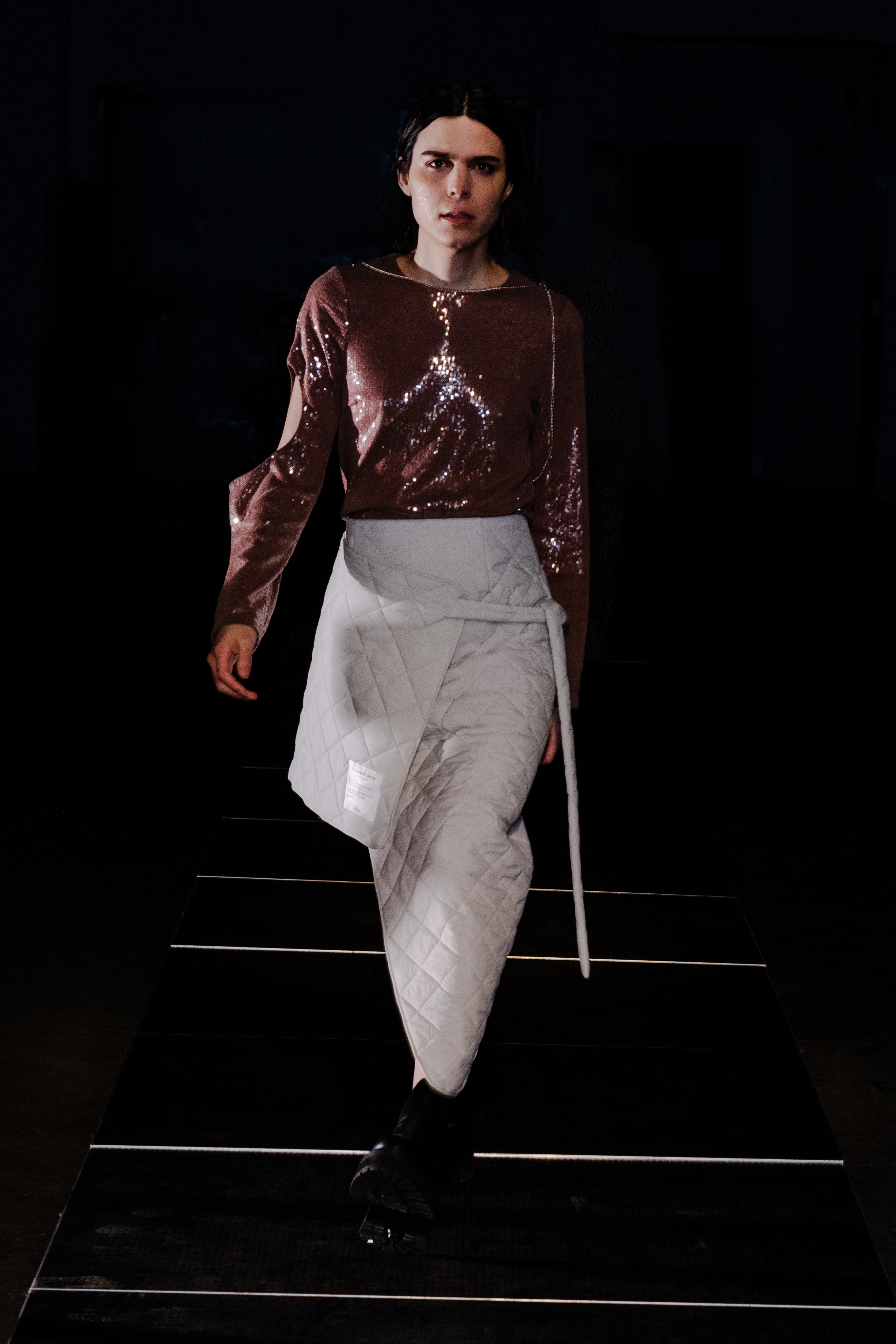 To capture the prevailing mood, this season, Mike and Zoe pushed the label's continuous exploration of deconstruction — in its many, mutable forms — harder and further than it's gone before. Optic-patterned turtlenecks and sequinned skirts were pierced with slits and gaping cut-outs — "voids," as Zoe calls them. A series of slinky knitted pieces — cardigans and dresses — featured buttoned panels, which, when left undone, revealed slices of skin and the plateau of lower back. Label staples like the Lapped Tee and the EL jeans were shredded and frayed, the former almost beyond recognition. "We're playing with our classics, whether we're refabricating them or degrading and destroying them, in a way," Mike says. The sombre air also extended to the offering's palette: muted mauves, tar black faux leathers, garment-washed greys, shot through with fluorescent 'warning!' orange.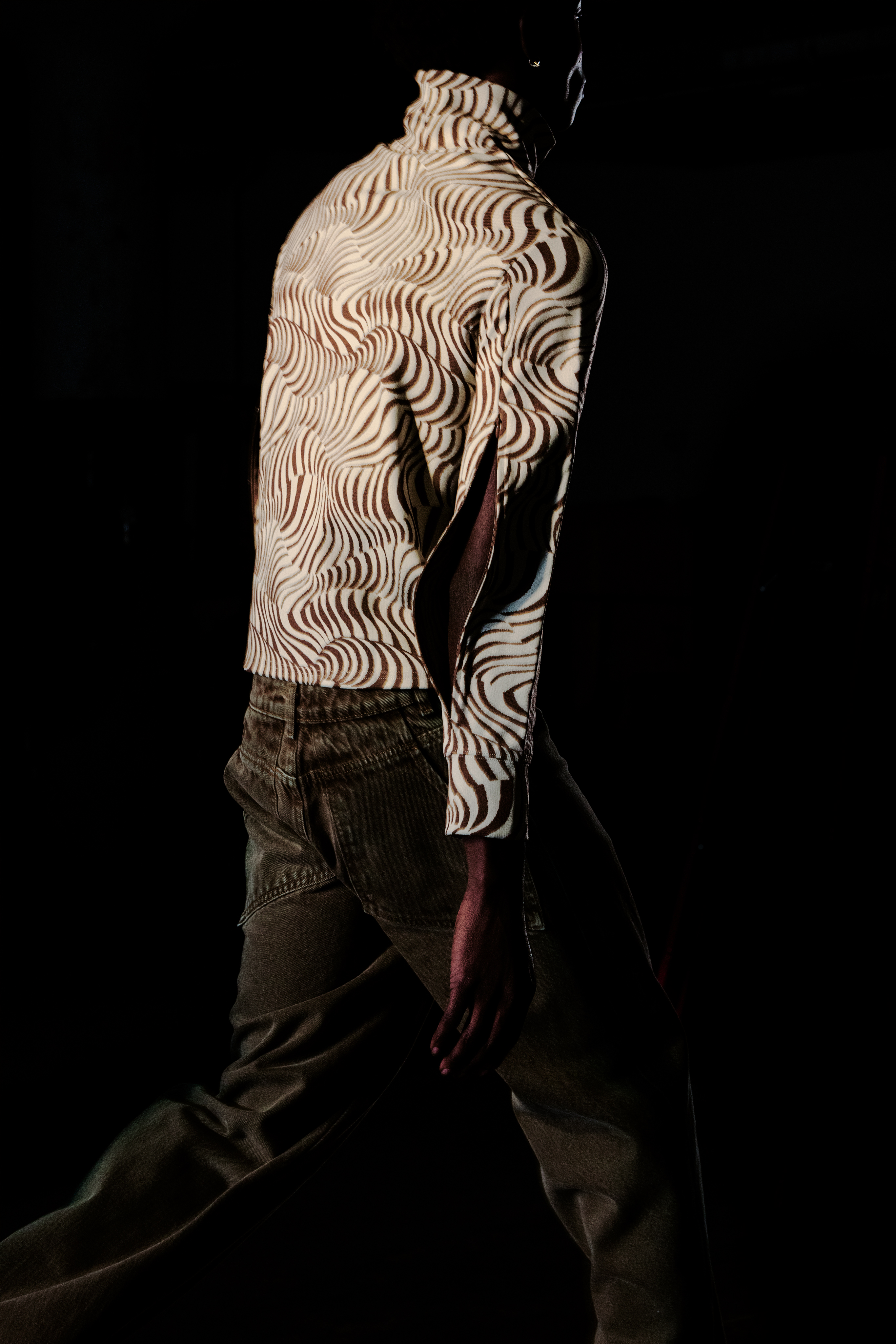 The current grimness had Mike and Zoe reflecting on how they design, as well. "For the entirety of our careers, we've been operating in a 'go, go, go, bigger, better, faster, stronger' manner. This whole collection — and our whole experience with Covid-19 — has really been a questioning of why we're doing that. We're slowing down, thinking about what we're good at, what we like doing and what we actually want to put out into the world," Zoe says. This season, the duo pared their offering down to a cool 23 looks, almost half of what they sent down the runway only a year ago. "It's a more concise idea of what we want to be saying," Mike explains, before adding, "Even if what we're saying has a murkiness or undetermined quality to it."
Although shrouded in darkness and shot in the concrete-drab of a parking lot in Bushwick, the collection's accompanying video and lookbook sees the duo looking optimistically toward the future. "We wanted to create a show without having a show, without an audience," Zoe says. "To capture the energy of a fashion show, which we miss so dearly, without feeling like we're faking it." In the film — part runway, part photoshoot, or "show-shoot," as Zoe calls it — models stomp down a runway, in and out of spotlights, as the flashes of cameras pierce the dark. The hushed excitement is palpable, the imagined audience hovering just off-side, in the darkness. With this offering, Eckhaus Latta has created the wardrobe for navigating not only today's murky mood, but the brighter, surer days that exist on tomorrow's horizon, the ones hovering so close in that catwalk darkness.