MM6 Maison Margiela AW21 may look wrong, but damn does it feel right
The house's enigmatic collective tells us about this season's back-to-front theme, and how they're reimagining Martin Margiela's design ethos for today.
When Diana Ross sang the words "Upside down/ Boy, you turn me inside out/ And 'round and 'round," in her 1980 disco anthem, "Upside Down", she was referring to the heady emotional rollercoaster of falling in love. Eternally relevant a theme as it may be, four decades on, her lyrics resonate in an unexpected contact: MM6 Maison Margiela's AW21 collection, revealed yesterday on the Milan Fashion Week schedule, where everything was switched into reverse gear.
The collection was presented via a film set in a recreated 1920s Parisian cabaret — those sensuously dim dens where, a century ago, the city's community of avant-garde artists, musicians and writers would gather to drink, smoke and dance away the razzle-dazzle nights of the années folles. In the spirit of reversal, the film opened with what customarily marks the end of a show, as models did their final loop around the catwalk, to applause and confetti.
Walking to a warped, occasionally rewound tinkling piano score — evocative of the experimental work of Impressionist composers Erik Satie and Maurice Ravel — they stepped out, and shuffled backwards, in garments that hammered the reversed theme home with gusto. Pieces that typically read of quotidian familiarity — a leather jacket or a tailored wool blazer, for example — are flipped inside out, their typically concealed linings, labels and architectural inner constructions becoming bold aesthetic proposals in their own right. The threads of a reversed intarsia knit sweater bearing a graphic of Maurice Ravel trail down its front, while the shoulder pads of a fuchsia satin blouse droop down towards the armpits.
The backs of bon chic, bon genre trench coats are fused to create a trompe l'oeil dress, and jeans are composed of the reverse sides of two pairs, with slashes you'd typically on the front knee transposed to the back. For the nitpickers out there, you'll be glad to hear that the switched-up commandment carries over into the details, too. Dangling faux-pearl hook earrings have stud fastenings on the bottom, allowing you to wear them downside up, while labels are given a flipside typographic treatment, either mirrored, or reading 'Maison' one way up, and 'Margiela 6' the other. And in this season's collaboration with Eastpack, the label's iconic bumbags and backpacks are turned inside out to reveal a collage of custom patches.
Struggling to get your head straight after all that? Well, so were we. Fortunately, though, the enigmatic collective behind the house were on hand to fill in the blanks on the back-to-front mindset they adopted this season. Here, they tell us about finding inspiration in their everyday wardrobes, the technicalities of working the wrong way round, and the challenge of carrying the ethos of Martin Margiela into the present day.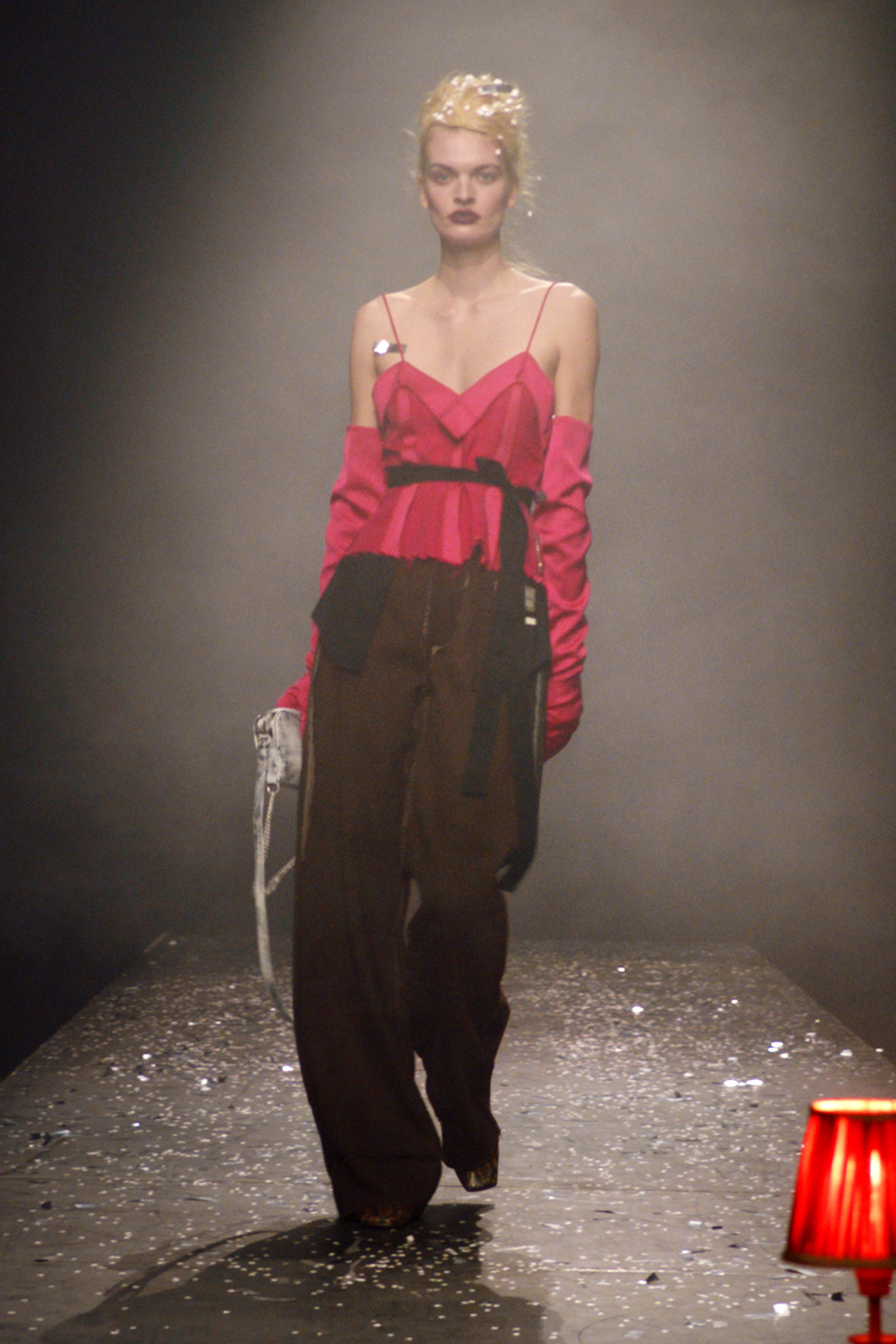 Last season, you focused on the house's trompe l'oeil codes, subverting viewers' expectations of everyday garments. This season, you seem to have pushed that idea even further with the 'reversed' theme. What was your starting point?
Funnily enough, it's exactly the same as last season. Then, when we started working on the collection, being on Zoom meetings all the time was so new to us, so we wanted to make a visual pun on the situation. Things were spliced and cut in a way that sort of 'faked' what you were wearing. This time around, we still weren't able to work together as we'd like to; we couldn't go to libraries, to vintage markets, or hang out in bars where you see cool, inspiring people. All we had were our own wardrobes. And what's the first thing fashion designers do when they see a piece of clothing? They turn them around, inside out. They want to see the detail, how it's done and how it feels. So it was really about reacting to the current situation, thinking about how we could get excited about creating something new, and the sources at our disposal to do that; about viewing the same pieces we all have in our wardrobe in a different light.
We wanted to do that with some of our bestselling shapes from the past, so there's an element of familiarity with the collection, as well as with new, dressier pieces too. With the reversed satin top in look eight, for example, we thought it was important to have the pads dropping forwards, because when that's what happens when you wear a top with shoulder pads inside out. What's interesting is that you can't actually wear these garments 'the right way round'. We really wanted to really engineer each piece so that it's functional but looks kind of wrong however you wear it. It would've been a little bit lazy of us to just flip the pieces inside out and call it a day…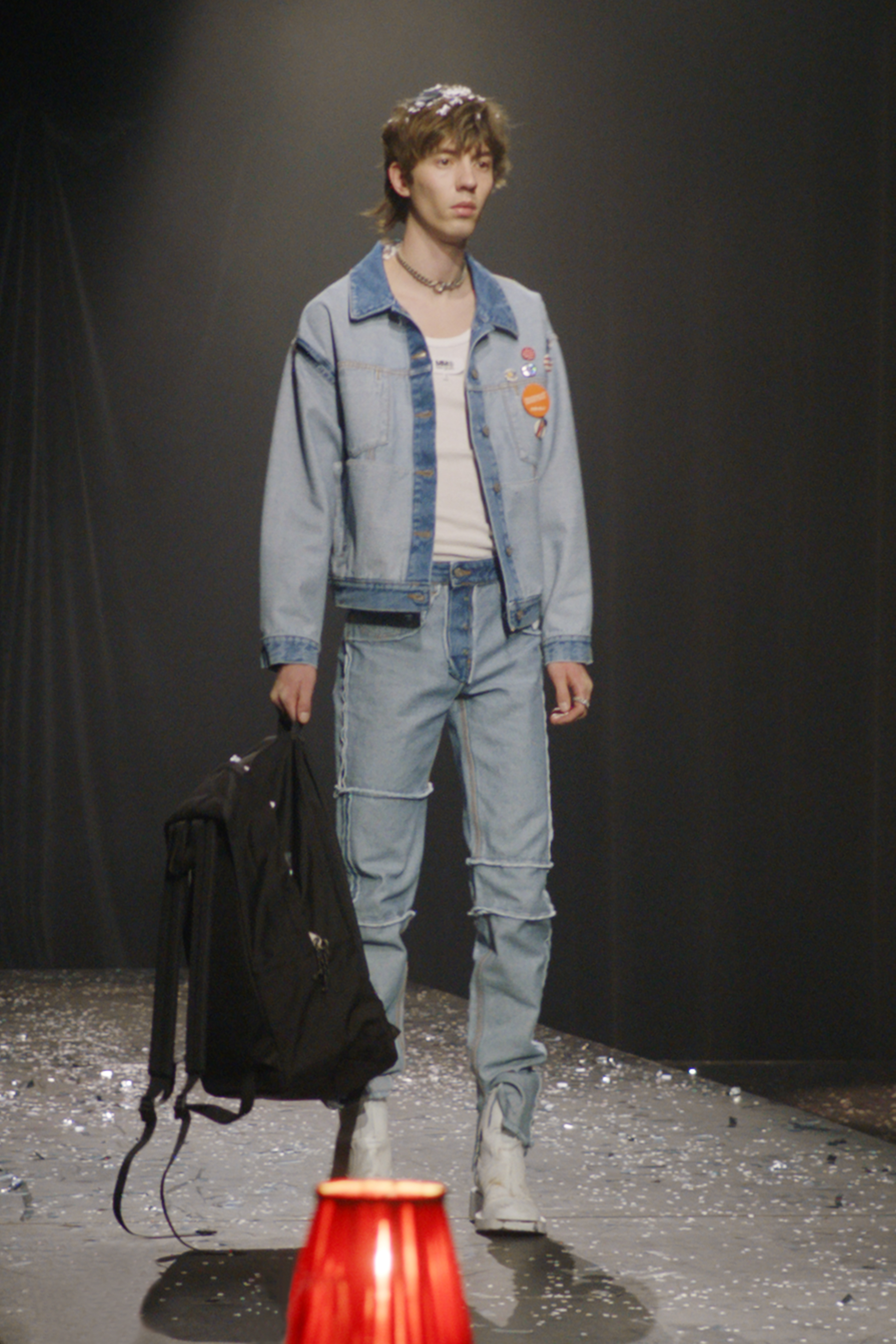 The back-to-back pieces are especially interesting in that respect. When you look at the clothes in a fashion presentation context, the focus is almost always on the front. What's the story behind these pieces?
Well, when we landed on the thought that wearers should never be able to turn pieces the right way around, creating back-to-back pieces seemed like a natural way of doing that. It was also about wearability, too -- it's much more comfortable to wear the back of a pair of jeans up front than it is to have the zip in the back. And it was also about visual appeal. Placing the buttons of a blazer on the back can feel very first degree -- but we thought the back of a blazer already looks so good, so why not put it on both sides? It's not necessarily the most poetic story, but it was a matter of focussing on the product and really trying to make something that makes sense for our customers.
What technical considerations did you have to take into account working on this collection?
Looking at something like the blouse blanche, turning a humble cotton lab coat into shearling, it's quite an interesting exercise. You have to think about how much it needs to look like a shearling coat, and how much it needs to look like its original counterpart, and try to find the right balance. You have to think about how you stitch the belt, how you do the openings, the facings… it has to look like an easy single layer item that is actually very function driven; that it works as a winter overcoat.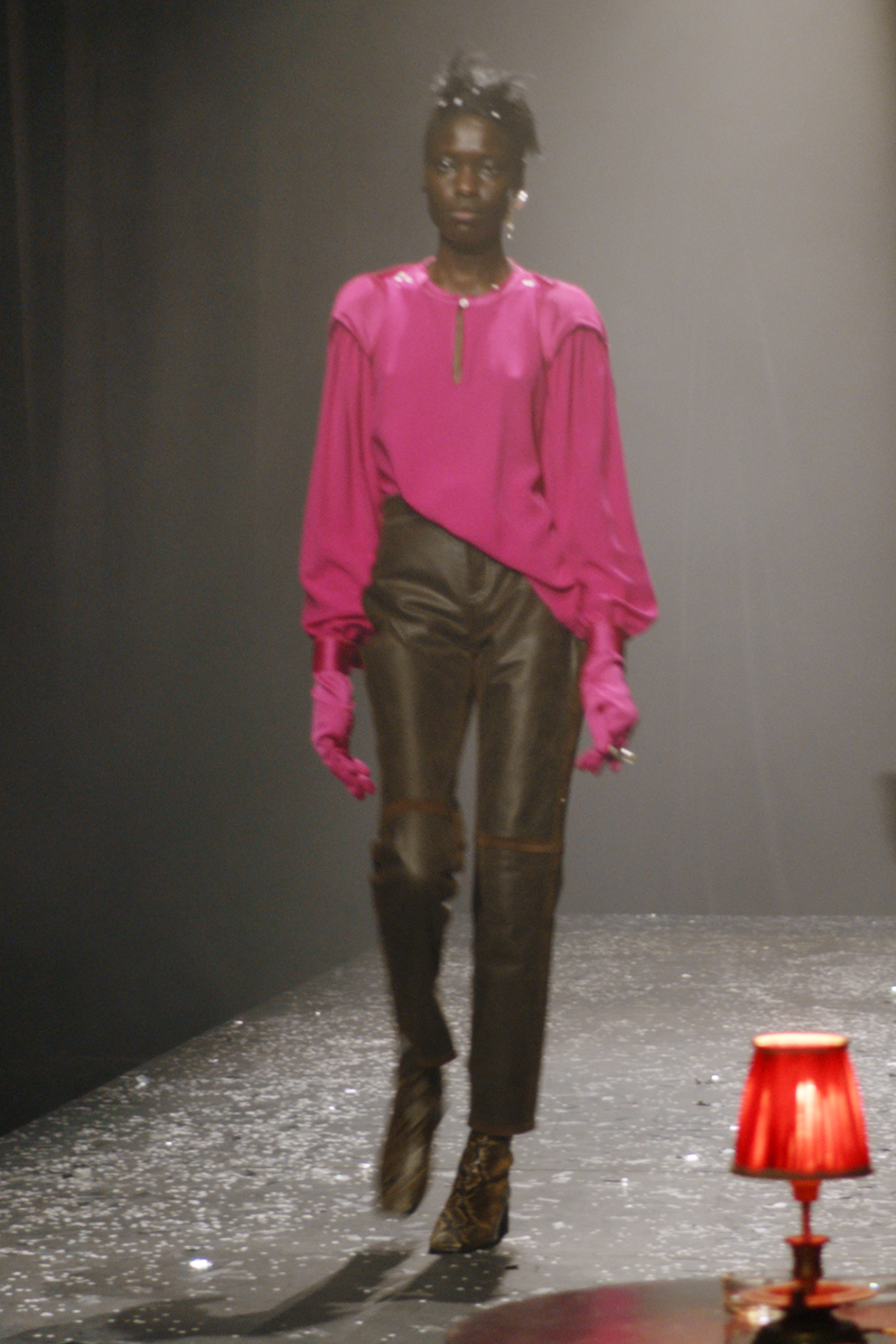 That speaks quite directly to Martin Margiela's ethos.
Yes. But we also want to apply that to items that weren't so commonplace back when he was working, and that are now — to turn that ethos into a look that's relevant today. It's about carrying things forward. When we visit the house's archives, it's not about nostalgia, it's about getting to grips with a certain process, and thinking about how it can be reinterpreted for today. We want to keep things humble and honest, telling the stories through the products rather than the narrative around them.
Why do you think the approach we see here is so relevant today?
When you reverse an item, the process of a piece's making is present, somehow; there's that human touch that we're all missing in this era of Zoom meetings and parties. The process lingers in the product, and there's real magic to that. It's also about what it suggests to the wearer. We often feel that raw edges in Martin's collection, for example, weren't about being aggressive or cool; they're more like suggestions of what you can do with the pieces yourself. They say, 'If you feel that this trouser leg is too long, please chop it off! Please live in this piece, love it and make it part of your wardrobe'. That may sound like we're over-conceptualising, but that's how we view MM6 and it's what informs many of our decisions: this idea that what we create is in the process of becoming -- that this is how we give it to you, but now it's on you to make it your own.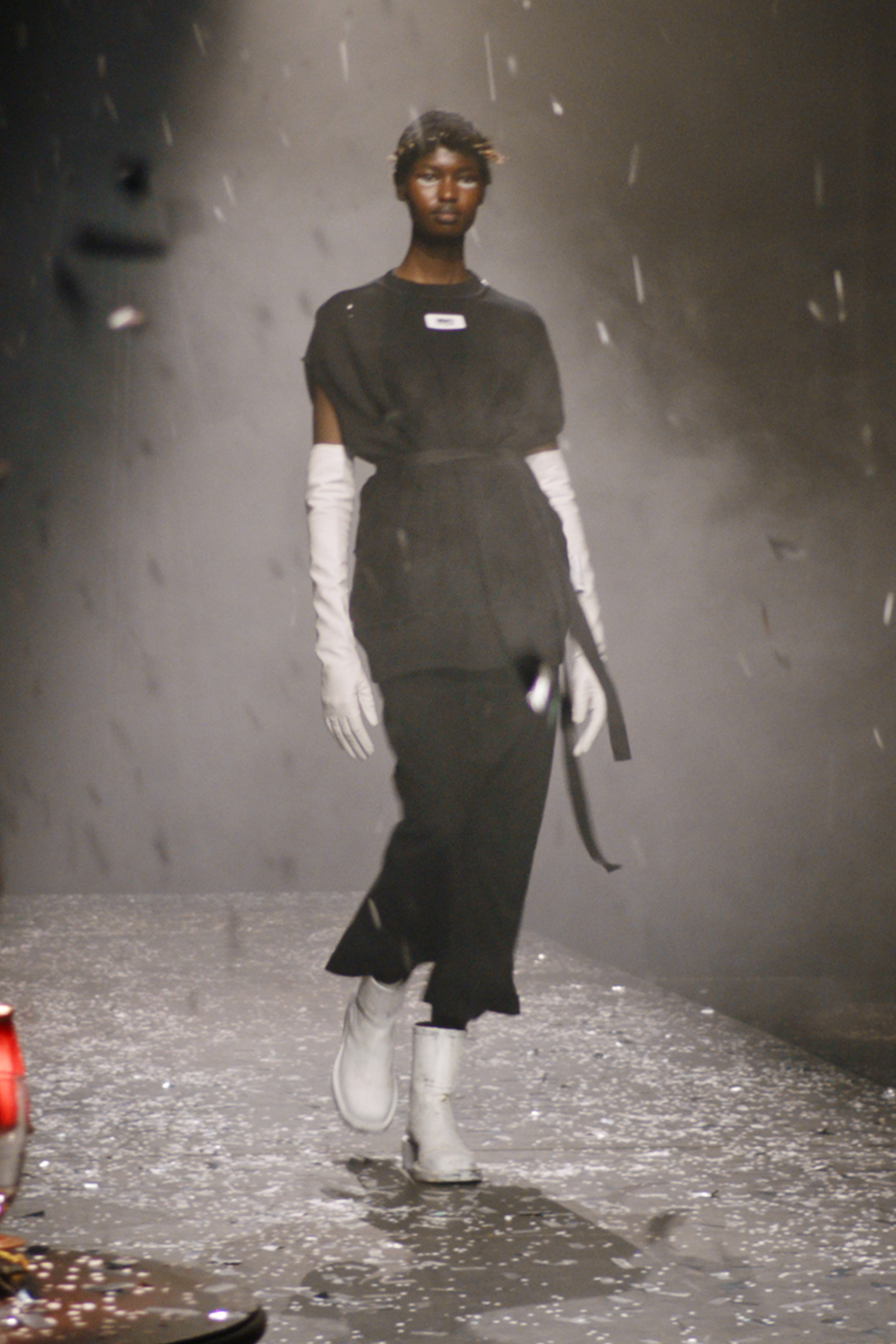 Well, this is certainly a very thought-provoking collection, though I'm still not quite sure what thoughts it's provoking…
And maybe that's exactly it. When we take these one-word themes -- the 'circle' collection, the 'silver' collection, the 'padded' collection -- it makes you think, 'Why on earth would someone go to all this effort to do this if they didn't have a message to communicate at the heart of it all?' The answer to that is something we want to leave in the shadows.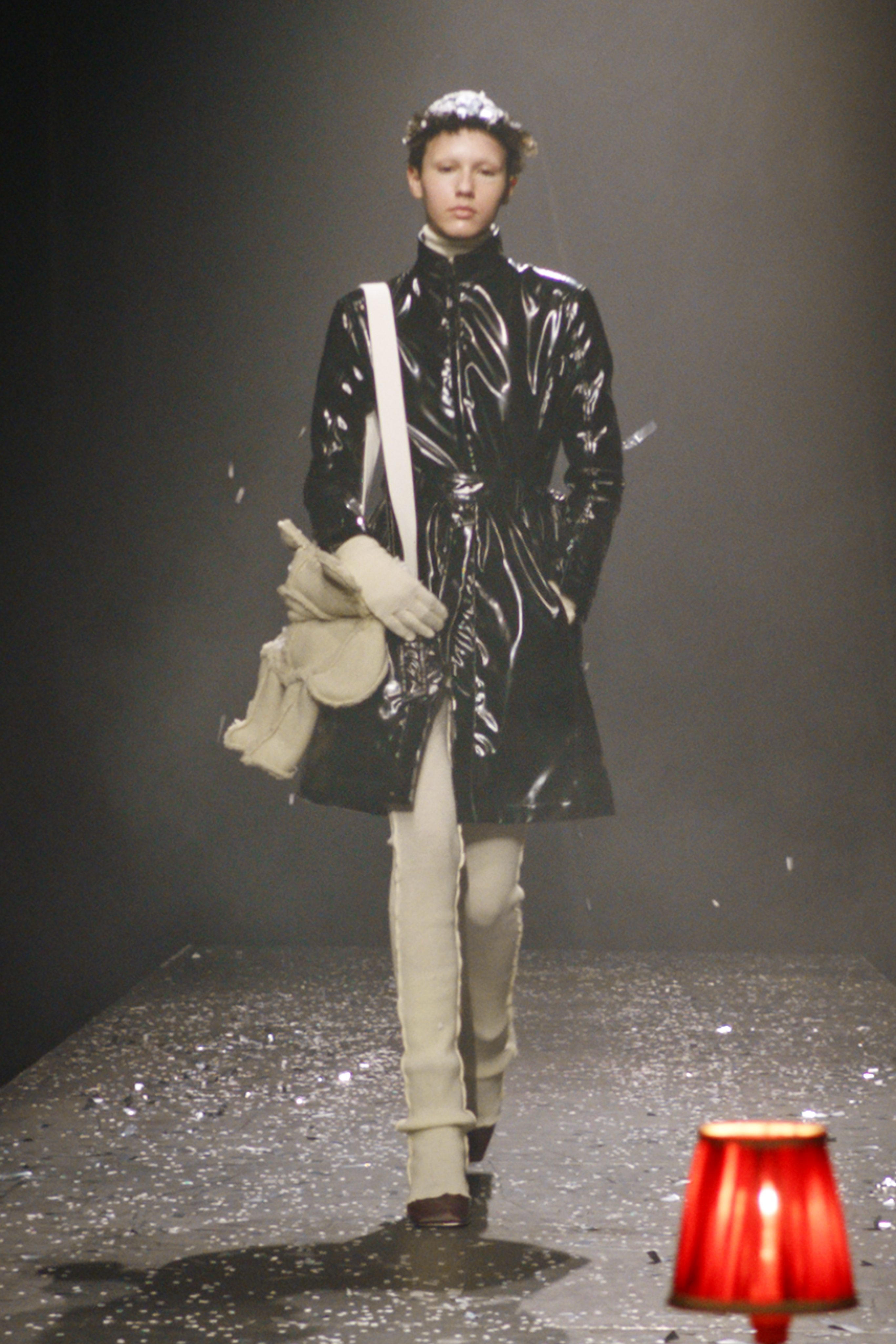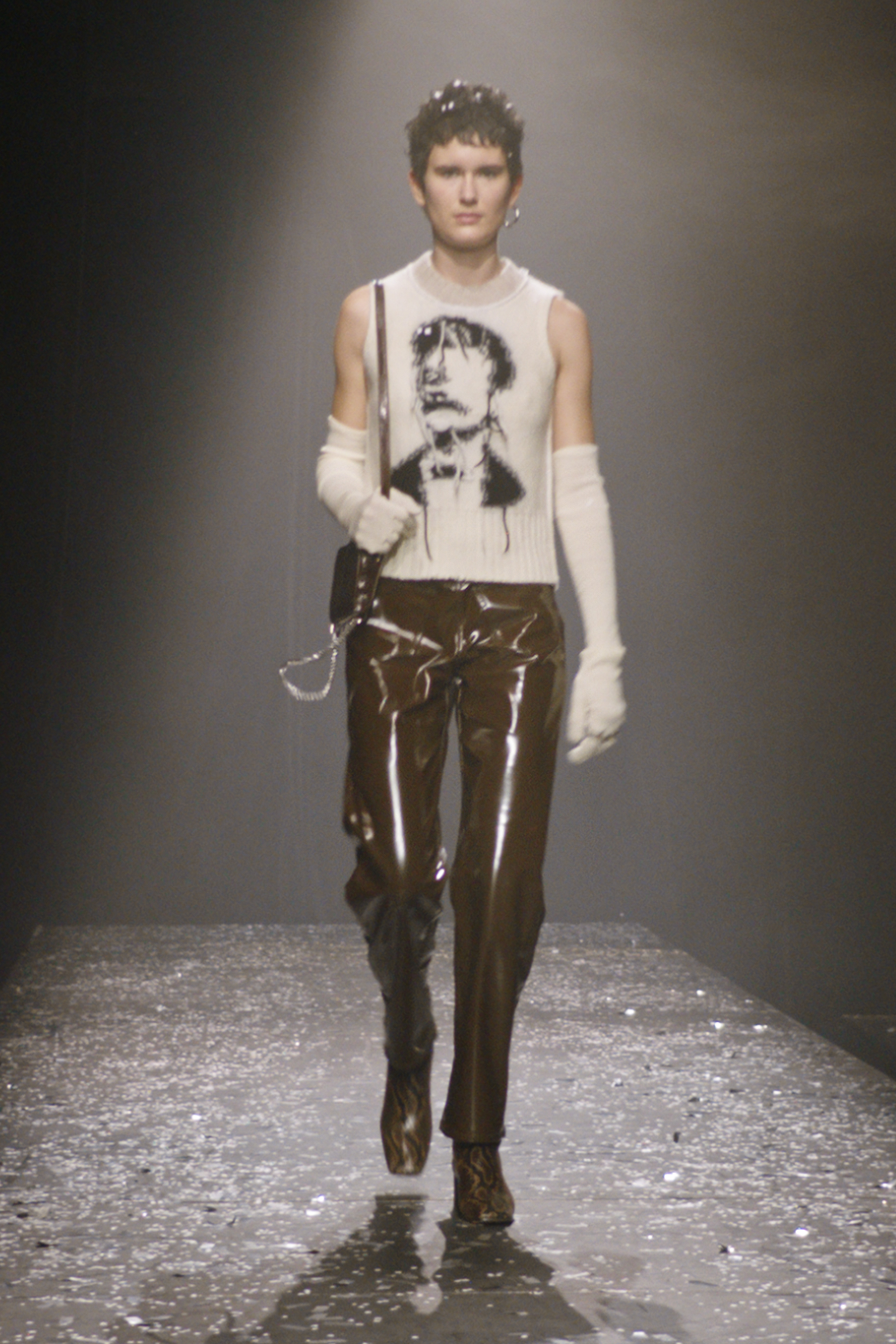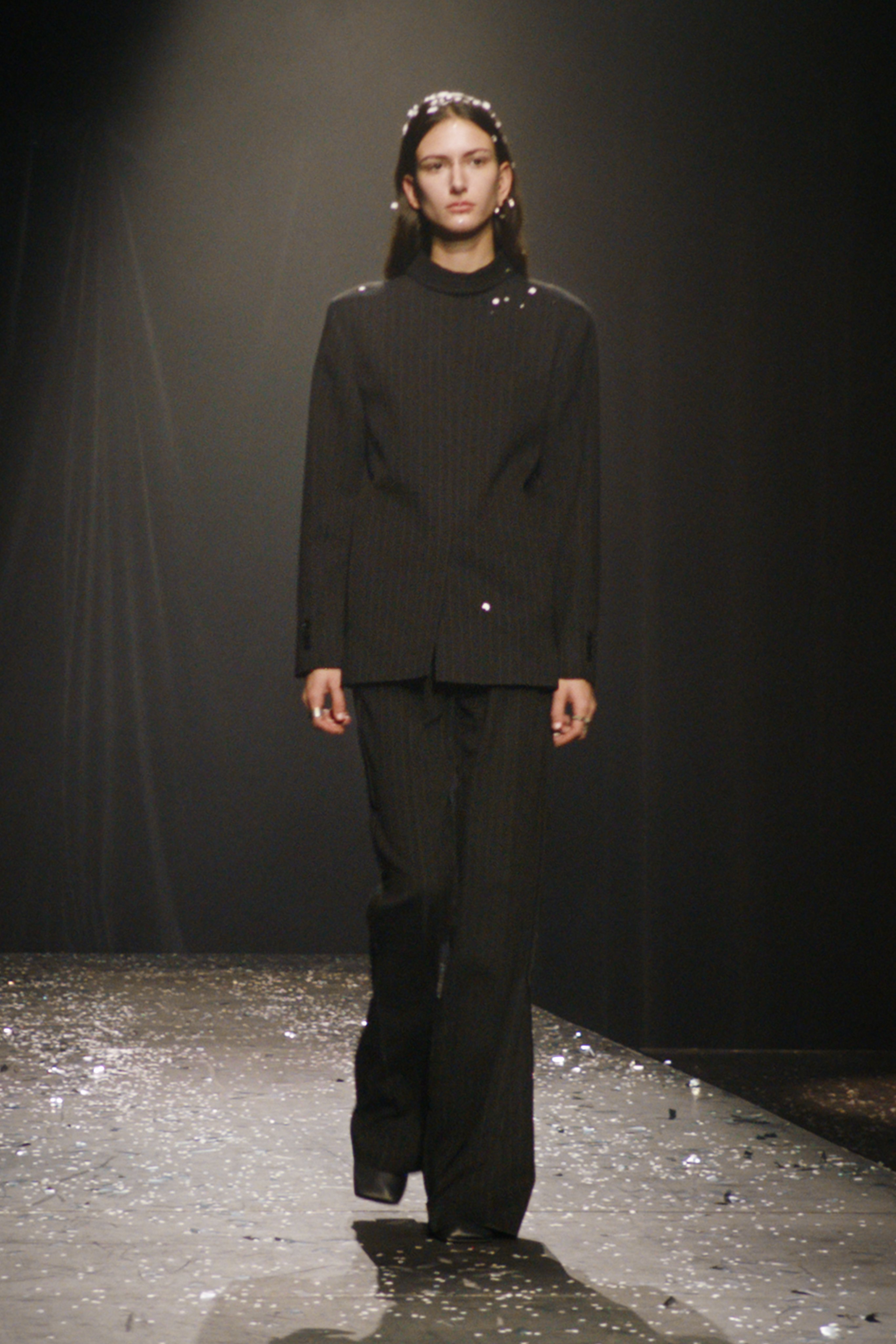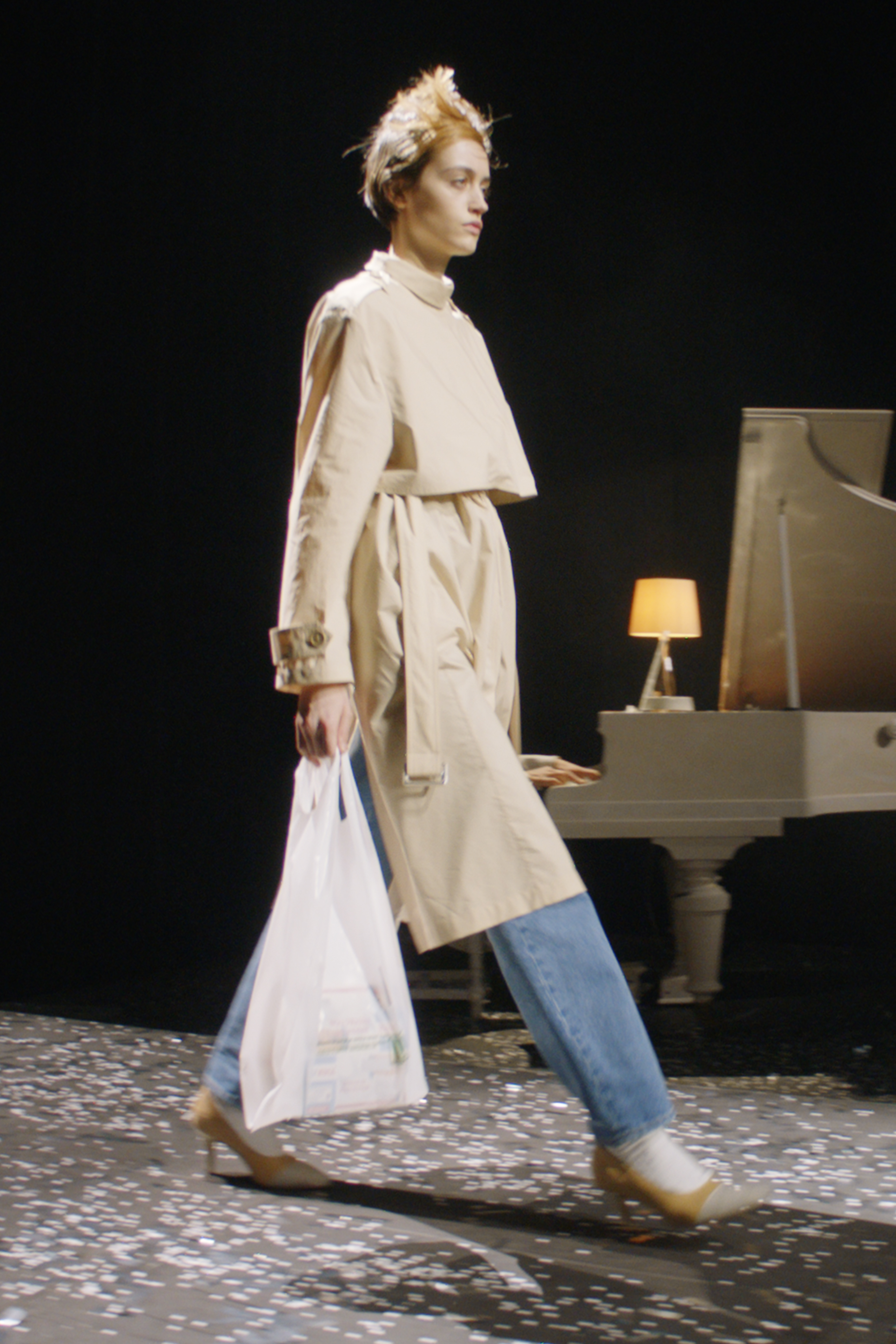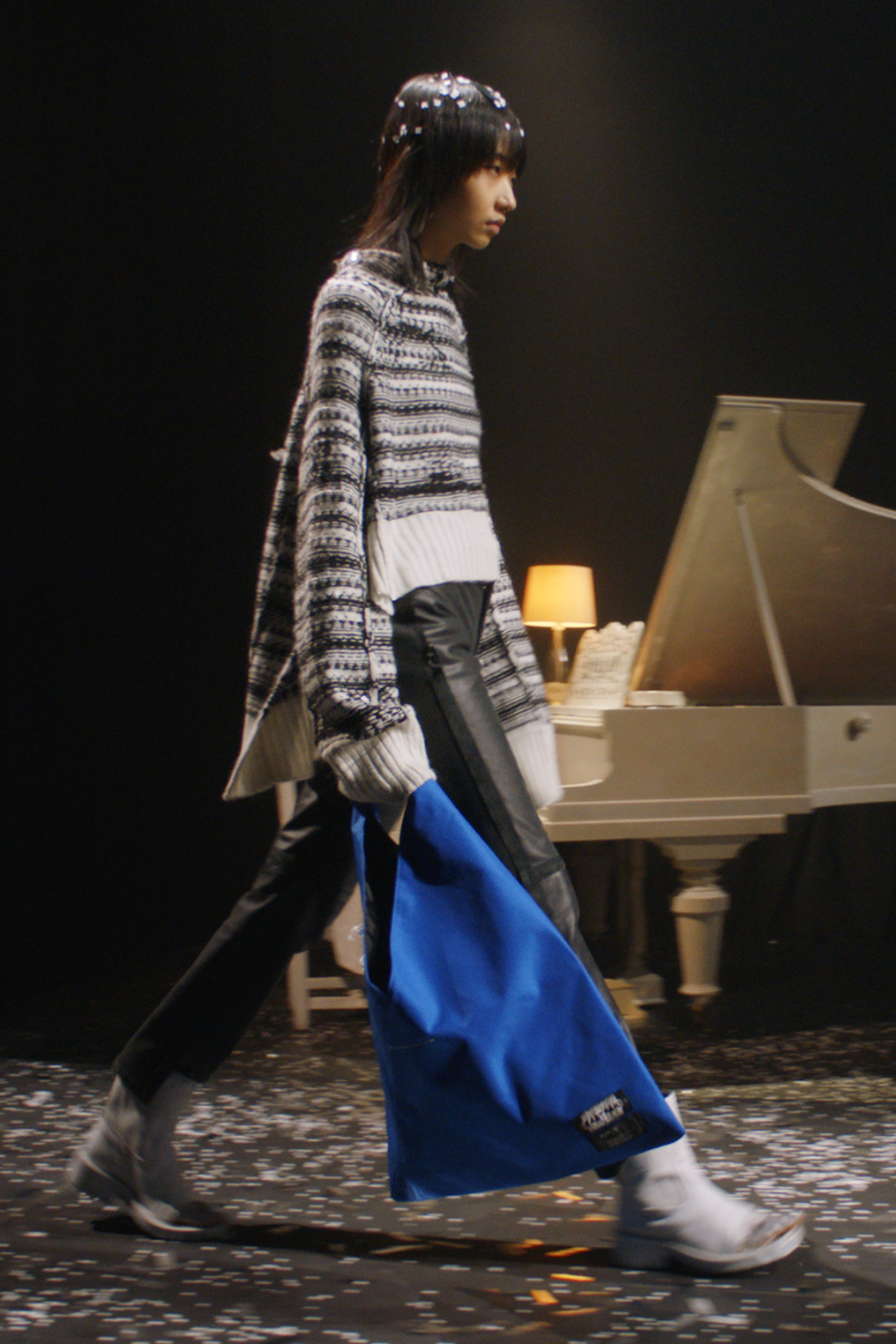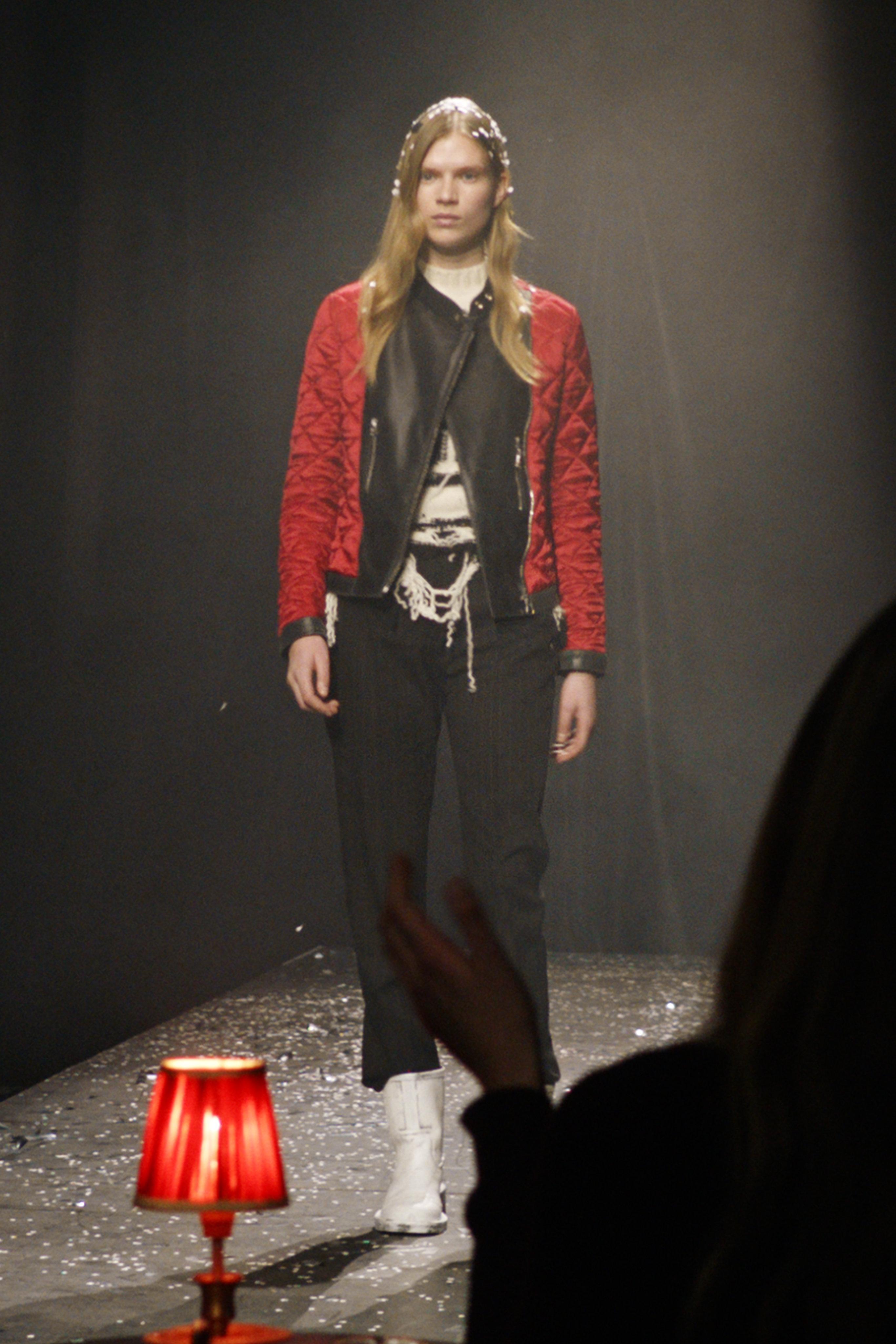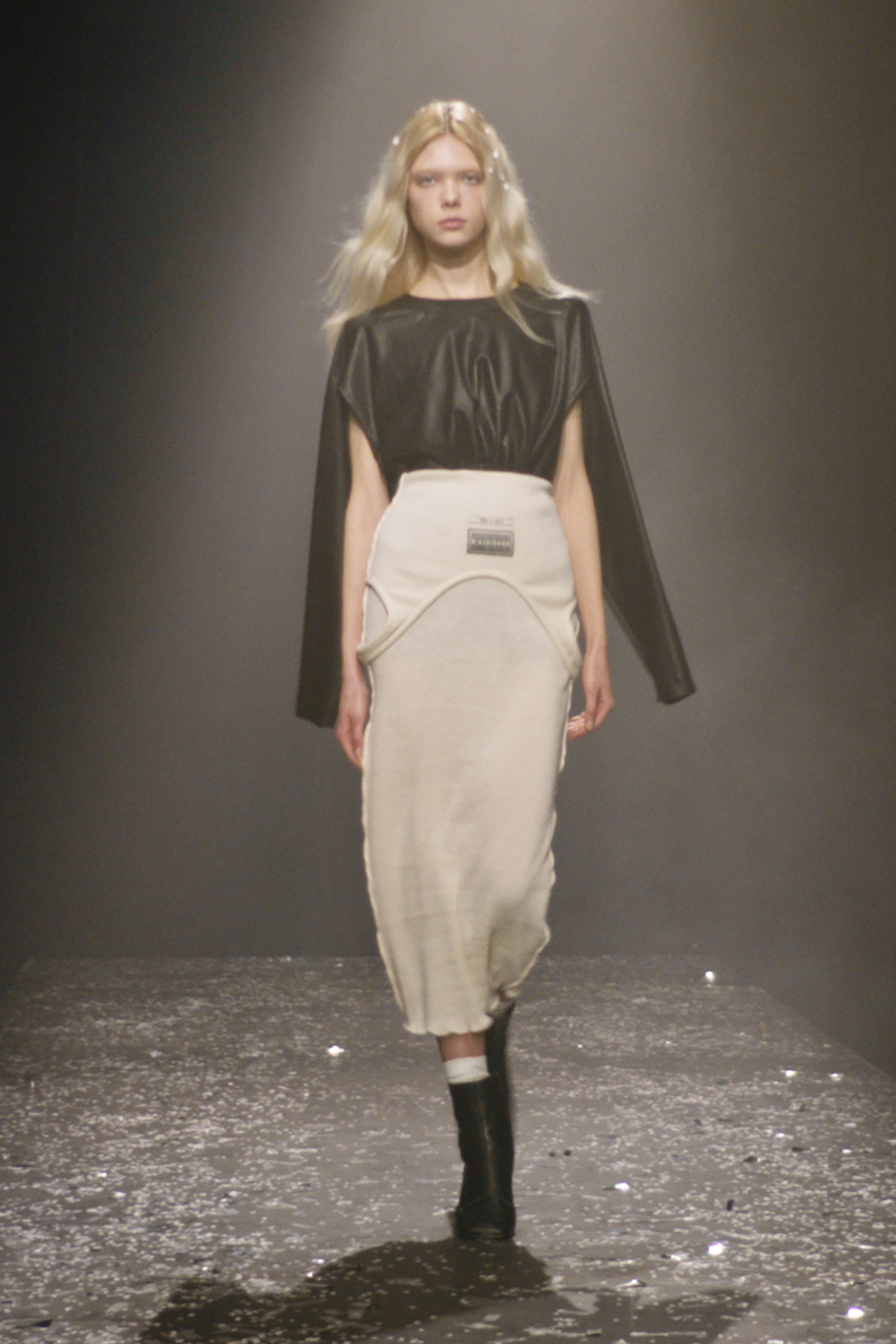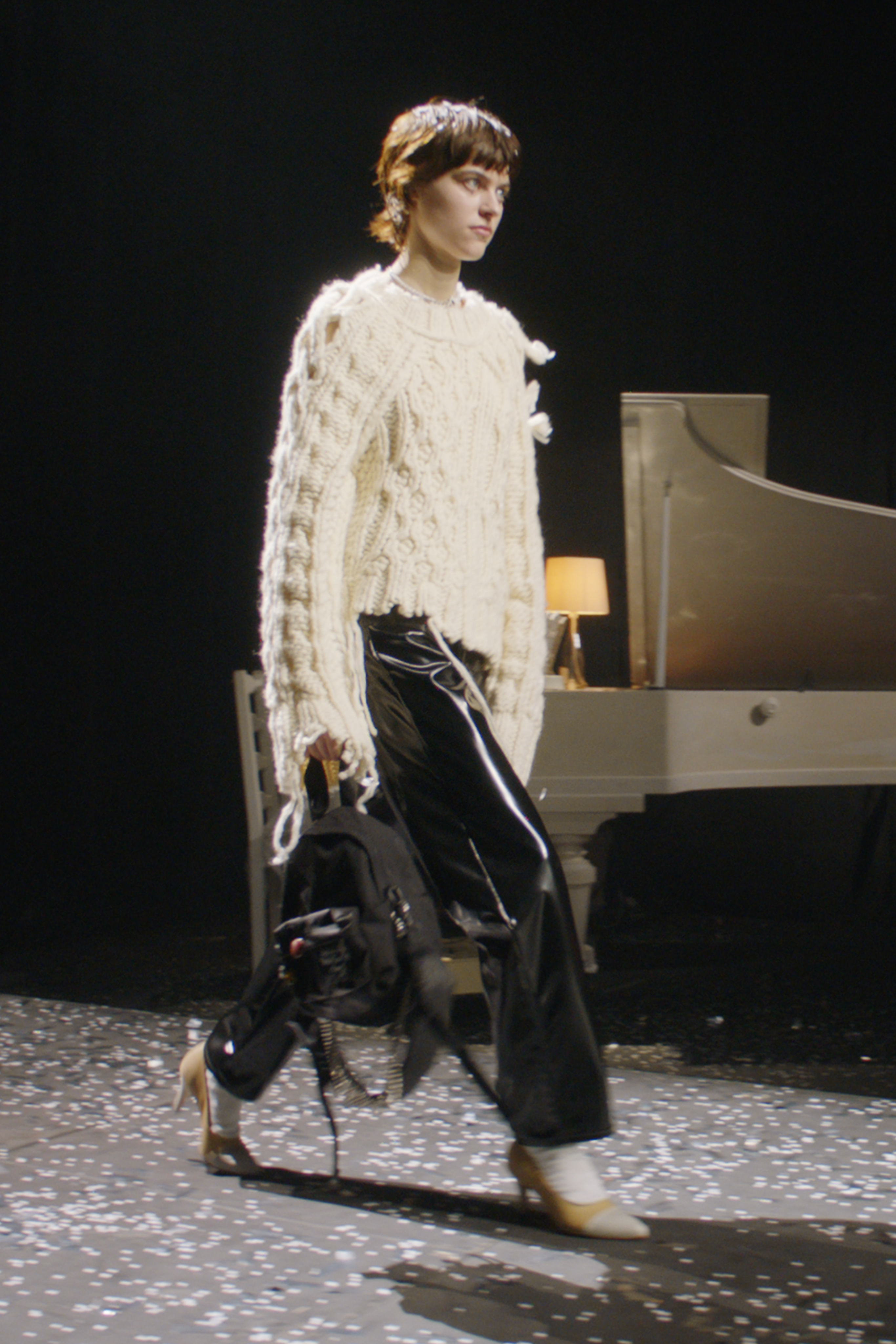 Credits
---
All images courtesy MM6 Maison Margiela