Photography Steven Meisel. Image courtesy of Louis Vuitton
Léa Seydoux for Louis Vuitton and unlimited Telfar bags: What's in fashion?
Your one-stop-shop for this week's fashion news to know.
Photography Steven Meisel. Image courtesy of Louis Vuitton
Forget about the clothes. This week it's all about the accessories: the bags, the trainers, the boots. From Louis Vuitton leather goods to Telfar's vegan-friendly it-bags, there's something for every taste and budget. It would, of course, be cruel to keep you starved of actual clothes, so we've graciously included a couple of this week's most exciting collection drops — haute-casualwear to tide you over for these final months of lockdown, and exclusive Marine Serre. We do spoil you, don't we! Here's what's in fashion.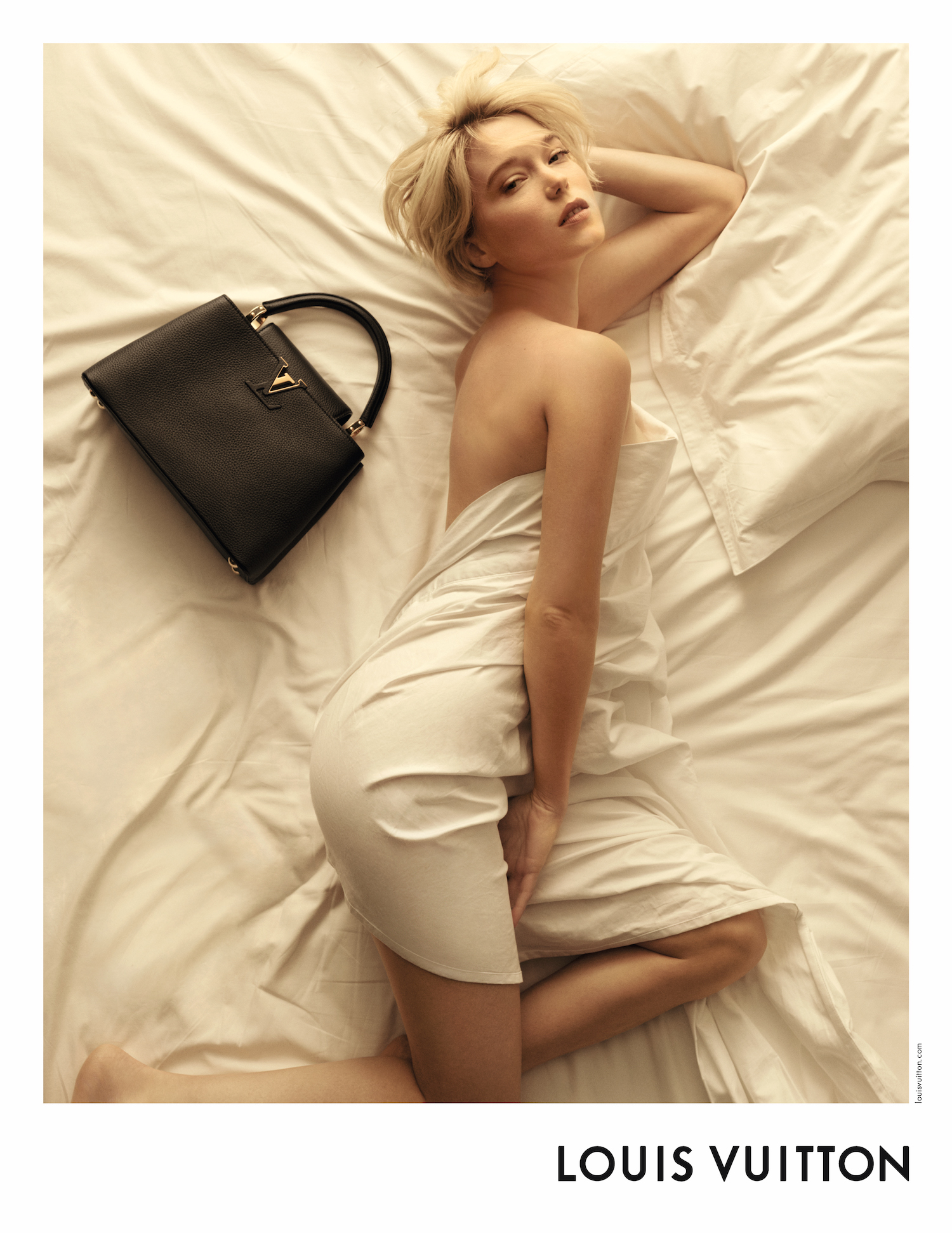 Fancy a Capucines?
Léa Seydoux for Louis Vuitton shot by Steven Meisel. That's all. OK, just kidding — but, to be honest, that's all you should need to get as excited as we are for their latest campaign. A toast to the iconic Capucines bag, named after the Parisian street where its namesake founder opened his first shop, the pared-back images capture the French vedette and Vuitton ambassador in bed, entirely au naturel save for an artfully draped sheet and the purse itself. Handcrafted from only the most supple — yet reassuringly sturdy — full-grain leather, "the Capucines represents the essence of French savoir-faire," says Léa. "It's a handbag I love and wear all the time." Indeed, it's the perfect piece to be seen with once we're all allowed back out on the town. Then again, as you can clearly see, it works just as well as a teddy bear replacement to curl up in bed with, too. MS
Wales Bonner x Adidas Originals gives us a one-way ticket to Jamaica
Oh, to be transported to the shores of Jamaica, dancehall playing in the background and the warmth of sunshine against our skin… Yes, travel may be off-limits right now, but that never prevented fashion from serving us plenty of escapism, which is why the timing for Grace Wales Bonner's new instalment of her Adidas Originals collaboration couldn't be better. To mark the occasion, Grace collaborated with filmmaker Jeano Edwards on a gloriously retro-tinged short film, shot at Caymanas Park in Portmore, Jamaica. Despite working together on two films, designer Grace and Jeano have never actually met in person. The pair connected via a cold e-mail from Jeano to Grace: two weeks later, Jeano was in Jamaica producing a short film called Thinkin Home for Grace's SS21 collection. They reunited — albeit while on different sides of the world — to create an ode to dancehall and its enduring influence on Black style. Tune in to switch off from the greyness of Plague Island, if only for a minute. OA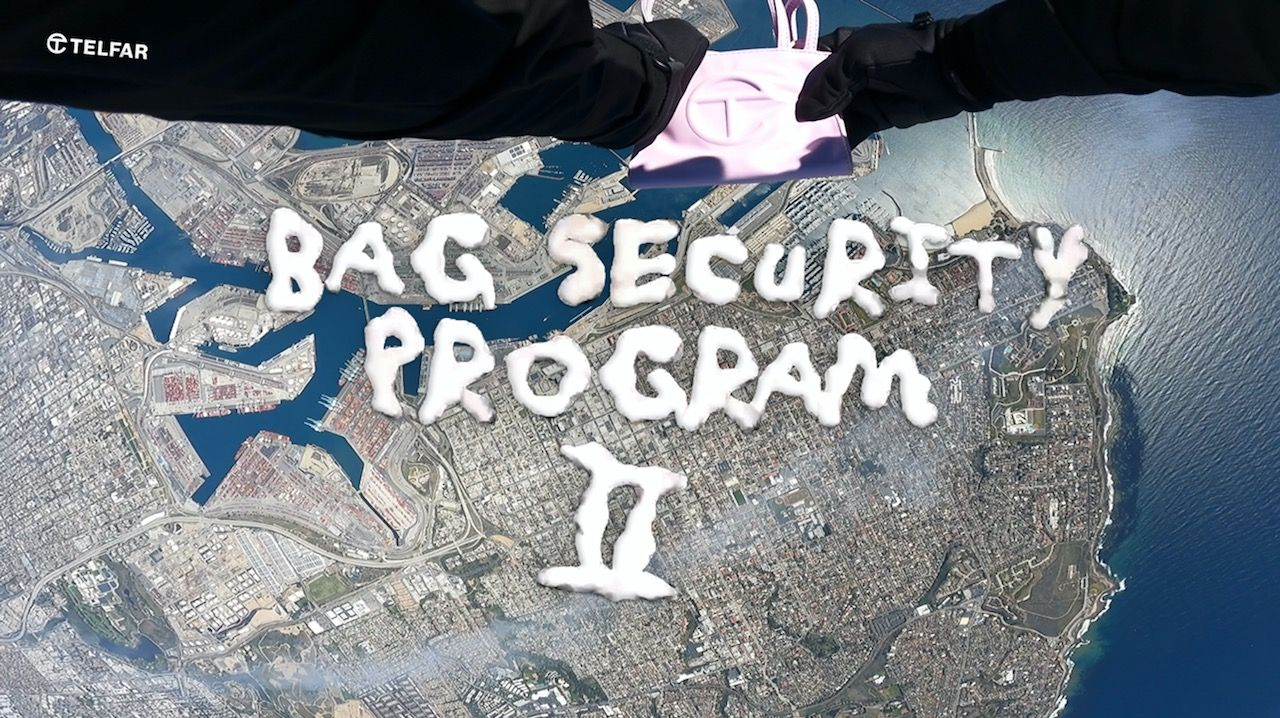 You get a Telfar bag! They get a Telfar bag! EVERYONE GETS A TELFAR BAG!
Telfar's distinctive, vegan-leather shopper has been called many things. The Bushwick Birkin! The It-bag of the decade! But, while the sought-after purses of yesteryear were marked by their exclusivity, Telfar is for everyone. To prove it, the New York label is back with its second 'Bag Security Program', which means you — yes, you! — can order as many Telfar bags, in as many colours, sizes, quantities as your heart (and your wardrobe) desires. The idea is that the bags are custom-made per order, reducing waste and waiting lists in the process — but you must be quick, the program is available to order through for just 24 hours from next Tuesday. The label has even partnered with Klarna, the global payments provider that allows shoppers to pay with four equal payments interest-free. Here's another name to add to the list of Telfar's titles: The People's Purse! OA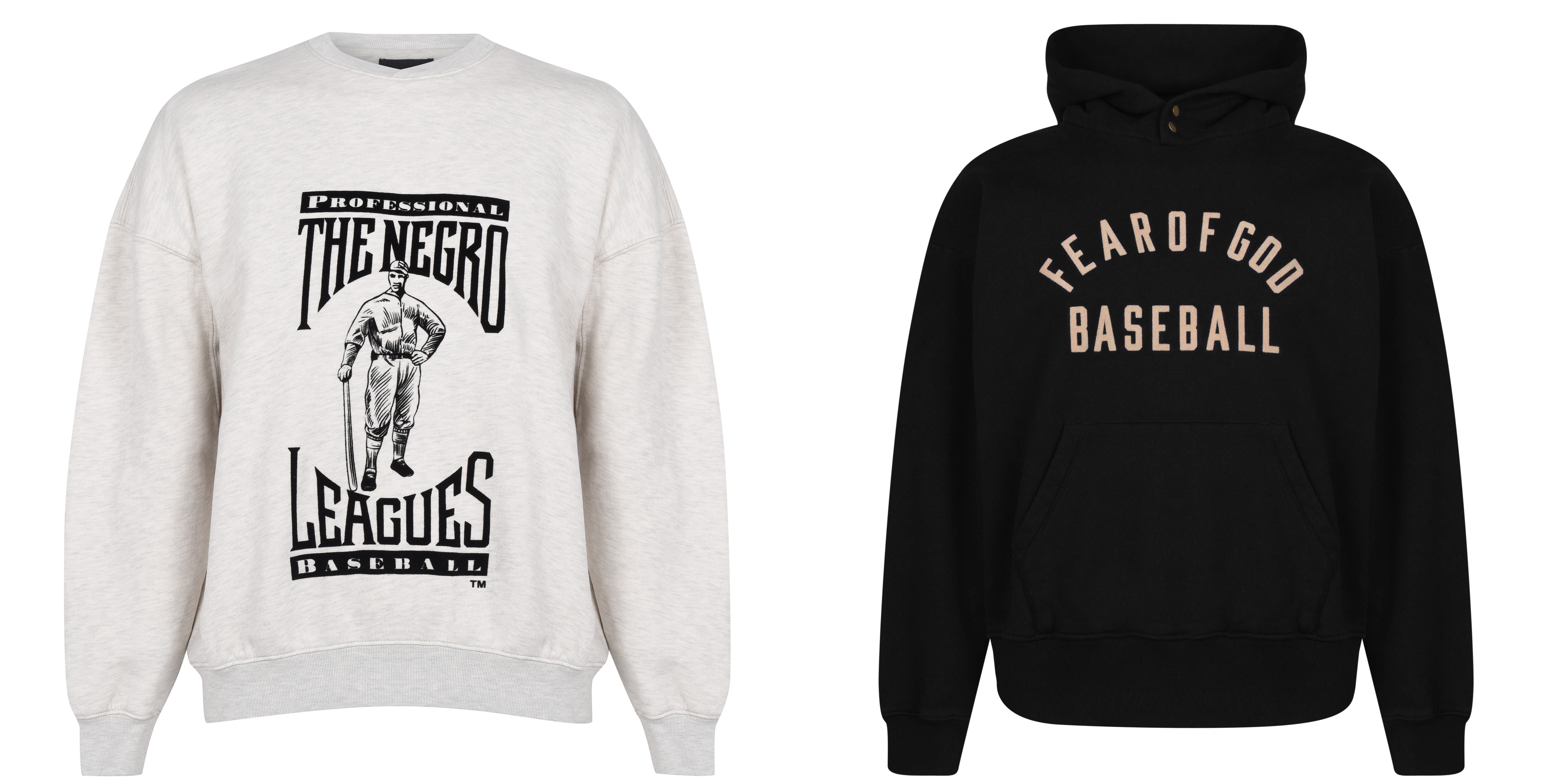 Flannels strikes the Fear of God into our hearts
AW21 may be shaping up to the season where we all get dressed up to go out-out, but there's still a while to go till then, lovies. Besides, it's not like we can all be expected to hop out our sweats and into svelte, cobwebby dresses at the drop of a hat! No no, it's a process. Thank goodness, then, for Fear Of God, the American casual-luxe label helmed by Jerry Lorenzo helping us bridge the gap between dressing for Zoom and regaining our sartorial va-va-voom! After two years in the making, the label came through with its Seventh Collection late last year. A sleek edit of hoodies in sumptuous cashmere knits, flocked varsity sweaters, and pieces celebrating the 100th anniversary of the Negro Leagues (the independent Black baseball leagues that proliferated in segregation-era America), the collection hit a home-run Stateside. Over on this side of the pond, though, we've had to patiently wait our turn for a slice of the pie. Until now, that is! That's right, Flannels has come to the rescue, bringing a much needed haute-luxe boost to our wardrobes. Even when life looks a little more like it used to, this is WFH attire you won't be ashamed to be seen out and about in. MS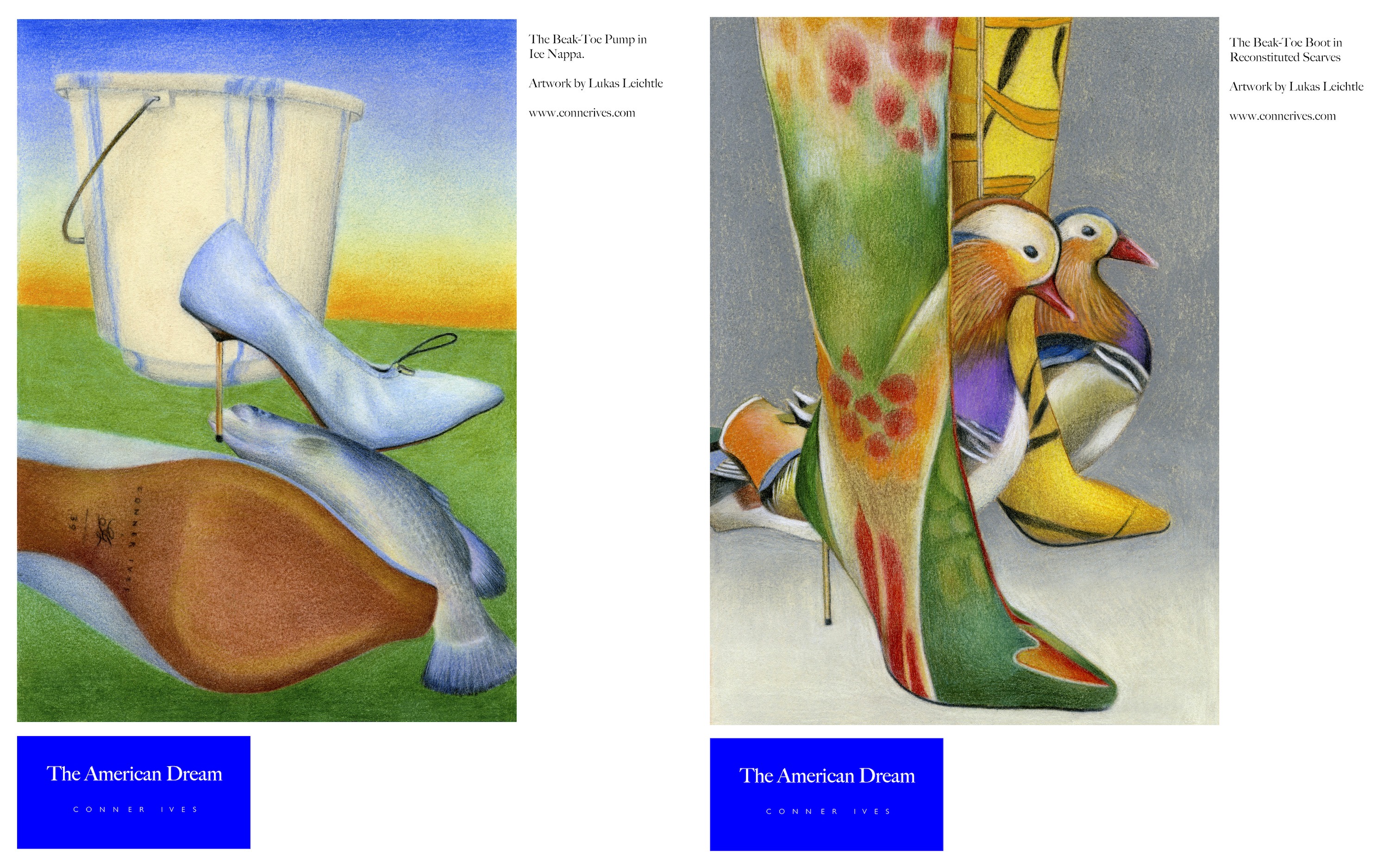 You'll want to walk more than a mile in Conner Ives' shoes
Reading back over our rave review of Conner Ives AW21, we noticed an aspect of the young designer's standout collection that we failed to give due attention to — the SHOES. Well, consider this us atoning for our sins, because dear God what good shoes they are. Designed in collaboration with cordwainer Gabrielle Beau, Conner's former colleague at Fenty, the needle-heeled boots, sandals and pumps are some of this season's most fab footwear -- uncompromisingly sexy, and still incredibly approachable. "We were looking at Roger Vivier for Dior, Carolyn Bessette's style and some strong Saint Laurent stilettos," Gabrielle says. The name of the game, then, was to modernise these classic silhouettes, to create something in line with the nature-inflected sense of elegance that "makes [Conner's work] feel close and almost familiar to each and every one of us." A testament to that is the names of the shoes -- 'Beak-toe' pumps and boots, and Platypus sandals -- as well as in an exquisite hand-drawn campaign by Berlin-based artist Lukas Leichtle. "As a starting point Conner had provided me with references such as old fishing journals and early campaigns of Roger Vivier for Dior, combined with the atmosphere of my previous works," he says, noting the conscious effort invested in creating "a coherent appearance for the five drawings." All in all, it makes for a heartwarming tale of what collaboration between independent young creatives looks like at its best. "This entire collection was only made possible by an immense team of collaborators that realised everything down to the last detail. I would be nowhere without them," Conner says. MS
Browns and Marine Serre bring you exclusive eco-futurist chic
Whether it's doing laps around your local park on the daily, or heading out for long, slow weekend walks, we've all developed a newfound appreciation for nature, haven't we? It's only natural, then, that our fashion choices should follow suit. That doesn't mean that we're asking you to start turning up to Hampstead Heath this Sunday swathed head-to-toe in hessian; this is, after all, 2021 — eco-chic looks are the new normal. In fact, Marine Serre, Paris' uncontested queen of eco-futurist fashion, has paired up with London retail maven Browns to bring you 20 exclusive styles, designed as an exclusive extension of Marine's SS21 collection, Amor Fati. Spanning breezy wide-leg trousers in a signature monochrome Lozenge moon print, accessories and panelled jackets in the oil-slick-finish Moire design, and sporty stretch pieces, bras and undies in crimson and black, each of the capsule's pieces is crafted from re- and up-cycled fibres. Clothes to look fab in today that contribute to a better tomorrow, if you like. MS