Fasten your straps for Nensi Dojaka AW21
The Fashion East designe is back with her sexy, lo-fi strappy dresses for London Fashion Week.
|
24 February 2021, 5:53pm
Strappy, sexy and definitively lo-fi, Nensi Dojaka's lingerie-inspired designs
are the kind of clothes that will have you even more furiously counting down the days to June 21. Since graduating from Central Saint Martins in 2019, the London-based Albanian designer has been a part of the Fashion East family. Over three seasons, she's introduced her delicate vision of femininity to the world, built on a foundation of layered keyhole bralettes, draped transparencies and, yes, those slender, cobweb-like straps that create illustrative lines and shapes in body-conscious proximity to the skin. Like many women designers of her generation, such as Supriya Lele and Charlotte Knowles, Nensi's work is infused with the spirit of Helmut Lang's halcyon days, all lo-fi straps that require ritualistic tying and boudoir-like sheers that whisper sensuality. Up to this point, her collections have predominantly come in sombre black, and she's the first to admit that they have a nocturnal vibe: sexy dresses to be worn after-dark. For AW21, however, she began experimenting with colour, introducing fuchsia cady bralettes and skirts, and earthy terracotta organza to her signature take on graphic shapes.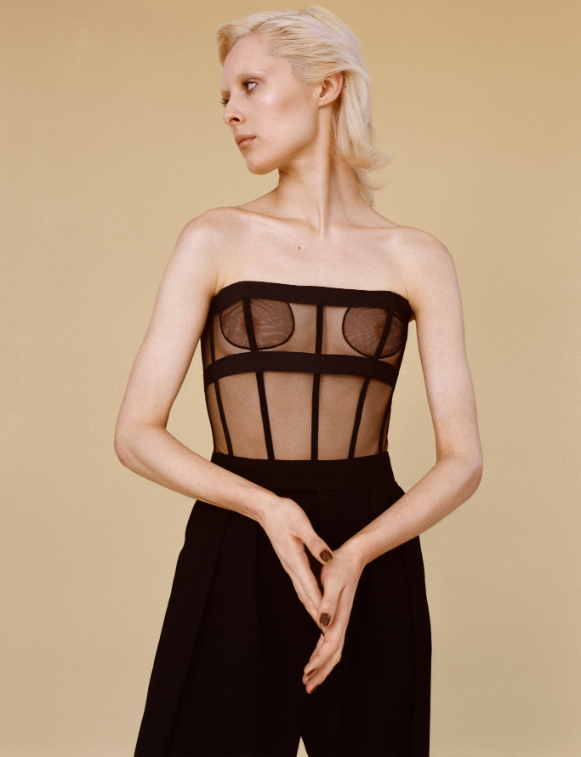 "At the beginning, I was stuck for inspiration because everything is closed right now," she explained in a preview. Delving into her scrapbooks, she discovered postcards from the 2016 Serpentine Gallery exhibition of Swedish artist and mystic Hilma af Klint's sculptures. "Her work is a lot about shapes that I love — something more graphic, a play between the curves and straight lines," Nensi adds." It also galvanised her to add splashes of colour, though as she points out, her black dresses are colourful. "A lot of the pieces have layers and layers of sheers, so when you see it in person, it's almost as if it has all these different shades," she says.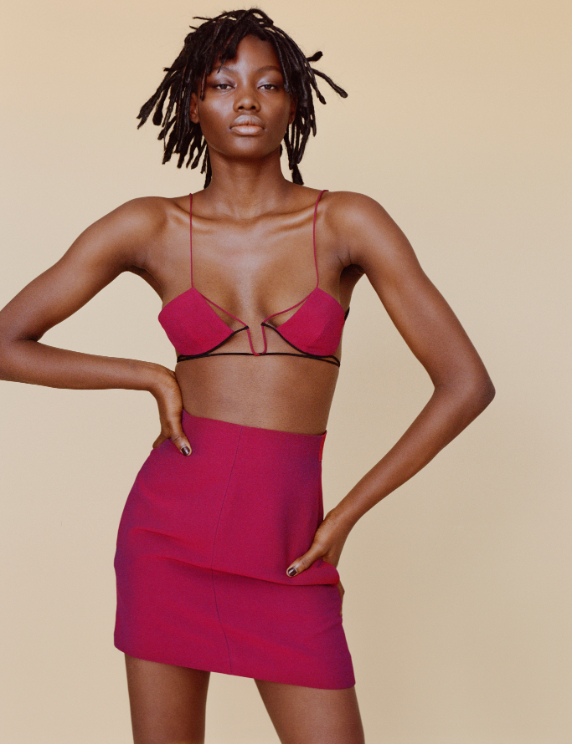 Now there is even tailoring in her repertoire, like the seamlessly tailored double-pleat trousers, as well as neatly boned tulle corsets that slip under tuxedo jackets and fine jersey column dresses. "The tailoring is quite soft and unstructured, because I wanted it to feel fluid," Nensi said. Her collection is still capsule-sized, clocking in at just 20 looks, but each one is meticulously delicate, which is the way she likes to work: on a smaller scale, so that she can drape every piece on a mannequin. "I try to use the right fabrics in the right places where it grabs and releases what it needs to," she says with a smile, and the innate knowledge that comes from working directly with so many of her customers. "I come from a very different background, having studied lingerie for three years, and I like to work around the bust and the hips, and evolve it." Though unlike so much lingerie out there, Nensi's work is not made with seduction in mind. If anything, quite the opposite. "I don't want it to be something sexualised. I want it to look sexy and be aggressive," she adds. "I put it together with masculine tailoring, and make it a bit weird and distorted, so it's not just pretty shapes." Come the easing of lockdown, these aggressively sexy dresses will be on every party girl's wishlist.