What we know about Frank Ocean's third studio album
"Frank Ocean really dropping dick pics instead of an album."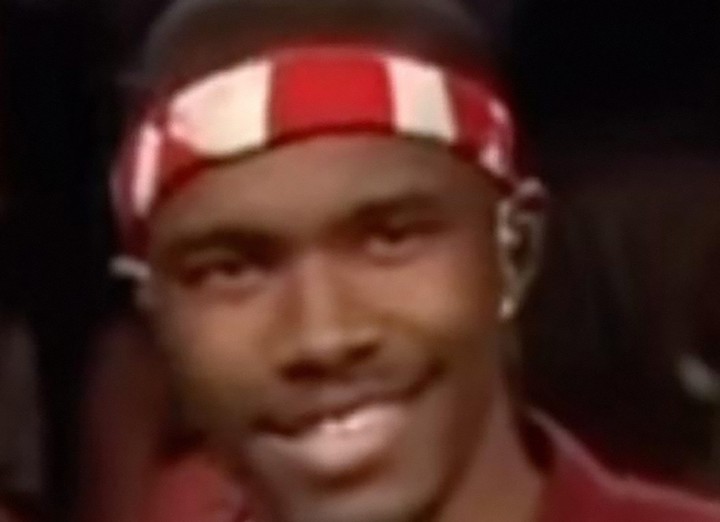 Six years have passed since Frank Ocean dropped Blonde, a record that solidified his status as one of 21st century music's icons. Ever since then, we've waited patiently for its follow-up: his third album and fifth full-length project. His music to date, from the R&B of Nostalgia, Ultra, via the wise, pop-leaning musings of Channel Orange to the abstract nature of Endless — has been impossible to pin down sonically, the throughline being the genius of his production and the candour of his lyrics. We're all waiting patiently to figure out exactly what he might have up his sleeve next, but new Instagram posts from the artist, one of them rather NSFW, have left fans reeling.
In a new post on his personal Instagram, Frank wears a wig and an orange hoodie printed with shooting stars from his lifestyle brand Homer. He explains in the caption the hoodie was actually meant for his cancelled 2020 world tour and ends by writing "love u see u". Does this mean we might hear something new from the artist soon? This is his first Instagram post since December 2021 which is why many fans are hopeful something is coming.
Alternatively, the Homer Instagram account posted a picture of a naked man wearing the brand's new $25K diamanté cock ring, called the XXXL H-Bone Ring. To save the post from those strict Instagram guidelines, the genitals of the man are pixelated and a credit on the image says "PHOTO: Frank "Pace" Ocean" suggesting he took the photo rather than modelled unfortunately. Nonetheless, Frank posting dick on main has also sent the internet spiralling. "Speechless as I open instagram to see Frank Ocean dropped a cock ring before a new album," tweeted one tired fan.
In September 2021 last year, it was reported that Frank was "shopping" his new record to labels, having released Blonde independently on his label Boy's Don't Cry. That doesn't necessarily mean he's finished it — labels would happily fork out to have Frank on their roster without hearing a completed album — but it does at least suggest that he's on his way to dropping something soon.
As new episodes of his Apple Music show Blonded Radio dropped, bringing with them Frank-produced songs as backdrops to long conversations on psychedelics and Qigong, the possibility of a new record coming shortly is not entirely implausible. In preparation for that moment, here's everything we know (or don't) about Frank Ocean's third album.
Has Frank Ocean been in the studio?
In short: yes. We know this because one of our own cover stars, Rosalìa, told us so. In her spring 2022 cover feature, the Catalan artist revealed she'd been in the studio with Frank. There, he gave her a line of advice that she put into the Motomami single, "SAOKO": "Frank tells me to open the world like a nut".
Similarly, in the episode of Blonded Radio that dropped last night on psychedelics, he revealed he'd been on hallucinogens while "in the studio". Finally, it seems like the music might be coming.

What is Frank Ocean's new record about?
In the most recent episode of Blonded Radio, Frank runs a conversation with an expert on microdosing over a euphoric, electronic instrumental production he himself is responsible for. The microdosing expert waxes lyrical on the importance of selecting the right musical accompaniment for a psychedelic trip: no words, because the brain is running faster than usual. In that respect, it wouldn't be surprising if Frank returned with a record that felt like a good accompaniment to psychedelics. He's clearly interested in them; perhaps, like parts of Endless, it'll be a lyric-free soundtrack to a trip. After all, we've received a handful of singles over the past few years — from "Chanel" to "Biking" — that felt like traditional Frank songs.
Similarly, these tracks might be part of a soundtrack Frank could be forming for his rumoured A24 movie.
What's the next Frank Ocean album called?
Now this we don't know. On Reddit, fans are hypothesising though. Frank updated his streaming service banner to a series of images of him grinning, which was similarly part of a limited-edition poster he printed for Channel Orange's anniversary. One fan suggested Smiles, saying it might be related to the famous happy smile drug symbol (a riff on the hallucinogens discussion on Blonded). Another said it could be Starstruck.
All of these are reaches, though. In reality, we have no idea.
What is the next Frank Ocean album's release date?
The only allusion to a potential release window we have for the new, third Frank Ocean album is the fact that he's scheduled to play Coachella in April 2023. Surely, if he was to headline a whole damn festival, he would have rustled up a new album to play at it, right?
It may be tomorrow, it may be the week before Coachella — either way, all signs point to the Frank Ocean album drought officially ending in the next 9 months. After six years, that's not so long to wait.
Tagged: