How Helmut Lang and Margiela invented the social distancing fashion show
Looking to the past, the industry should take note of these alternative ways to present a fashion collection.
Like every other event in the calendar for 2020, fashion weeks all around the world have been cancelled or indefinitely postponed. For those of you disappointed that you won't be able to scour endlessly through Vogue Runway galleries next season, remember: this is going to save quite a lot of lives. Plus, this doesn't mean fashion is over -- with online sales of clothes both old and new remaining surprisingly stable under the circumstances (who else is ravaging the small corners of eBay during the most excruciating moments of lockdown?) there's still plenty of fashion to be admired. But what's the best way of presenting now?
For decades, brands have found ways to reinvent the runway in clever and imaginative ways. From Alexander McQueen to Hussein Chalayan in the 90s, to Molly Goddard and Martine Rose, we might just be able to learn something from fashion weeks past. With this in mind, we thought we'd take a look at a few of the ways designers have experimented with the fashion show format previously... replacing models with mannequins, getting rid of audiences completely or forgoing any kind of show at all. This is what fashion shows could look like in the age of coronavirus.
Do away with the audience completely
Helmut Lang AW98/99
Helmut Lang's 'séance de travail' shows became legendary for using models of all age groups (long before we called them "nodels") and turning the "elevated runway", as he called it, into a square catwalk design to feel like more like a public space. Models would casually saunter down this makeshift street, all at different paces, often walking round multiple times. In Not in Fashion: Photography and Fashion in the 90s (2011) the designer describes why he decided to use the runway differently than his contemporaries: "I consider these sessions as performances because I did not only want to convey modern clothes, but also a feeling and mood of a moment in time". In 1998 the internet was just beginning to become a space for consuming fashion, so for his AW98/99 show he took modernising the runway one step further and decided to eliminate the hustle and bustle of a show completely, releasing a recording of the runway on the internet. Think of it as the proto-livestream.
Giorgio Armani AW20/21
Back in February, which was only two months ago but feels like a whole other lifetime, Giorgio Armani decided to livestream his AW20/21 show from an empty room within their Via Bergognone headquarters. The company said "the decision was made to avoid exposing guests to any dangers to their health". Looking back, a pretty sensible idea.
Or get rid of the models
Maison Margiela AW98/99
One cannot discuss experimental fashion shows without mentioning the reigning monarch of the craft, Martin Margiela. Long before John Galliano took over the brand, Martin Margiela used the runway as a place to explore ways of showing clothes that differed from a typical runway, questioning the history and culture of the fashion industry. For AW98/99 Margiela sent out marionettes by stylist Jane How instead of live models, preceded by a short film by Mark Borthwick. By using dolls instead of live humans, Margiela played with the etymological beginnings of the French term for fashion models, 'mannequin'.
Alexander McQueen for Givenchy Couture AW99/00
A year later, Alexander McQueen also did away with models for the Givenchy Couture AW99/00 show based on Paul Delaroche's 1833 painting The Execution of Lady Jane Grey. McQueen replaced models with ghostly perspex mannequins which emerged on rotating platforms from beneath a purpose-made stage. The spotlights used on each rotating mannequin echoed the painter's use of light, with Lady Jane Grey illuminated at the centre next to the wooden chopping block she famously struggled to find, before being assisted by Sir Thomas Brydges. In response to the show, the journalist Laura Craik wrote "never have dummies looked so alive", an eerie take on a show which looked to the fleeting moment before a woman's death.
John Alexander Skelton Collection VIII (Under Milk Wood)
Every season, London-based designer John Alexander Skelton surprises his audience with a performance derived from his research. The result is often closer to experimental theatre than a typical fashion show, and last season his show at the Zabludowicz Collection was no exception. Skelton decided to use mannequins instead of models for the collection which was based on Under Milk Wood, the 1954 radio drama by poet Dylan Thomas about the fictional Welsh fishing village Llareggub (try reading it backwards). The play begins as each of the characters lie in slumber with the narrator relaying their dreams. Each mannequin in the show was concealed beneath a white bedsheet, gradually unveiled by John's brother Ryan as he recited the beginning of the play.
Just release a video
Maison Martin Margiela AW93/94
Attempting to find an alternative to the fashion show, for AW93/94 Martin Margiela decided to release Seven Women, a short film following seven different women of different ages, nationalities and professions wearing the collection in and around their homes. The short is accompanied by a commentary by the designer explaining the cut and references of the collection. Still breaking social distancing rules, but you could try filming from two metres away.
Susan Cianciolo's Run, Diadal
In 1998, designer-cum-artist Susan Cianciolo debuted Diadal, the sixth collection for brand Run, including a do-it-yourself skirt kit where she sold the pieces and asked the customer to sew it together themselves. In order to make sure people understood how to construct the skirt, she released the film Diadal to demonstrate how the skirt was cut instead of producing a live fashion show. Unfortunately the video can't be found on the internet... but with Christopher Kane sending out craft kits of DIY facemasks for people to assemble, it couldn't be more in right now.
Or, a humble selfie
Giovanna Flores
Are you a designer blessed with good looks? Then why not just take a selfie wearing every piece of your collection, like the American designer Giovanna Flores. To promote her collections, she uses little more than a self-timer, doing away with other people entirely. For Flores, the selfies are both a practical and budget-friendly way of sharing her work and document the time and place that she was working on them.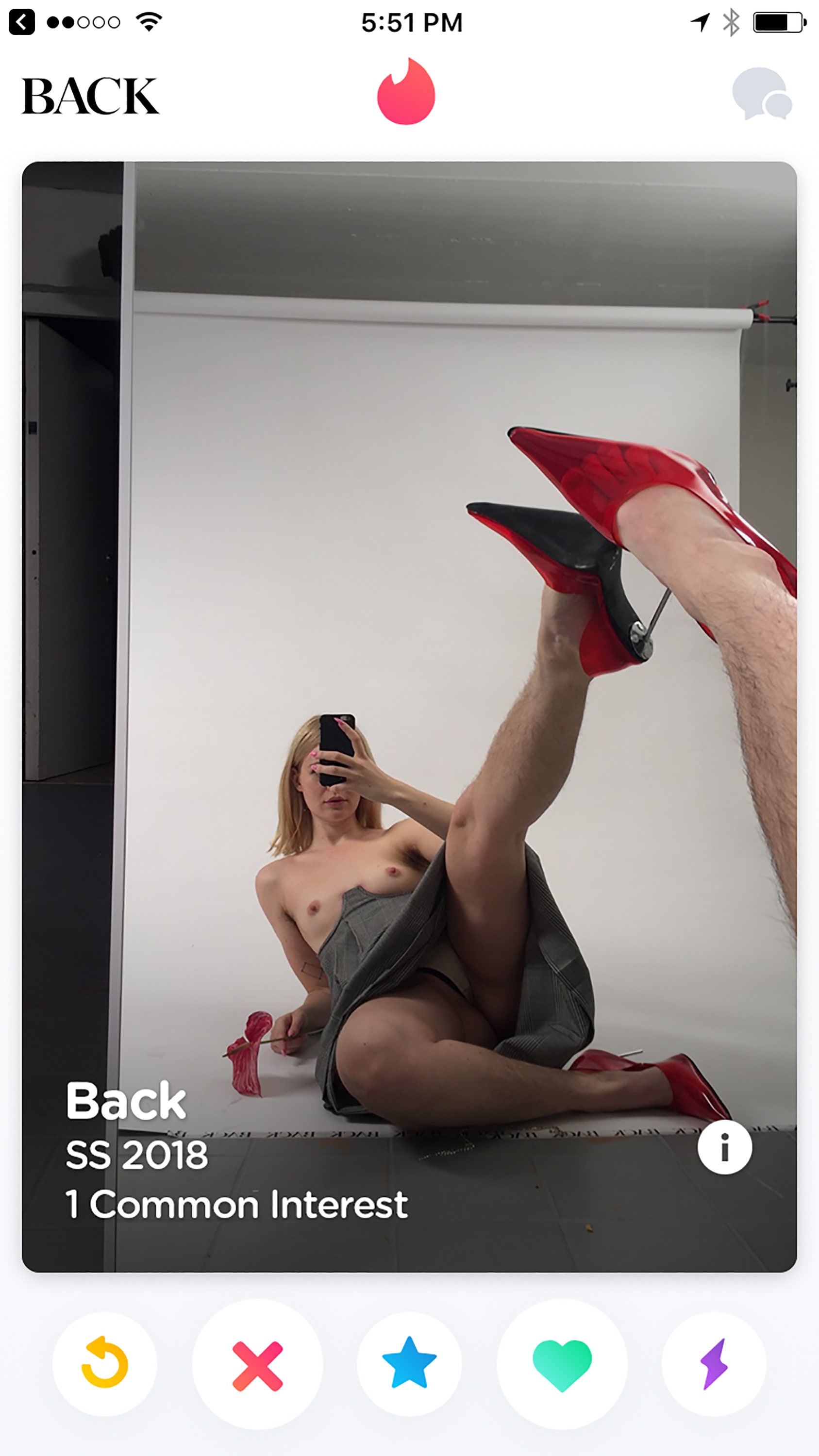 Ann Sofie Back SS18
Not totally comfortable in front of the camera? Ok, why not find some cool people to take selfies for you like Stockholm-based designer Ann Sofie Back.