Photo by Daniela Spector.
Princess Nokia gets free
With 'Everything is Beautiful' and 'Everything Sucks', the New York rapper continues to defy those who would box them in.
Photo by Daniela Spector.
Destiny Frasqueri, better known as Princess Nokia, is walking the streets of New York City, un-phased by the sirens and horns and strangers asking for directions. "I'm actually trying to find a CitiBike right now," they say matter-of-factly.
i-D phoned Frasqueri in the middle of a pandemic that struck a little over a month after the release of Everything is Beautiful and Everything Sucks. Perhaps the Nuyorican rapper's most fleshed out set of works, these albums see Frasqueri lean into emocore, gospel and funk influences, as well as the duality that lies within themself. "Releasing a double album is a loaded pistol, like a game of Russian Roulette," Frasqueri says. "It's ambitious, but I thought it would be the best thing for me. I felt like I had spent all that time and energy making all that music… it only made sense to make two records."
The energy on Beautiful and Sucks is as eclectic as their sound, something inevitably linked to their respective creative contexts. Sucks was made over a frantic ten-day marathon in New York, compared with the Beautiful sessions, some of which took place in Puerto Rico where Frasqueri traces 150+ years of Taíno lineage and has gone regularly over the last two years to "write music and get into [their] creative bag, spiritually, artistically and culturally." The albums, which Frasqueri takes care to discuss as separate works rather than a double release, are two sides of the same coin, the disparate sounds, aesthetics and outlooks on life that dwell within one of rap's most polarizing creatives.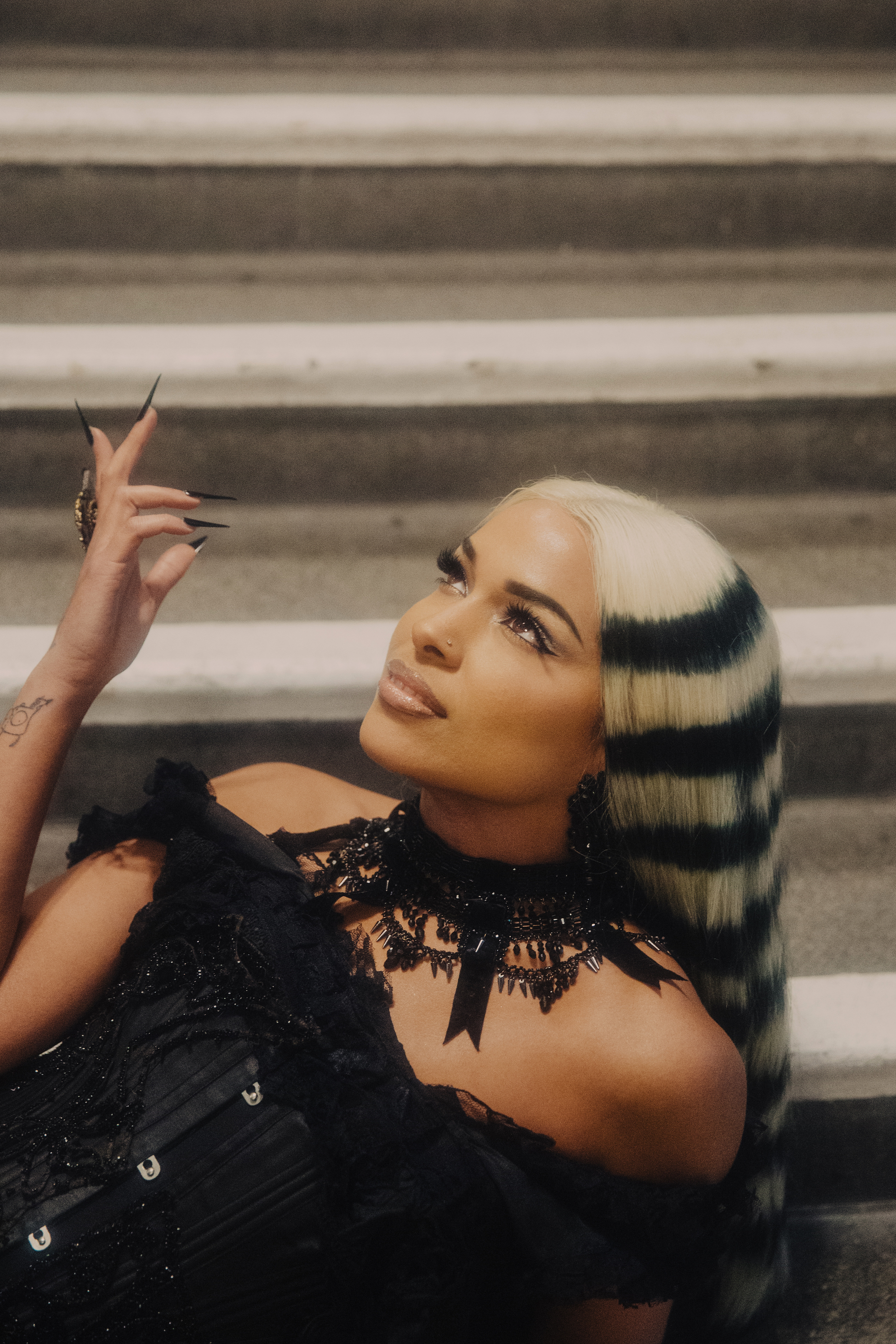 From the exuberant funk keys on "Soul Food y Adobo" and gospel belts on "Sugar Honey Iced Tea (S.H.I.T.)" on Beautiful to the unhinged growls on "Crazy House" and the subversive bichiyal-ian bravado of "I Like Him" from Sucks, these records exhibit a yin and yang range few artists can channel. In a lot of ways, this invitation to uninhibited chaos and joy is what Princess Nokia has always been about -- they sing about being social and isolated in a premonitory line from Beautiful cut "Gemini", an uplifting celebration of their sign's conflicting duality that showcases some of Frasqueri's best flow and nods to iconoclast rock icons The Doors in the chorus.
"My quarantine is how I spend my life normally," Frasqueri tells i-D. "I spend most of my time with family or biking around the city. That lyric is about growing up and feeling like an old soul; to this day, there are ideas I bring up and people look at me differently."
Frasqueri has never been one to shy away from strong statements, ranging in extremes from throwing hot soup at a racist to calling womxn of color to the front of the pit at their shows, two diverse reactions that come from the same place of wanting to empower marginalized groups and not giving a fuck about what critics say. "I always found myself staying away from groups my age because for me it was like 'why do I need to have the confrontation when these people won't understand me," they say. "I already know I was too much, so I isolated myself to avoid that angsty, adolescent type of feeling. I'll save me for me."
Frasqueri's imagery is as diverse as their sound in both collections. Sucks is more concerned with darkness, evident in the Chinatown fantasy of hypebeast diss "Balenciaga" and the sword-swallowing goth extravaganza of "Gross", which bring to life the freak show theme that runs through the record on songs like "Welcome to the Circus" and "Harley Quinn". It also showcases Frasqueri's highest production value to date.
"Circus culture is synonymous with the word 'freak,' and that's always been on-brand for me," Frasqueri says. "I'm very misunderstood. The one thing in life that I happened to be good at was performing, and every night I go to the circus and put on a show. My creative director Robot Moon Juice wanted to hyper-stylize that, with Princess Nokia leading a one-womxn freak show with the different talents representing the albums."
The bright colors of Beautiful's music videos stand in stark contrast, from the beauty pageant setting on "Sugar Honey Iced Tea (S.H.I.T.)" to the syncretic reimagining of Matilda on "Green Eggs & Ham," which Frasqueri cites as a "metaphor for [their] life growing up in a family that didn't really like and was annoyed with [them]."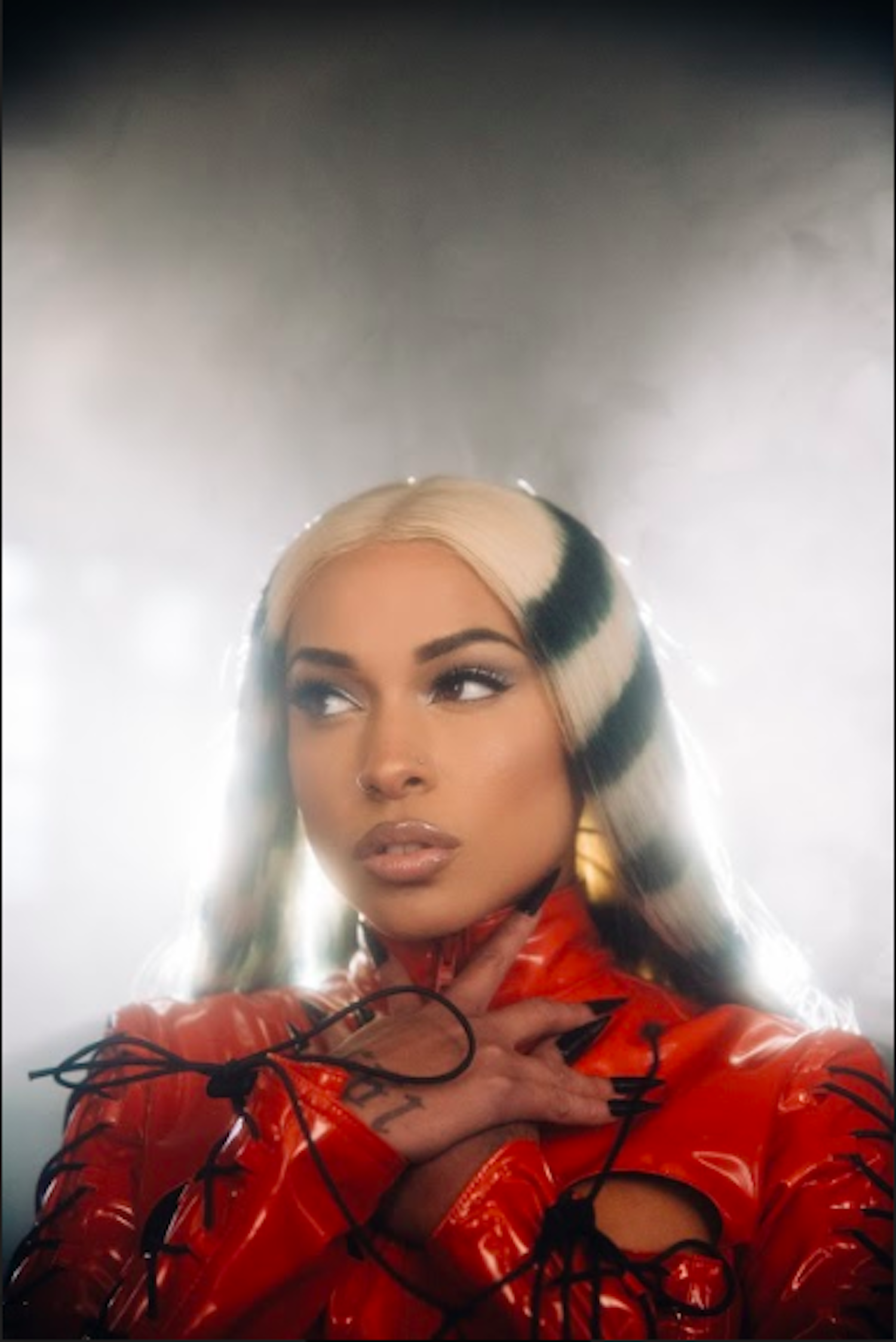 With both Beautiful and Sucks drawing from Frasqueri's childhood experiences in foster homes and the loss of their mother and grandmother at a young age, which they detail in confessional Sucks cut "Just a Kid", it's no surprise they looked to the story of a girl imbued with strong magic, who expressed her mystical powers through art and ardently defended her loved ones. Inexorably tied to the themes of youth that radiate in their work, mysticism has always been at the forefront for Frasqueri. A vocal practitioner of Santería, the syncretic religion derived from West African Yoruba and Catholicism, their faith is another thread that has run prominently through their work since standout track "Brujas" from their debut studio record 1992 Deluxe in 2017.
Magic courses through Sucks and Beautiful, from the proud proclamations of being "an astrology hoe" on "Gemini" to name-dropping Gaia, Oshun, and Stevie Nicks on the subversive "Sunday Best". "Every morning, I talk to God," they say about their spirituality in quarantine. Their ties to the divine, and their humility before it, persist as they create, with Frasqueri saying they are always asking their ancestors to touch what they do in the studio. "It's not different from opening The Bible," they say. "God makes me as a person better, so I don't become overwhelmed by fame or success or ego. Being a young person with power is a lot! I don't ever want to have a great opportunity ruined because I didn't want to grow as a person or because I had an attitude."
The day after Beautiful and Sucks came out, Frasqueri put up a flyer on their Instagram: an open invite to a rave at Ridgewood DIY space Superchief Gallery. Frasqueri, who remains an independent artist, showed up low-key and unassuming before tearing into a roiling set that included the first live performances of "Crazy House" and "Harley Quinn". Before set-closing "Brujas", they gathered the audience in prayer. "The foundation of Princess Nokia was in the New York City rave scene, in the clubs and queer nightlife," they say. "No matter where my trajectory in life has gone, I surround myself with the environments that made me. It's nothing for me to spend a couple of thousand on a rave, because for me those types of things are legendary. I like to create spaces of love, and celebrate with everybody." Their fans are as loyal as they are in part to these spaces, as raging as they are inclusive and liberating.
At one point in our conversation, Frasqueri refers to Princess Nokia as "a non-denominational church where everybody is welcome." The penultimate track of Everything is Beautiful, "I Am Free", extols that philosophy over a minimalistic trap beat as Frasqueri talks about being focused on their healing, letting go of their problems, their ego and those who don't mean them well. "I feel like I'm very free; it's the person I've always been," they say.
"I've always been free with myself, my body, my sexual identity and orientation. I was always free with other people. I get more free by trying to be compassionate, humble, and understanding; it's an emotional thing for me. I'm not perfect or untouchable, but I feel like when you can just laugh at everything, you're free."
As Frasqueri locates their CitiBike, they recount a classic pre-quarantine afternoon in New York hanging out in a Harlem skatepark. "The simplest things make me happy: meeting new kids, sharing a pizza, having a laugh at the park, a sunny, long spring day. That's how you get more free; any more free, honey, I'd probably be running naked down the street or taking acid at Burning Man."