Daemon Concept is building a transhumanist world for our future selves
Inspired by Europe's DIY rave scene, jewellery designer Sophia Rotas draws on the intersection of biology, music and technology to challenge ideas about the body and conformity.
Photography Balint Barna
The future may seem bleak to many of us, but for Hungarian designer Sophia Rotas, it evokes endless possibilities and inspires transcendental creation. She's quietly carving an alternate reality through Daemon Concept, a jewellery brand increasingly seen across Europe's DIY rave scene, and which celebrates the freedom and unpredictability of our future.
"I think it's much more exciting to create something that comes from the idea that we're living in the future as opposed to recycling something from the past," she says over the phone from Chiang Mai, Thailand. "I don't think we realise that the opportunities we have now are blessed."
Though currently based between Berlin, London and Hong Kong, the designer's been travelling around Asia to learn, experience and design for her upcoming projects. She previously worked as a stylist in the music industry, dressing stage performers and designing merch for labels like Ninja Tune and Posh Isolation, before she decided to start working on Daemon Concept four years ago.
Her first permanent collection, 'Dystopian Renaissance', explores the "cruel optimism" that comes from being aware of our present reality and the potential of what it could become. Through designs that adopt a transhumanist perspective to explore the intersection between biology and technology, Sophia's pieces carry a certain immutability, unencumbered by concepts like time or materiality. Photographed on muses like model Georgia Palmer and Harley Weir-discovered newcomer Ollie Dixon, the silver adornments fuse so well with the body that they almost look like its natural features, providing a glimpse into what our cyber future selves could look like.

We grab a moment with her to talk about her past, present and future before she moves on to Vietnam.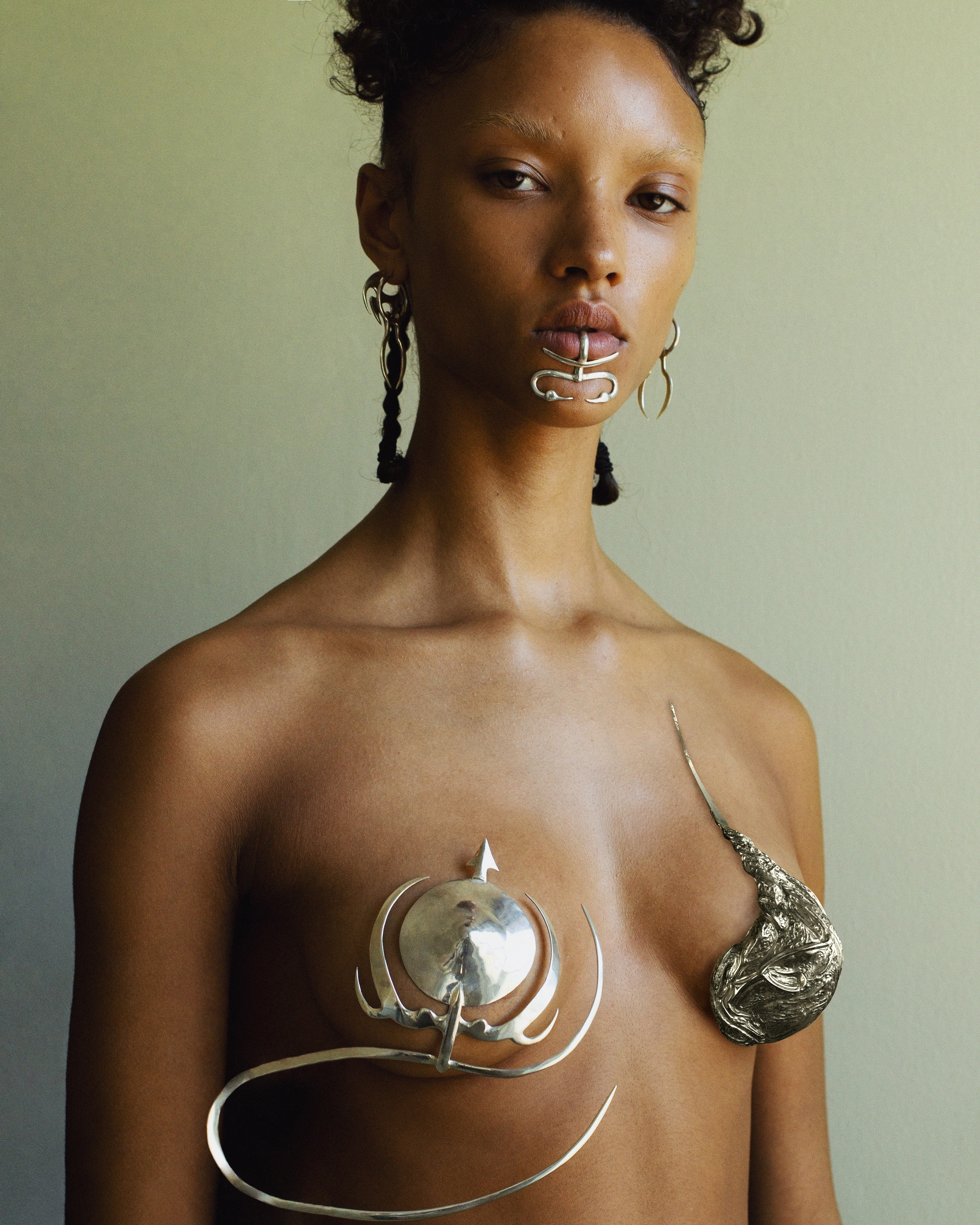 How's your trip in Thailand going so far?
I like the adaptability of people here. Maybe I'm romanticising the whole thing, but I just really want to know more. It also comes down to being able to live in isolation, to have the space to write. I won't say I'm not intrigued by life in London or Berlin but there's more social aggression, as well as the pressure to be present. There's this notion of constantly being busy, but where is the focus? Maybe it's just about being occupied and distracted so you don't end up concentrating on who you are and your surroundings.
What was the path that led to the creation of Daemon Concept?
As a stylist, you're constantly adapting when you're working with lots of different people, and talking to people is a better education than any known resource of knowledge. It got to a point where I finally got the confidence to start my own brand. During the first two years, I was building my team and still working with labels so those years were a more applied, experimental phase. I was also meeting people of all genders and nations at the raves and performances that I was going to and I felt the need to create something for them. I wanted to design something for their future selves. As someone who's a designer but also part of the scene, I think it's important for me to exist in that liminal space for expression and connect with the people who wear my jewellery to bring out a special version of themselves.
Who are some of the people that inspire you?
People in the scene like Georgia Palmer, Ollie, Eartheater, Lalita from Amnesia Scanner. There are lots of people working in music who I respect and who embody my ideas.
What are other references that influence your designs?
I'm inspired by hyper-reality, the idea that the representation of something is already of a different world and that there's no such thing as a reflection -- something recognised hugely in gaming culture. We're also in an era where people are challenging ideas of conformity and the body, but when you see it online, it's mostly Instagram face filters.
I've been influenced by science since I was little and was obsessed with science fiction. I've read every kind of theory and the different possibilities that could arise for our future. At the same time, craftsmanship and art have played a huge part in my everyday life. I love Art Deco and the Renaissance. My mom's a textile designer and my dad is a scientist who built atomic power plants. We always had these arguments at the table since I was little between the right and the left brain. So when I design, it comes from this conflict between art and science, my visions of the future and anything that confuses reality.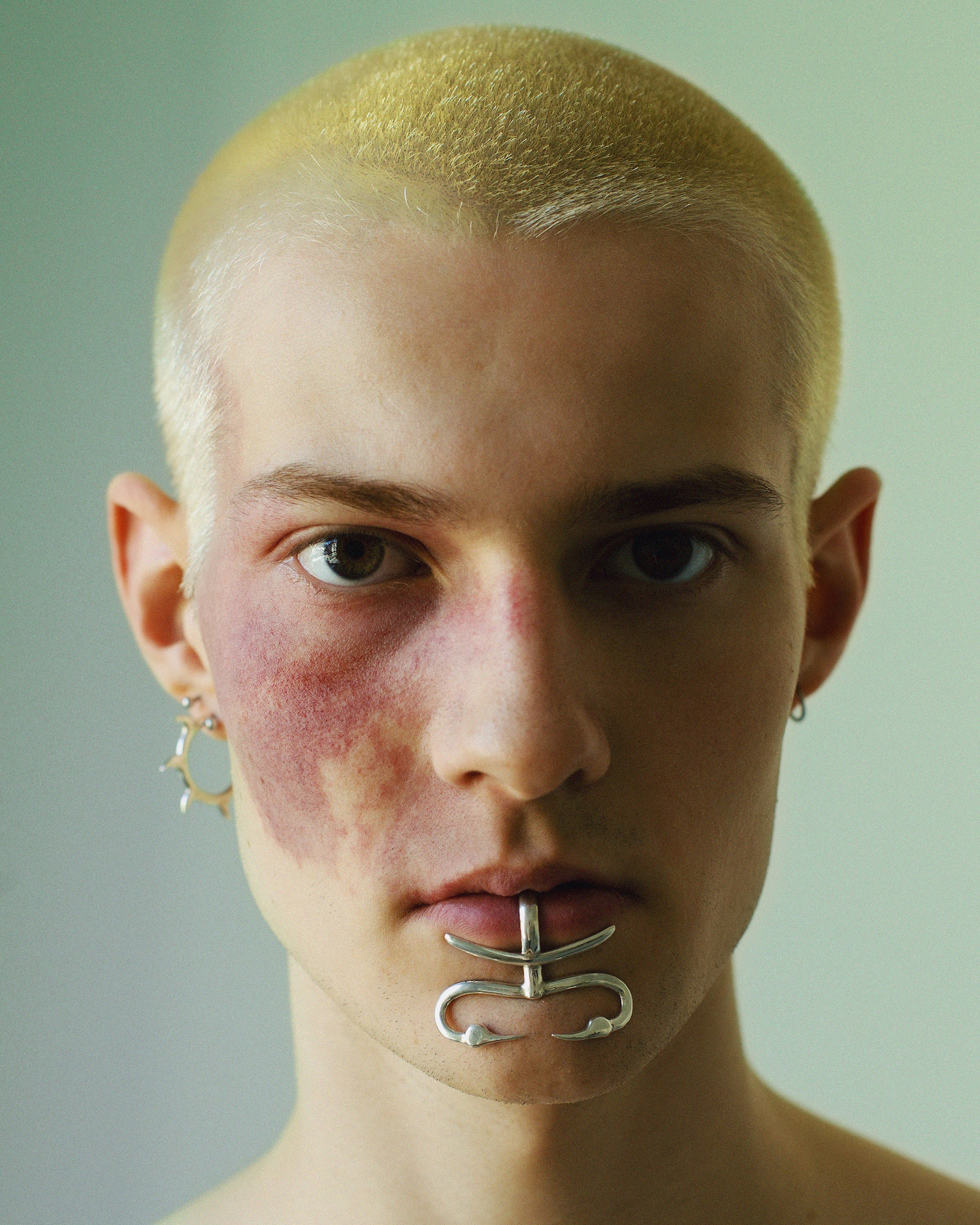 What does your design process look like?
I want to tell everyone who's trying to design or come up with anything, that a process can start with a scratch or a voice note; it doesn't have to be a grand process, it's more about consistency and being focused on a design or a desire. Then you have the people around you, like for me, the people around me are the bravest, non-binary individuals. I like listening to their desires [to create]. The next most important thing is a team and working closely with people, like my manufacturers, my model makers and my 3D team. It's a team effort, even if it's personal to me. There are people I've now worked with for years and they help me with processes like wax casting or more technical processes. You can have the best ideas in the world but you can't do everything by yourself. It's really a case of sitting next to my collaborators at the workplace and doing trial after trial with them to get it to where it needs to be.
What's your relationship with social media and technology?
I met this 80-year-old artist at a rave once and she told me that social media is going to bring more peace to humanity. Everyone is connected so there's more transparency and less judgment. I think there's still room for improvement. Like with cancel culture, for example -- your present and past life has to be perfect. You always have to say the right thing. But if we want to make progress, we have to be able to make mistakes. I've connected with so many people on social media, but I'm also looking forward to being more present because not everything can happen online. I've been living out of a suitcase and moving around a lot, which also means I have to let things go when I leave one place for another. It's interesting because I probably wouldn't be doing this in the first place if not for social media. I'd miss people so much more.
What can we expect next?
Lots of collaborations. I'm collaborating with a New York stylist, Stephanie Perez, an artist Szilvia Bolla, and many women music producers. I'm also working on a spatial sound project where you create music that has a dimensional existence. It's similar to how you would perceive 4D cinema but it's all just sound so it'll feel like a realistic soundscape. We've been working on this 4D sound with MONOM, a spatial sound institute in Berlin, for an event that'll happen later this year. I've been collaborating with them since they started but now they're way cooler than me.
I'm also excited to be working with a photographer, Arcin Sagdic, who represents this trans-humanist, futuristic wave. His approach is very high-tech, yet simultaneously organic and beautiful. Our collaboration will feature my jewellery and also showcase four to five experimental, sustainable materials, like Desserto and Pinatex, in a futuristic and sexy way. We've also been in touch with biofabrication consultants from Copenhagen and Berlin. The current problem is that when you see a lookbook showcasing these biomaterials, they look horrible. Nobody wants to wear something that looks horrible. We're hoping to change that.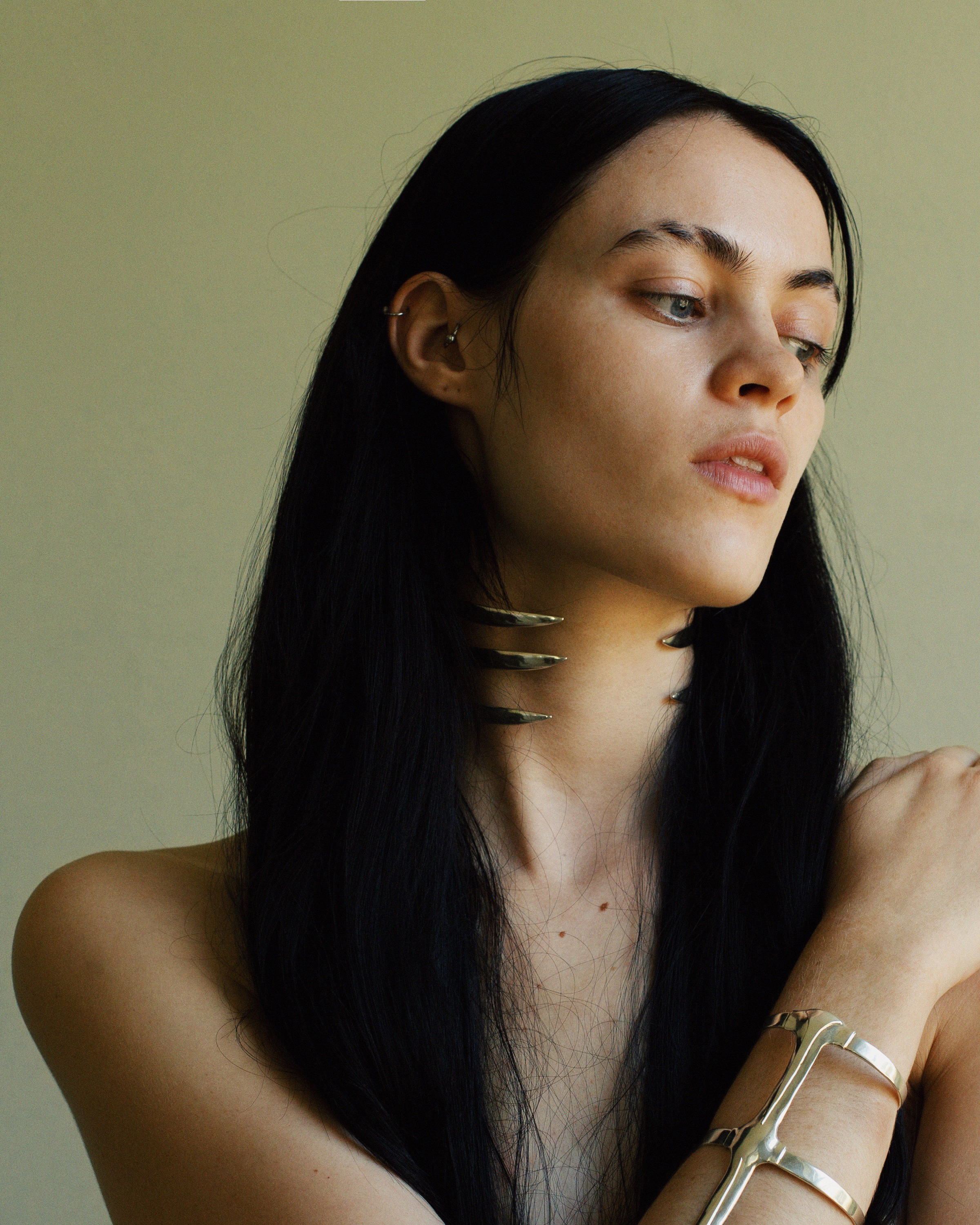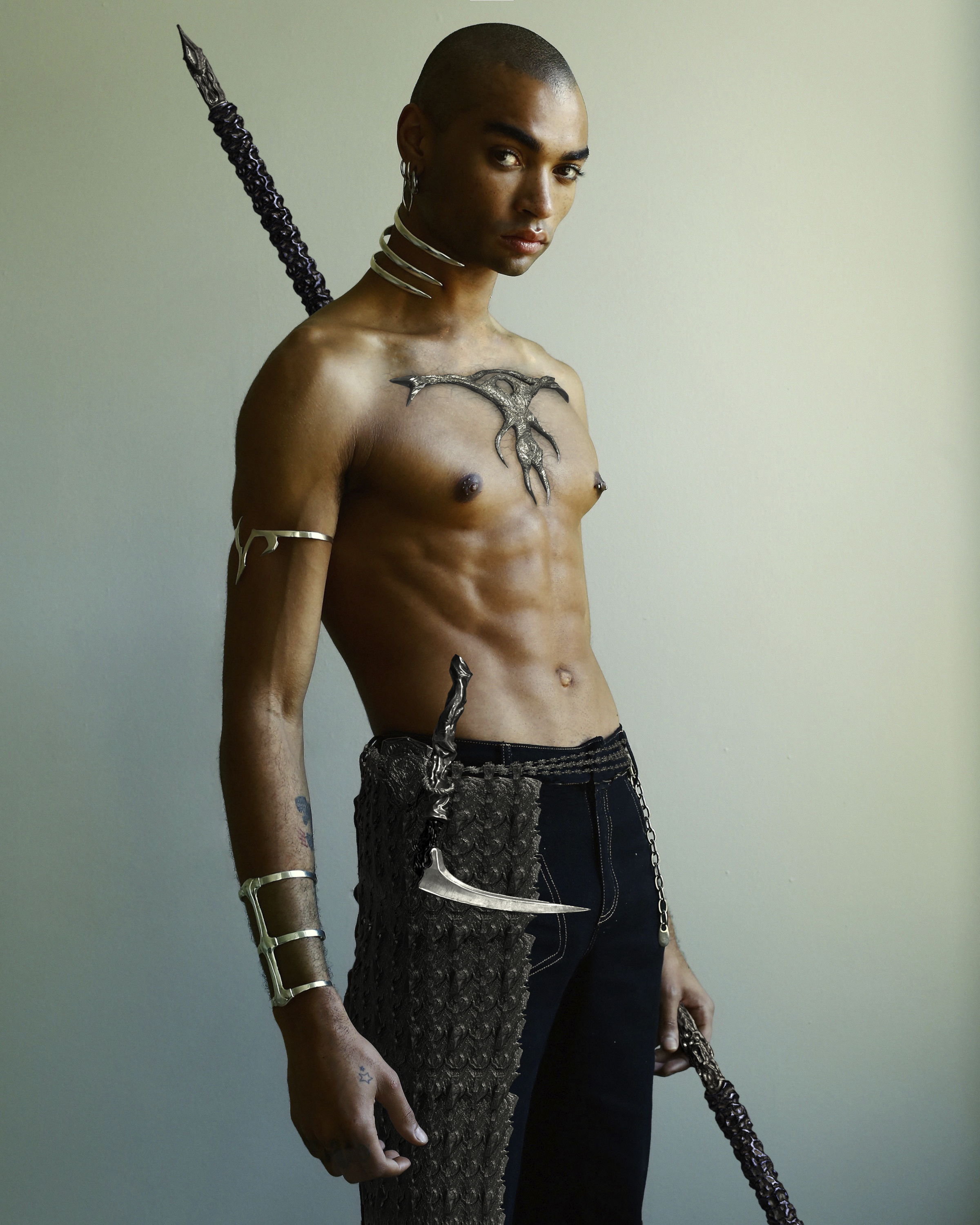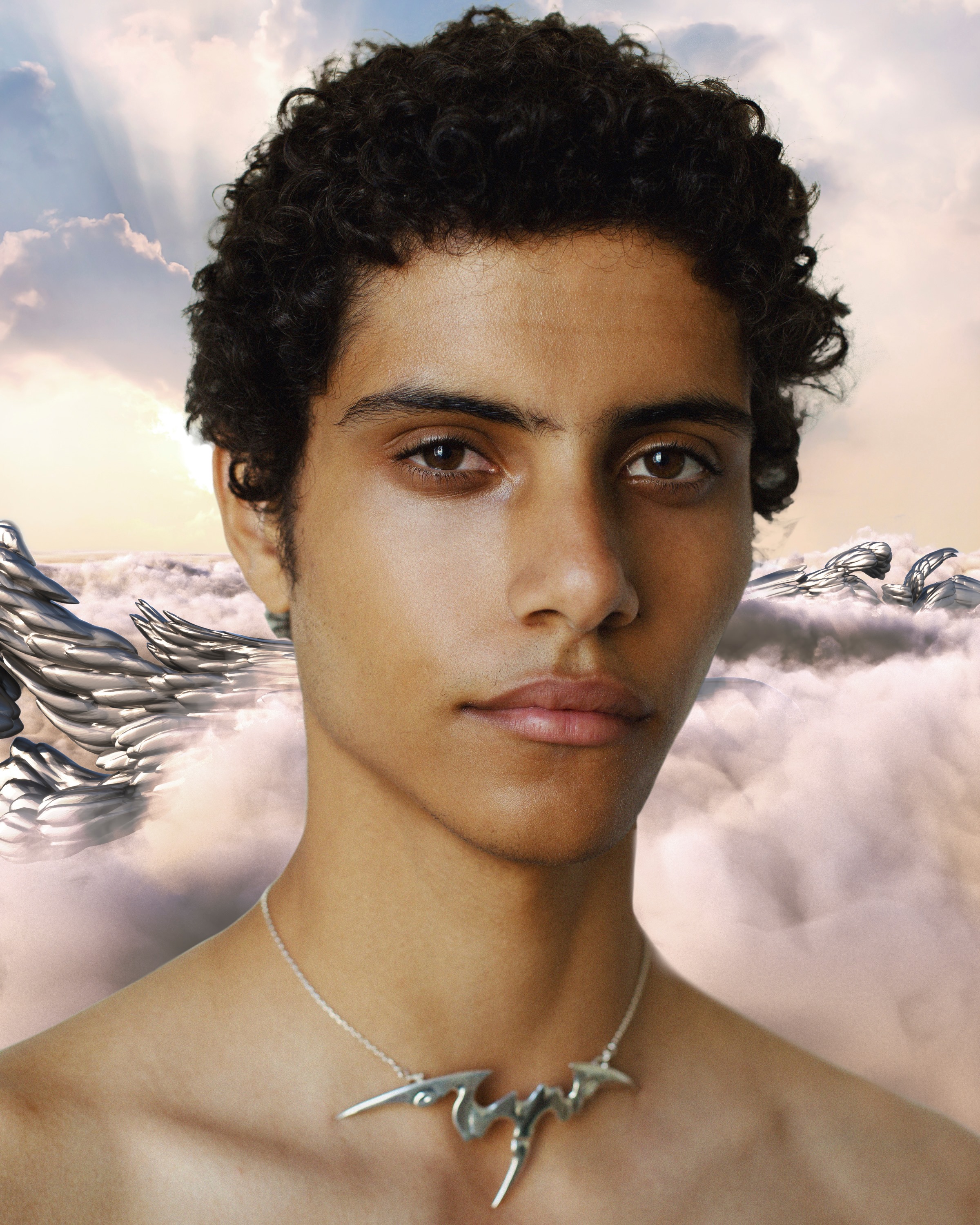 Credits
---
Photographer Balint Barna
CGI Adem Elahel
Talent
Georgia Palmer at IMG
Joel Palmer at First London
Trent Lafond at IMG
Oliver at Kyra Sophie
Danni Harris at Antiagency Lndn