The 10 most pervasive trends of the 2010s
A cursed decade that will forever be remembered for leggings, streetwear, normcore, athleisure and teeny tiny sunglasses.
|
12 December 2019, 12:00pm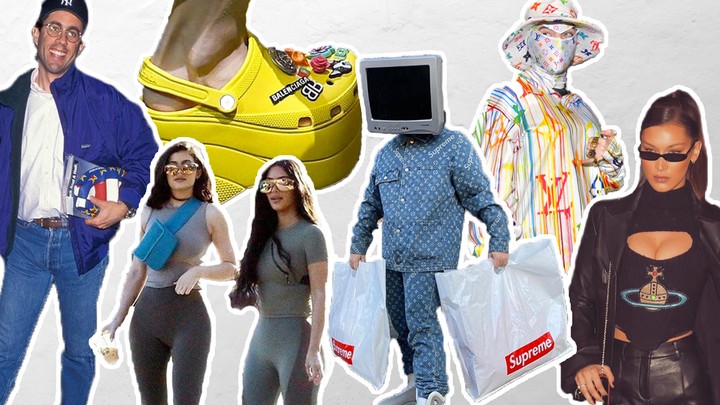 Have truer words ever been spoken than those of fashion prophet Heidi Klum: "In fashion, one day you're in, the next day you're out."? With its sights always trained on the next season, fashion isn't really one to dwell on the past. But let's allow for a rare moment of reflection: don't you remember, reader, the cursed era when we were all into Uggs? Or when Kanye convinced us shutter shades were a trend one day, and -- thankfully -- a fashion faux pas the next? And just look at how quick we are to forget that flower crowns were statement pieces at some godforsaken point in time.

As we enter a new decade, i-D looks back on some of the last one's most stubborn trends. From normcore to a post-Soviet revival to memebait fashion – these are the ten trends that the last ten years will forever be remembered by.
1. Leggings
When we think of the 1920s, we think of the flapper dress. Christian Dior defined the silhouette of the post-war 40s with his wasp-waisted, structured shouldered and layered skirted 'New Look', . In the 80s, a new generation of women entered the workforce, giving rise to an era of sharp power dressing.
For the 2010s' defining piece of clothing, we look to… the yoga studio: that's right, we're talking about leggings. No matter where we were in the world, it appears that we collectively surrendered our last shreds of fashion sense, and succumbed to this practical, comfortable, one-size-fits-all solution, an epitome of laid back style. For those looking for an office-hour-appropriate alternative, jeggings were the answer: perfect attire for sneaking in a some sun salutations between meetings.
2. The death of the hipster: a farewell to skinny jeans and fedora hats
Let's cast our minds back to a simpler time, a time when trips to twee beard salons, sipping our first flat whites and gentrification-guilt filled our days; when the greatest of life's worries were things like 'What fedora will I wear today?', 'I hope my skinny jeans don't cut off my blood circulation...', and 'Has Arcade Fire gone mainstream yet?'
Yes, the early 2010s was the golden age of the hipster. But, evidently, even hipsters themselves were bound for mainstream banality, and accordingly the death of their culture. After the downfall of American Apparel and the final episode of Portlandia, hipsters died off. In their place? Plant-moms who are way too into astrology, apparently.
3. Normcore and the dad sneaker
"Once upon a time, people were born into communities and had to find their individuality. Today people are born individuals and have to find their communities," read a 2013 trend report. That same report coined the term 'normcore' -- the pursuit of sameness, of not feeling or looking special. The term quickly became an inside-joke among the online fashion crowd -- suddenly, distinguishing an avant-garde fashion editor from your average middle-aged tourist was near-impossible. Just take a look at a picture of any dad at Disneyland in the 90s and you'll get an idea of what the look entails: a polar fleece sweater, stonewashed denim jeans, comfortable trainers, a fanny pack and a dad cap.
Overnight, tevas, clogs and clunky sneakers appeared on the feet of every self-aware millennial. They all knew, it seemed, that despite what their parents had said throughout their childhood, they weren't that special after all. Normcore eventually culminated in the daddy of all dad trainers, 2017's Balenciaga Triple S.
4. Athleisure: bike shorts for everyone!
In 2010, Alexander Wang showed an American football-inspired collection that would ultimately snowball into a resurgence of athleisure. The sportswear-inspired trend continued to bubble beneath the surface until 2015, when Kanye West's Adidas Originals collaboration placed it firmly on our radars. A staple of the Kardashian Kloset, athleisure is all about bike shorts, joggers, sports bras and other clothing you're only really supposed to wear when you're, well… doing something athletic? More than that, though, it's perfect for showing of the gym-toned body you initially bought the clothes to achieve.
That said, for all the work the KarJenner Klan have dedicated to boosting the global popularity of cycling gear, the question remains: do any of them even know how to ride a bike?
5. Teeny tiny sunglasses
"I think we will regret this tiny sunglasses look," tweeted Mindy Kaling back in 2018. And indeed, that year would mark the sharp rise and fall of mid-90s-era tiny sunglasses. But, other than making you look like you'd just stepped out of The Matrix, what function did they actually serve? And who was responsible for their unlikely revival?
The influencer, of course. Whether it was convincing you to cop fugly wedge sneakers, exposing you to the elements by stocking your winter wardrobe with crop tops, or having you gasp for air in the hottest new choker, influencers were the ones to decide on the contents of our late 2010s' closets. Thanks a lot, guys.
6. Streetwear became the new couture
To cop or not to cop, that is the question… or it is on any hypebeast's mind the day of a Stüssy drop, at least. This decade saw millions of streetwear enthusiasts camping outside Supreme, BAPE and Palace stores all over the world, eager to get their hands on the latest pair of exclusive sneakers and limited edition tees. In 2019, the creative directors of streetwear labels have replaced couturiers at the top of fashion's pyramid, with Shayne Oliver of Hood by Air and Virgil Abloh of Off-White and Louis Vuitton now heralded as industry greats. Kanye even established himself as a designer with Yeezy.
Streetwear is the new luxury, with millions of fans hungrily hunting down rare items (or grails) -- and often getting scrappy in the process. But it's all worth it in the end: those that are lucky enough to cop can benefit from healthy resale profits, more than making up for the odd black eye.
7. The rise and fall of Soviet nostalgia
25 years on from the collapse of the USSR, a uniquely Soviet aesthetic emerged on the Paris catwalks in 2016. Cyrillic script appeared on t-shirts, sweatshirts and scarves; austere concrete tower blocks soon became the backdrop for numerous editorials and campaigns, in which stern, street-casted models posed in £300 graphic tees. If this trend would've been an ANTM challenge, Tyra's advice would've been: "Proletariat, but make it fashion."
Fashion, naturally, became obsessed with anything inspired by the so-called New East -- and that obsession quickly spilled over into the mainstream, with garments bearing Russian slogans appearing in Topshop and Urban Outfitters. This of course precipitated the post-Soviet aesthetic's decline, as fashion's in-crowd quickly turned its gaze to the next big thing, though a handful of streetwear stans have yet to move on.
8. The rise and rise of meme-bait fashion
Speaking of Demna Gvasalia, remember when he sent canary-yellow platform crocs down the catwalk at Balenciaga? Or the house's "Arena Shopper", a luxe version of IKEA's 99p 'FRAKTA' shopping bag, available for the bargain price of £1600? Or when Raf Simons, for his final collection for Jil Sander, presented a black leather lunch bag for just shy of £500, with lower-rent brown paper version for around £220? These are just a few examples of what's now been coined meme-bait fashion -- the art of making lowbrow highbrow, all while raking in the likes on the 'gram.
When Demna was appointed creative director at Balenciaga, the art of the meme became the house's default marketing strategy. "I used the blue Ikea bag during my four years as a student in Antwerp, due to its size and its price," he explains in an interview with Business of Fashion. "I meant it as an ironic gesture in part, taking something really cheap and moving it into the luxury realm. But it's authentic too, and that's why it's been all over the internet by now. People can relate." In fairness, yes, we can all relate to IKEA.
9. Logomania
"Gucci Gucci, Louis Louis, Fendi Fendi, Prada / Them basic bitches wear that shit so I don't even bother," rapped Kreayshawn back in 2011. But six years down the line, her anti-logo tirade doesn't seem quite so prescient. At the AW17 shows, from Gucci to Versace, Dior to Valentino, logomania was the look du jour.
Our obsession with logos harks back to the 80s, when Dapper Dan liberally used the insignia of brands like Gucci, Louis Vuitton and Fendi in his haute-bootleg designs. With a client list consisting of Public Enemy, Salt-N-Pepa, and Eric B. & Rakim, logomania became an epidemic, seen as the ultimate status symbol. Nearly forty years later, it's back in full force: in 2016 Vetements' DHL T-shirt broke the internet, Supreme branded everything from crowbars to clay bricks, and we all went nuts for a LV monogram face filter.
10. And finally, the VSCO girl. sksksksksk


What do scrunchies, Birkenstocks, tube tops and hydro flasks have in common? They're all key parts of the VSCO Girl uniform, an *aesthetic* that takes its name from an app from the earlier part of the decade, and was introduced to a fresh audience through TikTok. Often cited as "the Tumblr girls of 2019", a description on Urban Dictionary explains the VSCO Girl as "basically the most basic girl you'll find out there" with "and I oop-sksksksk" as their official slogan. Now, if that's something you aspire to, you're in luck: you can find hours of 'how to' videos on YouTube and TikTok to turn yourself into the perfect VSCO Girl.
Just throw on an oversized shirt, some Levi's Mom jeans, a pair of Vans, a puka shell necklace and you're good to go! If you grew up in the 90s, you may feel a distinct sense of déjà vu. Well, that's because the VSCO Girl is just another consequence -- your typical 90s girl with a Gen-Z twist.