Telfar looks to the renaissance for AW20
The American designer reinterpreted Florentine fashion history for his show in Pitti.
|
10 January 2020, 10:40am
In a city drenched in history and seemingly with more Renaissance paintings than people, it's little wonder that Telfar Clemens became inspired by the Medieval beauty of Florence. The New York-based designer has been living here for four months, designing his AW20 collection and organising the show he staged last night as a guest designer at Pitti Uomo. He's been looking at the way people dress here -- both on the street and in the paintings.
"What if that statue was wearing a sweatshirt?" he started to ask himself. It became clear to him that there's a correlation between the way that we dress now and the way they did back then -- the Florentine sartorial traditional of sprezzatura and a seemingly nationwide Italian love for puffer jackets, for instance, could be compared to Medieval dandies and their glossy, bulbous armour.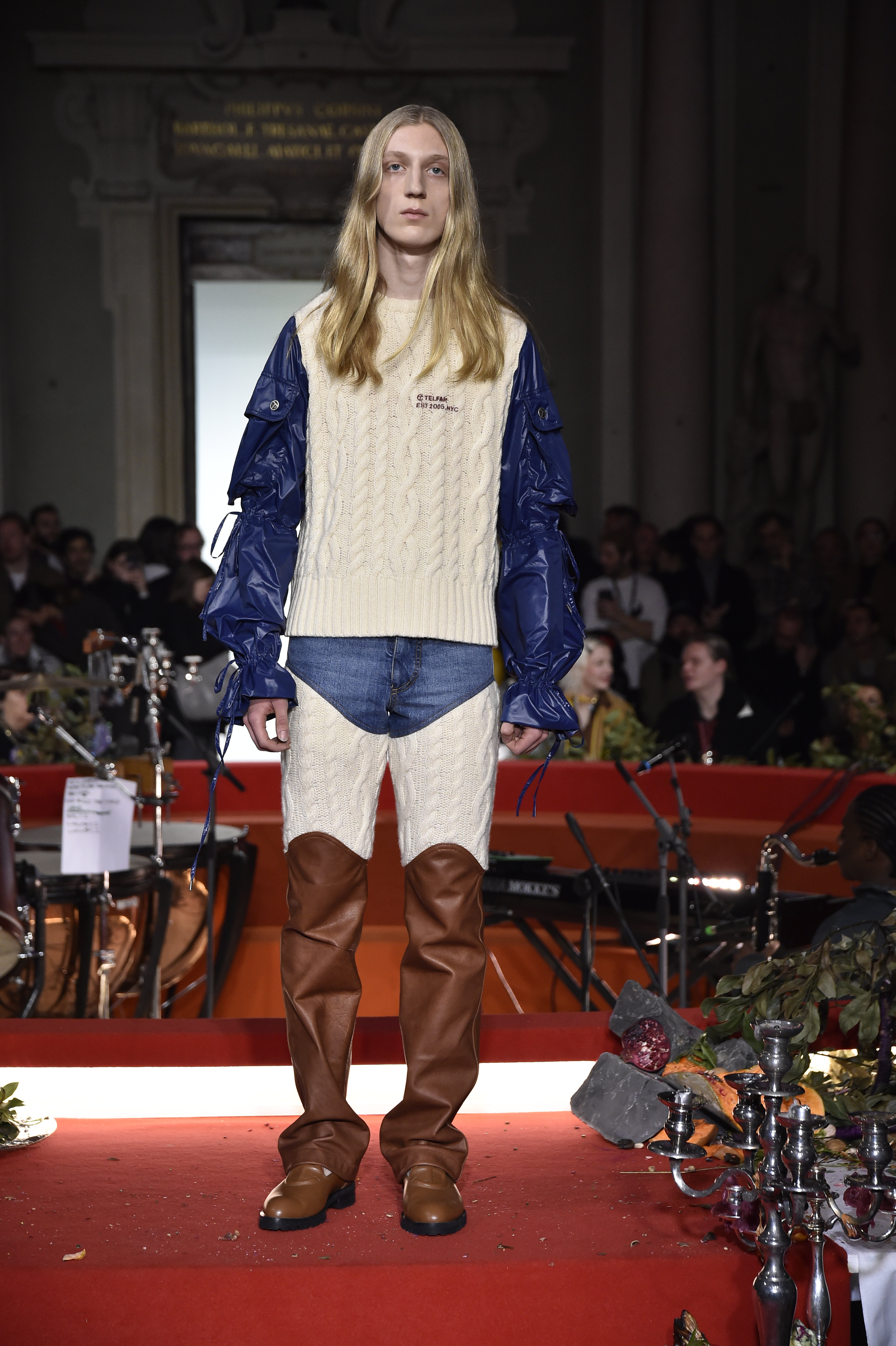 "I didn't want to be that literal about it, so it was about using existing designs and developing new techniques to create volumes," Telfar explained. It was about reconceptualising the proportions through the lens of his own denim, varsity velour tracksuits and yee-haw cowboy styling. Braided T-shirts (the kind you might find on Miami Beach) were turned into corseted doublets. Chunky Italian cable knits were draped, and those puffers were spliced into coats and trousers. "I wasn't trying to go out of my comfort zone and I wasn't just making some ruffles," he pointed out. "I want to wear this shit. It's things I want to have but I can't buy."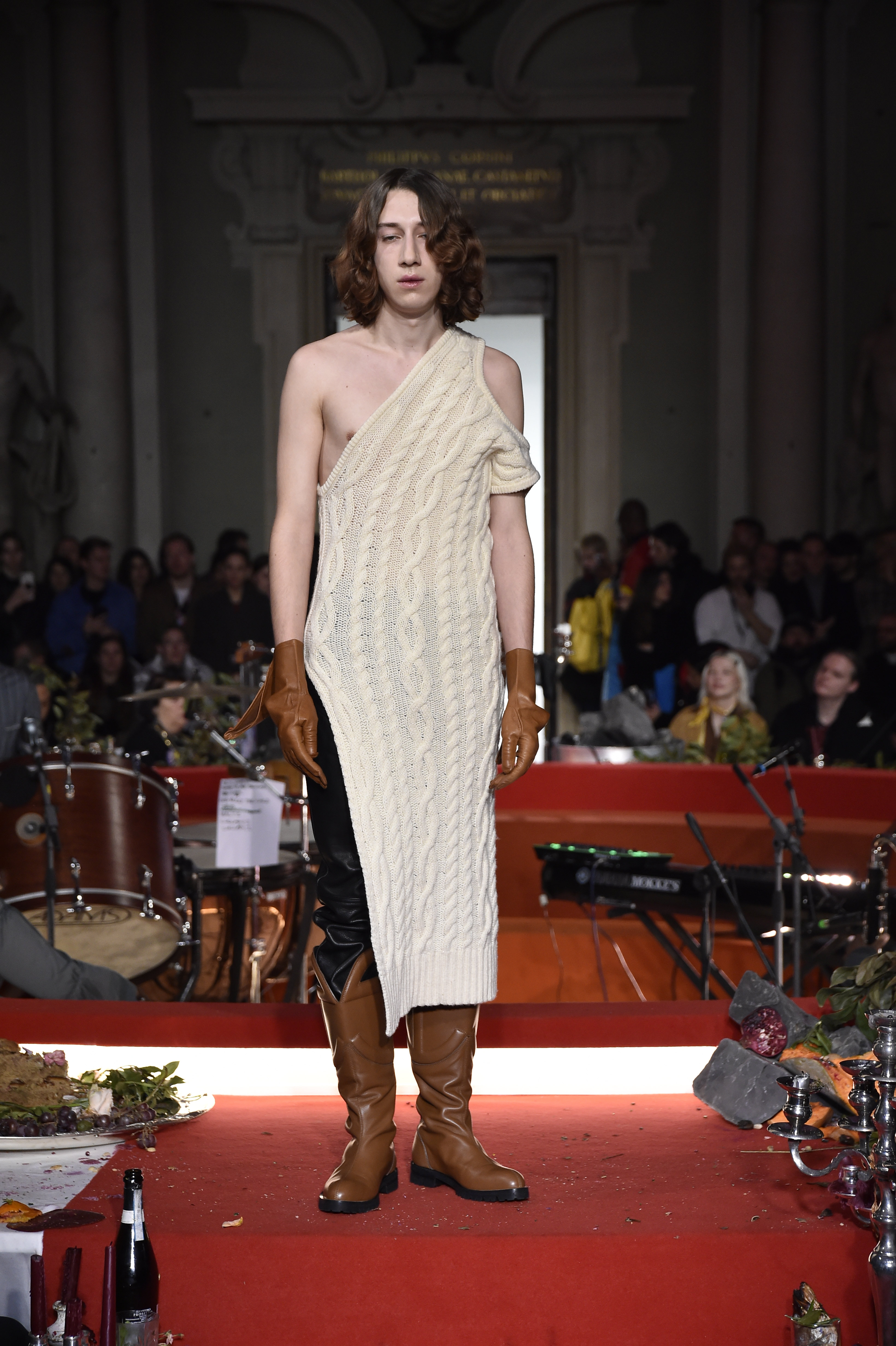 Beyond the clothes, the show was a modern take on the grand banquets of centuries past, centred around a round table-cum-catwalk containing a cellist, saxophonist and drummer. There were performances from Carry Stacks and Hawa, while Solange Knowles, Grace Wales Bonner and Juliana Huxtable looked on and cheered the non-model models who stomped by in Timberland-soled cowboy boots with that recognisable Telfar logo etched into them.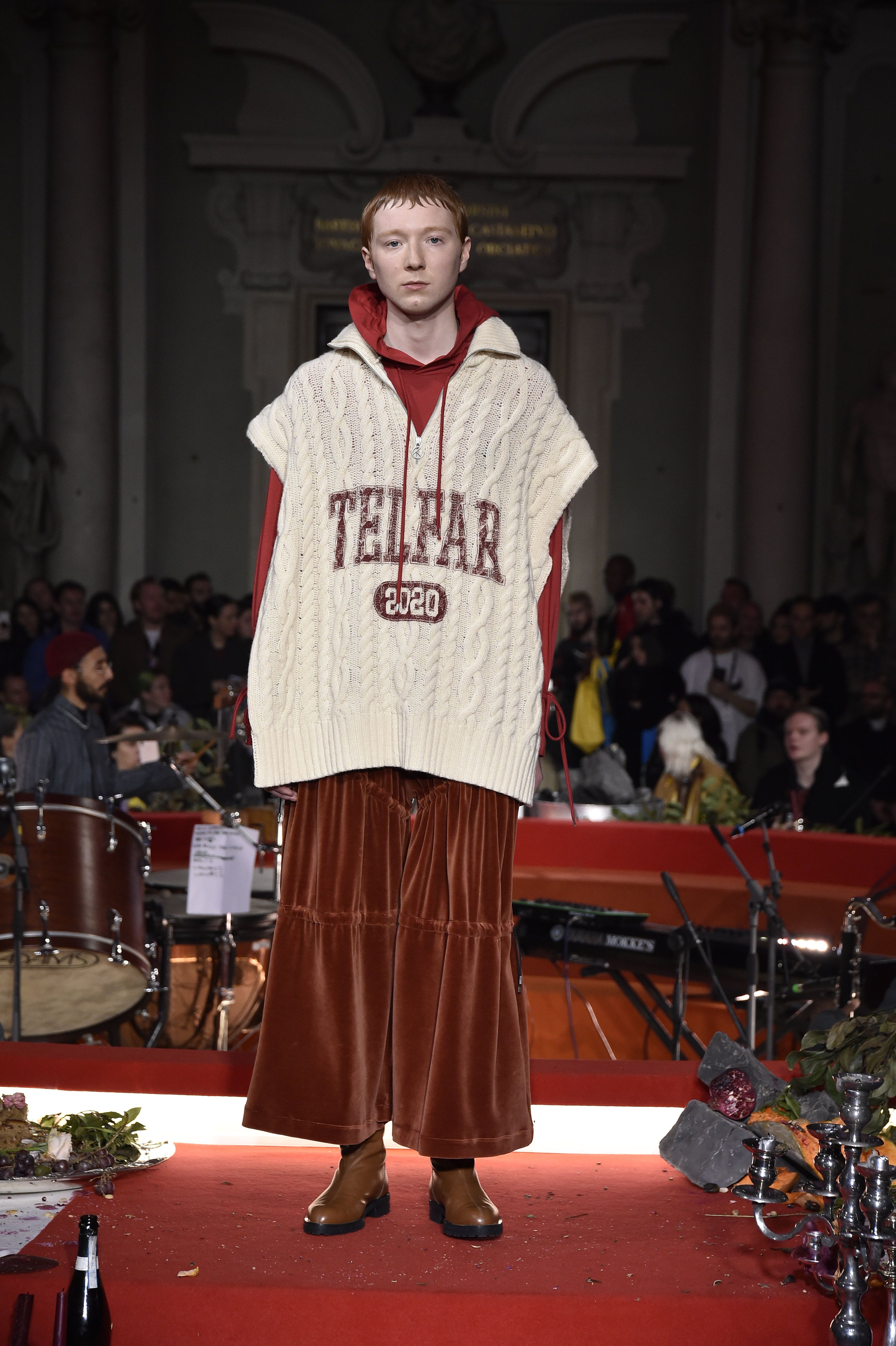 There were those faux-leather shopping bags, too -- the 'Bushwick Birkin' as it has become known. Accessibly-priced, it's an It Bag that's also a symbol of inclusivity and community for a generation of queer people and people of colour -- as well as a vital part of Telfar's burgeoning business.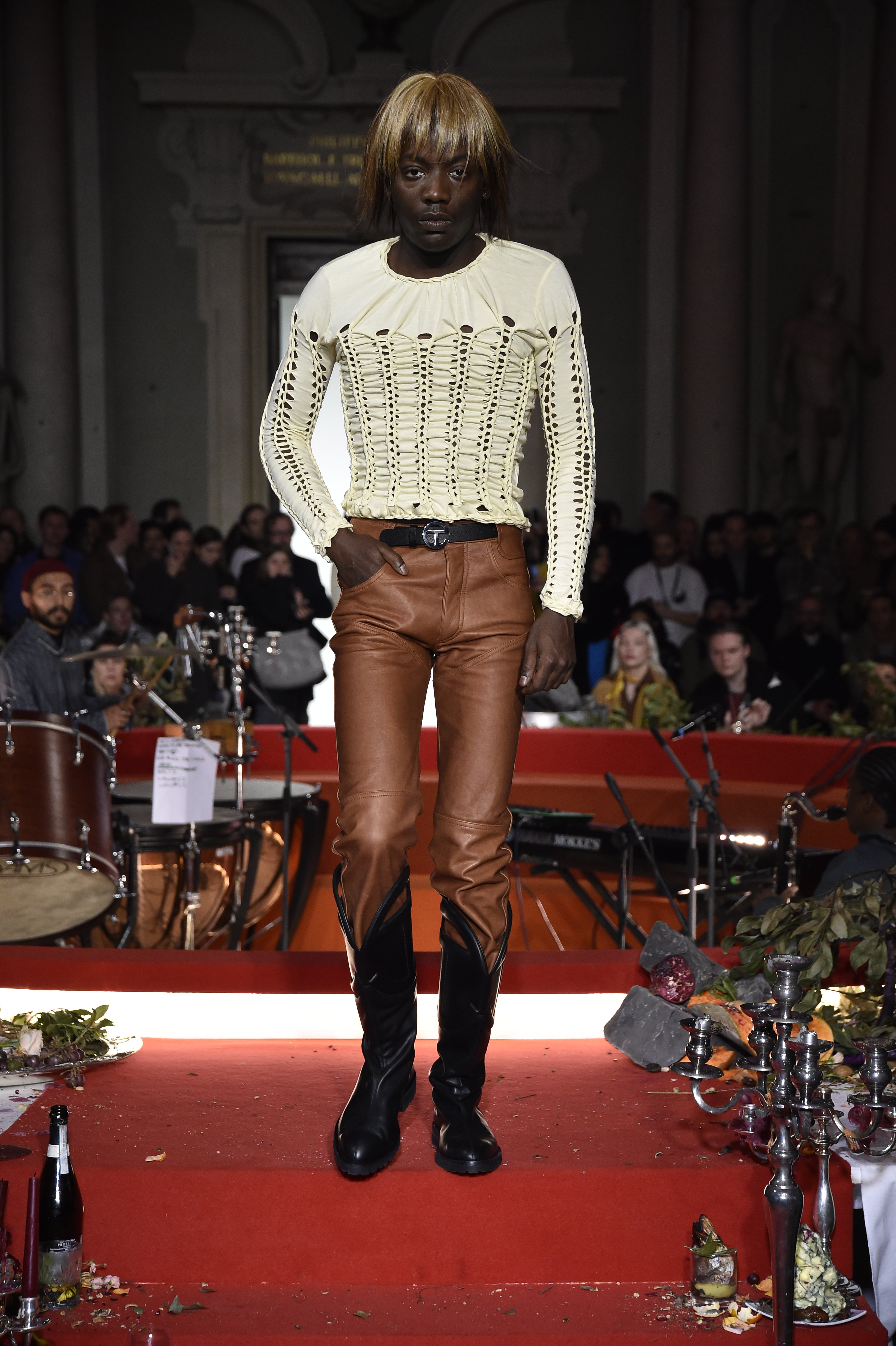 Community is paramount to Telfar's success as a designer. Given that he's in Florence, it's apt to compare him to a latter-day Medici, assembling a court of artists and creatives around him and giving them a platform for their work. The night before the show, he invited his circle of friends and collaborators to a dinner at the Baroque show space.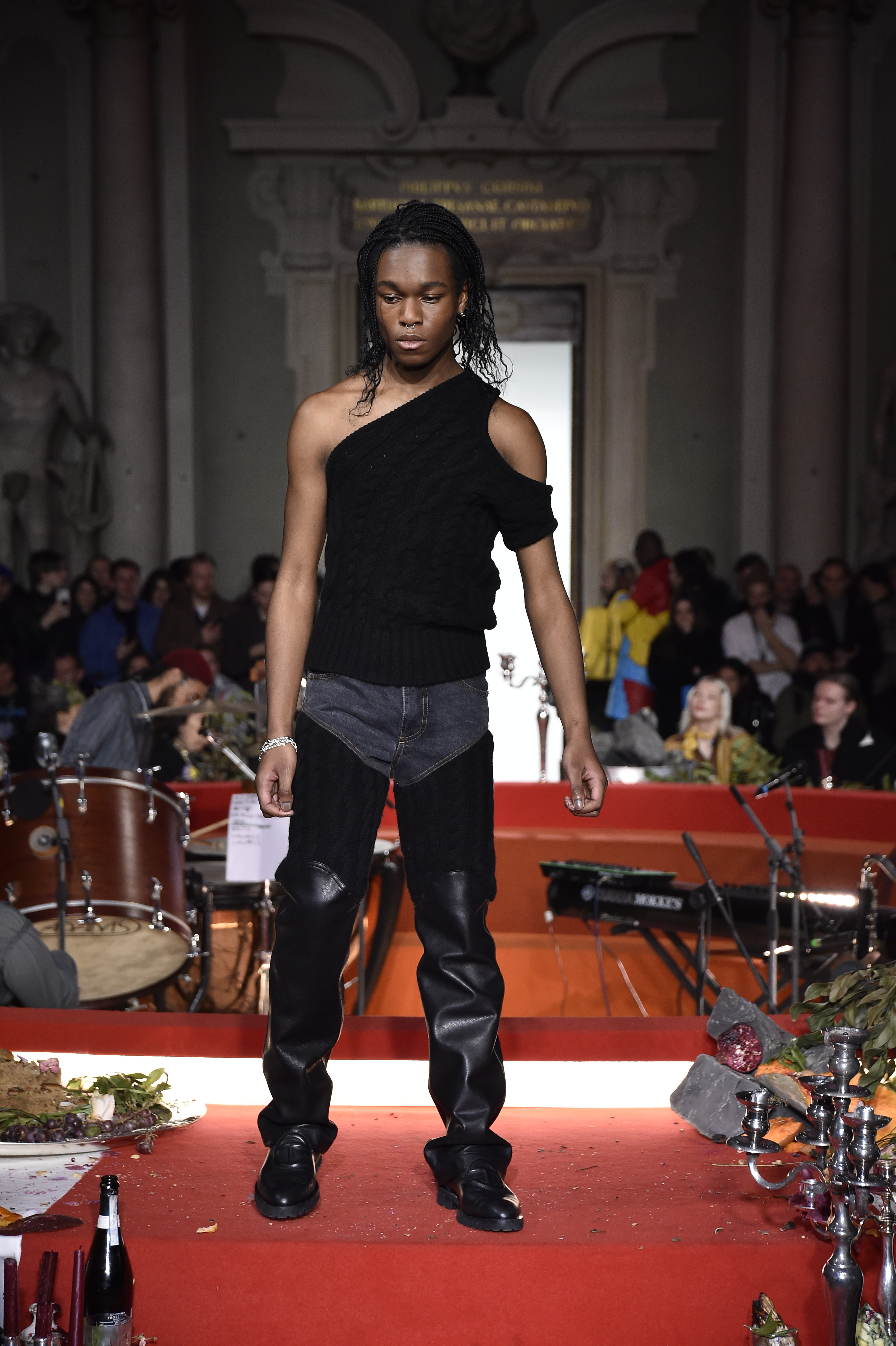 There was no fashion press, no formal invitation. Instead it was the community of people who, like Telfar, have operated on the fringes of corporate/mainstream/commercial fashion and arts and have found a community among each other. They ate grapes and cheese, drank wine, made a mess and some music, too. The residue of that dinner became the set for the show, lit by red strobes, and the music created became the soundtrack.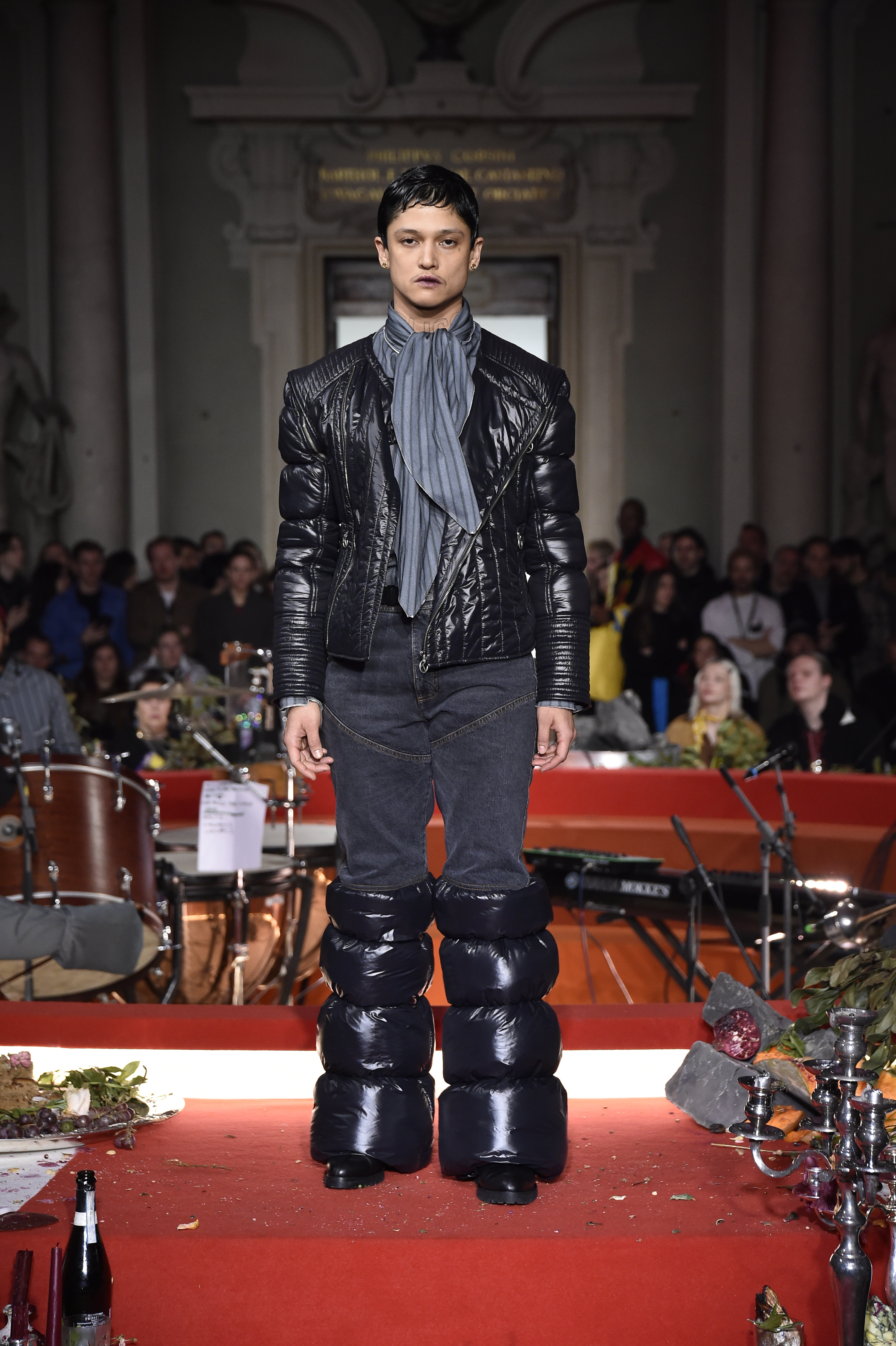 If the show had a stateliness to it, it was only emphasised only by the diversity at the table and the whiteness of the frescoes and painting surrounding it. But it's also that Telfar prioritises his community above all else. In the last couple of years, his star has been precipitously on the rise, especially after taking home the top prize of $400,000 at the CFDA/ Vogue Fashion Fund Awards in 2017. Yet he's been doing his thing for more than a decade, since he was 19, and mainstream fashion has been late to his White Castle party. With his last show in Paris and this show in Florence, it's clear that he is on his way to becoming a global superstar. But what is wonderful is that he's doing it for himself and the people who have been there since the beginning.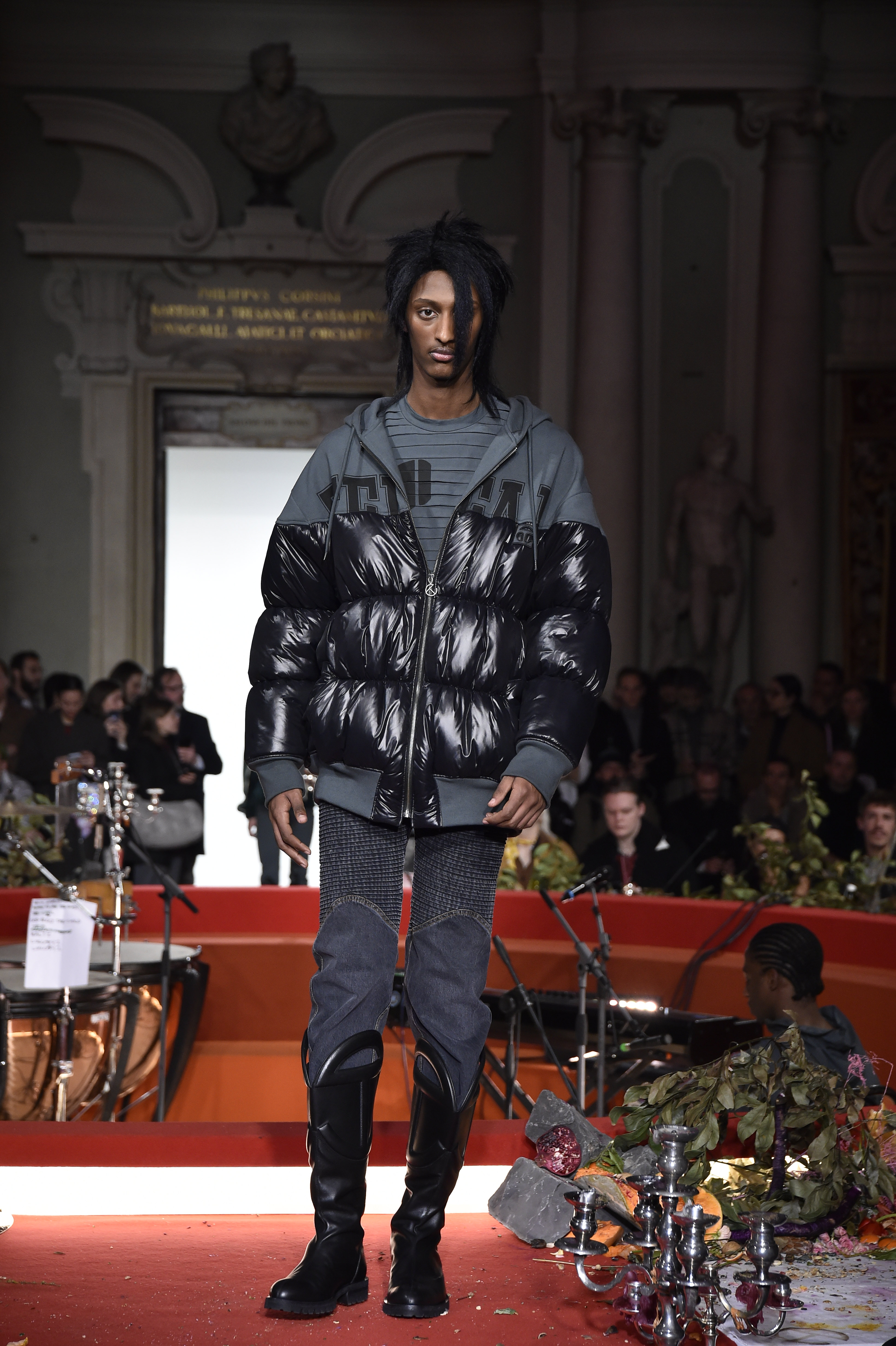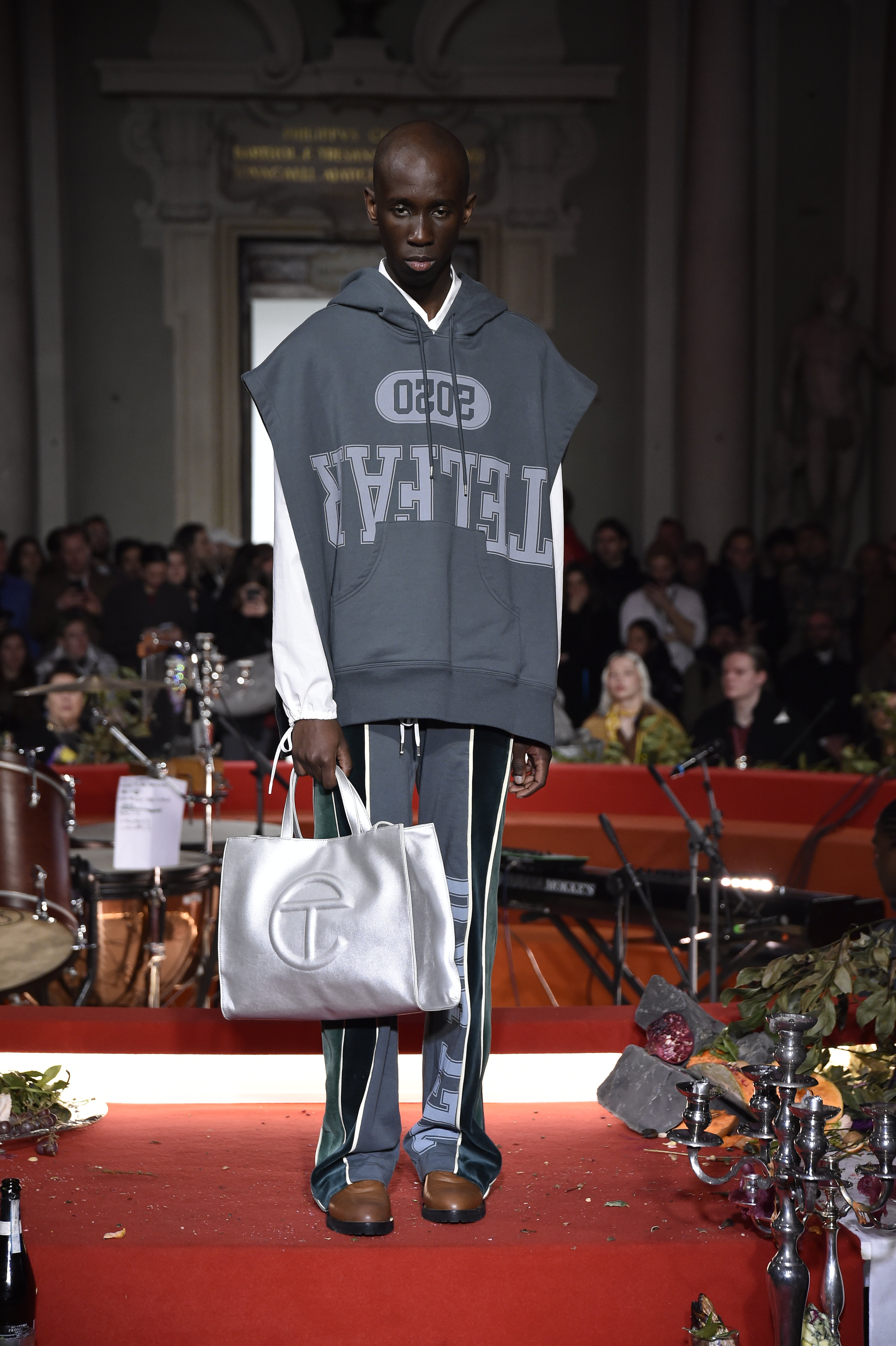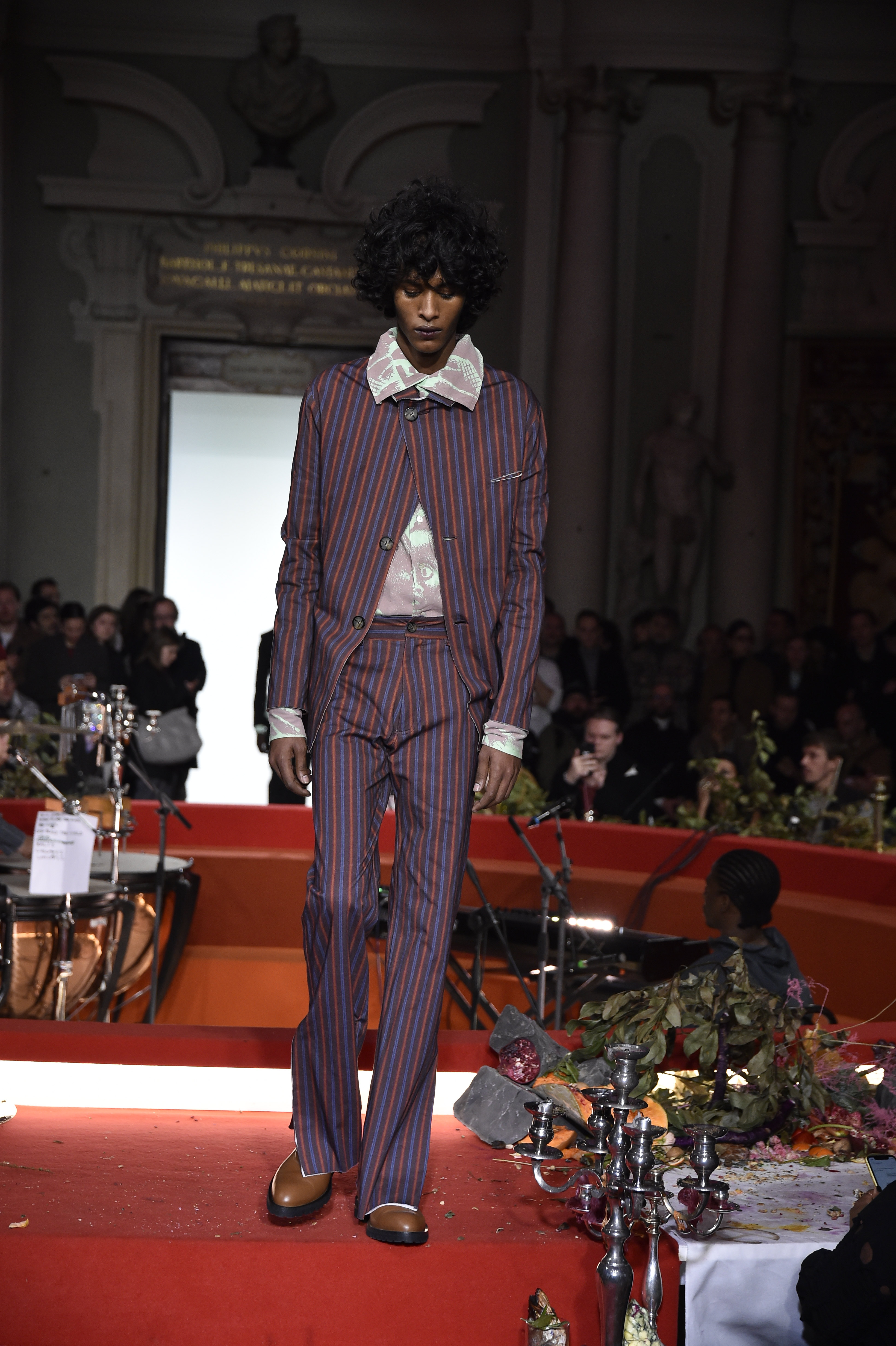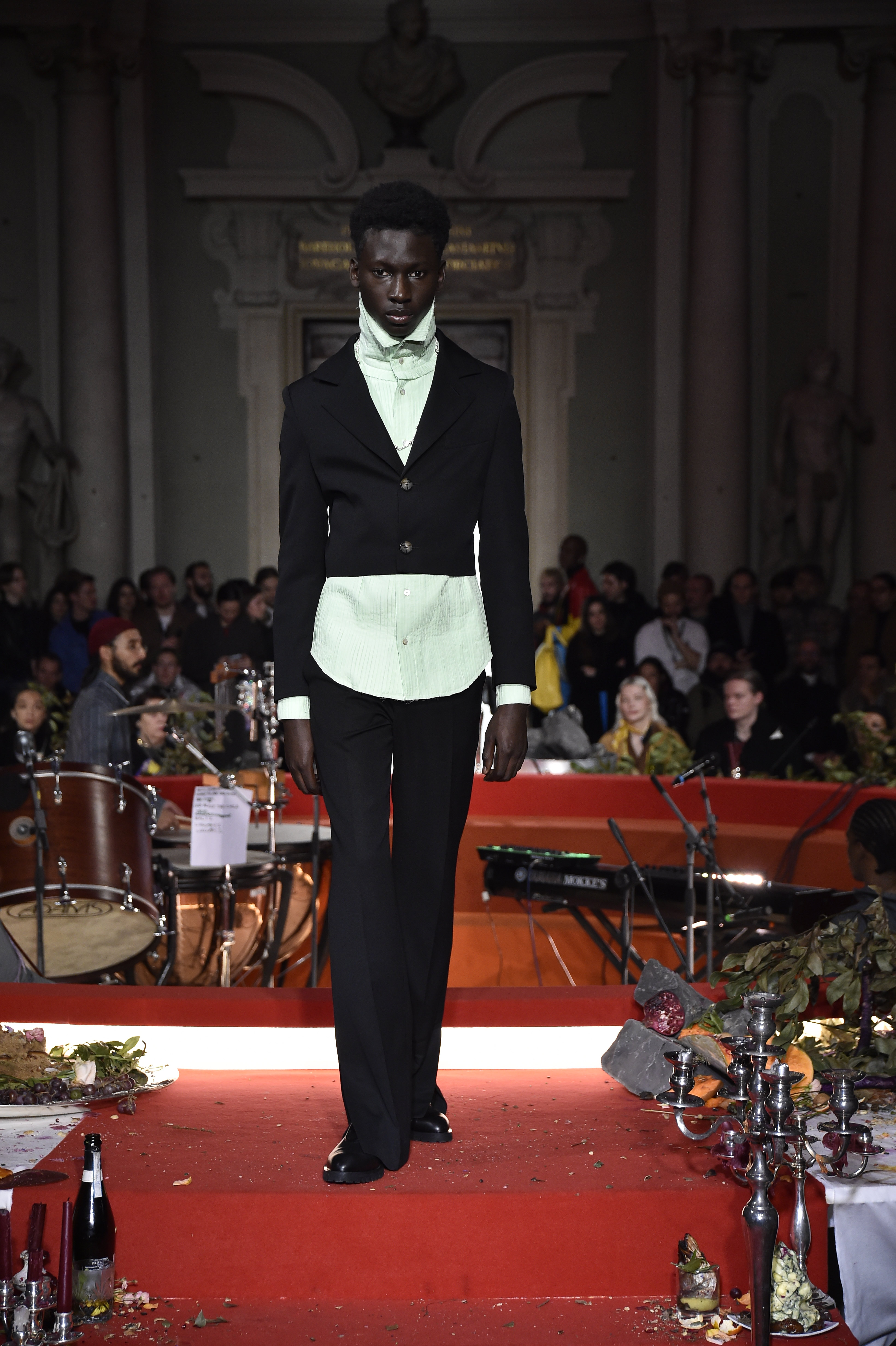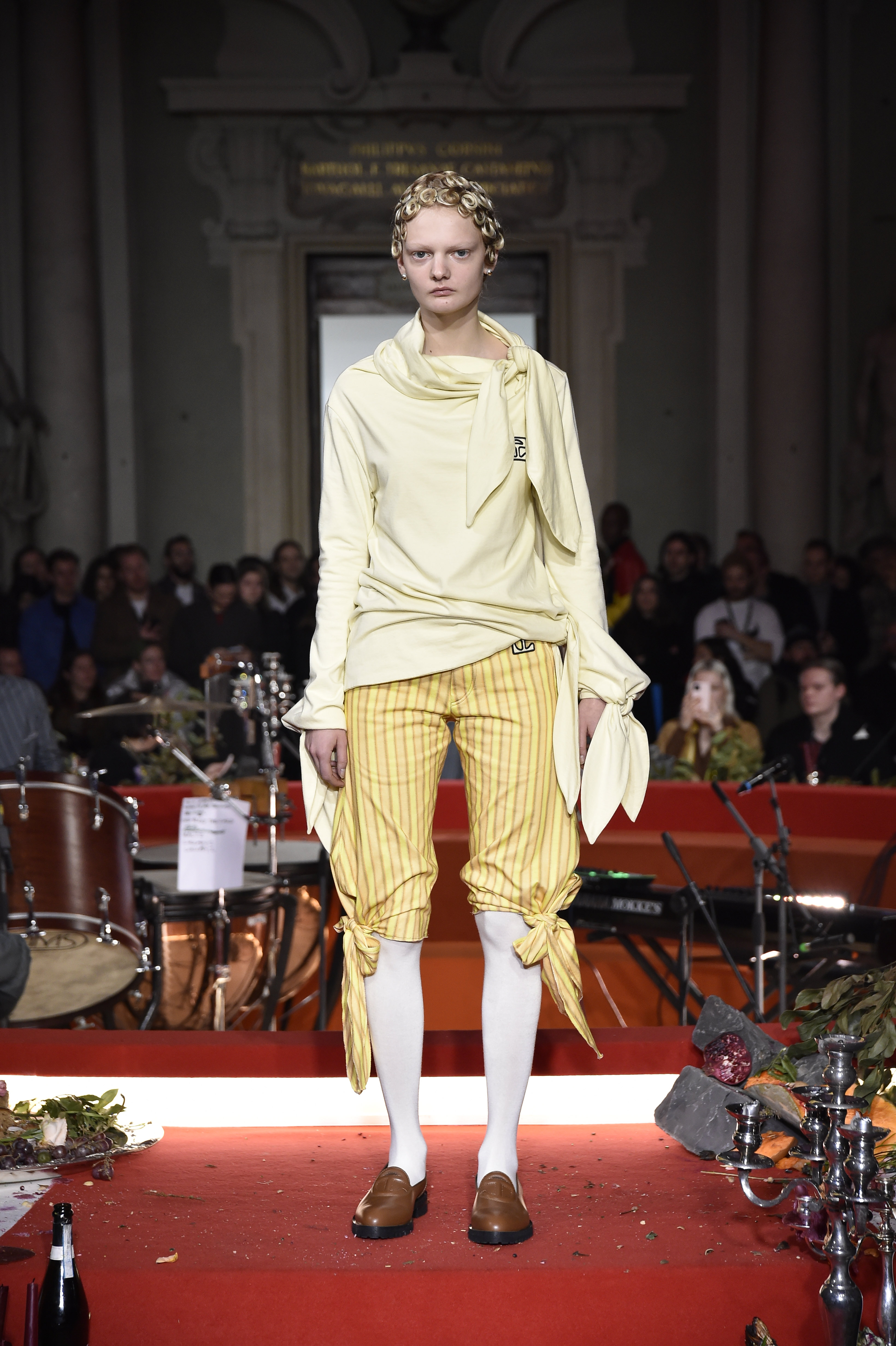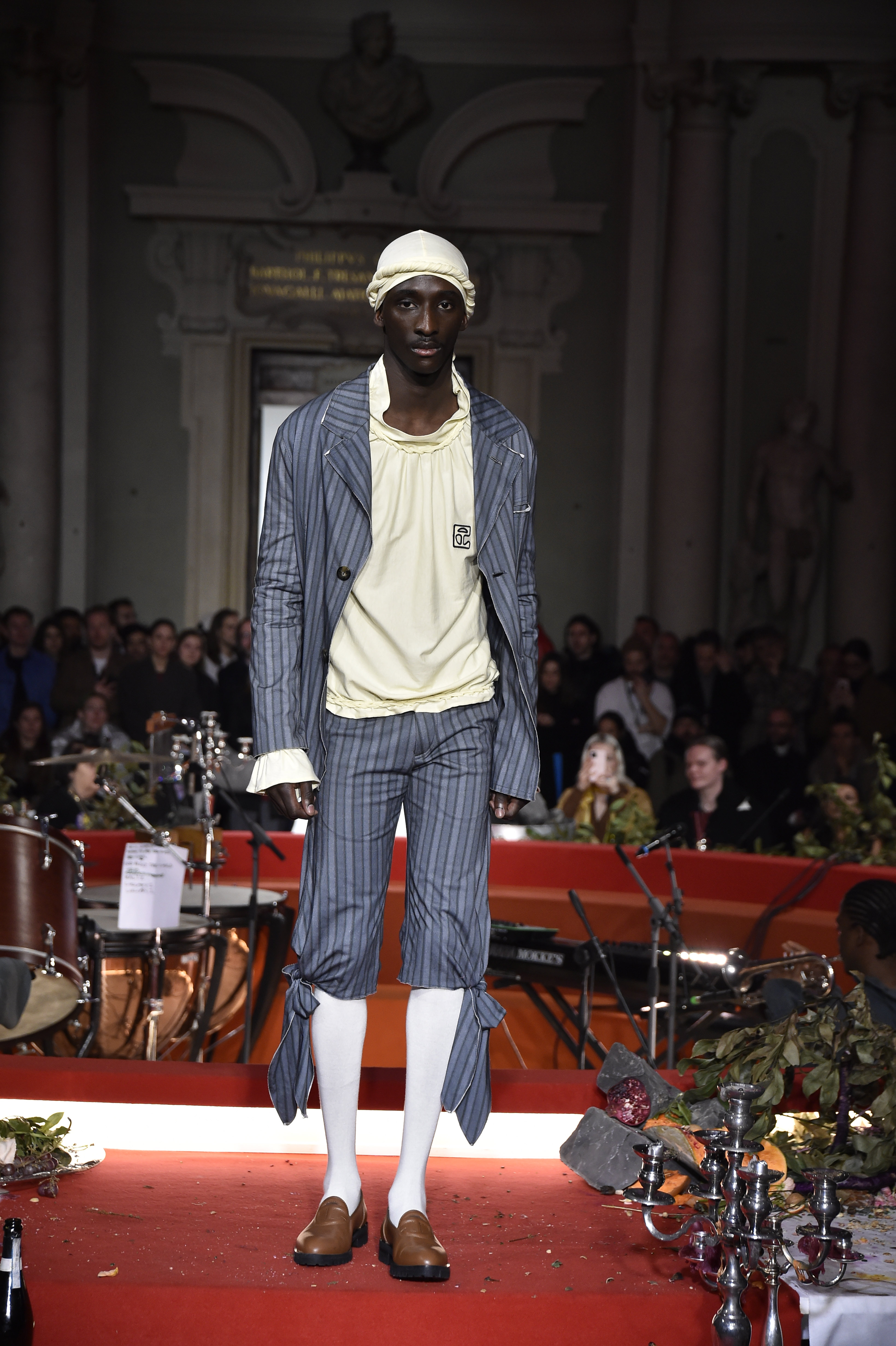 Credits
---
All images courtesy Telfar