Random Identities and Li-Ning's new trainer is inspired by cycling and clubbing
Stefano Pilati tells us the story behind the collaboration and its accompanying film by Matt Lambert.
|
09 January 2020, 10:09am
Trainer of the year is a lofty title, especially when considering that we're a week and a half into 2020, and that Raf Simons is about to debut a new sports shoe line in Paris. But Random Identities, the effortlessly cool Berlin-based label from former Saint Laurent creative director Stefano Pilati, and Li-Ning, the Chinese athletic brand favoured by NBA players, have just officially announced their first collaboration, and the result could just take the prize. (Kanye's Croc-looking Yeezy notwithstanding).
Teased back in summer last year at Li-Ning's Paris Fashion Week Men's show, the all-black Aurora 2020 first spotted on the SS20 catwalk will be available from 17 January and, in keeping with Random Identities genderless ethos, will be available in both men's and women's sizes. The drop will also feature an all-brown Aurora 2020, available only in men's sizes.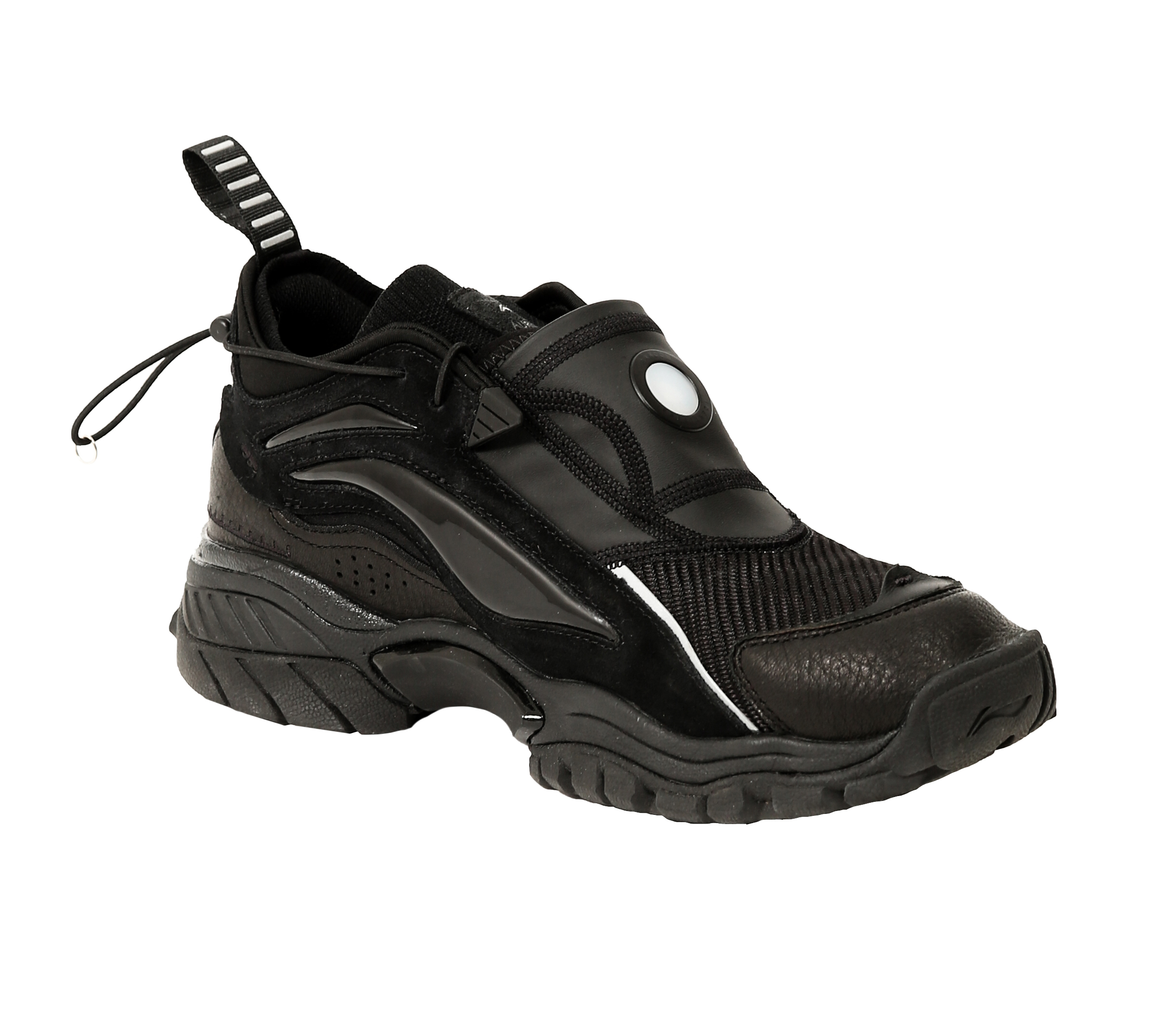 "I decided I wanted to work with Li-Ning because I like to challenge myself where I can learn something new and not be restricted to previous formulas or approaches," Stefano says of how the union came together. "I was first introduced to the brand through a friend who began working for them in 2017. I was immediately interested in its relevance to the Chinese market and knew immediately I wanted to collaborate. I was introduced to many styles that were not known to the Western market, I re-styled and re-interpreted them through the Random Identities lens."
In signature fashion, the brand has released a sexy, hazy film by filmmaker and photographer Matt Lambert to mark the release. "The film combines body-performance activity and the proposal of sexual seduction," Stefano says. "What we created with Matt Lambert was an elegant choreography, in a sculptural form of bodies -- very powerful and with sex appeal; the idea that sneakers can actually be seen as fetish objects was a starting point for this."
To Matt, the brief was simple. Combine two of Stefano's key inspirations, 'the seductive air inherent to nightclubbing and the physical exertion expressed while cycling'. "I created an immersive space to research movement and forms that would evoke a feeling of intimacy and power," Matt says. "Our light and polished cinematography held a balance between something both raw and elegant."
Check the film out below and watch out for their show in Pitti Uomo as special guest this evening.
Both colour-ways will be available starting on January 17, 2020 for £200.