Paul Mpagi Sepuya's life in photos
The artist breaks down eight of the most important images he's ever shot.
Paul Mpagi Sepuya has one of the most distinct aesthetics in 21st century photography, having found creative freedom and possibility unbound in portraiture. Well known for placing himself and his camera at the centre of his mirrored portraits, Paul's images reflect back a multifaceted story about himself, his subjects and his medium. His work explores the dynamics of seeing and being seen -- perhaps as a black man, a queer man, or in Paul's case, both. Whether his prints are left untouched or fragmented, the body obscured or entirely exposed, at the heart of his practise seems to be a desire to find and convey communion between him and his subjects. To tell such rich stories and capture such stimulating configurations of the human body -- that intersect with themes of beauty, trust and desire -- is a testament to his skill as an artist and his sensitivity as a human.
Receiving his first cameras aged 14 -- "A 70s Minolta from my mom and a Polaroid" -- Paul became instantly transfixed with the medium. "I couldn't stop from there," he says. "It helped me get out of being shy and isolated, so at school I was photographing classmates, making a compulsive photo diary of sorts that I would share weekly, and at home I was taking small still lives and things around the house." 25 years later -- with numerous exhibitions and publications under his belt -- the personal origins of his craft can be found in the smallest details and most expansive themes of his body of work.
Catching him at a reflective moment of his career, with an eponymous new monogram by Aperture out -- his first to be released widely -- and a (disrupted) solo exhibition at Vielmetter Los Angeles, Paul sees only small visual changes in 15 years of professional shooting. "Perhaps around 2014, with the return to the studio and incorporation of mirrors, but all the shifts have been cumulative and gradual," he says, noting that even that decision "builds on elements that were emerging for the prior 10 years." Perhaps the greatest shift has simply been "depth", he adds. With this in mind, here Paul presents eight images of note, that capture his growth as an artist.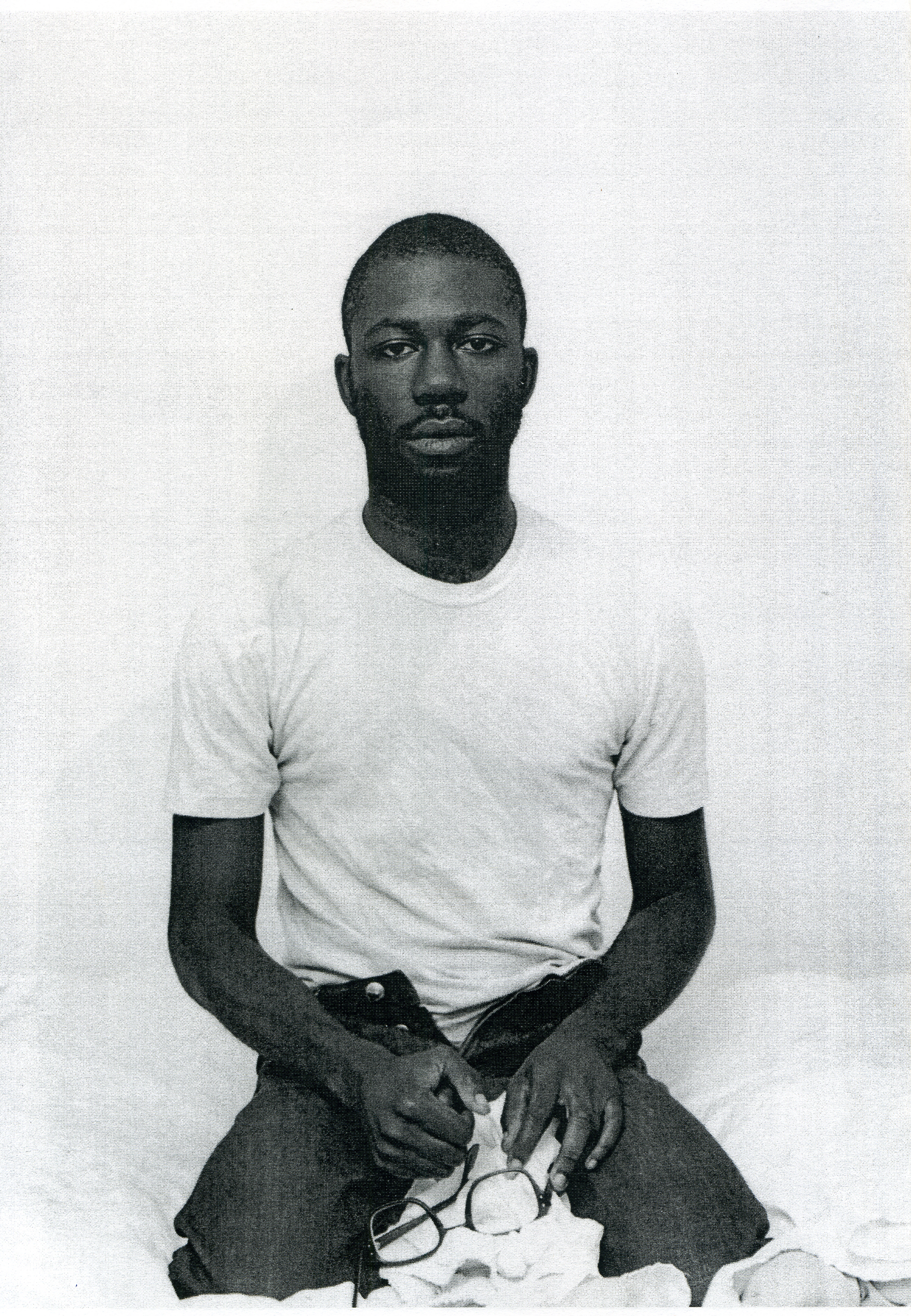 1. SHOOT Zine no. 5, page 12, 2007
For this project, I was initially thinking of selecting my portraits of others alongside me, but came to think of a way of presenting a development of self-portraiture through various projects. The first self-portrait is a page from the fifth zine in my series SHOOT (2005 - 2008). This was from about two years into making the zines, and at the moment when I realised that I needed to turn the camera on myself more directly. I had to be willing to be vulnerable in the same ways that I was asking my friends.

2. "Untitled, Glasco Turnpike", 2009, unpublished
Both this and the next picture are outtakes from 2009 or, more precisely, works that were never seen. This is from a project at my second residency at the Center for Photography at Woodstock, where I began really understanding what an artist studio could be. I am photographing myself as I pin up a roll of prints: images sent to me from a friend in Croatia. We met just before I left for this residency, and I incorporated our exchange into a daily process of photographing myself and the space.
3. "Untitled", 2010, unpublished
I've always returned to this outtake. It's a snapshot looking across my bed at a self-portrait I made of myself in Woodstock the summer before, and framed after it came back from the one group show it was included in. I lived with a lot of work that perhaps had one opportunity to be seen, or that I made and piled up around me. It got me thinking about time, and what happens when images return to the artist, transformed.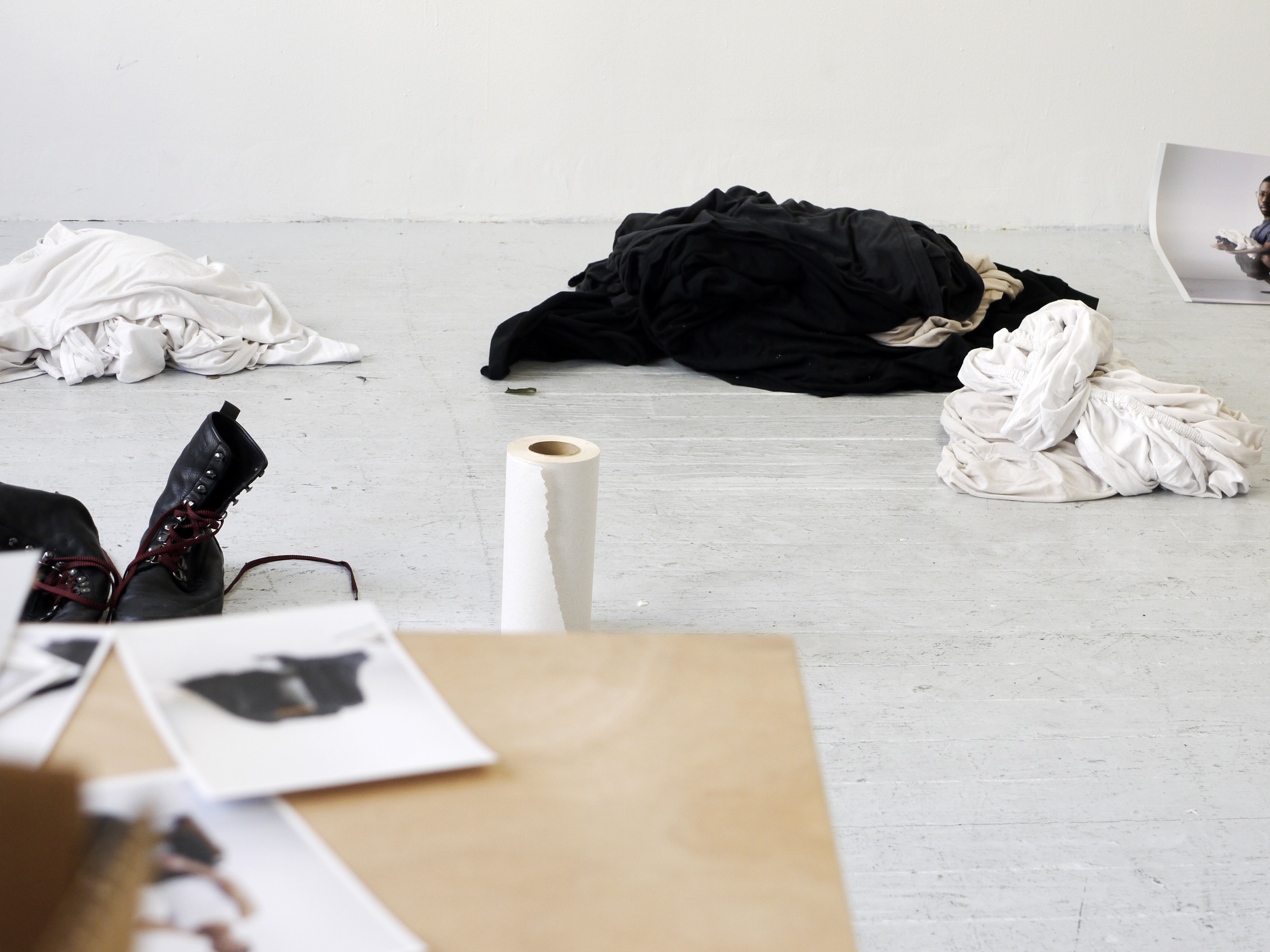 4."Studio, after Jeffrey, March 2", 2011, c-print, 10 x 8 inches (Diptych, Left Image)
This observation of my studio during my residency at the Studio Museum in Harlem doesn't at first seem like a self-portrait, but, like the prior image, a then-unresolved self-portrait leans against the wall to the right. Cut off by the frame, it reappeared the next year in my exhibition STUDIO WORK. In the foreground are test prints of a former friend, Tony, and in the middle ground my friend Jeffrey's boots. This was taken in an off-moment while making Jeffrey's portrait. Back toward the wall are old bed sheets I would use as make-shift backdrops, which would be revisited five years later.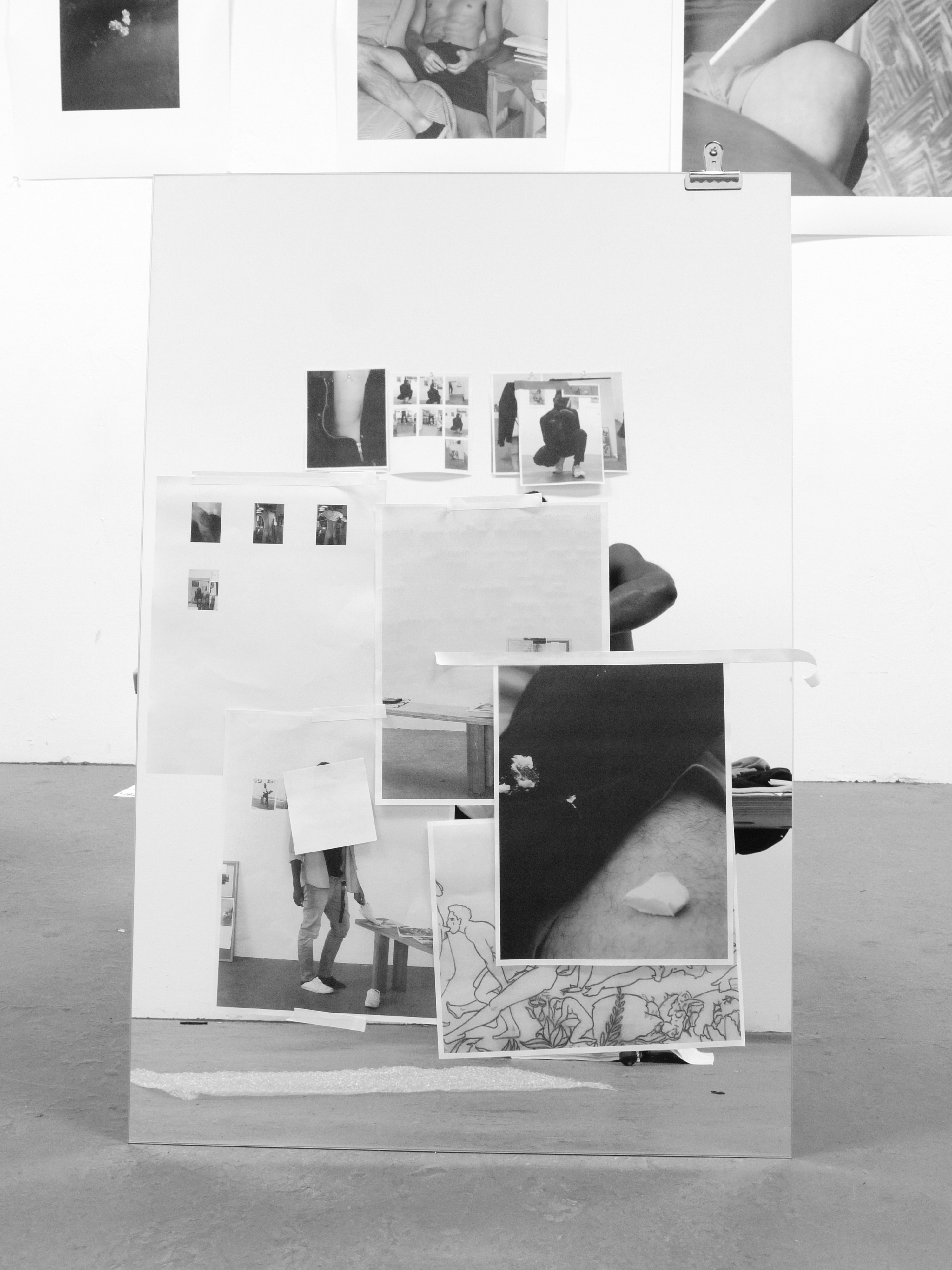 5. "Mirror Study, December 10," 2014, archival pigment print, 24 x 30 inches
Originally an outtake, but later presented as a work in my first exhibition at DOCUMENT in Chicago, this early mirror study introduced the experimentation that would become recognisable in works to follow.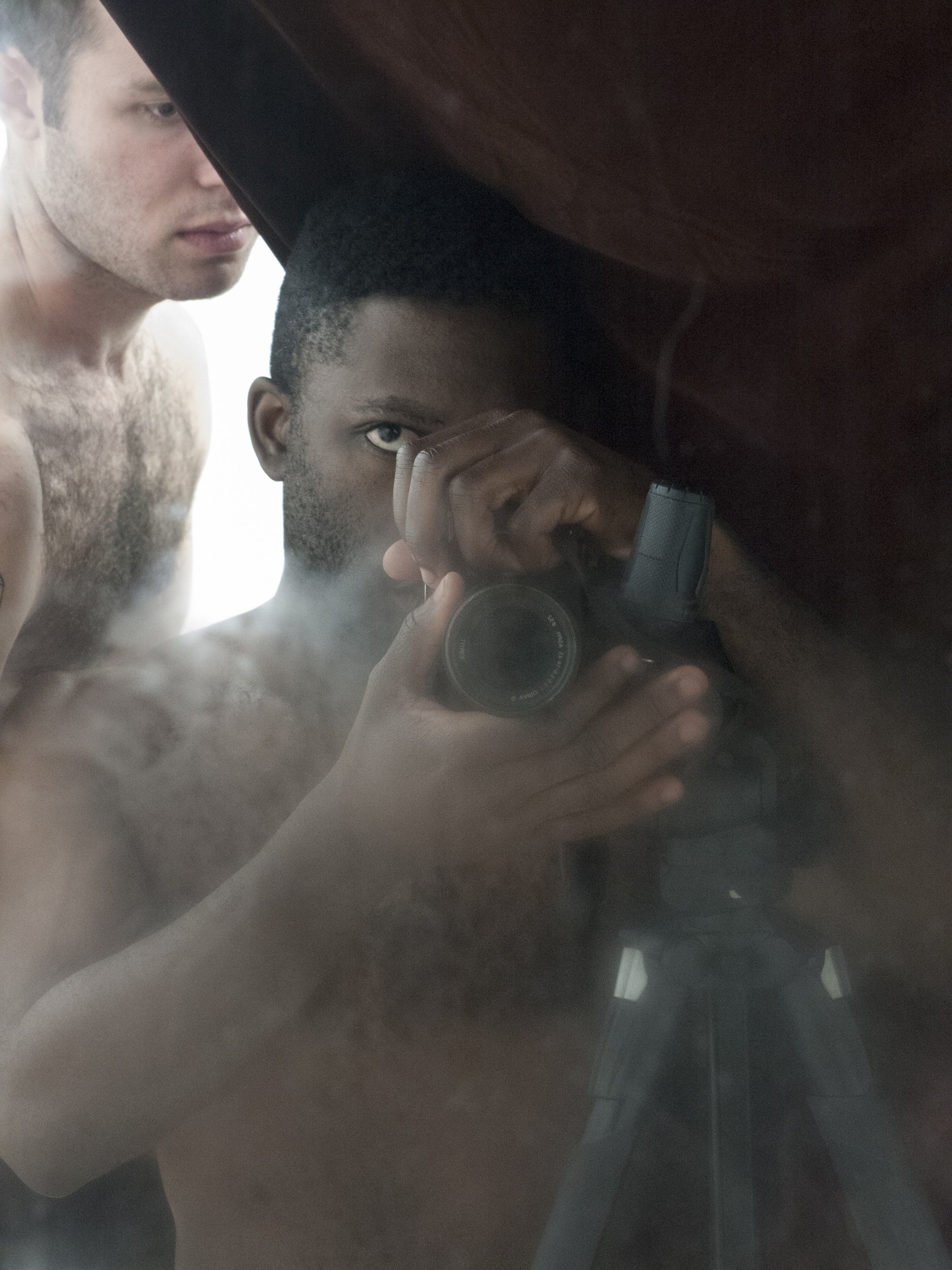 6. "Darkroom Mirror (_2000690)", 2017, archival pigment print, 10 x 13 inches
The Dark Room project was first shown in the Fall of 2017 at Team Gallery's bungalow location in Venice Beach. The show included this small photograph, in which my friend Evan pushes back a velvet backdrop I used to create an enclosed space in front of the mirror in my studio. I was using this setup to be able to photograph traces on the mirror's surface, and this unplanned picture came about after demonstrating to him how I made the mirror studies. It opened up so many playful possibilities with that project.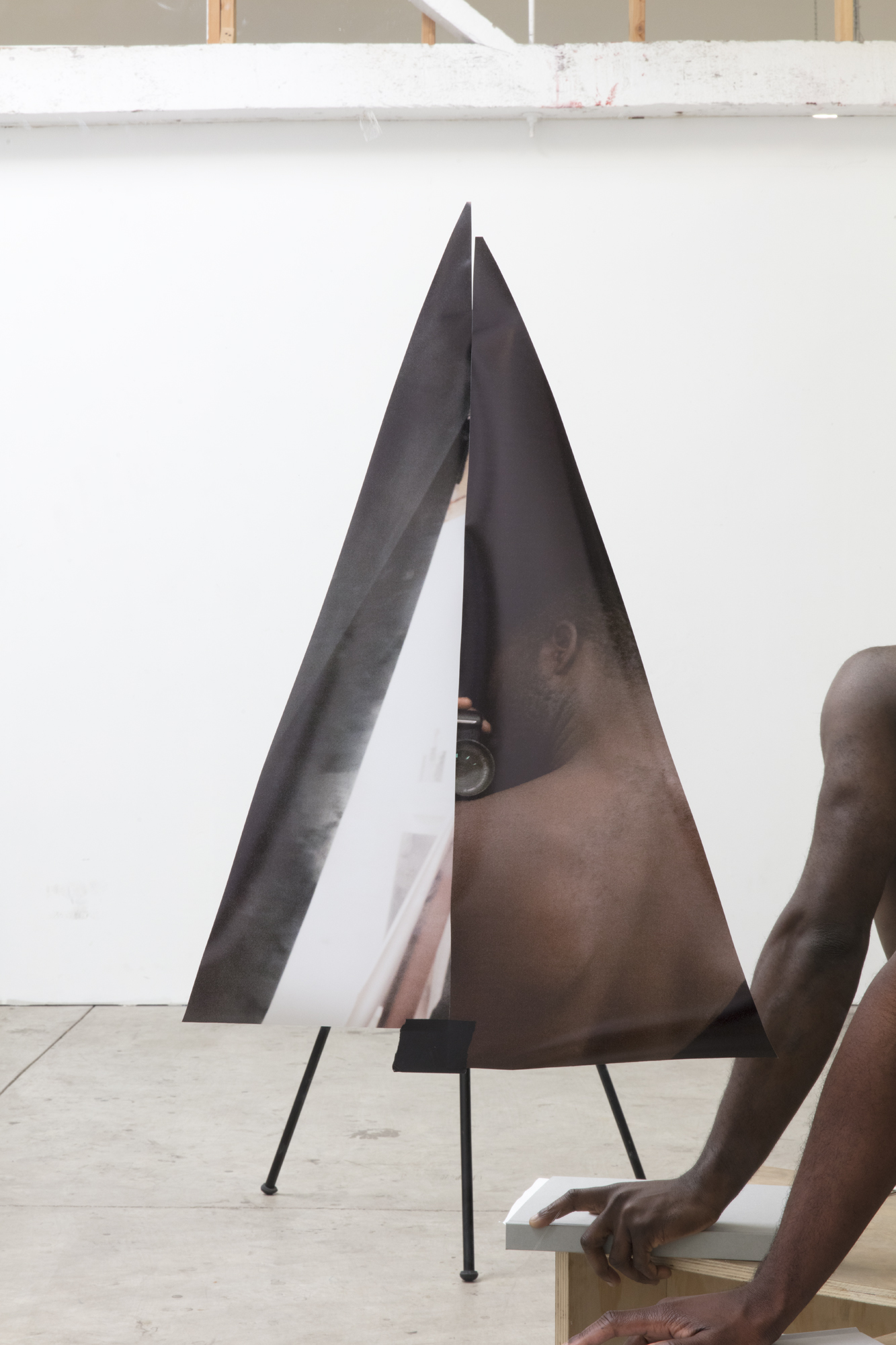 7. "Mirror Study (0X5A7394)", 2018, archival pigment print, 34 x 51 inches
I love this formal composition from my 2019 show The Conditions at Team Gallery in New York. In the few years prior, it seemed like I was only asked to show mirror studies and I pushed back. This show happily reasserted portraiture and friendship at the centre of my practice, but I wanted to include this re-working of a self-portrait into a mirror study. I'm happy it was also included in the survey of my work curated by Wassan Al-Khudhairi at CAM St. Louis.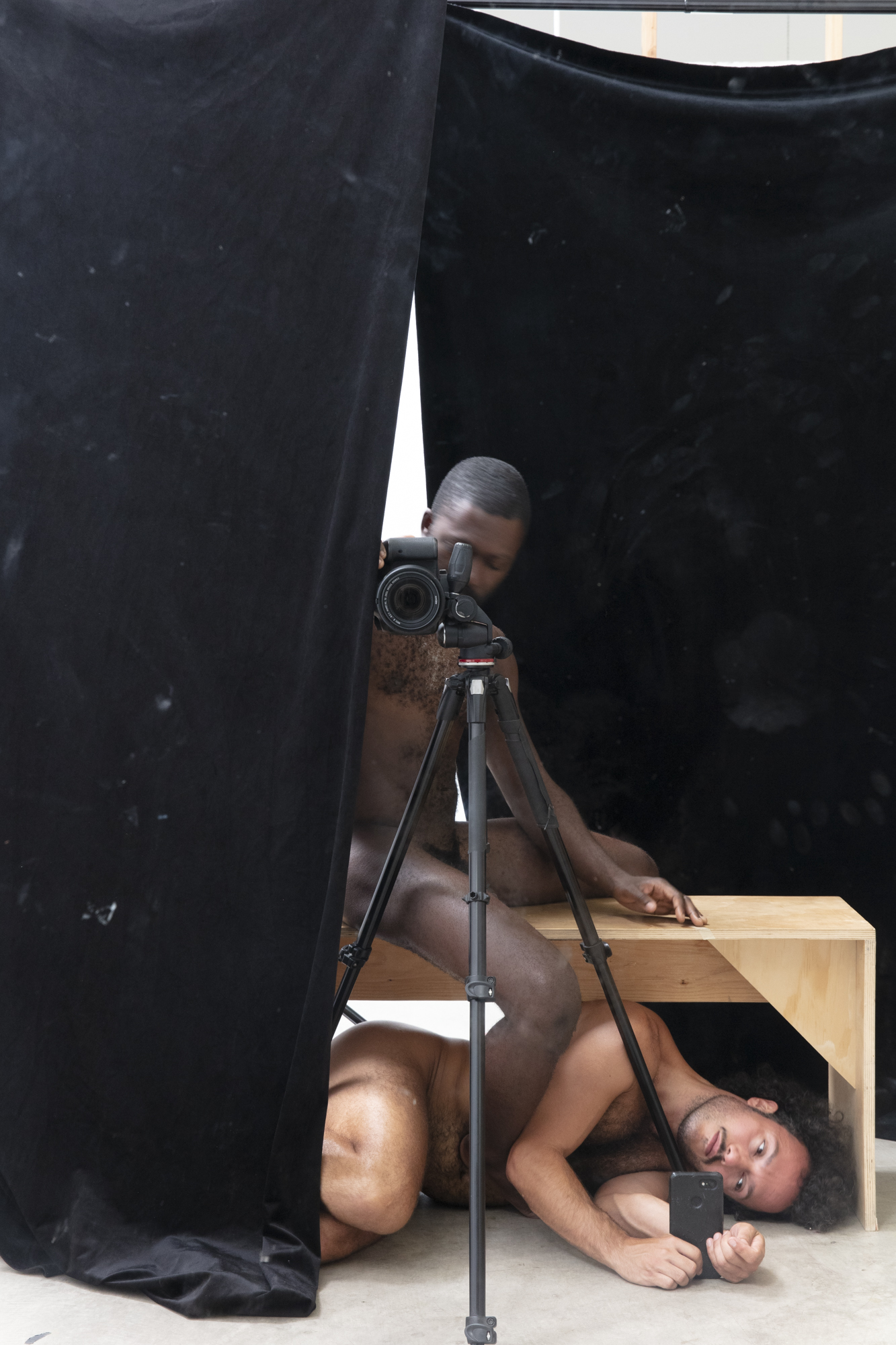 8. "A conversation around pictures (0X5A2615)", 2019, archival pigment print, 50 x 75 inches
This is from my most recent project, and current show up (in limbo) at Vielmetter Los Angeles. It's another playful portrait, this one with my friend Victor, who, like Evan (in image six), introduces new elements through our spontaneous actions in my studio as I talk through and demonstrate what I'm working on. It also builds on years of friendship and mutual musing between the two of us. The inclusion of his iPhone -- he's in fact making a photograph of the scene reflected in my mirror -- is a big part of what I'm currently working on.
Credits
---
All images courtesy Paul Mpagi Sepuya