Images courtesy of Holzweiler
Holzweiler looks to the breathtaking power of weather for AW22
Come rain or shine, the Oslo-based label's latest collection has you covered for whatever the forecast has in store.
|
03 February 2022, 8:00am
Images courtesy of Holzweiler
On any given day, the weather isn't something most of us pay much attention to – it's often more of a backdrop element than a defining feature of our lives. And yet, it's rhythms and swings – from blizzards to blistering sun, still, clear skies to hammering rain – fundamentally shape how we live and above all, dress. These were the thoughts that ran through the minds of Maria Holzweiler and Duy Din Ngo, the respective head of design and head of menswear at Norwegian label Holzweiler, during an unusually warm summer in their native Oslo.
The clement spell they enjoyed, however, wasn't by any means felt elsewhere. "While we had really good weather here in Norway," Maria recalls, "we saw so much news about weather catastrophes around the world at the same time," triggering a conversation between herself and Duy around the sheer force of the climate: "it's impact on nature, humans, and the world at large," she says. While the consequences of many of these natural events were grave, Duy was quick to point out the worldly beauty that weather brings to life – "the patterns that appear after a wildfire, a large rainfall or a harsh frost," he notes
For their AW22 collection, aptly titled "Weathering", the Holzweiler team looked to the sublime power of Mother Nature, transposing her earthy patinas directly onto familiar Holzweiler forms –- a silhouette shaped by structured down jackets, rugged oversized knits and relaxed tailoring. Departing from the idea of the "beauty of decay", the pair and their newly-expanded technical team handcrafted weighty woolen knits with laddered holes, tailoring in naturally overdyed fabrics speckled with hints of clay, shirting fringed with loose threads, and cracked handpainted denims, each entirely unique.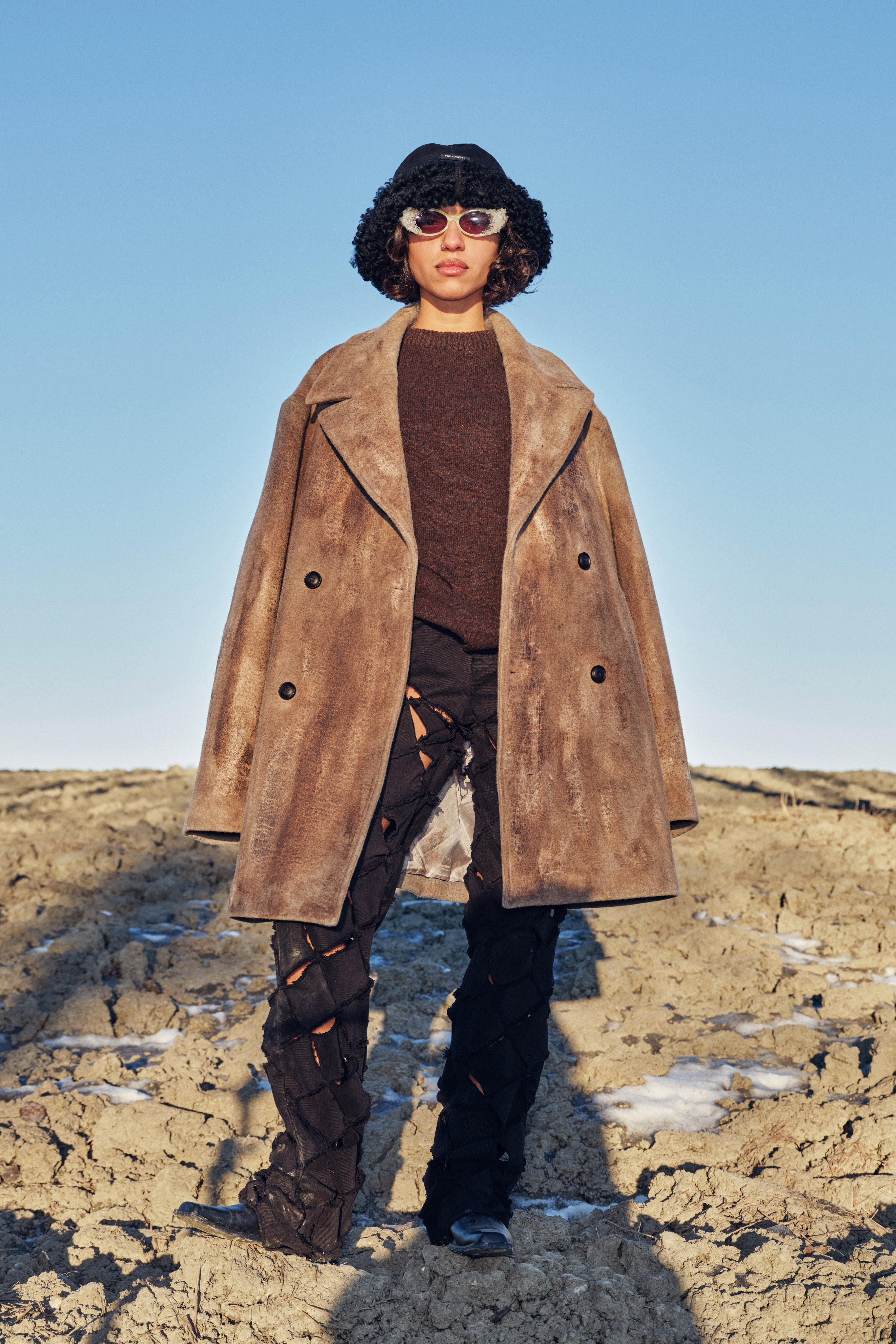 Elsewhere, Gilets in chameleonic heat-tech gilets change from a subdued black to the same orange hue worn by first responders upon skin contact; wide-set acetate sunglasses are decorated with salt-crystal details; and the sleeves of distressed lace smock dresses and sweaters are dramatically extended, mimicking the droop of a garment caught in a downpour.
Of course, any designers taking the climate as their point of departure would be remiss not to take the threats posed to it into account. Naturally, a responsible approach to fashion practice lies at the heart of collection. This season's raw-edged leather pieces have been crafted using surplus materials discovered during a clear up of the brand's storage warehouse, and are cut in a way that maintains the contours of the hide, minimising waste. Puffer jackets and snow boots make use responsibly sourced down and recycled materials, while this season's show pieces, will be exclusively available for rental, extending the wear of some of the collection's most artisanal garment, while stemming unnecessary production.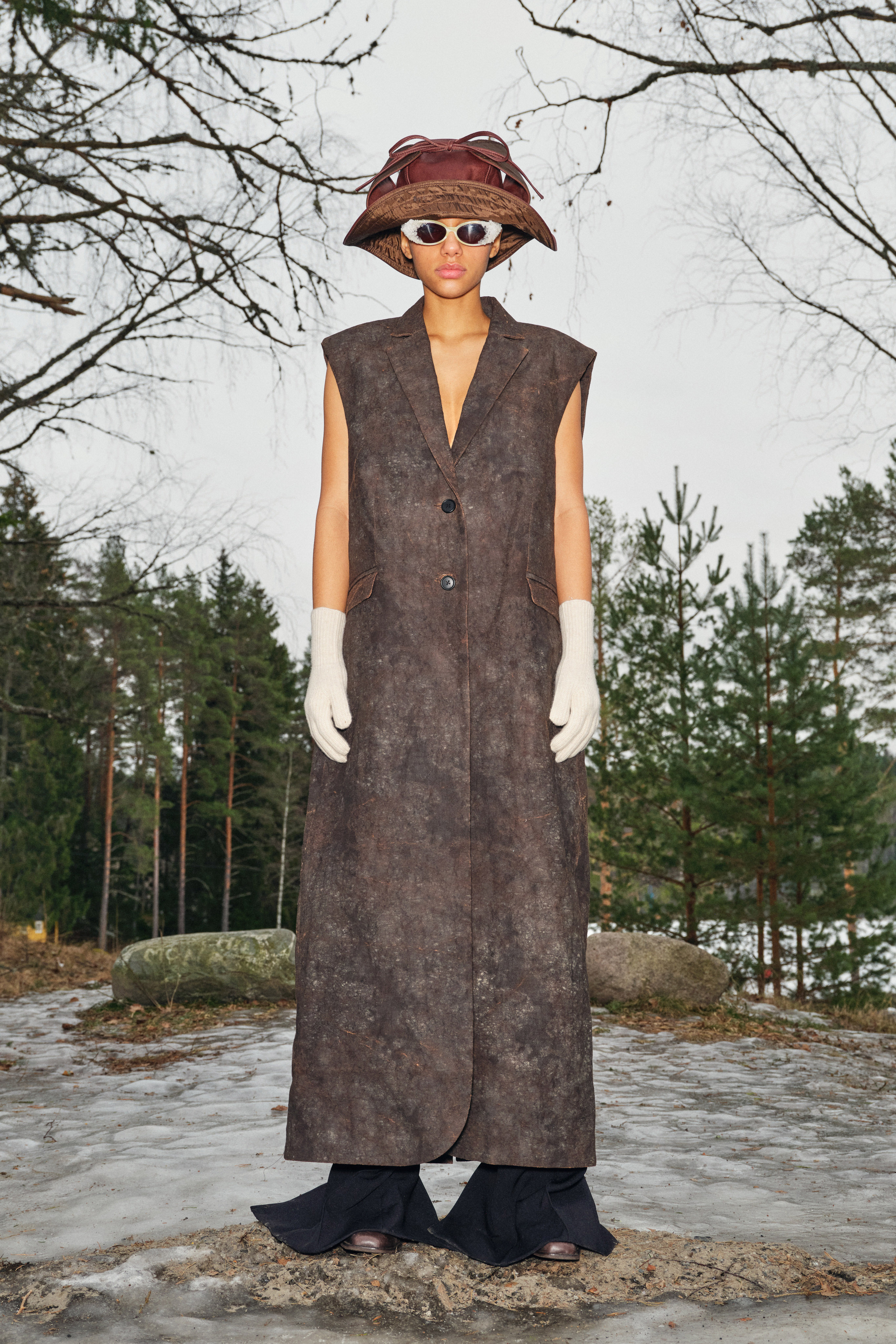 That same sense of reverence for the natural world makes itself felt in the collection's presentational film and lookbook, which debuts today on the Copenhagen Fashion Week schedule.. Shot by Michael Hauptman and styled by Celestine Cooney, it sees a group of five young actors taken on a roadtrip into the Norwegian wilderness, stopping along some of the country's most breathtaking landscapes long the way. Cinematic as the settings are, the overall feeling you're left with is of how believable the clothes are – the fact that they aren't just created for the sake of an image, but rather to be seen and worn out in the real world. "Our mission is really about making clothes that people can integrate into their personal lives," Duy says. "That's what really excites us," Maria adds. "It's always great to show a collection, but what we love is seeing how people bring their identities to our garment. With this collection, the adventure starts now, and we can't wait to see what the pieces will look like in 10 years time," come rain, shine, or whatever else the weather brings.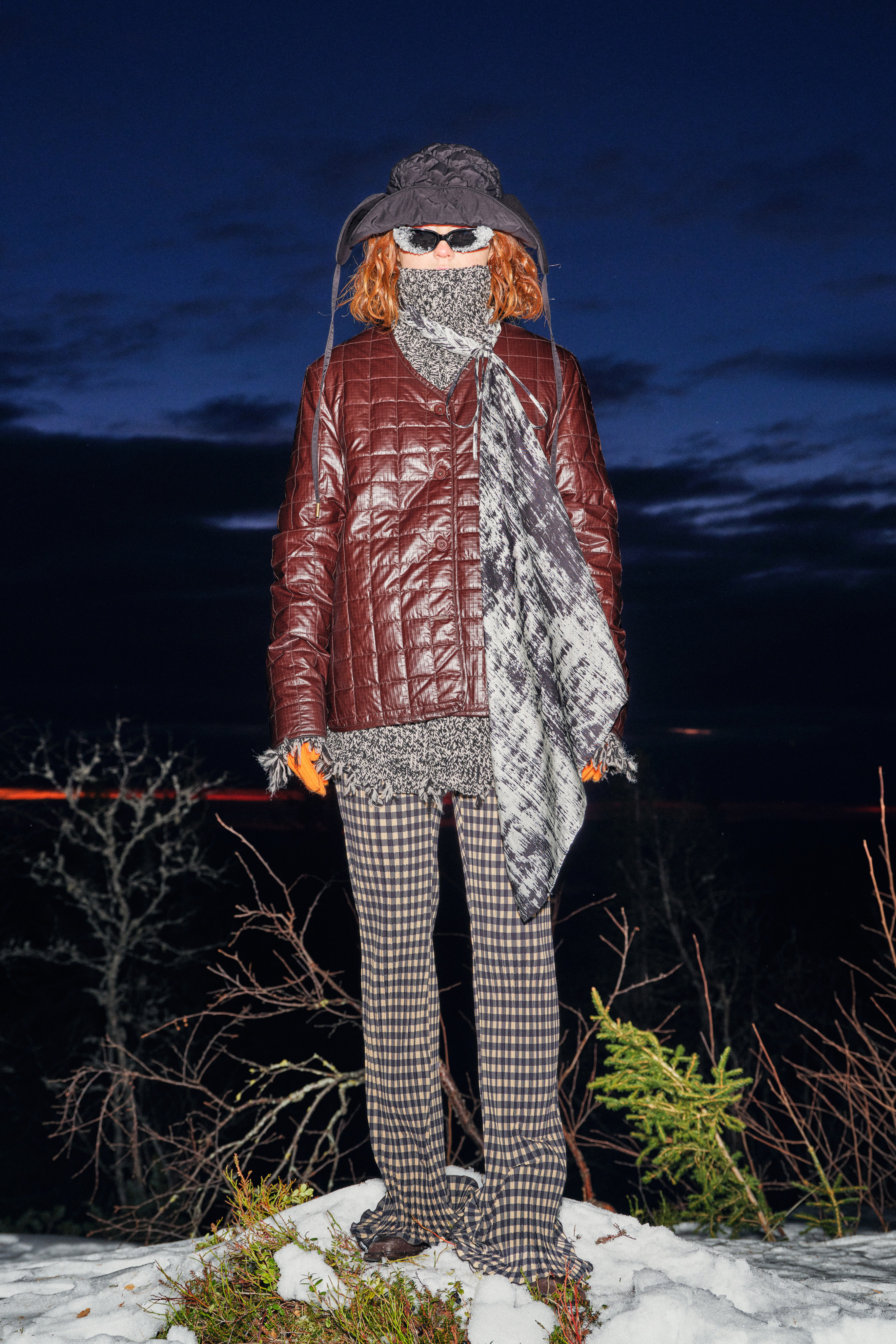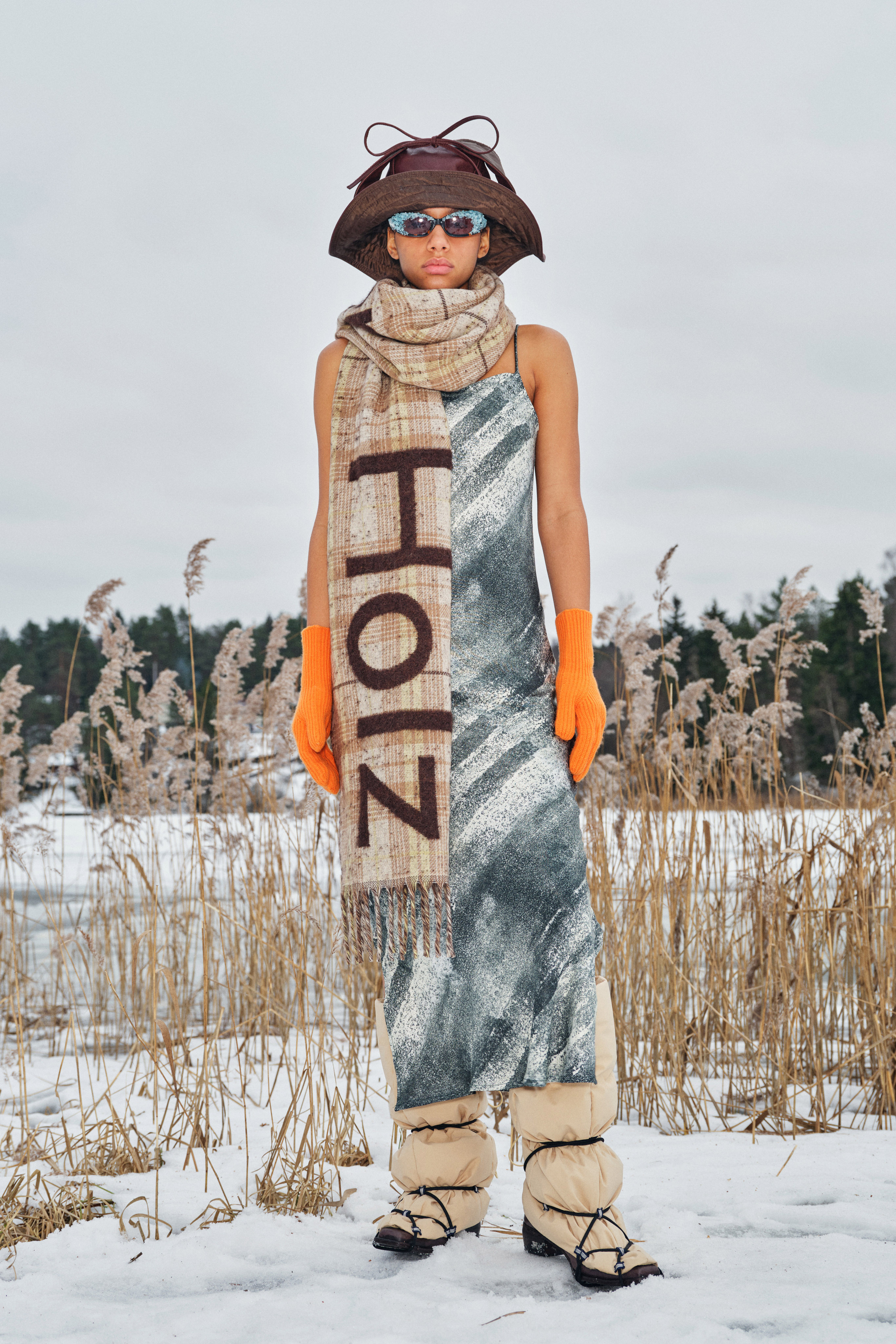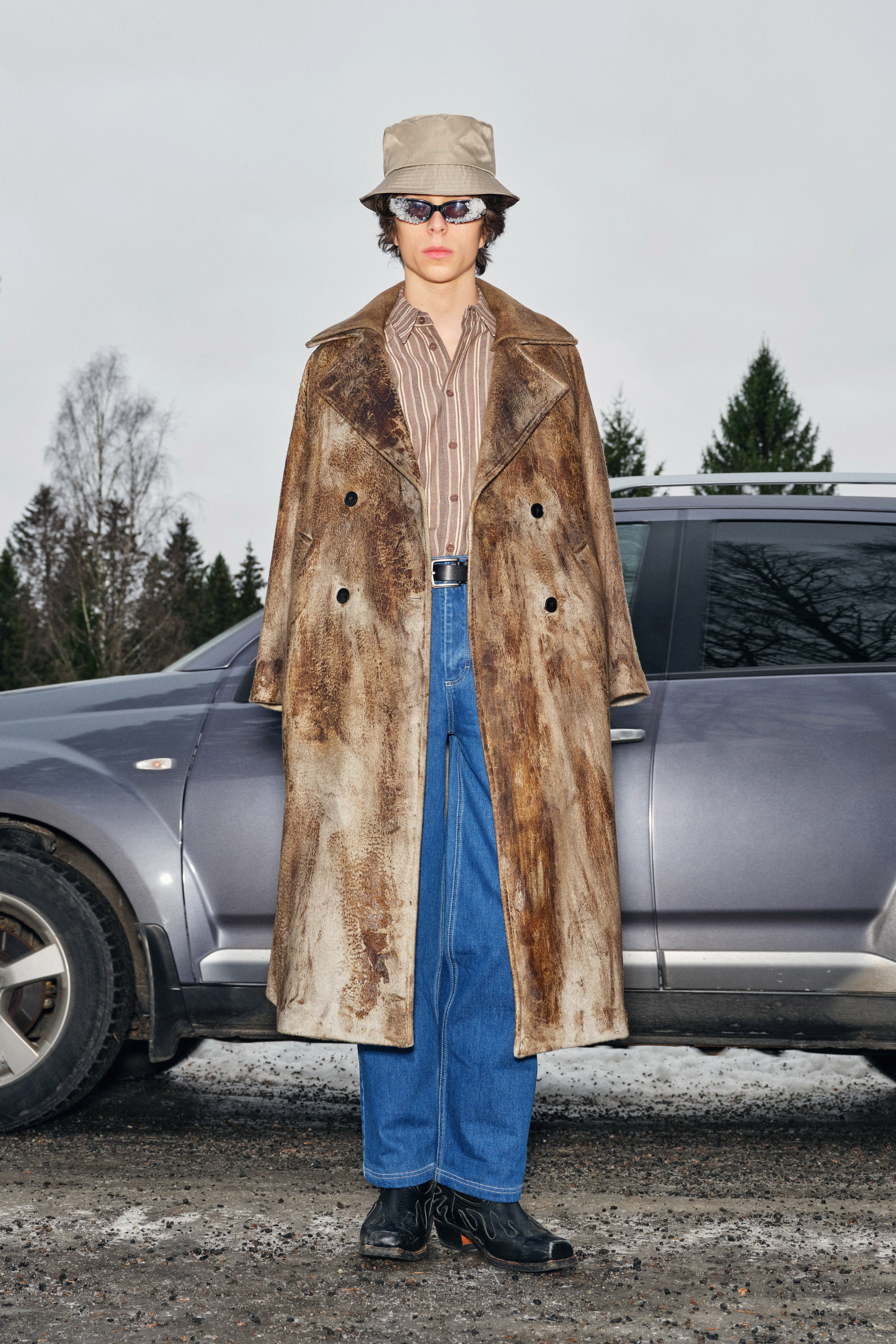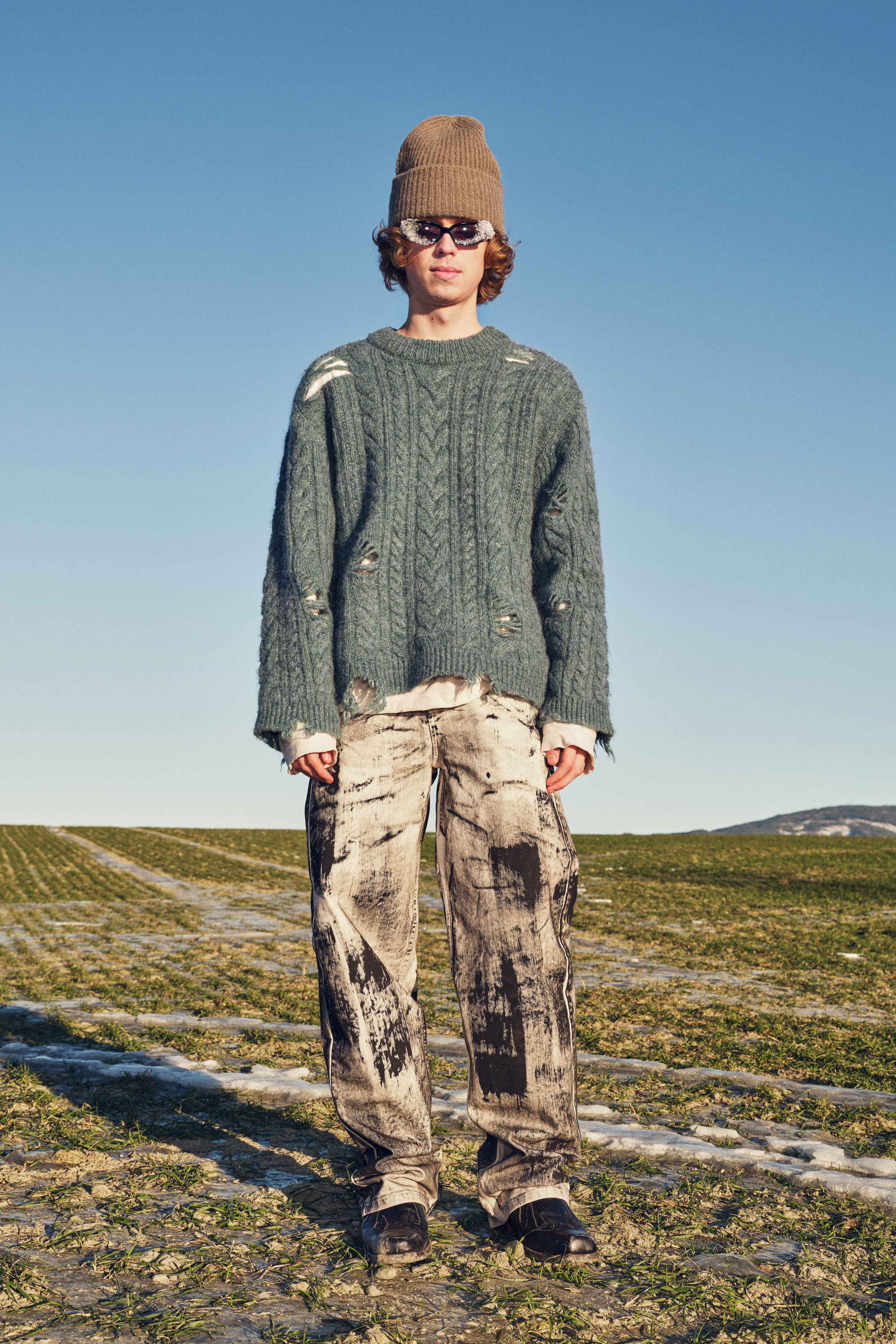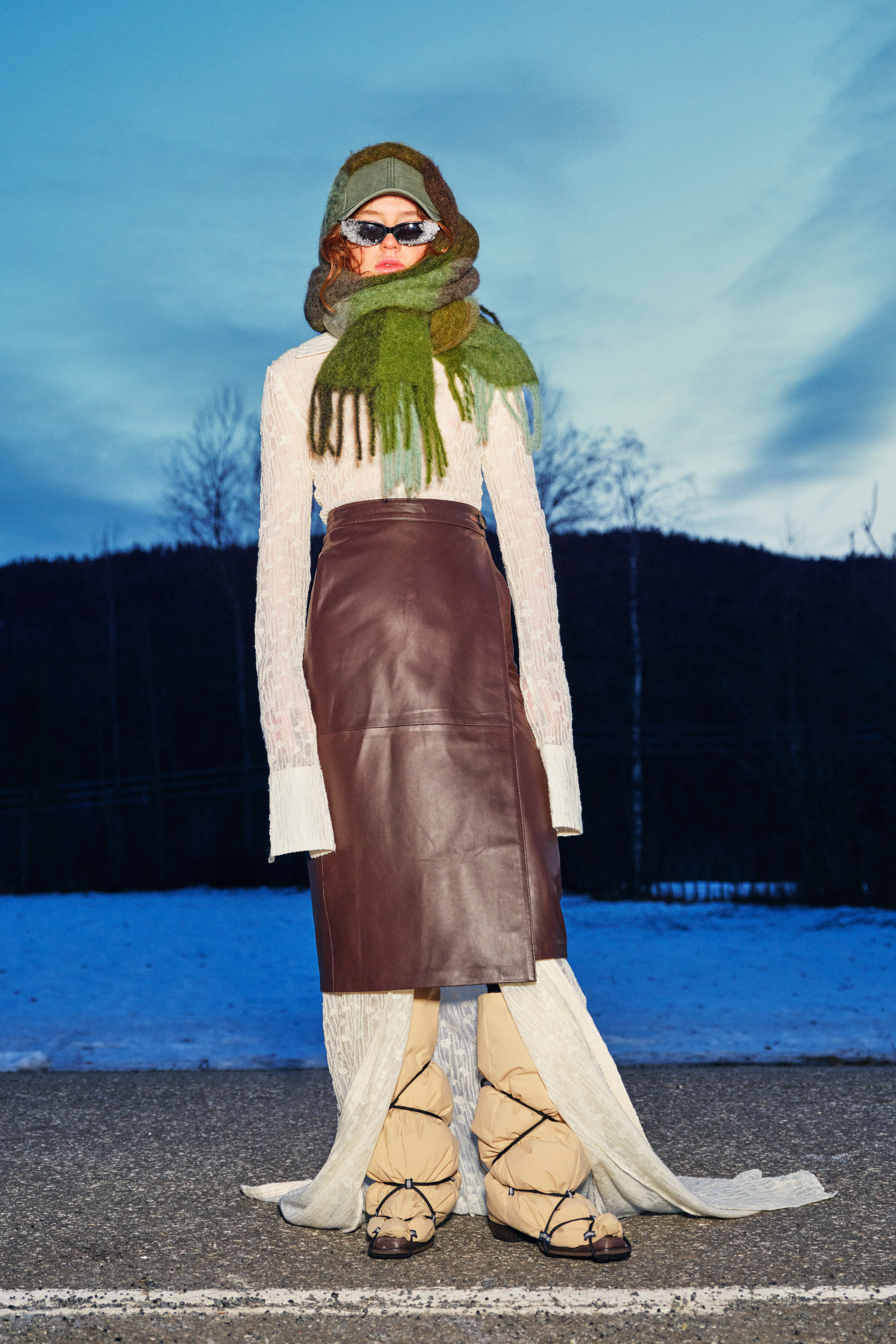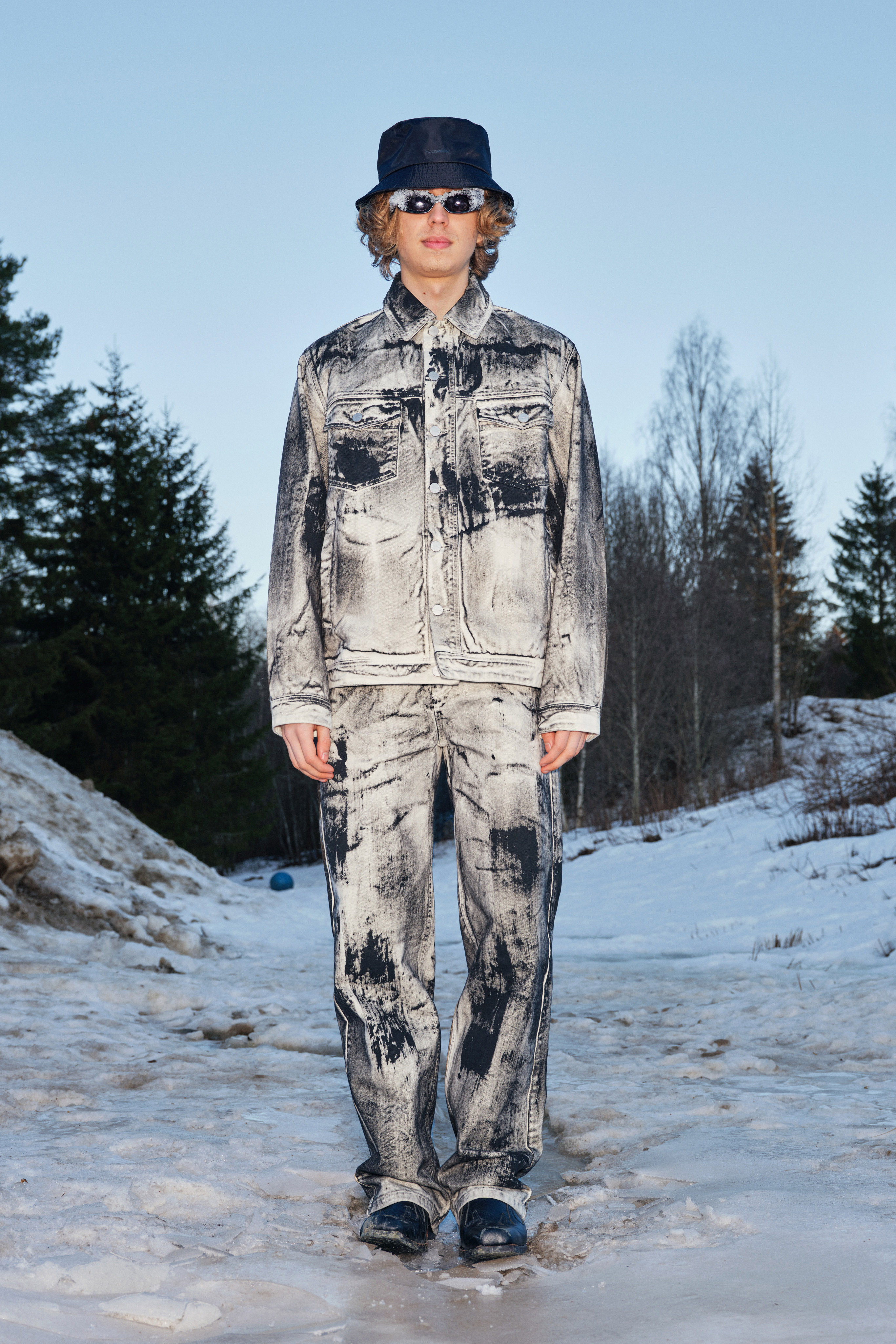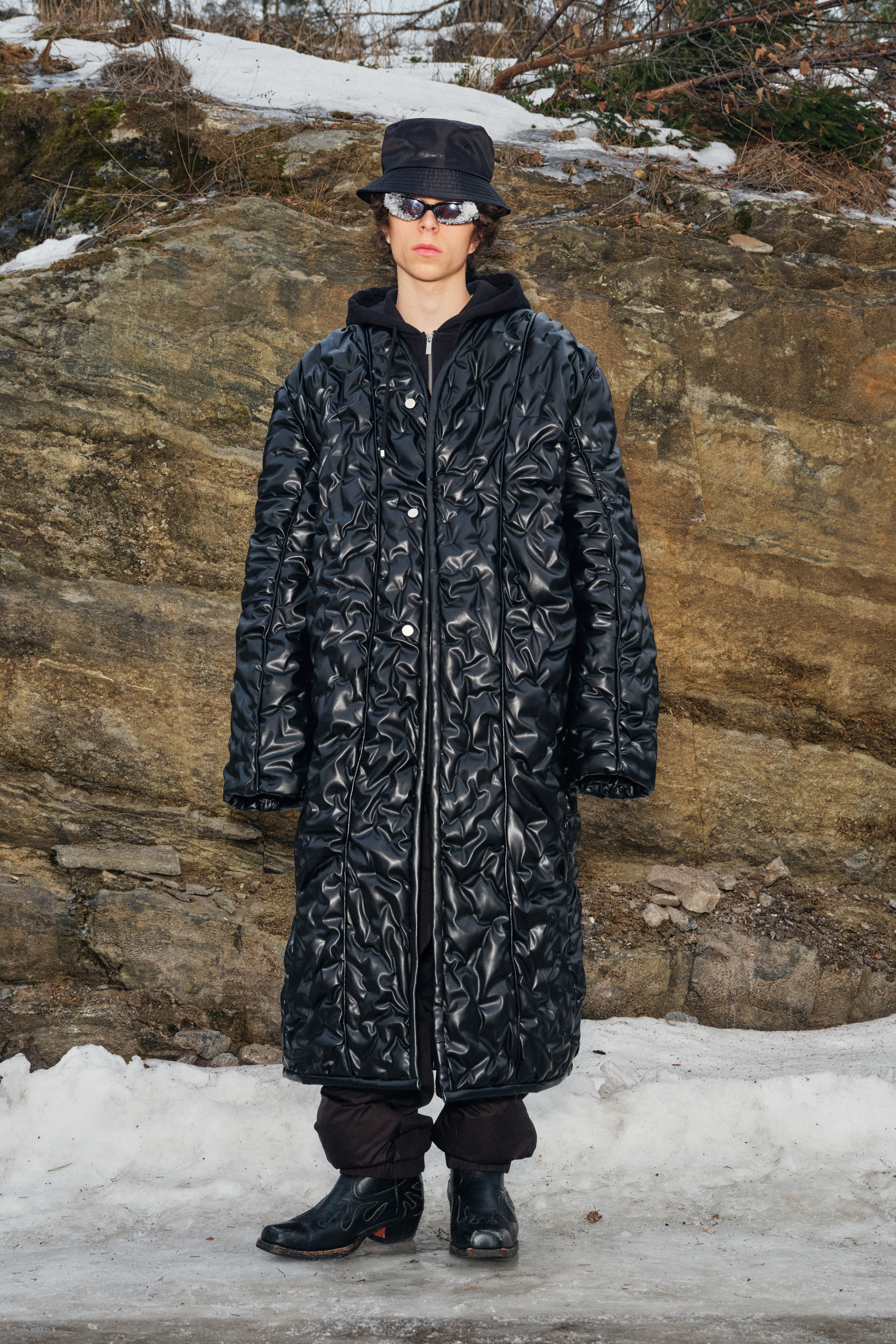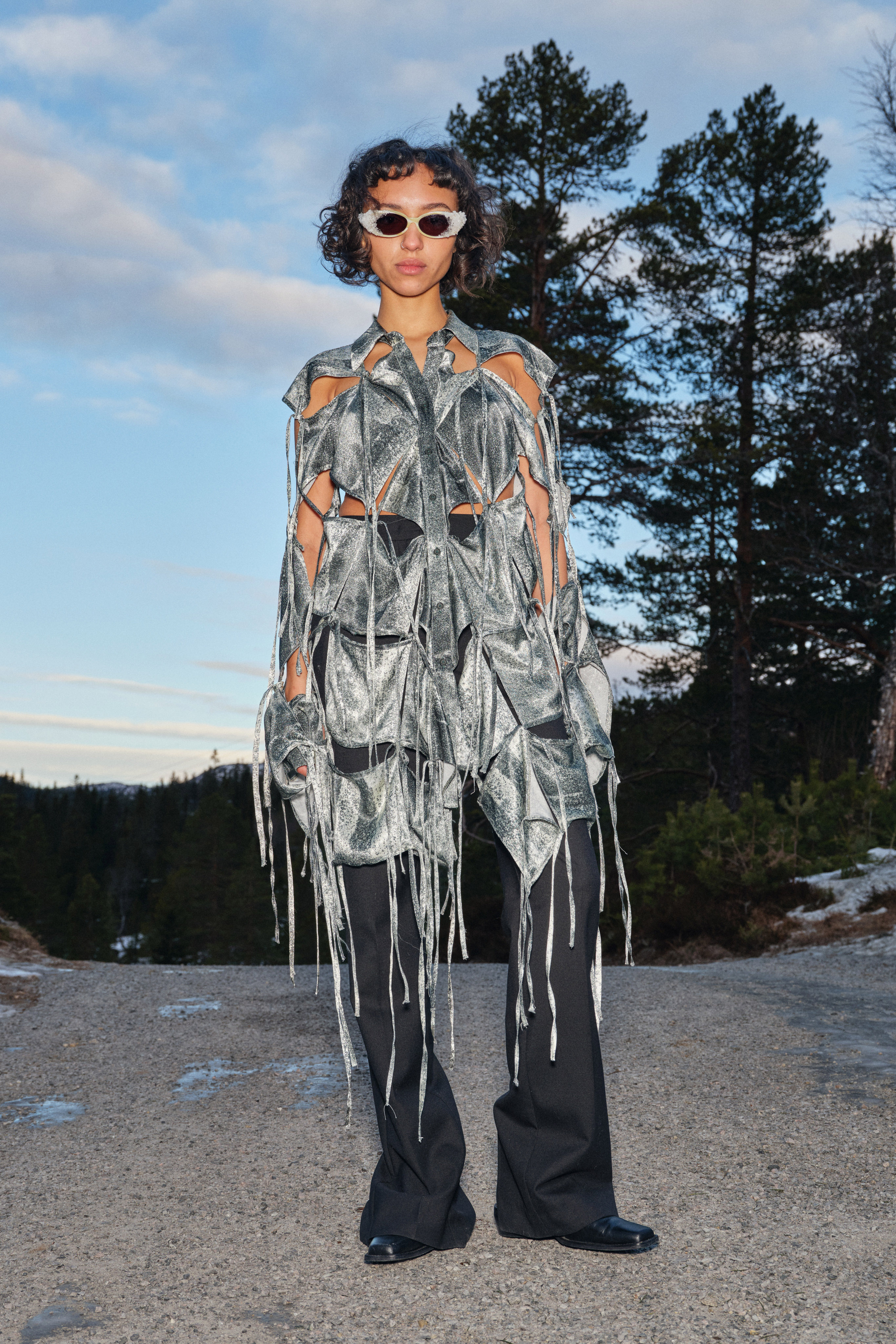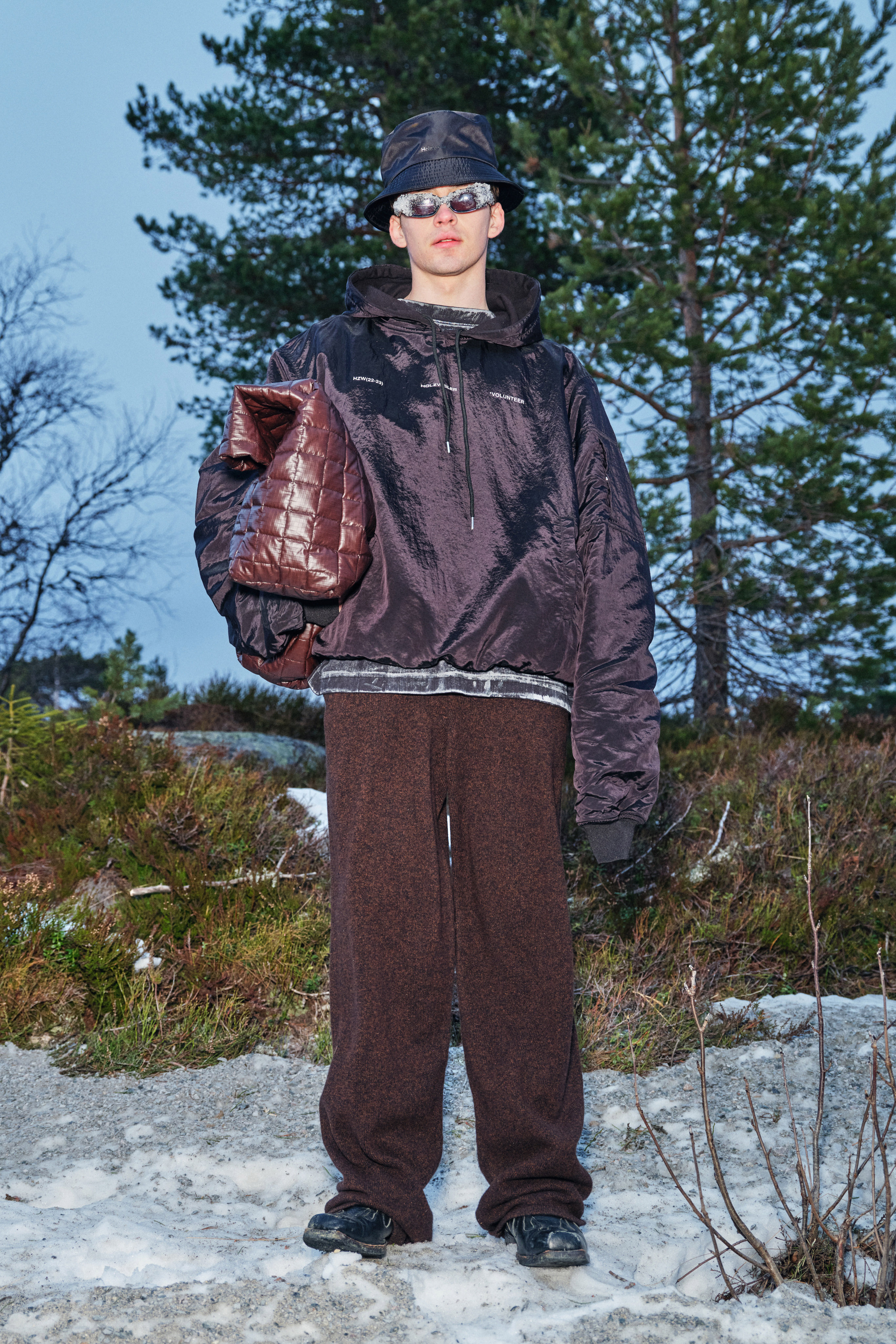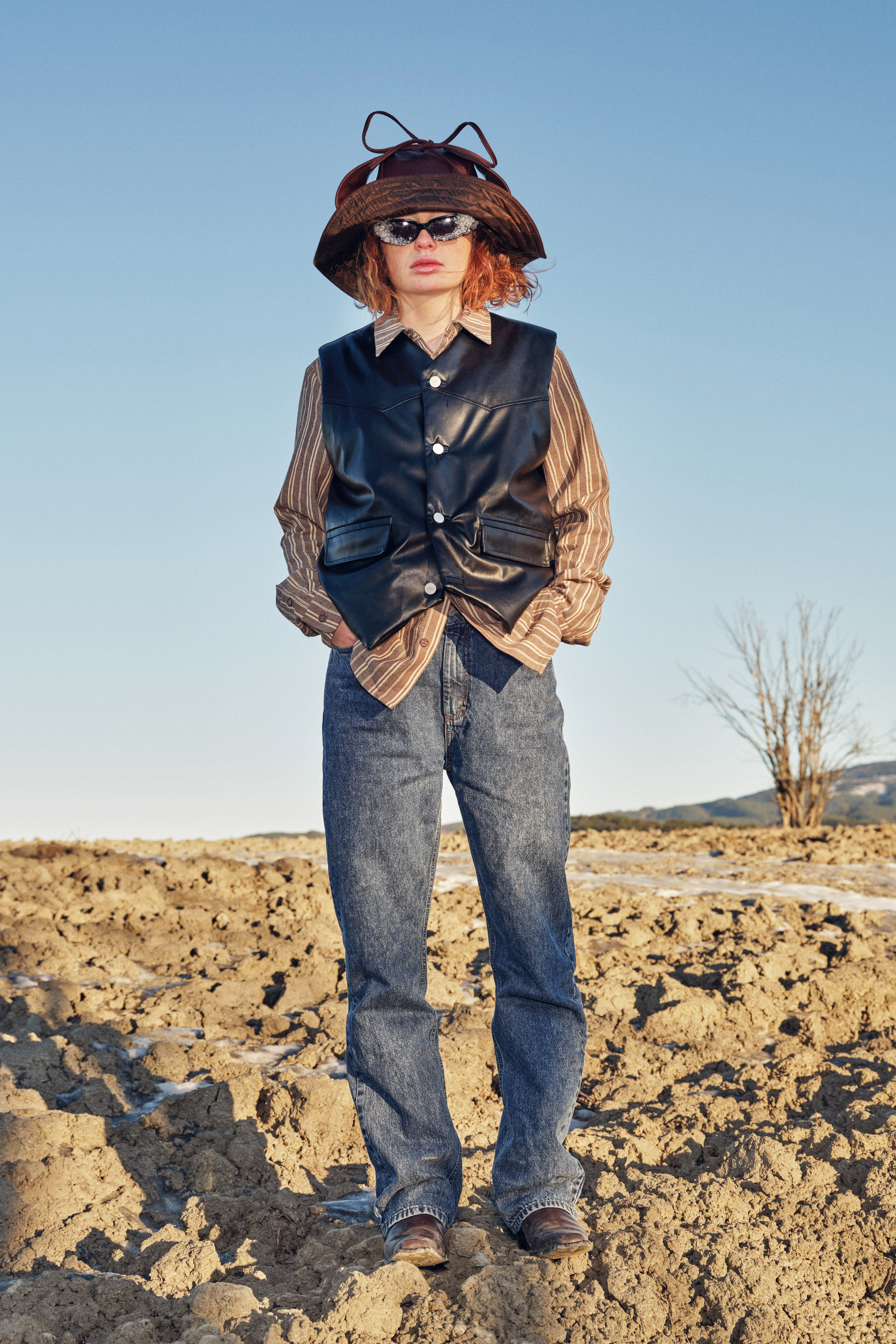 Follow i-D on Instagram and TikTok for more on fashion.
Credits
---
All images courtesy of Holzweiler​
Tagged: