Gucci's Adidas collaboration is here
The new collection was presented in the house's latest show, a kaleidoscopic survey of kitsch-y vintage and what we now know as Indie Sleaze.
|
26 February 2022, 8:31am
Images courtesy of Gucci
One of the most striking things about witnessing Alessandro Michele's latest show for Gucci — the first physical one in over a year — was how much it tapped into a particular moment of the current zeitgeist for the early 2010s, and so-called Indie Sleaze. If you haven't already heard, there is a vibe shift coming! Through rose-tinted spectacles, that confusing, early SoMe era is coming back into the fore as a fashion reference. For this writer, who spent their youth trawling thrift shops along Brick Lane in London and Williamsburg in Brooklyn — back when Hedi Slimane was also trawling those streets, street-casting his portrait series and Alexa Chung was, too, but for biker jackets — there was a distinct sense of a kaleidoscopic undertaking of a classic 2010s thrift store: colourful 80s sportswear, ratty old furs, questionably oversized tailoring and plenty of heavyweight surplus military garb. All of these things comprised the secondhand destinations that defined that era of early-Tumblr hedonism, long before we could find it all online on slick resale platforms. And before it was considered sustainable to shop vintage, it was simply considered cool.
We're living in times where items from 20 years ago are just as valuable as whatever is new-season. But this week in Milan, we have seen designers explore the paradox of fashion's shifting value system. At Fendi, Kim Jones riffed on archival collections to find something new to say about Y2K nostalgia. At Prada, Miuccia Prada and Raf Simons delved into the archive to convey how the past can light the way to the present. And at Gucci, Alessandro Michele drew on the ambience of the buy-it-by-the-kilo thrift stores that can be found across the world — and provide young people with the means to discover and purchase clothes that help in expressing whatever nostalgic whim they're expressing.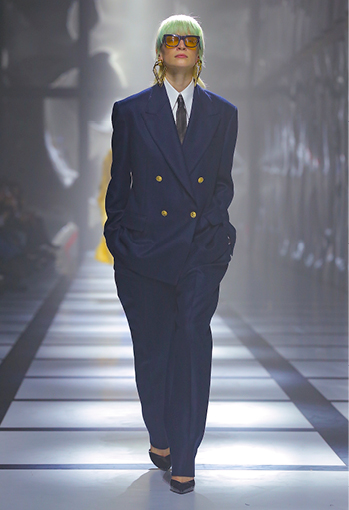 After all, we all see ourselves as individuals in control of our own taste, and ultimately our own destinies — but so much of fashion and youth culture has become ubiquitous with all of us dressing the same way and interpreting the same trends. One of the best things about a Gucci show, it should be added, is the people-watching. Guests arriving in their finest Gucci looks never look like they're following a trend, or trying to be cool by looking like they're not trying — much like the models in this show. Instead, they each look like they're having a ball in their weird-and-wacky outfits, fabulously dressed to cut a shimmering figure on any street or in any restaurant or whatever alternate reality they live in. These are people who set an intention for the day with their sartorial choices — there's no way that you can leave the house in these clothes without expecting to be the main character of any given situation. It's basically manifesting.
The vast mirrored set felt like being inside a disco ball, strobe lights and Tainted Love playing on repeat. Alessandro's collection, which was heavy on menswear, nodded to those vast warehouses filled with rails and rails of decades-spanning sartorial genres. Describing clothes at a Gucci show is like deciphering identities of crowds walking down Fifth Avenue. Of course, there was the mish-mash of subcultural references, hybridised branding (the two stripes of Gucci, the three of adidas), and Frankensteinian items that will no doubt go viral (double-rimmed caps, astrakhan-trimmed Guccidas (well, adidas x Gucci, as the collaboration's officially known) capes, hyper-spiked tailoring, and cinched upcycled-looking corsets). Some of the looks were superb reminders of why classical tailoring will never die. Suits have never looked better or fresher than here at Gucci. Hands in pockets, models made a case for a broad spectrum of two-piece tailoring that came paired with all the classic blue-cotton shirts, slim ties and quirky accessories and hairdos that make Gucci such a quixotic kaleidoscope of whatever Alessandro Michele sees in the normal world.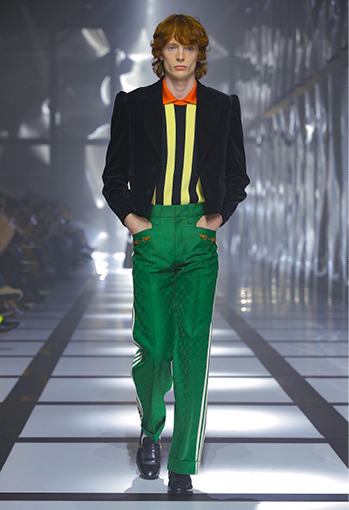 According to Alessandro, the collection took its cues from funhouse mirrors, and the way they distort our sense of self — much like our warped prescription of social media does. "​​I wanted to restore another feature of the mirror …, building aberrations, enchantments, ghosts," he explained in a statement. "I'm thinking about the magical mirrors described in the catoptrics treatises of the 1600s: mirrors set into precious wunderkammer, that behave like machines of expansion and transfiguration of reality."
It all comes down to the idea of metamorphoses, which was literally spelled out in studs on the back of spiked jackets and double-breasted blazers. Sometimes, a mirror may not show us what we want,but it can instead provide us with the impetus to become the person we want to be. That's where clothes come in. How many people can say they feel incredible looking at themselves naked in the mirror? And yet, with the right outfit, how many people seek validation in knowing that they look good in a mirror? "The clothes, in fact, are capable of reflecting our image in an expanded and transfigured dimension," Alessandro continued in typical lyricism. "Clothes offer themselves as makers of manifold. Wearing them means to cross a transformative threshold where we become something else; it means to be able to enhance and articulate in a different way our identity and our exhibiting potential." If that's not a case for experimenting with the styling tricks on show — whether from a thrift shop, or if you're lucky, at Gucci — I don't know what is.