Photo by Patrick McMullan via Getty Images
How one club kid inspired a generation of artists and designers
We unpack the extraordinary DIY influence of Leigh Bowery.
|
09 February 2022, 8:00am
Photo by Patrick McMullan via Getty Images
Leigh Bowery was the boundary-breaking artist whose mix of shape-shifting costumes and sensationalist theatricality made him a trailblazer of progressive performance – and judging by the sold out exhibition about his work that ran last month, his influence is only set to grow. Through the 80s and 90s, Leigh used his body as the medium for elaborate collage, mashing up elements from fashion, film, and everyday absurdities to turn himself into a vision that would shock and amuse. Leigh went beyond bending gender to twist aesthetics in an unforgettable way. His looks had a major impact on drag culture as it emerged into the mainstream, while contemporary fashion designers and performance artists revere him as an idol of unbridled imagination.
Born in Sunshine, a suburb of Melbourne, Australia, Leigh moved to London and worked at Burger King before going on to become the most infamous diva of his day, taking experimental entertainment to outrageous levels and collaborating with Michael Clark, David Bowie and Massive Attack, and inspiring Boy George's musical Taboo. He challenged normative notions in ways that resonate more than ever in queer culture and pandemic times today. "He'd come on stage and the queens would freak out and move away", said performance artist Franko B (whose work has appeared at theICA, the Tate, and beyond). "He'd dance half-naked covered in beef. He tackled the ideals upheld in gay culture in the 1980s of the beautiful body to try and cope with the fear of AIDS". He'd be just as relevant doing this now, in our era of body consciousness, pandemic paranoia and hyper-control. He got his statements out there by looking so extra that he was irresistible to photographers and TV crews, like a fabulous Trojan horse containing hidden critiques.
Blurring the lines between fashion and art, Leigh's insatiable appetite for shock led him to develop some of the wildest performances seen on the stage. Birth scenes, enemas, vomiting – nothing was off limits, but he combined such primal protest with reverence for the craft of costume and its transformative power. His most admired looks had him morph into a walking sculpture. He'd wrap himself into off-kilter black latex like a disabled dominatrix, use giant spheres to extend his stomach and expand his head, paint himself blue and hang Indian jewellery from his nipple piercings, and top puff ball gowns off with dark details like military helmets and psych ward gags. He had a penchant for kick flare mini dresses in sequins or faux fur that extended into full head coverings, adding gloves so that every inch of his body played its part.
Alexander McQueen, John Galliano, Rick Owens, and Gareth Pugh love to reference him, as do makeup artists, fashion editors, and of course the cast of RuPaul's Drag Race. Lady Gaga's most outlandish stage outfits drew directly from his compositions, and although less overt, his influence can be spotted in discreet glimpses at Dior and Fendi. Kim Jones, artistic director at both houses, is the biggest collector of original Leigh Bowery pieces.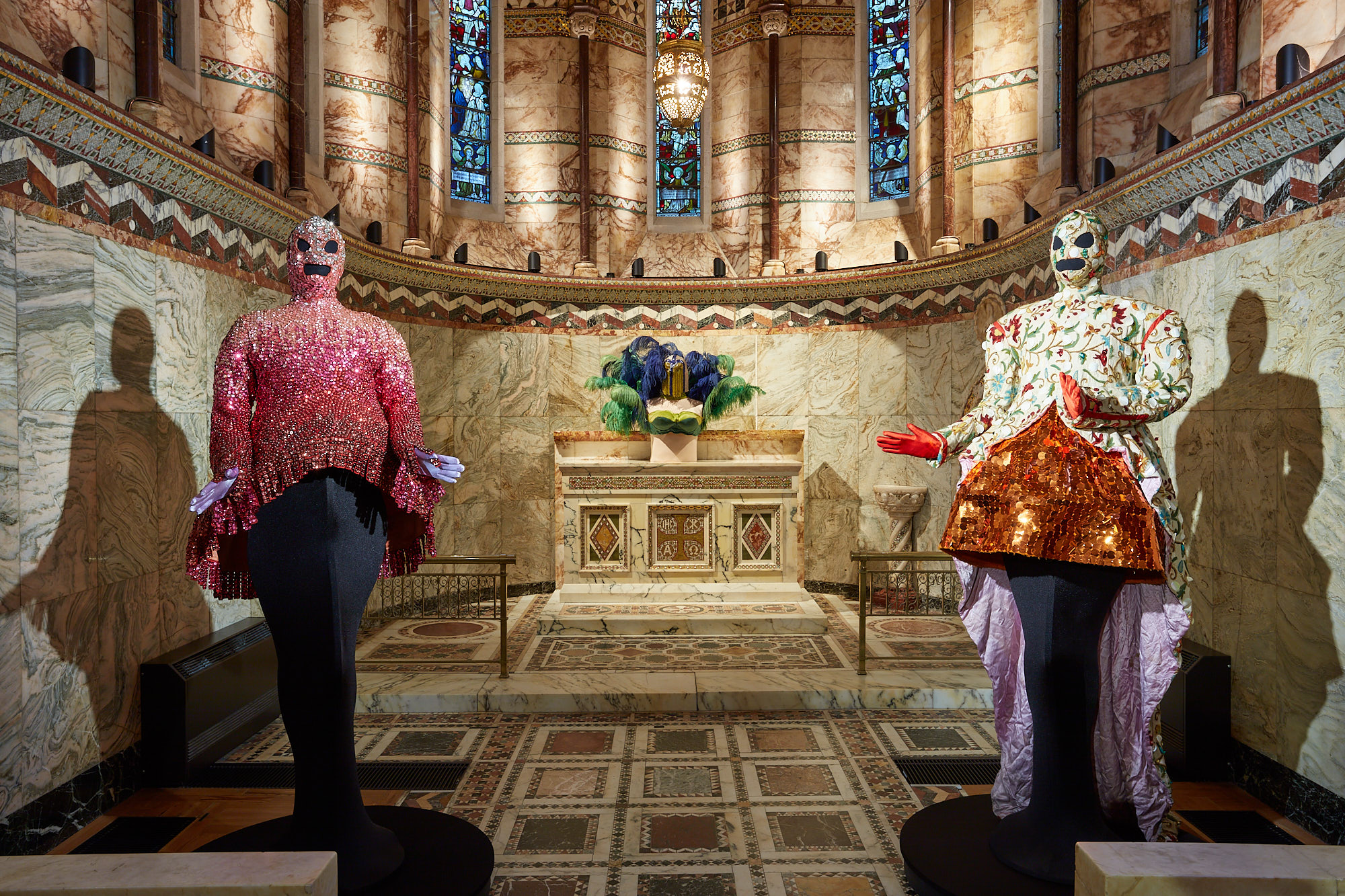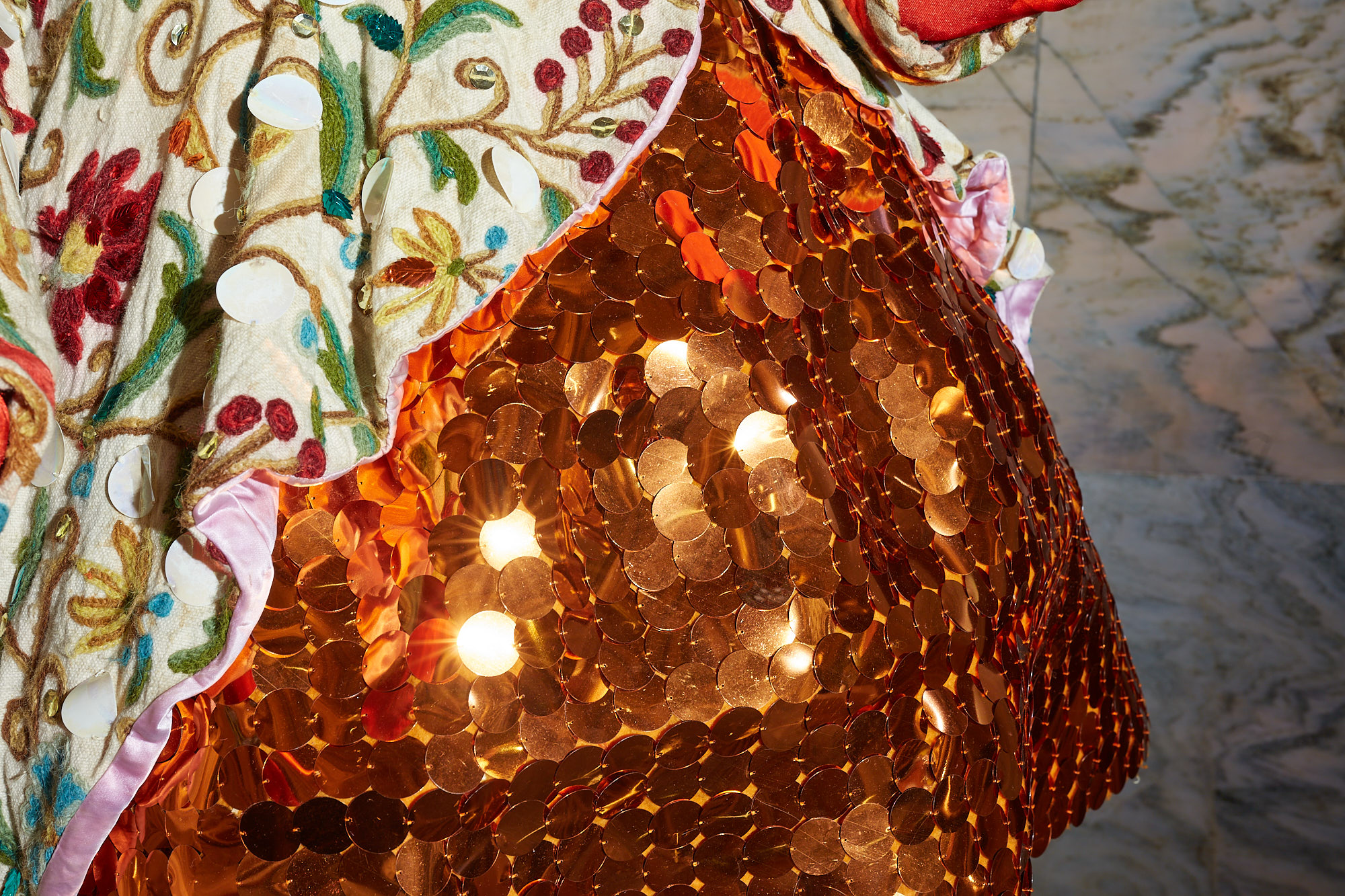 An exhibition honouring Leigh's presence was recently held at Fitzrovia Chapel, the last remaining building of the old Middlesex Hospital, which hosted the first UK AIDS ward, and was famously opened by a gloveless Princess Diana. It was also here that Leigh passed away on New Year's Eve 1994 aged 33. The moving installation, curated Hannah Watson of Fitzrovia gallery T.J. Boulting, performed a sort of coming out about his illness, set against the differences and similarities between that pandemic and this one. The exhibition took its title, Tell Them I've Gone to Papua New Guinea, from one of Leigh's parting jokes. Ever droll, he suggested people be told he'd gone to research tribal masks once he'd passed. The costumes were co-sewn by Leigh's loyal assistant Nicola Bateman. The pair married in a "private art performance" shortly before he died.
Once Leigh got a new idea for a look, he'd either exaggerate it, do the opposite, or parody it. He'd told his parents he wanted to be a comedian, and cringe comedy was a keynote in his performances, along with affronting satire. Conforming to taste conventions was not only meaningless and trite for Leigh, it was also repressive. Many recall his presence as frightening. XL and full of surprises, he towered over you, threw you around, and stopped short of nothing to get attention. He loved to lie, because the truth was banal, never did what collaborators asked, stole money from friends, embarrassed people, and generally lived for transgression. This gave his work its thrilling Dada spirit.
Possibly the only person to have united traditional crewelwork textiles with homemade merkins in one wardrobe, his looks were much too full on for mainstream fashion. Having learned to sew from his mother, he gathered tips from designer friends like Rifat Ozbek and Mr Pearl, corset-couturier to Dita von Teese and Kylie. Elements of historical dress — bustles and crinolines, for example — morphed his immense form, accentuated by brutal details like DIY piercings and duct tape. Each costume was an endurance test: if it didn't hurt, it wasn't enough.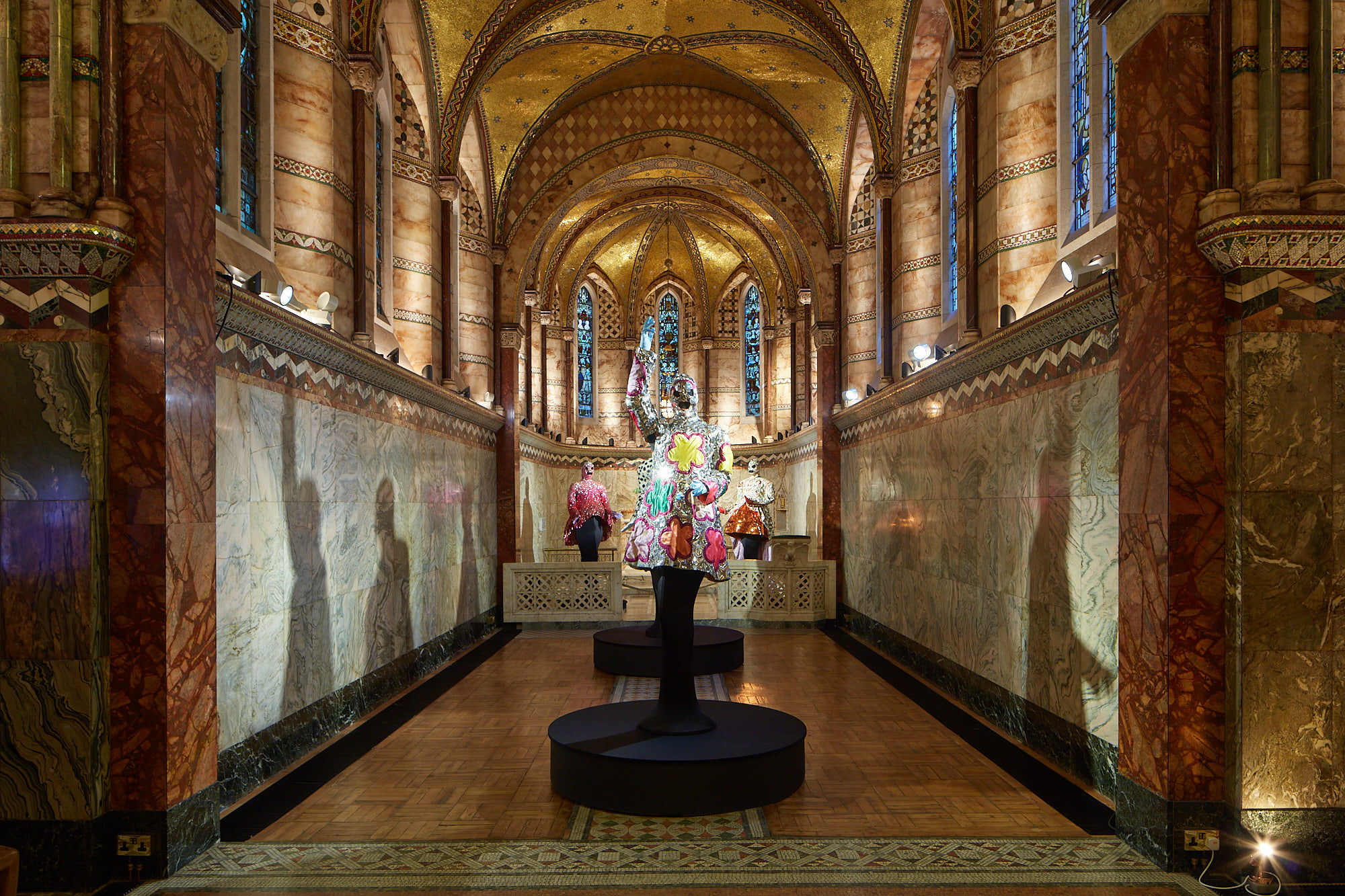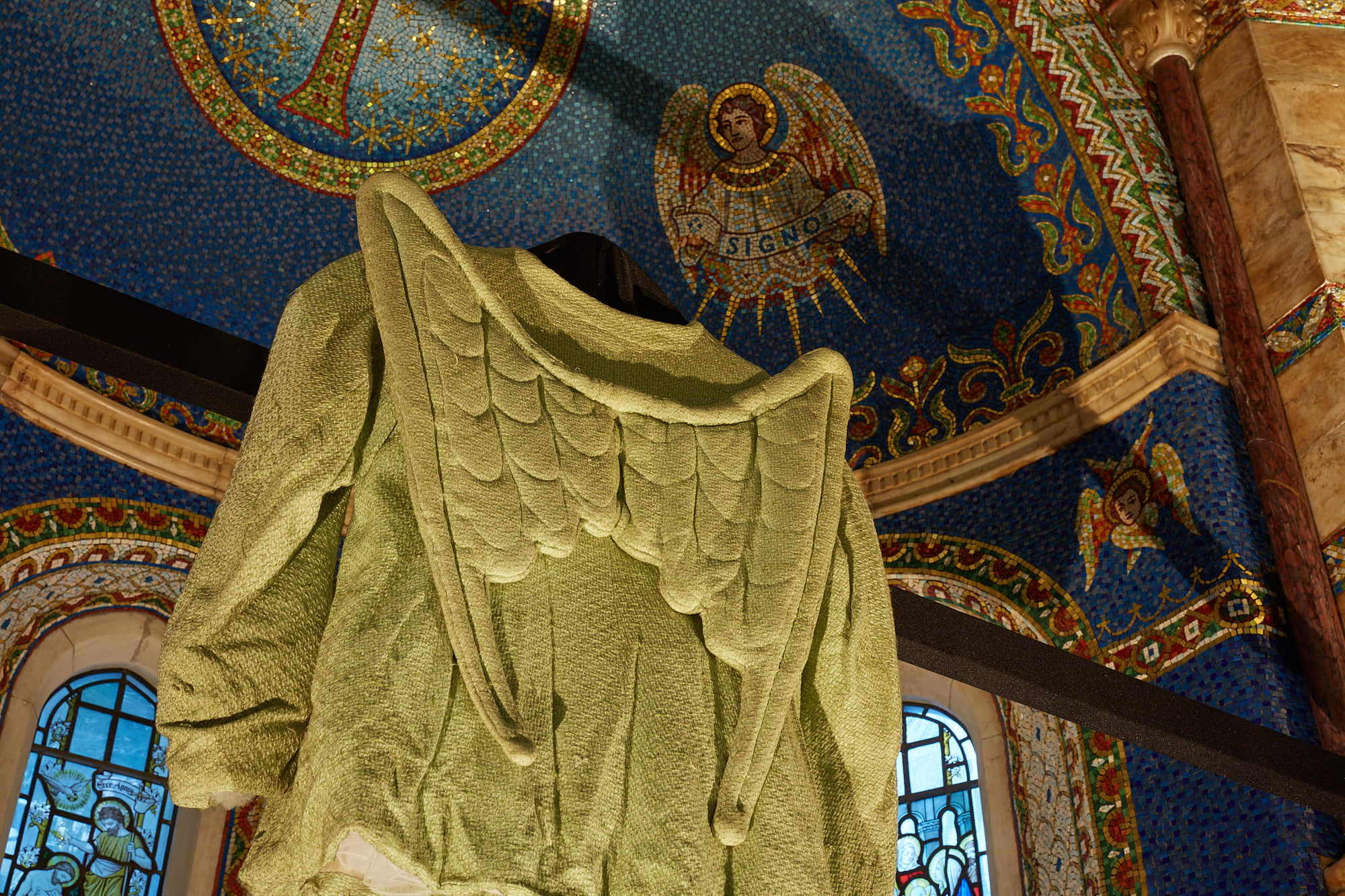 Lucian Freud depicted Leigh in a much-admired series of nude portraits. Every inch the performer, he sat for months in uncomfortable positions. Lucian had seen Leigh when he posed for days in elaborate garb at a Bond Street gallery. The conceptual artist Cerith Wyn Evans introduced them, amused by the idea of Freud painting sequins. Cerith also introduced Leigh to the Architectural Association, having him teach costume for a term, in which they translated buildings into outfits. He drew on everything high and low. Some of his kinkiest visions went farthest, like his gimp mask balaclavas, adopted by Martin Margiela.
Beyond fashion, Leigh will be remembered for all manner of contributions to art, creativity and self-expression. The instantly recognisable Dripster, for which he dripped coloured Copydex from the top of his bald head like an upside-down cracked-egg crown, has become a drag show staple, and his sex-doll lips are frequently re-created on catwalks and magazine pages.
Above all, he lives on through his spirit. Leigh brought his everything to his infamous cult club night Taboo, where London's bohemian characters — who grew up to become the crème of today's art world — came together to explore the limits of self-expression. Although the night itself was a flash in the pan, it sealed his enduring legacy as a hero for clubland's most outgoing characters. As Leigh's friend, OG i-D stylist Judy Blame, remembered: "He really pushed people creatively. Just his behaviour was enough to do that. Anything became possible when Leigh was doing the splits on the dance floor in a tutu".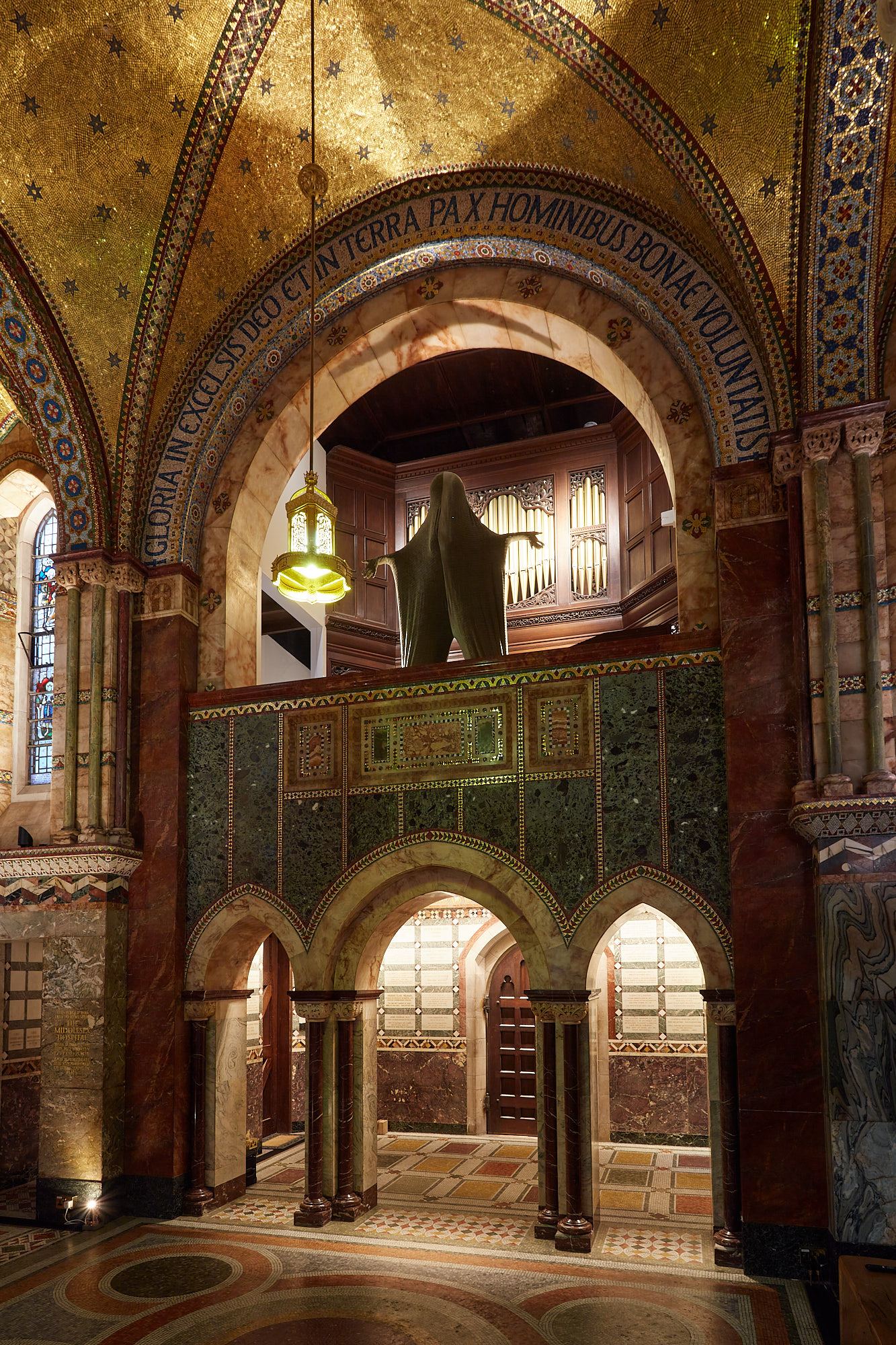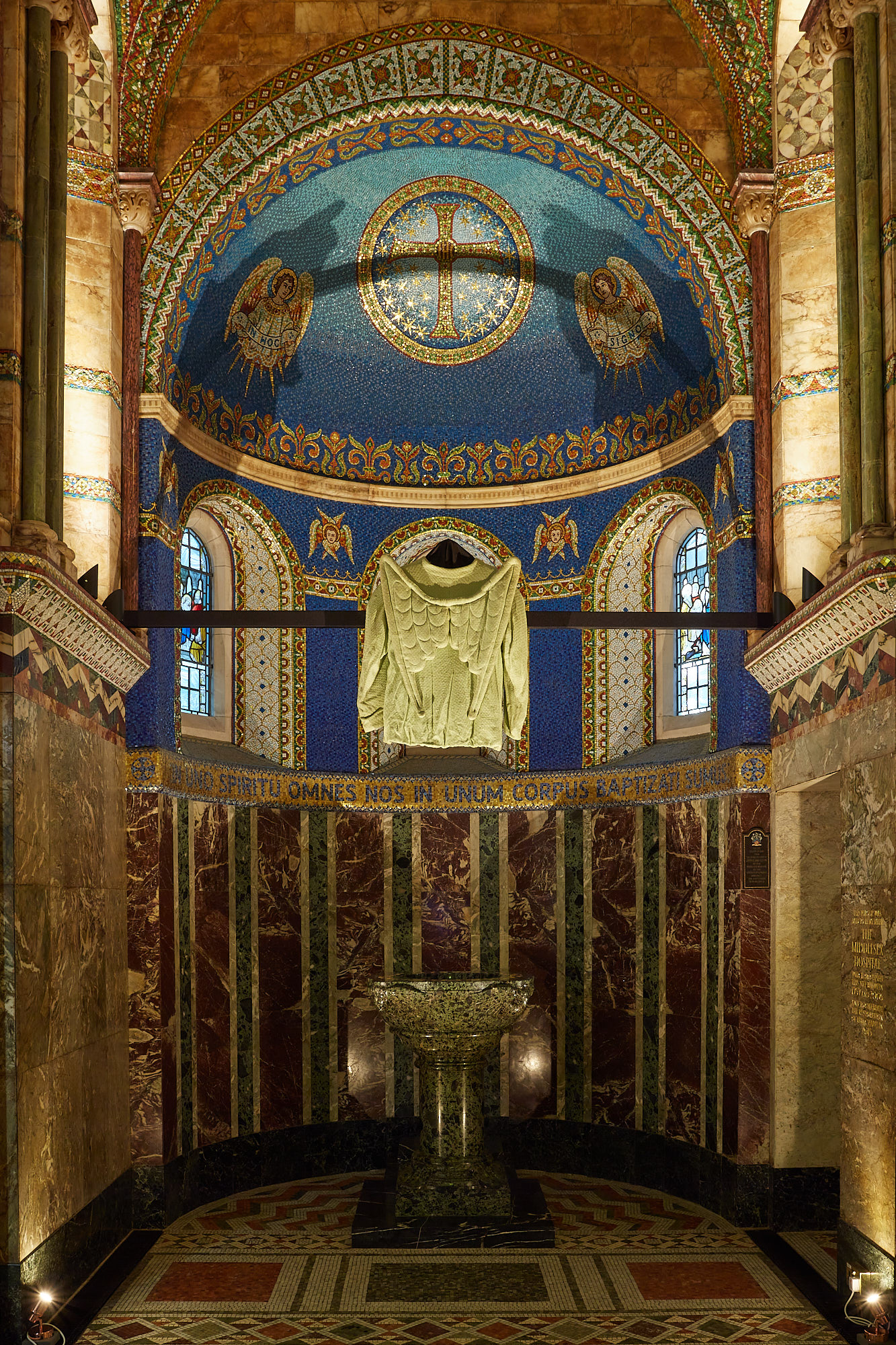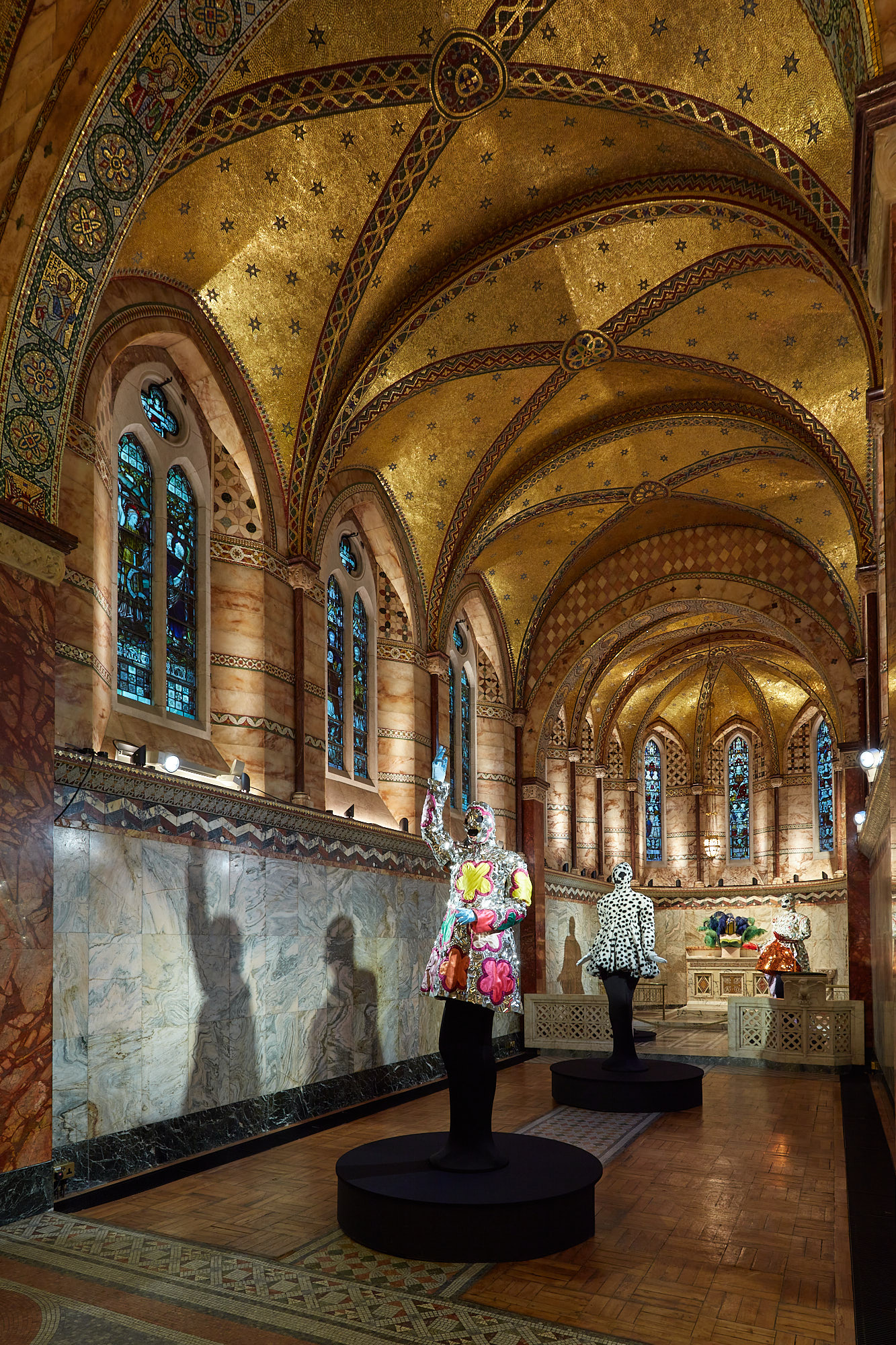 Tagged: