20 queer pop culture moments that defined 2021
From Lil Nas X and enviable three-way kisses to #FreeBritney, it was one hell of a year.
|
21 December 2021, 11:55am
For the queer community, 2021 was a historic year, but all too often for the wrong reasons. We continue to live in a time and place — the world over — that's dangerously hostile to our existence. And the pandemic continues to keep us apart from each other, when sharing space as friends and lovers is what heals and affirms.
As always, pop culture lends us the virtual and emotional space we need to celebrate ourselves and to reflect on icons that inspire our artistry, our charm and our vibrance. Even as our structural goals — sometimes for something as fundamental as physical protection from harm — often remain frustratingly out of reach, we find relief in little moments that sow the seeds of queer joy.
Whether we squealed over them at winter pod watch-parties, chatted about them at the beach during a decidedly sapphic summer or came together online to agree that yes, Lil Nas X giving the devil a lap dance will live rent free in our minds forevermore; these were the moments that brought us closer as a community in 2021.
1. Every single thing Lil Nas X did this year
For every queer who streamed the "Montero (Call Me By Your Name)" music video (over and over) with their mouth fully open back in March, Lil Nas X's opening words will be familiar: "In life, we hide the parts of ourselves we don't want the world to see. We lock them away, we tell them no, we banish them. But here, we don't. Welcome to Montero." With that unapologetic simplicity, Lil Nas X ushered us into a fantasy escape world — and pole-dancing, sex-dungeon hell — of his own gleeful creation.
To stop at calling the music video the defining pop culture moment of the 22-year-old singer's year would be to overlook the entire cultural shift that took place after his rise to fearless rap-pop stardom/world domination over the course of 2021. While fucking satan in stilettos should be more than queer enough, Lil Nas X has proved himself to be one of the great minds of Gen Z time and time again: from his three Grammy nominations to winning The Trevor Project's first-ever Suicide Prevention Advocate of the Year Award, his blood-filled "Satan Shoes" to his, um, pregnancy before the birth of his first album.
At any given moment, you get the sense Lil Nas X is having the time of his life, and his fearless joy — every time he owns a homophobe on Twitter or accidentally rips the world's tightest pair of leather pants on live TV — is contagious for the rest of us. His ability to own and thrive in his queerness in front of the whole world is the ultimate pop culture moment — and the fact that every last one of his singles is certified platinum points to the fact that this bubble's not bursting anytime soon. As he shared in a letter addressed to his 14-year-old self before the release of Montero, "I know we promised to never come out publicly, I know we promised to never be 'that' type of gay person, I know we promised to die with the secret, but this will open doors for many other queer people to simply exist," he wrote. "People will be angry, they will say I'm pushing an agenda. But the truth is, I am. The agenda to make people stay the fuck out of other people's lives and stop dictating who they should be."
2. Britney was #FREED
We freed Britney, bitch. After 13 years (13!), an end to Britney's toxic conservatorship was finally granted by the court just a few weeks ago. Britney's release from her father's control over her finances, custody of her children, her birth control, the colour of her cabinets — you name it — was an emotional release for the queer community, which had been fighting for the Princess of Pop for years. Not to mention the way the Framing Britney Spears documentary saw #FreeBritney spread like wildfire back in February. By November she reentered the world as a free woman — and just in time for her birthday no less, the Sagittarius queen. Now we can all breathe a sigh of relief, pop some celebratory champagne and pray for new music.
3. KStew got engaged
As far as the beloved queer period drama goes, we've been getting lucky. A track record of recent years includes The Favourite (2018), Portrait of a Lady on Fire (2019), Ammonite (2020) and in 2021, we saw a blink-and-you'll-miss-it, left-field, quasi-queer moment in Spencer. (And maybe the sexy nuns in Benedetta, anyone?)
Though Kristen Stewart's rendition of Princess Diana may not have been the queer movie of our wildest dreams, maybe for her, it didn't need to be: KStew is already living the dream. In what might be the gayest post of 2021, her wife-to-be Dylan Meyer posted the gushy Instagram caption, "awful proud of this hard-working princess" back in October, to accompany a picture of the fiancées laying on a magic carpet and staring adoringly into each other's eyes. Barf! We love to see it!
Kristen also gave us a hint as to her planned wedding attire: "I want to wear the best pair of Levi's ever and like, an old T-shirt that has a tuxedo printed on it but like cutoff, and barefoot… I want to see her laugh hysterically when she sees me in, like, a faux-tuxedo T-shirt." Sigh.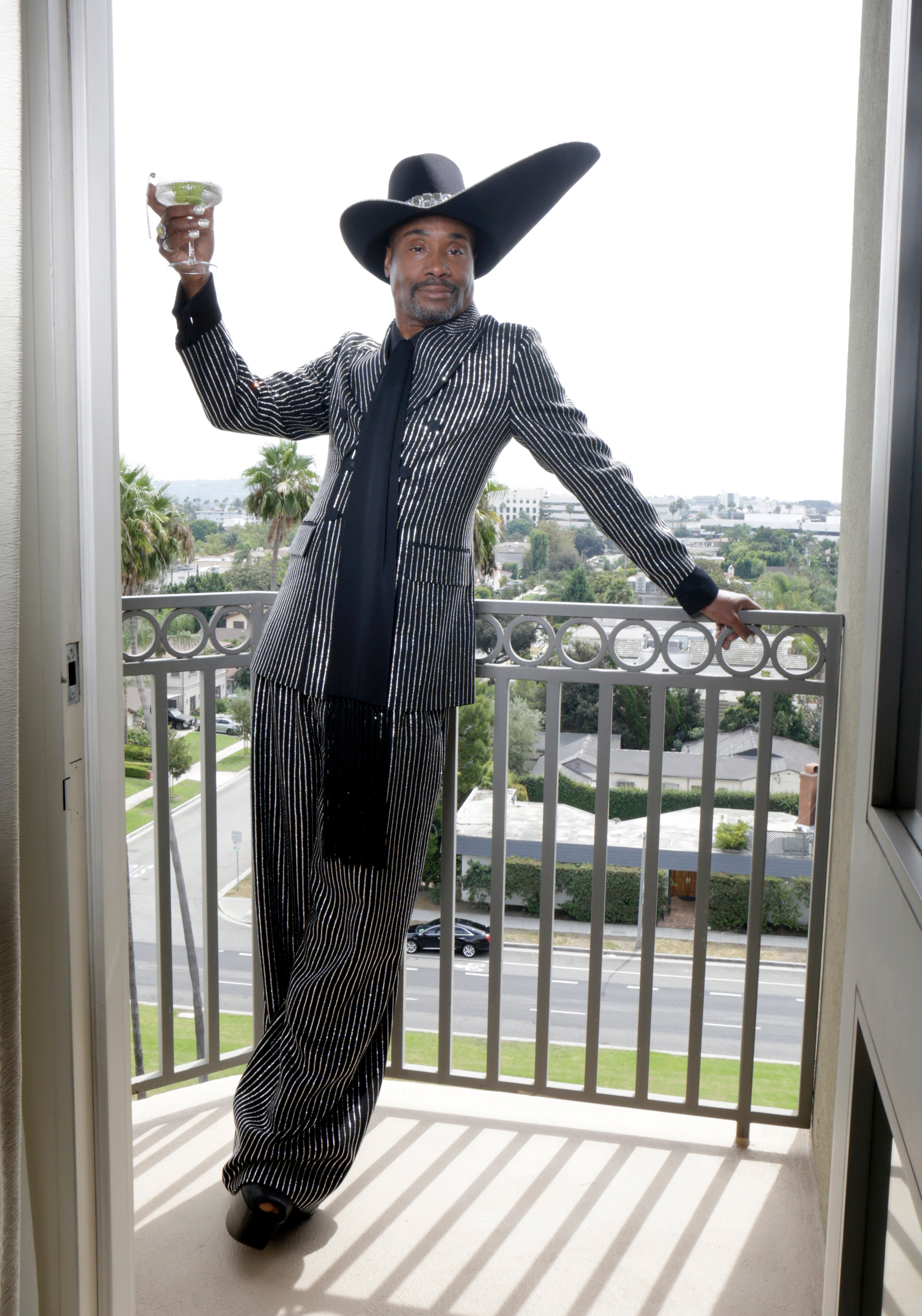 4. Billy Porter came out as HIV positive at the healthiest and happiest point in his life
Queer hero Billy Porter has long been paving the way for younger, queerer generations. On screen, Billy puts his incredible performative range to work as Pray Tell on 90s ballroom dancing culture show Pose, a role for which he became the first openly gay Black man to win a lead acting Emmy. Offscreen, he continues to do the work of sharing queer stories — this year, by sharing his own.
In May, the self-described Hollywood "vigilante" revealed in a Hollywood Reporter cover story that he's been living with HIV for 14 years. "Having lived through the plague, my question was always, 'Why was I spared? Why am I living?'" he said. "Well, I'm living so that I can tell the story. There's a whole generation that was here, and I stand on their shoulders. I can be who I am in this space, at this time, because of the legacy that they left for me. So it's time to put my big boy pants on and talk."
Billy remarked that he spent much of the past decade living in shame, fearful to tell even his mother that he had HIV, though his HIV-positive character on Pose acted as a sort of surrogate for his own story. "The idea of using art as activism, using my art to heal my trauma, has really come to the forefront this year," Billy said. "There's an importance to the work that we do that vibrates above and beyond just the surface."
With the finale of Pose this year, Billy says he's ready to continue his legacy with a new story. His directorial debut, a coming-of-age story about a Black, trans high school girl (played by TikTok star Yasmin Finney) called What If? will premiere in 2022. We can't wait.
5. When Elliot Page lived out trans joy
Having come out as trans and non-binary at the end of 2020, Elliot Page first opened up about his identity by gracing the cover of Time magazine in March of this year. The Oscar-nominated actor (and recording artist!) spoke of "This feeling of true excitement and deep gratitude to have made it to this point in my life, mixed with a lot of fear and anxiety."
Reflecting the experiences of much of the queer community, Elliot expressed appreciation for how isolation and downtime amidst quarantine helped him accept his gender identity. And in September, we got another pop culture moment in the making when Elliot stepped out at the Met Gala in a Balenciaga suit complete with a hat-tip to Oscar Wilde in a bit of custom detailing. "I'm really excited to act, now that I'm fully who I am, in this body," Elliot said. "No matter the challenges and difficult moments of this, nothing amounts to getting to feel how I feel now."
6. MJ Rodriguez made history
A long-overdue breakthrough came in July when Michaela Jaé Rodriguez made history as the first trans actress to be nominated for a lead Emmy for her incredible performance on Pose. "I've been wanting to express, and feel, and spread love all my life, and I've always wanted to spread it through my art, and I finally feel like I can do it. I finally feel like people are seeing it," she said, adding that she wants the award to stand for "every intersectionality of my community," including the Black, Latinx and trans communities.
7. Jojo Siwa came out on TikTok
After some (not-so?) ambiguous TikToks and tweets, older queers watched and waited with bated breath for the moment young YouTube star and former Dance Moms performer Jojo Siwa would finally emerge from her closet of glittery rainbow hair bows. While it's so often nerve-wracking to watch a teen go through self-discovery in the limelight, Jojo's selfie videos of her lip-syncing to "Born This Way" catapulted her into a community ready to welcome her with open arms. "There's this stigma around coming out, that it's this really, really scary thing. It's not anymore," she said after the fact on TikTok. "There are so many accepting, loving people out there."
The cutest pop culture moment? Probably when Jojo's shy girlfriend Kylie Prew, who appeared on Jojo's TikTok just as the star was emerging from the closet, joined her to dance to "Adderall (Corvette Corvette)" (yeah, it's been a long year). The pair broke up in November of this year, "all of a sudden," Jojo said. Ah, young lesbian love.
Since embracing her role as a Gen Z queer icon, Jojo also became the first dancer on Dancing with the Stars to have a same-sex partner after the show's 30-season run. Laverne Cox, hosting the 2021 People's Choice Awards, said to Jojo, "I'm so proud of you. You are such an incredible light."
8. When Normani and Teyana Taylor slayed the VMAs
Who knew that Kehlani (who came out earlier this year as a lesbian, lamenting that "everyone knew before me") and Teyana Taylor's music video "Morning," released at the end of 2019, was just the beginning? In 2021, Teyana ramped the sexiness up a notch — this time live at the VMAs — performing "Wild Side" strapped to a stretcher on stage, while Normani simply had her way with her. We also needed a stretcher after that performance. Need we say more?
9. The enviable three-way kiss between Rita Ora, Tessa Thompson and Taika Waititi
That superhero film director Taika Waititi and his girlfriend, actress and artist Rita Ora, were out and about being seductive is in no way particularly new or noteworthy. The real plot twist came back in the summer, when the couple became, at least temporarily, a throuple with actress Tessa Thompson. The news came courtesy of a few leaked and loved-up photos, complete with long-stemmed champagne glasses, giggles and some sweet-and-sexy P(rivate)DA.
10. The limp wrist took over TikTok, courtesy of Doja Cat's "Kiss Me More"
If your For You Page is anything like ours, it's only getting gayer. 2021 saw the rise of informational trends like, "Are you a lesbian who just doesn't know it yet?" — a somewhat silly-sounding question that opened the door for serious explorations of compulsory heterosexuality. It also witnessed the rise of queer icons like Lisa+Pope, who became the chosen family of the entire Tiktok queer community with followers referring to them as "mom and dad". Then there was the collective discovery of dysphoria and euphoria all under one "red and blue" gendered Tiktok filter.
But what really unlocked queer joy for the Gen Z masses this year was the reappropriation of the limp wrist. A movement that had become shorthand for mocking queerness among older generations was transformed into wry self-deprecation, with videos of queens sucking down iced coffees capped "limp wristed behavior" with a wink. Apparently, it only took the well-timed chime of a little bell in Doja's hit summer single "Kiss Me More" to redefine the limp wrist as a sort of half-ironic recognition of one another. Of course, this all culminated with Lil Nas X's limp wrist in the iconic music video for "Industry Baby", accompanying the lyric, "I don't fuck bitches, I'm queer" (while bodybuilding in prison, no less).
11. Queers united to honour SOPHIE
It really is OK to cry. Having captured the essence of queer and trans euphoria with vibrant, pioneering hyperkinetic pop music, the otherworldly producer SOPHIE passed away in January at just 34. With high-intensity soundscapes capable of catapulting immaterial boys and girls into a shimmering world without shame, the artist and DJ was a precious treasure to the queer community. Her death, like her life, brought us together in beautiful ways worth celebrating: Petitions to NASA have circulated to name a star in her honour; SOPHIE's 8-year-old debut EP Nothing More To Say is set to re-release on vinyl, with proceeds going to The Scottish Trans Alliance; and her brother has also said he plans to release previously-unheard music in the near future.
12. Rebecca Black released a "fucking gay" album before "getting vaxxed and waxed" for Pride
Having reemerged onto the scene as a fully grown woman and — in a beautiful surprise! — queer icon, Rebecca Black dropped her first EP Rebecca Black Was Here in June, just in time for heartache-heavy synth-pop bangers like "Worth It for the Feeling" and "Girlfriend" to become a soundtrack for a Pride that was, in many cities, a summery love fest after a year spent indoors.
What's more quintessentially queer than watching Rebecca rise to pop stardom and take control of her own image, against all odds, after becoming Gen Z's first infamous internet victim a decade ago? Well, maybe deliciously sappy and shamelessly chaotic songs about queer love, featuring fellow icons Big Freedia, Dylan Brady and Dorian Electra. As she put it simply to i-D back in July, "the lyrics are fucking gay because they're about women".
13. Titane won the Palme d'Or at Cannes
Let's be honest: who didn't get queasy when Alexia started shoving chopsticks somewhere they shouldn't go? It's not for the faint of heart, but the critically acclaimed French film Titane is worth watching through to the ending, in which — spoiler! — Alexia has sex with a firetruck, among other more classically queer moments, such as Alexia's relationship with her lover Justine. The kickass body horror film was a brutal exploration of trauma, identity and strange bonds with a bruised queerness at its core. No wonder it won the Palme d'Or at Cannes.
14. BENNIFER
If Ben Affleck's harried Dunkin Donuts iced coffee fumble at the end of 2020 summed up the hell that was last year, then the 2021 turnaround — particularly the pictures that emerged of the awed look on his face while he rested his hand on J.Lo's ass, having rekindled their romance after 17 years apart — was nothing short of inspirational. The queer community loves an underdog, and we wish them the best.
15. Rupaul levelled up, again and again
The 13th and longest season of RuPaul's Drag Race, which ran from January to April, not only welcomed queen Gottmik, the show's first ever openly transmasculine and AFAB contestant, but also won Outstanding Competition Series for the fourth time, with RuPaul now holding the title for the most Emmys won by a person of colour (11!). The show will not be sashaying away anytime soon.
16. Dolly Parton sang us "Jolene" while getting the jab
She even went through the trouble of changing the lyrics to "vaccine, vaccine, vaccine, vaccinnne!" As syrupy sweet as ever, Dolly Parton's sentiment was so much more bearable than celebrities who sang "Imagine" last year just a couple days into quarantine. Her new Moderna-inspired "Jolene" rendition was made just months before Lil Nas X sang a sultry cover of the song, to which Dolly responded in her typical fashion (cue her voice while reading, please): "It's really, really good. Of course, I love him anyway. I was surprised and I'm honoured and flattered."
17. The Smith family kept it sexy and real, as always
It was only last year that Willow Smith came out as bisexual, and in 2021, she declared herself polyamorous as well. As did her parents, sort of: "The freedoms that we've given one another and the unconditional support, to me, is the highest definition of love," Will Smith said of his 20-year-long (open!) marriage to Jada Pinkett Smith, who also said earlier this year that she, too, is attracted to women. Chef's kiss.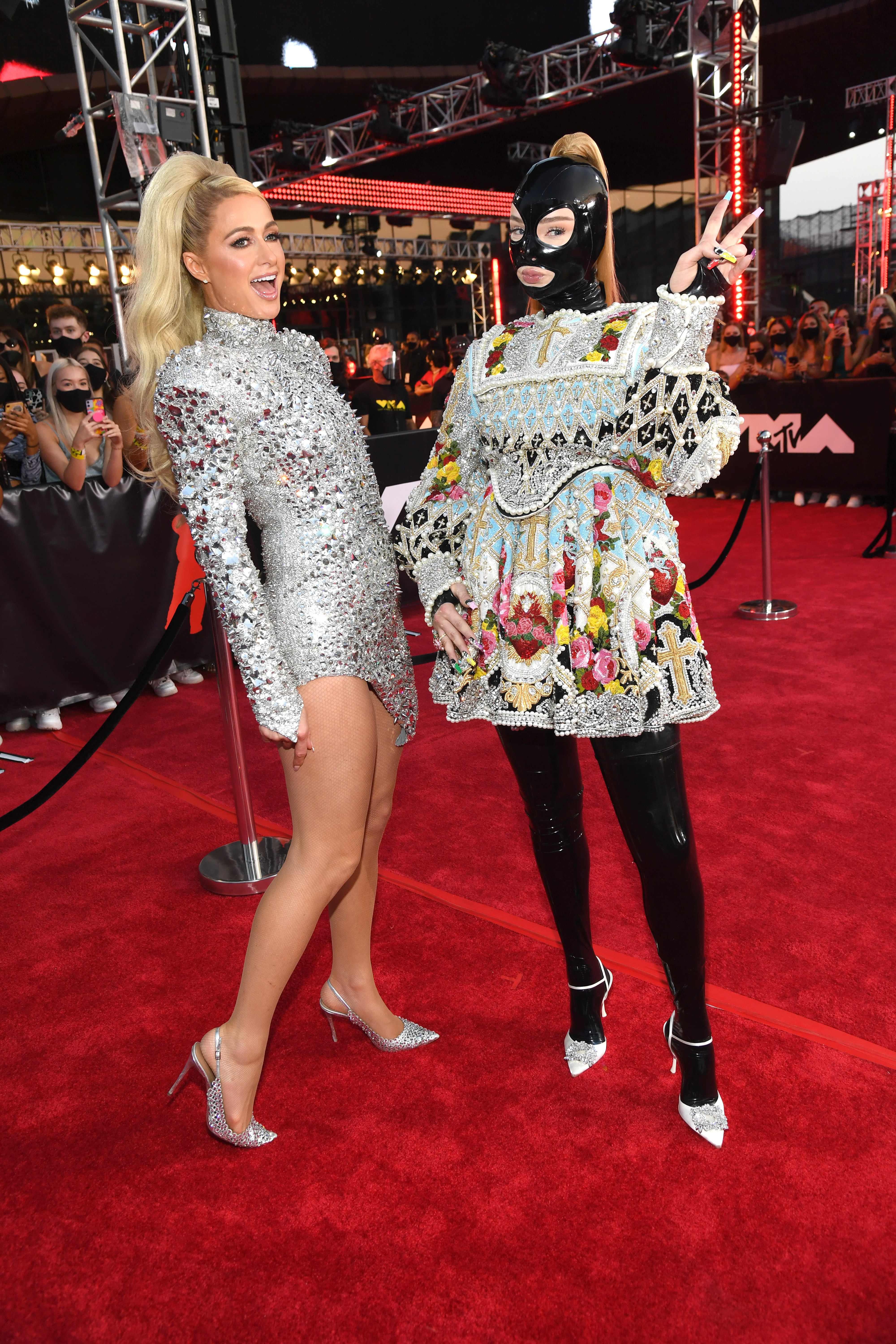 18. When Kim Petras wore a gimp mask to the VMAs
We know neon-pop queen Kim Petras wants all her clothes designer. She did not, however, mention the latex gimp suit on her wish-list, queered even further by the fact that she rolled up to the VMAs this year in a bubblegum-pink Mini Cooper with Paris Hilton in the driver's seat.
19. Saweetie said DaBaby is not her type
In the wake of DaBaby coming out as homophobic with a spew of dangerous hate speech back in August, his icy collaborator Saweetie refused to keep quiet, saying: "We all need to call out what we're uncomfortable with. We need to call out what we stand for and for what we believe is right." This was a few months after a wave of celebrities and LGBTQ+ advocacy organisations denounced J.K. Rowling's relentless transphobic TERF ideology. It may have been a year marked by the queer community having to be defensive, but even so, we were there defending one another.
20. Jaboukie Young-White resigned from the community
As a comedian who gets his kicks from getting regularly suspended from Twitter, we can't take a word Jaboukie Young-White says seriously. Posing online one day as Joe Biden's press team while the president is out "getting some dick" and the next as the FBI admitting that they killed MLK, Jaboukie announcing he had decided to leave the community arrived just in time for Pride month. This time, I don't think anyone was confused for a second. We'll leave it at that. See you soon, sweetie. <3
Follow i-D on Instagram and TikTok for more pop culture moments.