Photos courtesy of Di Petsa
Dimitra Petsa's heat-reactive clothing encourages you to touch yourself
Di Petsa, Pip Paz-Howlett and Sinead Gorey explore this season's hedonistic, horny energy and our desire to be held.
Photos courtesy of Di Petsa
What was simmering last summer has come to a boil. The proverbial mercury is rising — along with our hemlines. And if the queues outside London and New York's nightclubs are any indication, we're in for a very hot, very hedonistic summer, with fashions to match.
Last year, we emerged from our homes with excited trepidation and the wholesome gains of lockdown. We dabbled in post-quarantine sobriety, we dined al-fresco and we wore homely-but-sexy crochet. This summer, however, rather than hitting the parks, we're going out, where the bars are teeming with boozy martinis, the sidewalks are hazy with cigarette smoke, the booths packed shoulder-to-shoulder and the clubs, once again, radiating with body heat… remember that?
From our collective yearning — for closeness, for pleasure, for fun — the 'touch-me' dress has emerged as SS22's sexiest standout. Last week, a heat-reactive dress from Greek label Di Petsa ignited an exothermic reaction across social media, a cathartic outpouring of spring's horny energy. Crafted from a sleek leatherette engineered to "hold imprints of heat […] from a hand, a hug, a kiss," the viral garment — and others like it — conjure sweaty dancefloors, vodka-flavoured kisses, grinding with sexy strangers; they call for skin contact.
Designer Pierre-Louis Auvray, known for his futuristic fashions, was prescient to the trend. In September 2019, Forbidden Knowledge made its NYFW debut, where, among Mecha-like body armour and Gameboy-inspired tech-cessories, the designer showed a sheer bodysuit, printed in red (and blue and green)-hot infrared. Over a year later, the style was setting Instagram ablaze. This was January 2021, back when our yearning was just that. The prints, perhaps, embodied the era's contradictory impulses: a heightened desire for intimacy coupled with newfound social anxieties. From a six-foot distance or through an inch of plexiglass, these were garments that said, "look, but don't touch."
This season, Sinead Gorey has turned up the heat, advancing a series of garments made to be touched. Alongside signature body-mapping jumpsuits, the London designer's SS22 collection included garments crafted from heat-reactive leatherette, a fabric that changes colour with the warmth of body heat. On Sinead's website, a blue heat-reactive miniskirt is merchandised with two pink handprints on the seat — the traces of a cheeky embrace.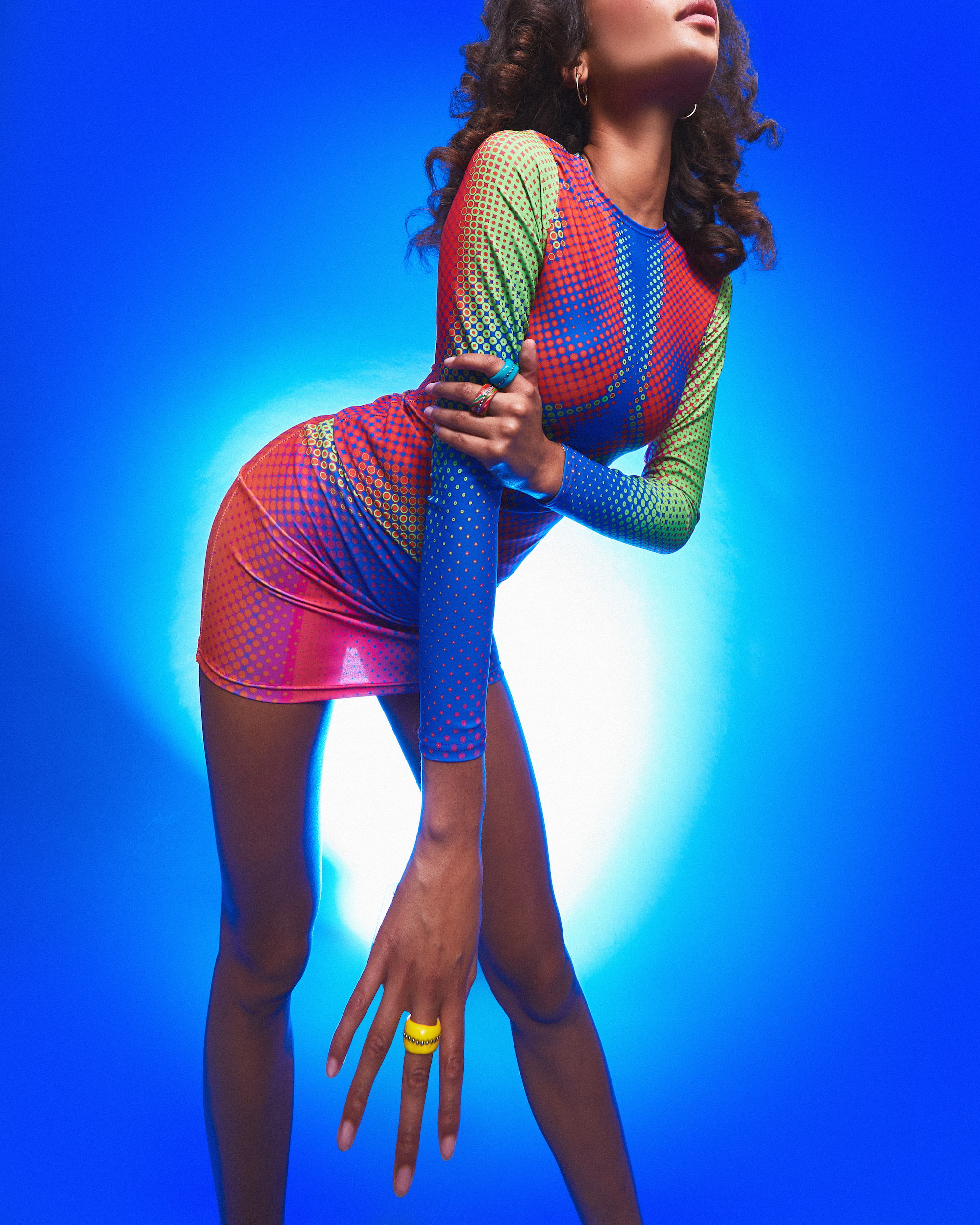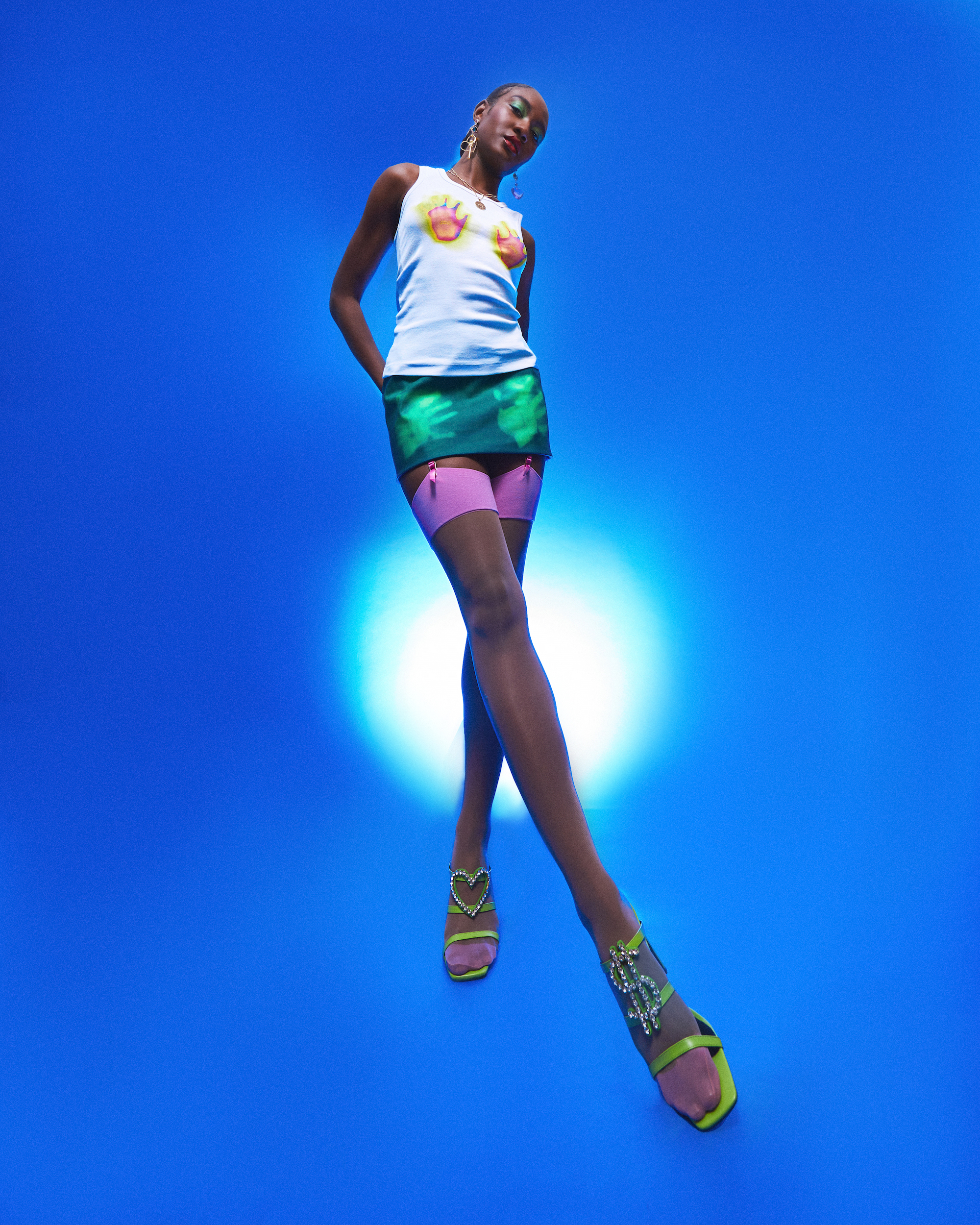 With his recently-released MA collection, Central Saint Martins grad Pip Paz-Howlett experimented, too, with touch-reactive fabrics. Drawing from his own queer experience and the queer narratives of his predecessors, Pip's oft-revealing menswear celebrates and liberates, revelling in the male form and offering men a sexier way of dress. The designer's graduate collection drew inspiration from the hedonism of gay adult films from the 70s. The "haste and awkwardness of undressing in the films" informed the collection's twisted cuts and lop-sided silhouettes, all which seemed to be peeling themselves away and off of the body. Many of the prints were drawn from the era's gay adult magazines. A pair of underwear is emblazoned with a hand: a graphic, trompe l'oeil caress.
The offering's heat-reactive pieces were meant to evoke the moment of intensity between two sexual partners — lovers, adult film stars or otherwise. "I wanted to create a garment that would be super revealing without showing any bare skin," he says. "Through changing colour, the skirt shows the impression of the wearer's legs, crotch and bum without showing everything, which I think possesses an element of desire and tease whilst actually being fully clothed."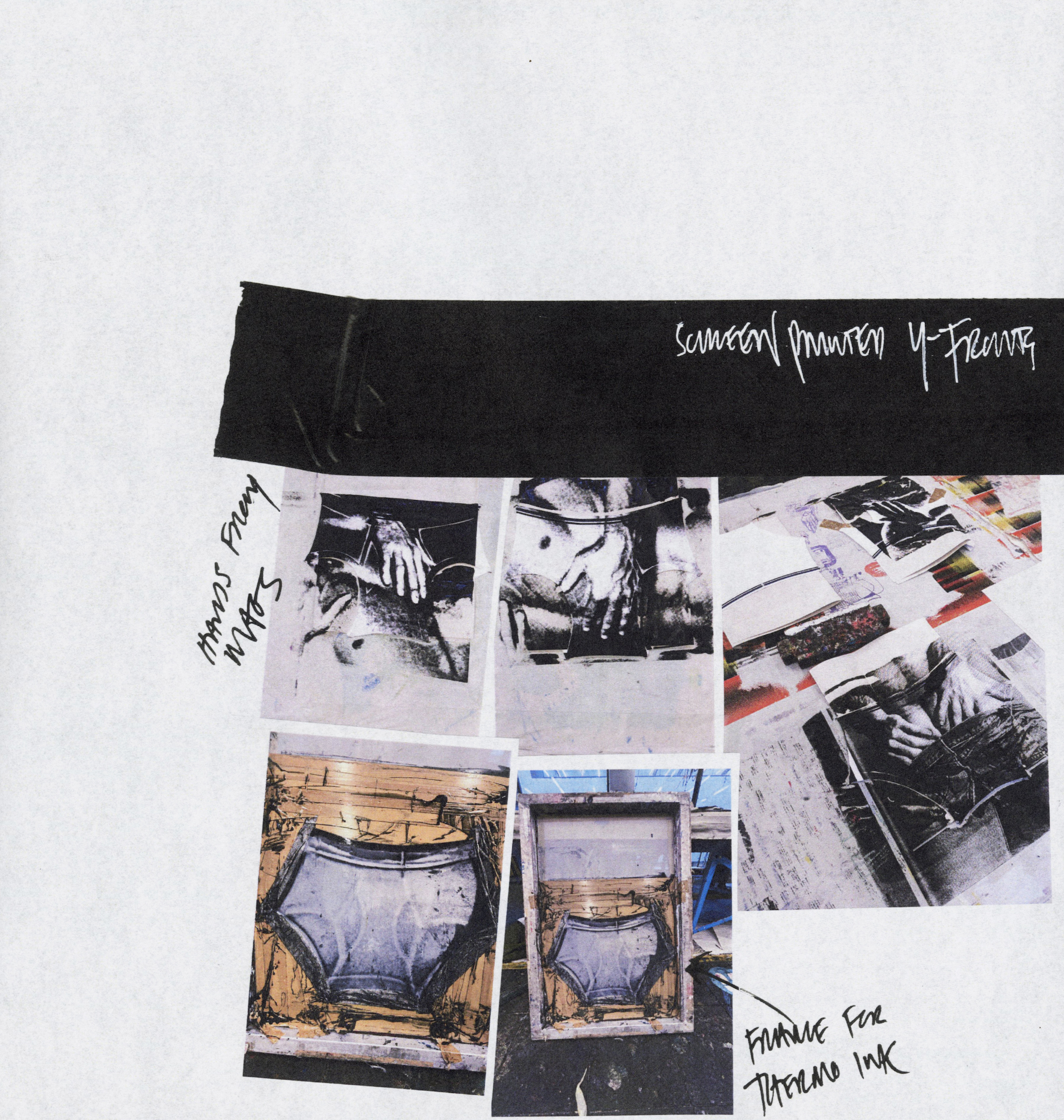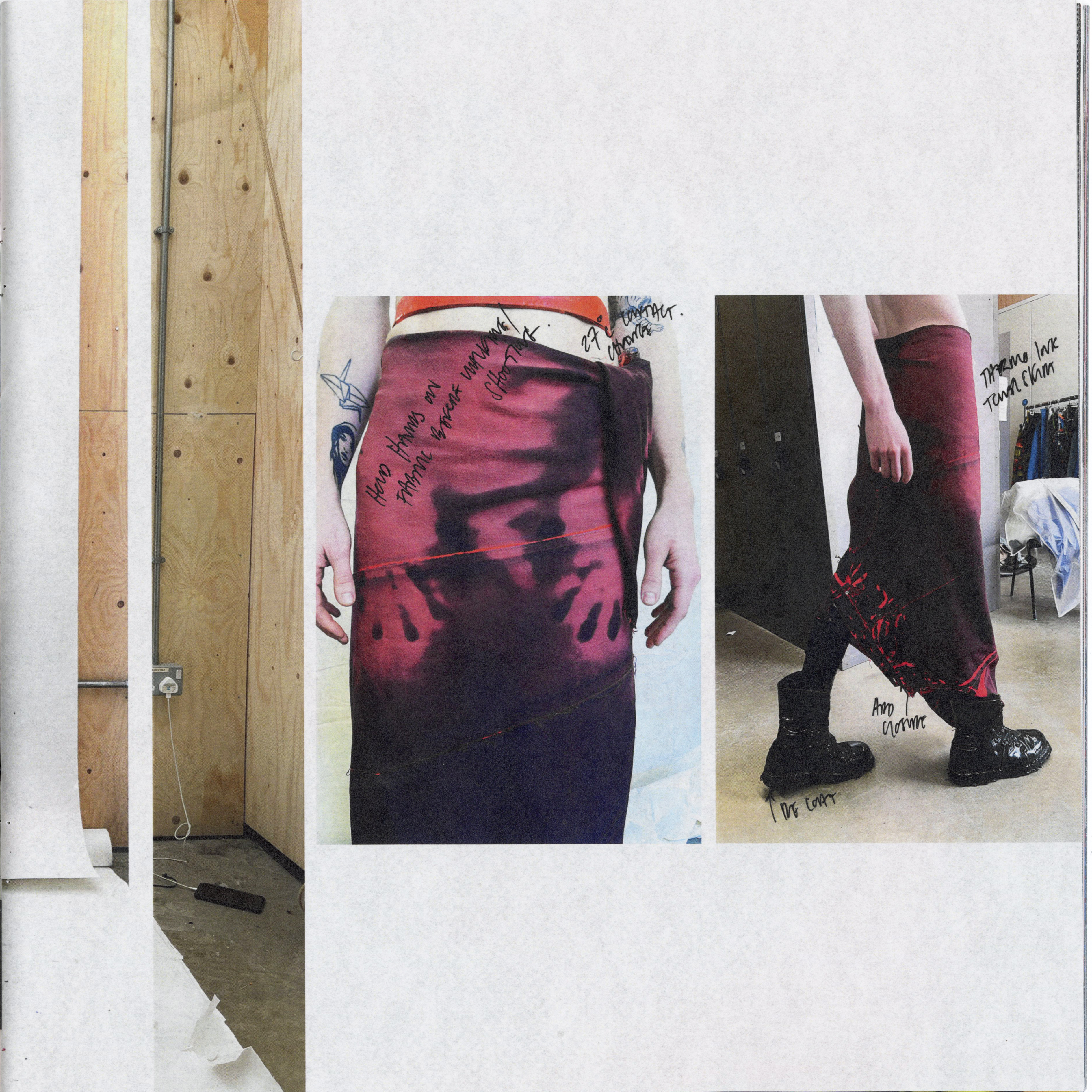 Likewise, to Dimitra Petsa, touch is sacred to her brand, Di Petsa. "Bodily heat is something very primal and natural," she says. The designer's Memory of Touch dress, crafted in heat-reactive vegan leather, is meant to hold and commemorate the act of touch. "What the mind forgets, the body remembers," she says. "[The dress] is about the memories that our body holds: the touch from a stranger, a head resting on our lap, or our self-hug. I feel that all our experiences that happen through the body create imprints that fade into our skin. We may forget these interactions but our body has a different memory, which has the ability to change us. These pieces are a visualisation of that; they show the marks and language of skin and touch."
However, Dimitra's heat-reactive garments aren't meant only for sharing touches with strangers or loved ones; Di Petsa's collections are always, in some way, a call for self-love. In an Instagram story posted by Di Petsa last week, a model wears the label's aforementioned dress; she caresses its leatherette contours, drawing a finger up its thigh, leaving the traces of hands on its bust. "[These garments] also lure you to play with your clothes, to touch yourself — and I think people need to do more of that."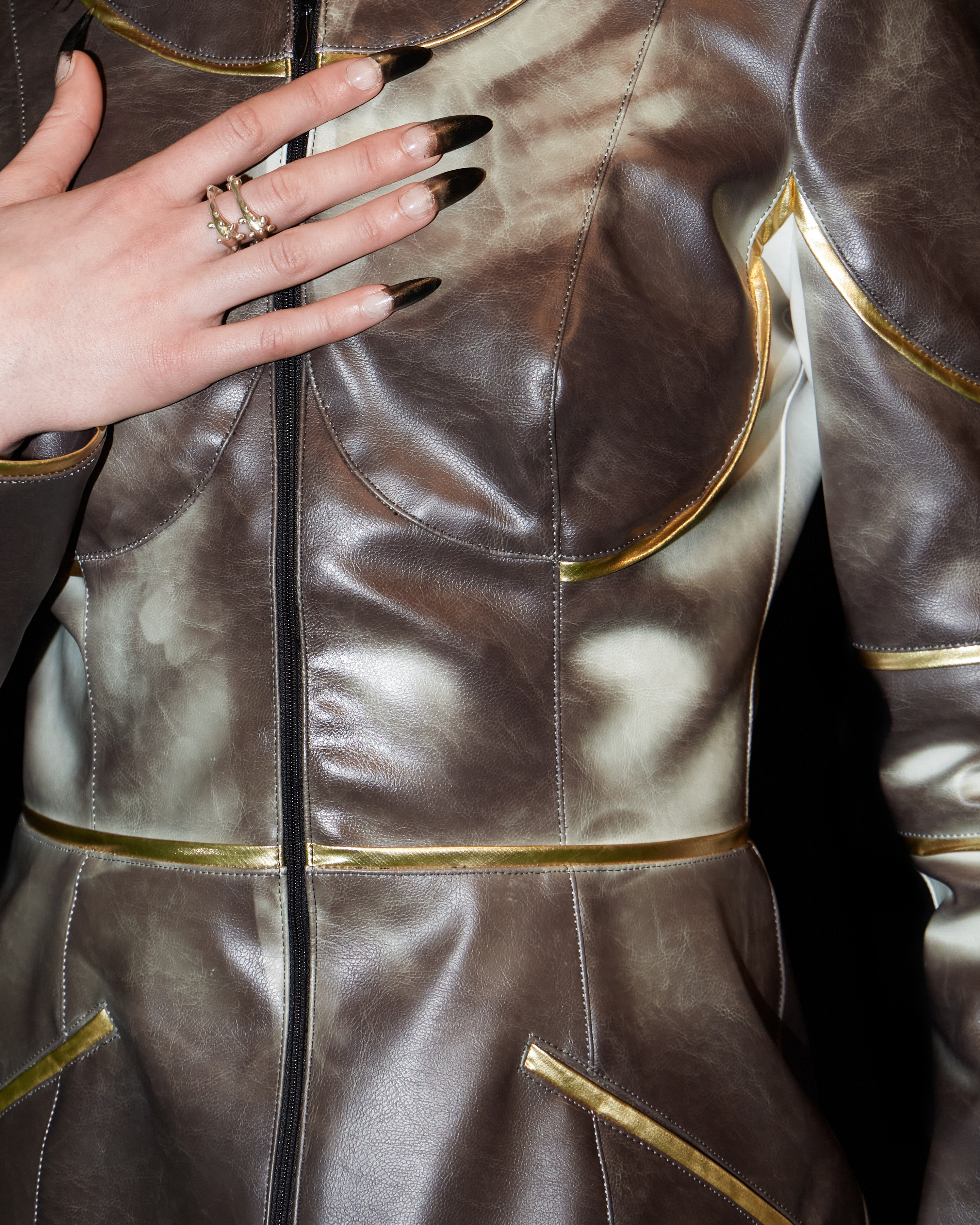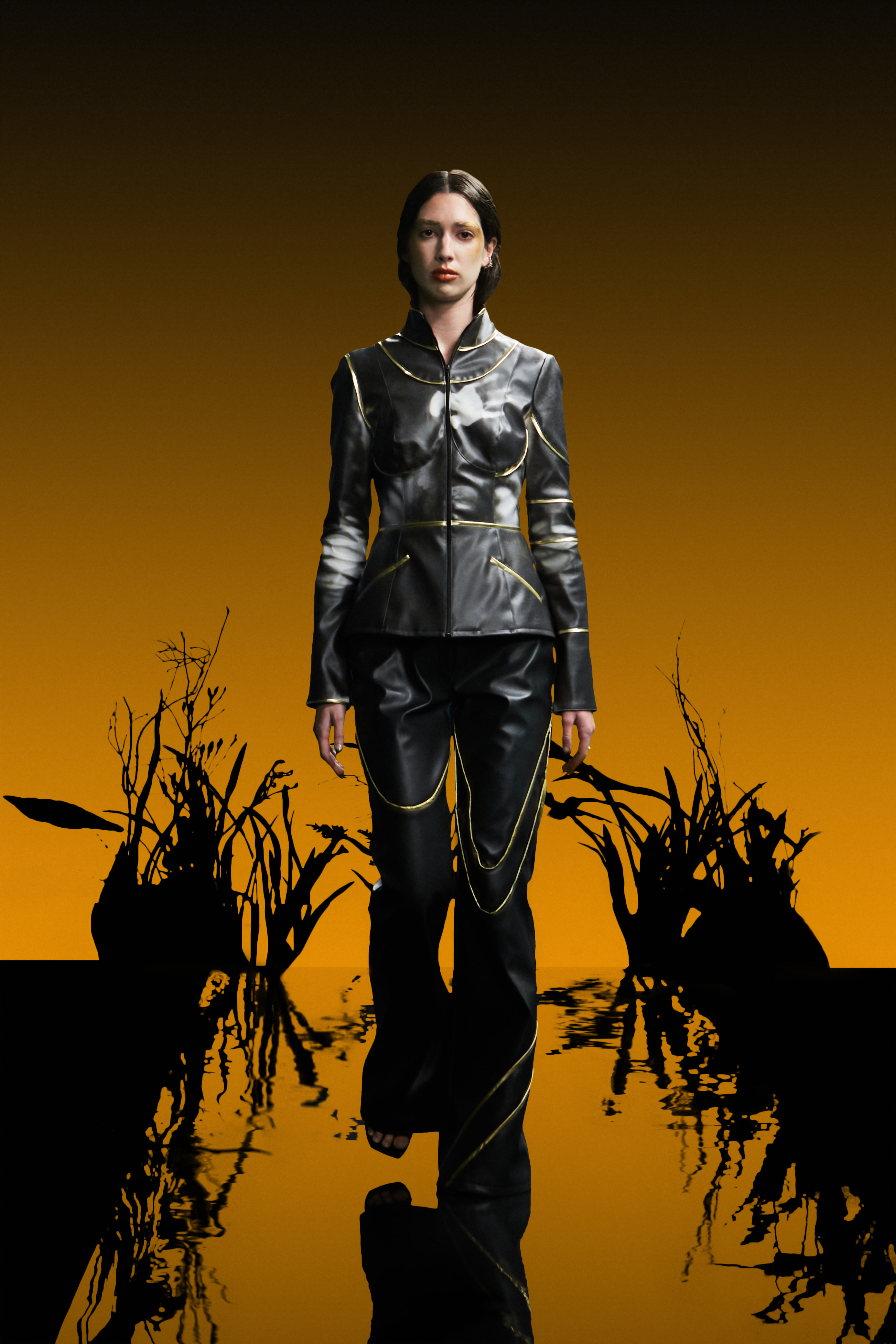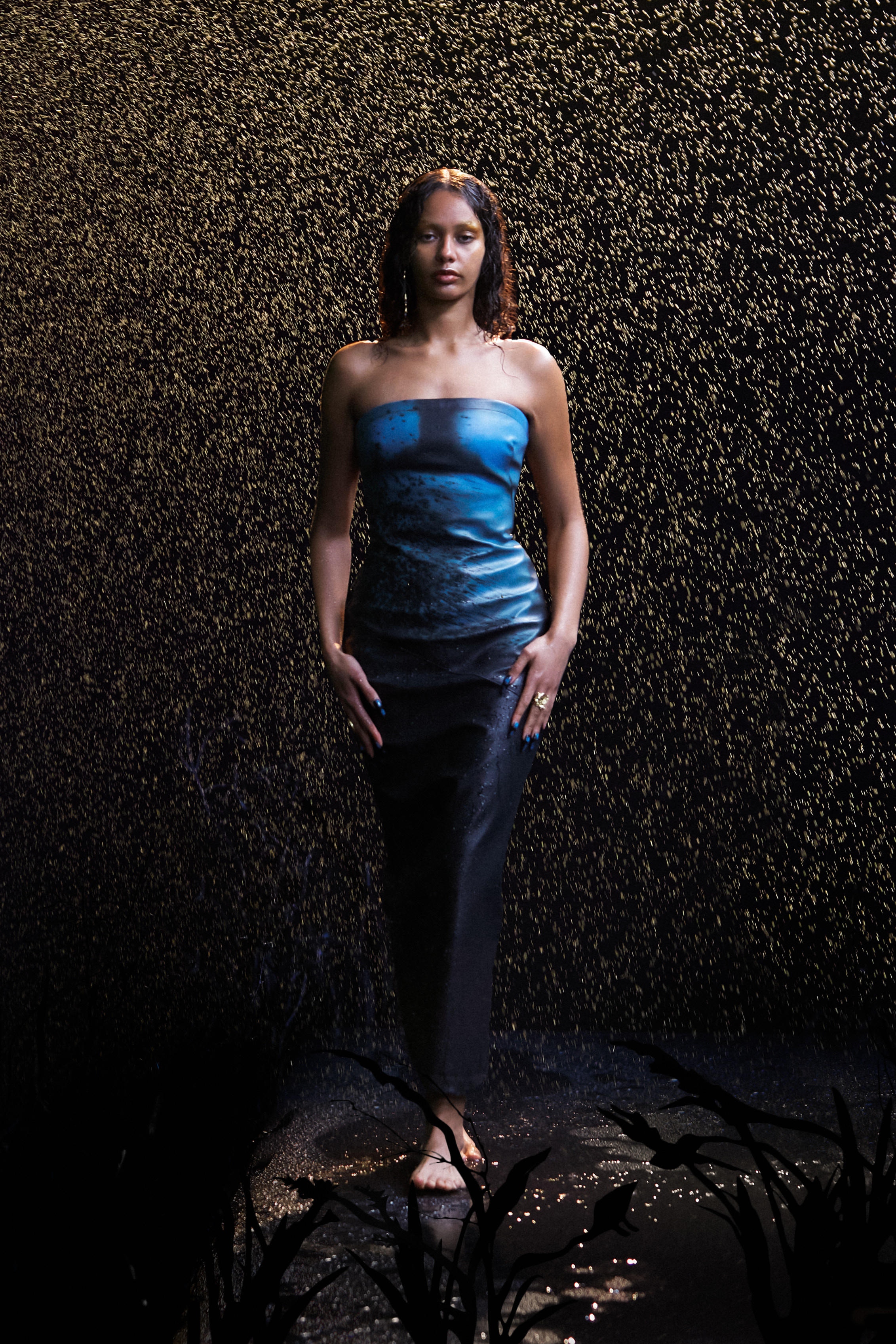 Tagged: