The first reviews for Harry Styles' gay cop movie My Policeman are in
"Probably not going to be a film you watch with your parents."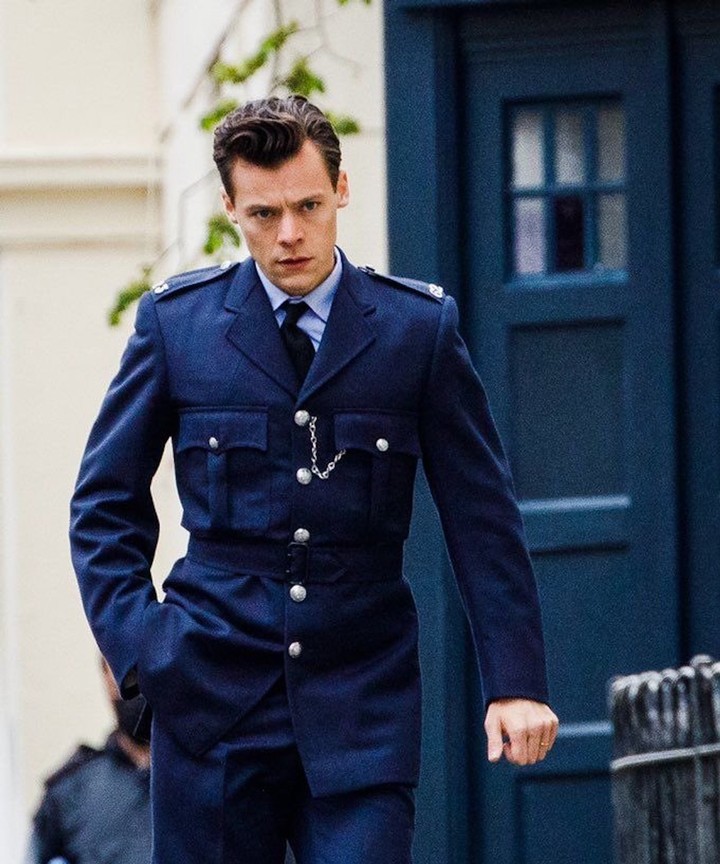 BTS photo from My Policeman
Of all the films we're excited for this year, the movie adaptation of My Policeman — based on the Bethan Roberts novel of the same name — has got to be top of the list. Following the life of closeted cop Tom Burgess (played by our king and most recent MCU member, Harry Styles), My Policeman is focused around a love triangle between Tom, his wife Marion (Emma Corrin), and the secret love of his life: a museum curator named Patrick (David Dawson). It sounds messy, on the level of that ten minute montage of Cal Jacobs' early life in Euphoria.
Although the film doesn't have a release date as of yet, it seems a secret screening was held last night in San Diego for fans of queer movies such as Call Me By Your Name and Carol to gage their reactions. One of those in attendance was later interviewed by the person behind the My Policeman Updates account on Twitter, who subsequently posted highlights from their conversation online. So, did the gays love it? Could this film win Harry his first acting award? Most importantly, is there nudity?? Here's what we know.
@MyPolicemanU's first tweet after fans (who'd had their phones taken off them) left the movie theatre was that the film was "gorgeous" and the acting "amazing". Harry was reportedly truly the star of the film, very much "the leading man" and gave a "very nuanced performance". "The stress and fear of being found out is palpable and heart wrenching. [Harry] shows real talent and depth as an actor," they continue.
Credit also went to director Michael Grandage (who has a CBE for his work in theatre), and the other members of the main cast. "Emma was outstanding. There were moments where you felt almost sorry for Marion and then times where she was really dark. There were lots of hints as to what was going on which she ignores and that really helps to build the tension." @MyPolicemanU also reported that love interest David Dawson had "an amazing presence and really captured the audience. The chemistry between the three younger leads was fantastic."
There were, of course, many opinions on the R-rated movie's much-hyped sex scenes. Reportedly, Harry has racy scenes with both Emma and David, though fans noted a few distinctions between the two: the queer sex scenes being longer, more intimate and less awkward than the ones between husband and wife. The sex wasn't "obscene" but rather "lovely" and "beautifully choreographed". Though the nudity is disappointingly limited to ass cheeks, the verdict is that this isn't "a film you watch with your parents".
Overall, it seems the fans who left the screening were deeply moved by the film's take on the novel: "There are little moments where the audience gasped, where they laughed - slight changes to the book that made people sob", @MypolicemanU added. "None of us are ready for how much we are going to cry". Get your tissues at the ready girlies, we're sure to get a release date very soon.
Follow i-D on Instagram and TikTok for more queer film content.