6 cult Valentine's Day films for people who hate Valentine's Day
From unconventional romcoms to straight up horror.
|
14 February 2022, 5:05pm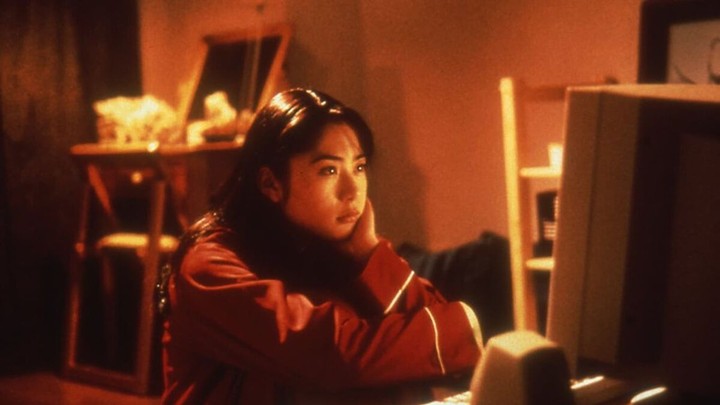 Haru (1996)
The days following New Years can be kind of bleak at your local Walgreens or CVS. You've just celebrated a fresh start, come to pick up your prescriptions, and you're already being bombarded with life-sized plushies in shades red and pink and expensive heart-shaped boxes of chocolates meant to gift your valentine. Though no matter the state of your love life, whether you're chronically single, navigating a three-way relationship or simply taking an anti-capitalist stance on what might be THE worst holiday ever (?), we've got you covered. Here are some of the best unconventional romantic movies to watch if you hate Valentine's Day.
Defending Your Life (1991)
If you've ever thought about the afterlife, I'm sure you haven't imagined it looking like a middle-class strip mall, littered with bus stations and restaurants and shabby (and not so shabby) hotel rooms. If you have, you're probably an atheist now. But Albert Brook's Defending Your Life brings a charm and infectious warmth that makes the yuppie afterlife seem, well, worth living. The film follows Daniel (Albert Brooks, who wrote, directed and starred in the film), a recently deceased nobody taken to Judgment City, where the dead go to trial to determine whether they have lived courageously enough to move on to heaven. During his short stay, Daniel falls in love with Julia (Meryl Streep), a brave, intelligent woman surely heading to heaven. Unlike Albert's previous films – Modern Romance, Real Life and Lost in America – characters are afforded a way out of their destructive patterns and cycles without as much as a hint of irony. Here, it's never too late to change, or to fall in love.
The Fly (1986)
The Fly starts with a meet-cute. Brilliant scientist Seth Brundle, played by zaddy Jeff Goldblum, meets scientific reporter Veronica Quaife (Geena Davis), and offers her an exclusive scoop on his new invention in order to hit on her. It works. If you, like me, grew up hearing whispers of this film, you could be tempted to think you've put on the wrong movie. It seems a little too sweet, a little too charming, to be written and directed by David Cronenberg. However, it doesn't take long for the bodily horror to commence. After Seth uses his untested teleportation device, he begins his gradual transformation into a dangerous monster. What hurts the most, though, is the romantic tragedy at its heart. The more Seth changes, the harder Ronnie clings to him, hoping something will save him. If you're a hopeless romantic who also loves horror, this one's for you.
Don't Go Breaking My Heart (2011)
Hong Kong directors Johnnie To and Wai Ka-fai's long standing collaboration on over the top rom-coms (Needing You, My Left Eye Sees Ghosts, Love for All Seasons, etc.) reaches peak manic energy with Don't Go Breaking My Heart, a ridiculously smart breakdown of modern love in the midst of the financial market's collapse. The film follows Cheng Zixin (Yuanyuan Gao) after her relocation to Hong Kong, where she meets CEO playboy Cheung Shen (Louis Koo) and Fang (Daniel Wu), an alcoholic architect. Soon, Cheung starts to court Cheng by sending her messages through the window of his office building, and Fang comes back into her life a changed man. The love triangle's games become elaborate and transactional farces to see who will win Cheng Zixin's heart, and we promise you'll be hooked.
Forget Me Not (2015)
When you're a teenager, everything that happens to you feels like it is and will be the most important thing to literally ever happen to you. But if you scroll through your old Facebook posts now, you'll probably experience a strange disconnect. Your teenage crush's old likes on your pictures might make you smile, but they definitely don't mean what they used to. Kei Horie's Forget Me Not takes this conceit to its extreme. It follows Takashi, a third-year high school student who immediately falls in love. However, Azusa, the object of his love, warns him that everyone who meets her forgets about her minutes later. Takashi refuses to believe her until small details about her start slipping from his life. As time passes, his handwritten notes about their love are the only memories that remain. Spooky!
Haru (1996)
In today's world, there's nothing unusual about falling in love on the internet. But way back in 1996, when talking was limited to anonymous chat rooms and forums, there was something special to it, a kind of magic in finding a genuine connection online. Something that hasn't changed though, is the way the lonely (all of us at one point or another) flock to certain corners of the internet, grasping against the unreality of the machinery for some warmth and tenderness. Yoshimitsu Morita's dreamy, moody Haru understands this. It drifts through time and space connecting its two leads, Haru and Hoshi, through emails. Above all, it appreciates the tension borne out of the medium, an anxious waiting for the other person's next message. If you've spent the past few years chronically online, you'll probably fall a bit in love with this movie's endearing early internet simplicity and overall prescience.
The Ghost and Mrs. Muir (1947)
It's been argued before that cinema is the medium for ghosts, that everything caught on camera is already gone — effectively dead by the time we see it. It's a record of regrets, possibilities collapsed, dreams deferred. Joseph L. Mankiewicz's The Ghost and Mrs. Muir brings the world beyond to a small cottage by the British seaside owned by headstrong widow, Lucy Muir (Gene Tierney), with Rex Harrison's commanding presence as the curmudgeonly yet charming ghost of Captain Gregg. "What makes love real?" the movie asks. "Can it exist beyond the veil, and can it touch us?" The Ghost and Mrs. Muir is a movie unafraid of its own faith in love, without being the least bit corny. Even if you hate Valentine's Day, we think you'll find comfort in this film.