Photography Mario Sorrenti
Devyn Garcia: "I didn't want to be a typical curvy girl selling a T-shirt"
The 21-year-old model talks to industry trailblazer Paloma Elsesser about life in Miami, social media and celebrating her first i-D cover.
|
16 December 2021, 5:00pm
Photography Mario Sorrenti
This story originally appeared in i-D's Out Of The Blue issue, no. 366, Winter 2021. With thanks to Tiffany & Co. Order your copy here.
Devyn Garcia is on the cusp of stardom. The 21-year-old part Cuban Miami-native has had a breakout season as the fashion week schedule returned across the world. And from New York to Paris she graced the catwalks, walking down the Left Bank of the Seine for Chloé and starring in The AZ Factory's tribute to Alber Elbaz that closed off the season. Just two years into her modelling career – and with a truncated first twelve months because of Covid – she's already becoming a favourite of Victoria's Secret, has walked for Jaquemus and is now gracing her first magazine cover for i-D.
One of a handful of new faces to emerge to define our post-pandemic lives, Devyn is very much of and defining the moment, inspired by and moving into the space opened up by models and fellow i-D cover stars like Precious Lee and Paloma Elsesser, who she has become friends with over the last year.
They're a generation of models broadening what we see in fashion, and Devyn – who grew up surfing the beaches of Miami with her DJ father and model mother – has found herself emerging into the spotlight, effortlessly encapsulating the new mood of freedom in fashion.
Currently in the process of moving from Miami to New York, and relaxing in a hotel room, she caught up with friend and mentor Paloma to talk bodies, beauty, fashion and families…
Paloma: My darling!
Devyn: Hi.
Paloma: Good morning. Can you hear me?
Devyn: Yep!
Paloma: Ok, it's recording. I'm technologically illiterate. So where are you?
Devyn: I'm in Tribeca right now. I'm in a hotel.
Paloma: How are you feeling? Are you enjoying New York? What's going on?
Devyn: I am liking New York more and more, even though this morning when I walked out it was so cold! I came really unprepared for a New York winter.
Paloma: You'll get used to it. I'm really excited to do this! I feel really honoured, because this is your first big interview, and I felt like we've been able to become friends over the course of the year we've been working together. But I'd love to start with your story, your background and experiences. Where were you born? Tell me about you.
Devyn: I'm born and raised in Miami Beach, Florida. I grew up on the beach pretty much. Both my parents were surfers. My dad was a DJ and my mom was a model. They pretty much met in the Miami nightlife, and I spent my whole childhood on the beach. I'm getting ready to move to New York properly at the moment.
Paloma: Miami is such a melting pot. How did that inform who you are?
Devyn: I definitely think Miami is a melting pot, and a big city. It was a really different experience from my friends who grew up in Tennessee and Tampa and Tallahassee.
Paloma: When your mom was modelling when you were a baby? What was going on?
Devyn: She started in the nineties. I don't know if you remember the Ford supermodel contest? This was like in 1992. She did that and she got signed to Ford, and she was working until about 2006. And well, once she got out of it, she admitted to me that she didn't like it really, it wasn't for her. She actually started working in the medical field and left all that behind, like everything. She wouldn't talk about it much growing up – I just remember seeing her in magazines, or looking through her portfolio sometimes, which she kept hidden in a box in a closet. It was only when I decided I wanted to get out of Miami that I thought about modelling. I was like 'my mom did it, maybe I could?' So I submitted my pictures to an agency, came to New York for a few months, got signed. Then Covid happened so it all went quiet for a moment.
Paloma: It is difficult, I think, to exist in bodies we didn't see in fashion growing up, you have to take a leap of faith. Especially when talking about body positivity, diversity and all of these things. Someone said to me that I should model. I had not considered it at all before then. I was afraid when I first put myself out there. What was that moment like for you?
Devyn: Well, I think at the time I started modelling, I had already seen girls like you out there. I never felt like I couldn't do it because I'd already seen you doing it. What I didn't expect was to model for Chloé at Paris Fashion Week. I thought I'd maybe end up just doing commercial stuff, you know. But I guess the world has changed.
"The last day I was in Paris, I went to the Eiffel Tower at night time and just took everything in. The whole month, the whole season, it was amazing."
Paloma: When I started I definitely didn't feel commercial, in that sense. But I think the more I've worked in the industry, the more I realised nothing quite worked the way I was expecting it to. When I started I had nowhere I immediately fitted into it, so it's really powerful to now be an example, to allow someone to feel like they can do it. What was your perspective on fashion in general when you started? How's it changed?
Devyn: To be honest, I didn't know much! I was a typical teen girl at the mall. And I started out doing some quite uncreative stuff, for e-comm or whatever. But more recently, working with these higher brands, doing more creative work with photographers, I really began to feel like myself. I didn't want to just be a typical curvy girl selling a t-shirt.
Paloma: Right! I remember when I started, being like, who dresses like this? None of my friends over a size twelve wear the kind of things they were trying to get me to wear. It feels a bit insulting at times, and then you start to do work that is more creative and collaborative and it becomes a lot more exciting, more fulfilling. I wonder also whether the fact that you're dealing with social media as you start out – in a way I wasn't – has that affected you at all? How do you see yourself? How do you see your body? Your identity? I remember growing up and it was all just low rise jeans and super skinny white women, and essentially all the work we do is to disarm the power of that. I'm curious for you as a nineteen-year-old – do you feel like much has changed?
Devyn: I personally don't like social media. I find myself comparing myself to other girls – whether it's the work we're doing or how we look. We all have our days where we feel super confident. In general, I love the way I look, I love this little mark on my body. And then some days I want to crawl into a hole and just lay there. So I do still find myself comparing myself to other girls where it's like, oh, why isn't my stomach as flat as hers? There's another side of it too – that a picture never captures how you look in real life at all; whether it's a picture from a professional photographer, or just something taken on an iPhone. Sometimes you look smaller. Sometimes you look bigger. You don't look like that.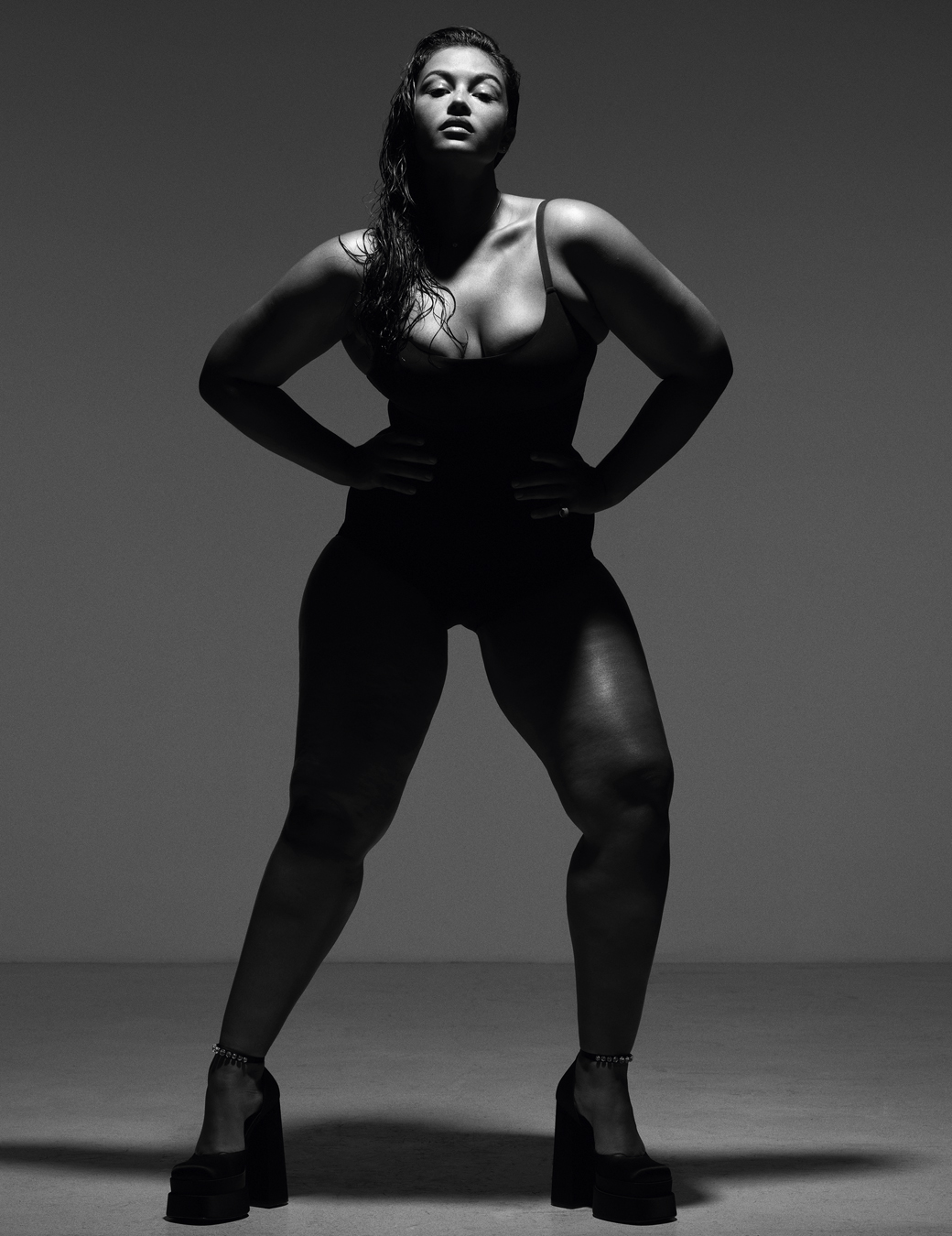 Paloma: I'm giving catfish in some of my photos, you know what I mean? Do you think that the space between reality and image, and how to utilise it, is more normalised in how you grew up? In a way it's the design of the industry. We've talked about this privately, but it can be fun, boring, and it can be a really useful tool as a portfolio. Some weeks I hate social media, and next week I might feel better about it and there are moments where you don't want to participate in it at all.
Devyn: Oh yeah. I feel a lot of people my age are really affected by social media. You have to really try to separate yourself from it, to not get caught in a bubble. Even something as simple as asking yourself why you don't have as many followers or likes as another person. I try not to care because it isn't you, it isn't your personality.
Paloma: So what are your interests or hobbies, things that get you really excited outside of modelling?
Devyn: Growing up, I did go to the beach, surf and skate a lot, and then I turned into a typical stubborn teenager and didn't want to do any of the things my parents did. Now I'm in New York and when I come back I really appreciate it. And honestly, something I love doing when I'm back home is going with my best friend to the movie theatre. We sneak in a bunch of sushi or something from Shake Shack and just sit there and talk shit. I always try to keep in touch with my friends and family, especially when I'm travelling. I try to FaceTime as much as possible. Stay grounded.
Paloma: That kind of leads me into my next question, because you had such a monumental breakout season. What was that like for you? What were the feelings, what were the thoughts? What was going on in your mind?
Devyn: Well, going to Paris, I had really high hopes that I was going to be doing as many shows as I had done in New York; that I'd be making loads of new friends. I wouldn't say living it up, but having a good career moment in Paris. But that wasn't the case. I mean, I did do two shows. That's more than other people could say. I spent a lot of alone time and that was kind of hard. But honestly, the last day I was there, after my last show, I went to the Eiffel Tower at night time, and I just took everything in. Honestly just the whole month, the whole season, it was amazing. You don't need to do all the shows to feel satisfied, I've learned. You've got to centre yourself.
Paloma: It's necessary to have that grounding in the chaos because it's hard – the comparisons, the spiralling, the gratitude, the highs and the lows. You need that thing you can go back to to get through it.
I also feel like so many girls get burnt out, and they don't know how to say no. I have friends who are scared to ask their agents questions, but you need to, you've got to be in control of your life because it's your life and it's your body. My mom helped with that a lot, she really taught me what questions I needed to ask, even if they sound like stupid questions. Just ask.
You've got to set boundaries for yourself, but it's about to be an insane moment for you. What was it like shooting with Mario and Alastair? And getting the i-D cover too – that's such a confirmation.
Devyn: When I got the phone call from my agent Craig, I honestly was in the bathroom doing my hair. And he's like, "You got confirmed for the cover of this issue i-D." Then he's like, "Kim Kardashian is going to be on the cover too." I didn't know what to say. I told my mom and she was so excited too, especially when she found out Mario Sorrenti was shooting it, because she always wanted to shoot with him back in the day. We were so excited! It took me a second after I'd hung up the phone to process it. Then I freaked out. But actually shooting, it was so fun and relaxed. The make-up was great, the hair was great. It was such a good experience.
Paloma: Then there's a moment where it's really, really, really cool to witness the fruits of all of our hard work.
Devyn: I still have so much to learn, though.
Paloma: Precious Lee had the cover last season, and I've had multiple covers with i-D now. I just feel that sometimes with the nature of the industry, you don't get to take a moment to be like, wow, this is really happening. Not just for me, but for us. You know? Sometimes you think wow, you know, I did that. You should be very, very proud of yourself. This is only your second year of modelling right?
Devyn: I started at the end of 2019.
Paloma: And then covid put a pause on it. How was that? That moment to think about it?
Devyn: I knew I wanted to do modelling for sure – I think Covid was a moment for the industry in general to clear their heads. People need to relax. If it's not today, it's tomorrow.
Paloma: I'm so excited to see what you're going to do tomorrow though. I feel a bit like a mother hen with you. My baby diamond. The amount of people that are being like, "that girl looks like your little sister". And I'm like, I know. So it feels very spiritual and I'm really excited to be on this journey together with you.
Devyn: I'm glad that you got to interview me.
Paloma: Me too. Especially the amount of times when I've been interviewed and asked like, where do you get your confidence? When really we are all just in our bodies doing our thing. You know what I mean? I've never been skinny. I don't know how to not be in my body.
Devyn: Like I grew up with this. There's nothing I could change, so it's like, okay – why are you confident since you're that big? So it's like, no.
Paloma: Have you ever gotten these comments that are like, "Every time I feel low, I just go on your Instagram and oh my God, I feel so much better." And I'm just like, "What the fuck is that supposed to mean?" But there is also power in that, in being the reference. I'm really excited for you when this cover comes out. Have you thought about it? Like for me, when this stuff happens, I post it, then delete the app from my phone and I have to go out and do something else. What are you going to do? How are you going to celebrate your cover?
Devyn: Oh, I'm going to go to a restaurant with my friend and celebrate.
Paloma: You deserve it.
Devyn: I'm really, really honoured and grateful to do this interview with you.
Paloma: Thank you. Anything you need, just shout, I'm here for you.
Devyn: Awesome. Thank you, Paloma.
Paloma: When are you heading back to Miami?
Devyn: Hopefully soon, but you never know.
Paloma: I'm going to London tomorrow. I only found out this morning.
Devyn: Oh my God. Are you part British, or did I imagine that?
Paloma: Yeah, part. What's your background? I meant to ask that.
Devyn: My dad's side is Cuban, and my mom was adopted. Growing up they said that she was mixed but we still never really found out.
Paloma: Wow. We have a very similar mix, don't we? My dad is Swiss- Chilean – he's white and indigenous South American. And then my mom is black. So it's like the same.
Devyn: We've got the same genealogy somewhere.
Paloma: And then we just came out with freckles and everyone's like, "Where the fuck are you from?"
Devyn: I know. But here we are.
Paloma: Okay, my sweetheart, speak to you soon!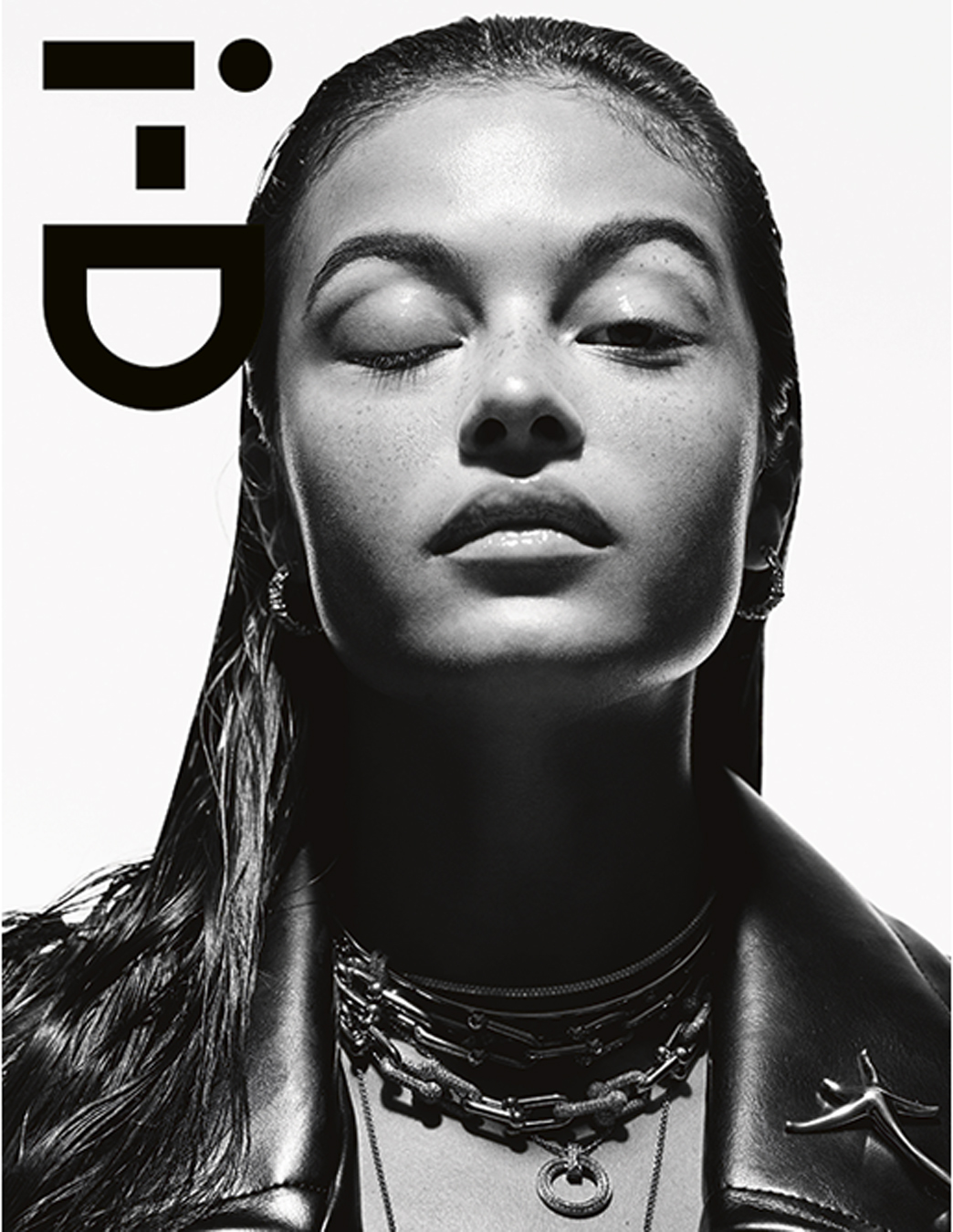 Credits
---
With thanks to Tiffany & Co.
Photography Mario Sorrenti
Fashion Alastair McKimm
Hair Bob Recine
Make-up Frank B at The Wall Group
Nail technician Honey at Exposure NY using CHANEL
Photography assistance Kotaro Kawashima and Javier Villegas
Digital technician Chad Meyer
Fashion assistance Madison Matusich, Milton Dixon III, Jermaine Daley and Casey Conrad
Tailor Martin Keehn
Hair assistance Kazuhide Katahira
Make-up assistance Elle Haein Kim
Production Katie Fash, Layla Néméjanki and Steve Sutton
Production assistance William Cipos
Casting director Samuel Ellis Scheinman for DMCASTING
All jewellery (worn throughout) Tiffany & Co.
Tagged: