Photography by Ola Rindal. All images courtesy of Trussardi.
Inside the Brown boy takeover of Milan's oldest fashion house
GmbH designers Benjamin Alexander Huseby and Serhat Işık discuss their debut collection for Trussardi and the state of Italian fashion.
Photography by Ola Rindal. All images courtesy of Trussardi.
On a crisp February evening in Milan, Benjamin Alexander Huseby and Serhat Işık — the designers best known for their Berlin-based label GmbH — are standing on the rooftop of the Trussardi palazzo overlooking the spires of the Duomo as the blue skies draw into sunset. Below, the headquarters of Milan's oldest leather goods houses is mostly wrapped in scaffolding and plasterwork — it's in a state of construction, which feels apt for the brand itself since the duo joined as creative directors last May. As they take a break from preparing their debut show, which will take place on the ground floor and on streets outside for the city's residents to see, they share a story that defines their approach to revamping the house. "On our first day, which was before we had started and were brought around the offices, we didn't see a single non-white Italian person – apart from our CEO, who is from New York – until we left at the end of the day when the janitors and the cleaners were coming in for their evening shifts," Benjamin shares. "That was the first time we saw Brown people coming into this building — and we realised, that's the first thing we have to do something about."
So, they brought in a new team; not just their loyal design collaborators and consultants, but they urged the company to hire more people of colour in the roles that matter. As we later walk through the studios, it's clear that diversity is a priority for them. And just days later, in their all-POC debut show for the house, it became even clearer. "It's about changing the whole idea of what an Italian company can be now," says Serhat. "I mean, I think we all know, all of us that work in fashion, whether it's in Paris or Milan, we know that even with Black and Brown people in a key position of power, they still struggle to create a structural system where there is a true diversity that represents what those cities actually look like."
Trussardi, it should be noted, is not exactly a happenin' house plugged into fashion's socio-political reckoning — or, at least, it hasn't been until now. The brand was founded in 1911, and was known for its leather goods, like gloves, purses and expensive fur coats. In recent memory, it's been relegated to a more "accessible" price point with its €200 bags, lifestyle items and quintessentially Italian puffer jackets, following a revolving door of creative directors and unenthusiastically-received catwalk collections, the last of which was shown in 2018. However, it has an infrastructure, a heritage and an extensive archive — all ingredients for the recipe to a promising revival. In fact, its lack of name-recognition among a younger audience could serve Benjamin and Serhat well — without any distinctive codes or big footsteps to follow, they ostensibly have carte blanche to create a fashion house in the image of their own juxtaposition of sweaty Berlin nightclub attire and old-school, suited-and-booted Brown Elegance.

And that's what they set out to do with their debut. Set to a thumping soundtrack by Lukas Heerich, of German industrial music pioneers Einstürzende Neubauten (which translates as 'collapsing new buildings') which used air-pressure drillers as instruments that reverberated through the reflective Mylar walls, the duo staged a bombastic show that hopscotched between fetish and ecclesiastical, full of looks fit for a Franciscan monk at Berghain. In other words, not what we're used to seeing on the classico catwalks of Milan Fashion Week. "It sounds almost silly or goofy, but we kind of got very into the idea of creating a sort of, almost like a fairytale, as if Trussardi was this Sleeping Beauty that we're waking up after being asleep for so long," explains Serhat. "That made us research the origins of fairytales and fables, because the house is so old, right? It feels ancient."
Looking at the mythology of fairytales led them to thinking about the fables of Italian fashion itself. What was interesting about their collection was that it riffed on perhaps one of the ugliest incarnations of Italian fashion: the puffer gilet, which Trussardi happens to sell a lot of. Rather than riff on the mythology of Italian style, they unpacked the reality of it with ruched iterations opening the show and tight puffer dresses quilted to resemble mediaeval armour — the renaissance undertones heightened by crinolined LBDs and faux-fur doublets elsewhere. Mixed into that throbbing soundtrack was 'La Gatta Cenerentola', a musical fable by Roberto De Simone in Neapolitan language— an adaptation of the original Italian seventeenth-century fairytale that would later become known as Cinderella. In it, laundry maids smack the floors to form the rhythmic beat to their wailing.
A sense of the underdog, of the proletariat and the reality of the not-so-dolce vita, is palpable in the duo's approach, which is coloured by the lens of their radical community of activists, artists and free-thinkers, who they envision as the modern-day heroes and heroines of their own fairytale. At GmbH, Benjamin and Serhat use their platform to propel conversations about queerness, race, religion and second-generation immigrant culture in Europe. Their last collection for their own label explored visual motifs of the Islamic faith, dissecting the problematically black-and-white preconceptions around its relationship to queerness. Meanwhile, their first collection for Trussardi continued where they left off with an inclusive, entirely-BIPOC cast, many of whom wore iterations of hijab-style headscarves. It was a conscious decision, one that might have earned criticism in the hands of less capable designers. But ultimately it served as a rebuttal to the draconian laws being passed in Europe prohibiting hijabs. Here, it was served with aplomb; a bit Grace Jones, a bit Benazir Bhutto. Worn with bare midriffs and abbreviated skirts, it subverted notions of religious modesty.
Given that they are vocal on politics, often canvassing for causes as varied as Free Palestine, Black Lives Matter and LGBTQIA+ refugees, it was only natural that they would be bringing their left-leaning ideology to their new fashion gig. "I think it's almost sneakingly taking over a system," explains Benjamin of their approach, with a look that hints that there's more to come. "You're almost infecting an organisation with your culture". A bit like a Trojan Horse, I suggest, to which the two designers nod in agreement. They have their work cut out for them, after all, not just in reviving a staid house, but in carefully introducing their ethics and politics into a new environment. As anyone who has started a new job knows, you have to pass your probation before you can really shake things up. More so if you're a person of colour who has had to work twice as hard to get that job.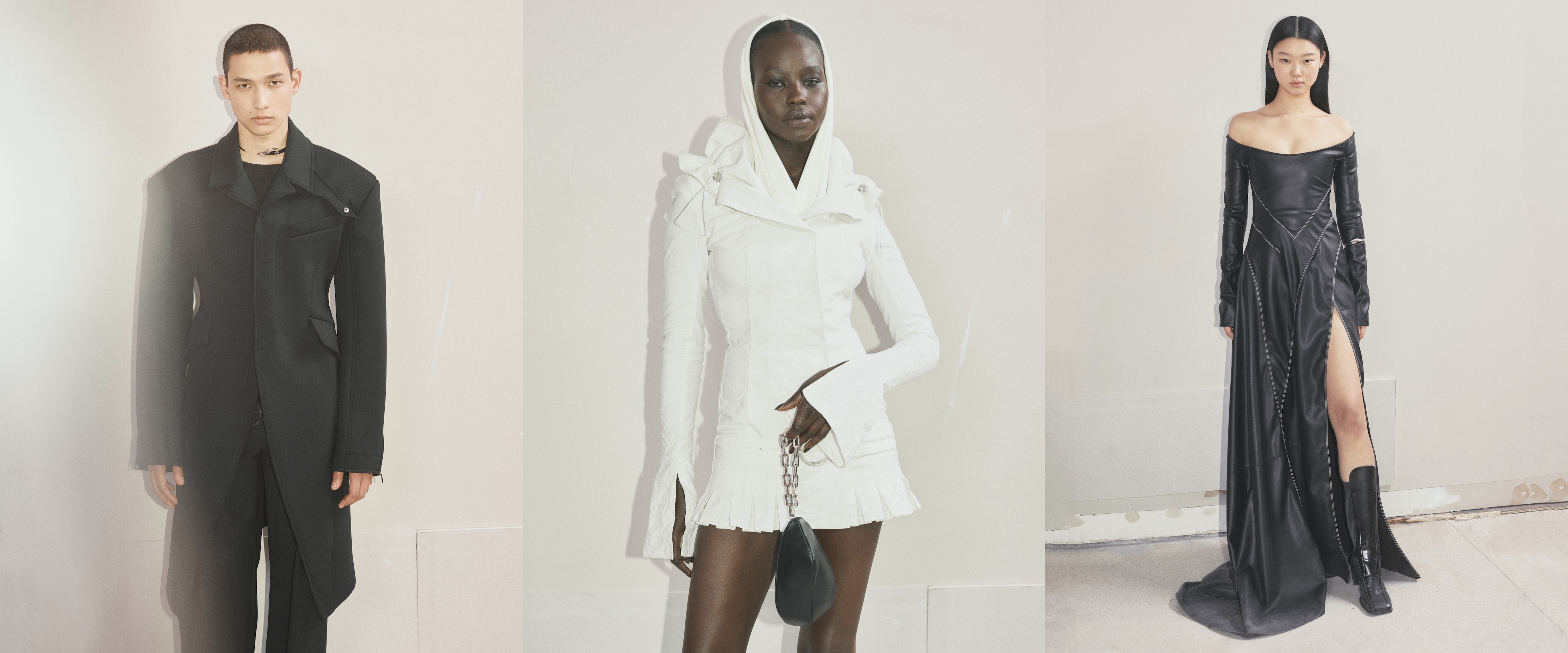 That sense of compromise also applies to the way their designs will be made at Trussardi. Their own label, which they started in 2016, has always had an environmentally-conscious slant. Early collections were made entirely from deadstock and upcycled materials that would have otherwise been dumped in landfills, and they soon after garnered a devoted following for "sustainable sex-club-wear", thanks to batting crafted from recycled plastic bottles, vegan leather made from apple cores, laser-printed denim that avoided bleach and toxic-chemical treatments, and recycled packaging and local production. It's a tougher sell at Trussardi, a house known for its leather and old-fashioned in its approach to manufacturing.
"That's our story, and that's not the same story here, but the values are still the same because we're still the same people," Benjamin assures me. "It's such a big company that makes a lot of products and we're not able to change everything from Day One. I think also, we're kind of assessing how do you replace, in the most sustainable way, some of these leather products." The answer came by avoiding leather ready-to-wear and working with recycled real leather for accessories. Arguably, their very presence at Trussardi — as well as that of the community that surrounds them — is what counts so far. But they're quick to point out that, just like the Trussardi building itself, it's a work in progress. In other words, watch this space.