Gucci's latest collection was a gift sent down from the stars
Presented around an ancient Puglian castle beneath a beaming full moon, 'Gucci Cosmogonie' brimmed with fashion at its most heavenly.
Image courtesy of Gucci
Last night, many of the guests at Gucci's latest travelling show in the Puglian countryside complained about not sleeping well. Perhaps it was the inevitable jetlag that comes with the travelling circus of cruise shows, shuttling between continents far and wide in pursuit of catwalk spectacles, but it turns out there was an altogether more cosmic reason for the widespread insomnia. It was a full moon. Not just any full moon, but a peach-coloured 'flower moon' — named after the blooms of spring — in a full lunar eclipse. Is there anything more Gucci than a moon in full bloom? So, last night, beneath a lunar glow, Alessandro Michele staged one of his best shows yet, and certainly the most magnificent — with an ode to the stars, planets and all things astrological. According to him, it was a complete coincidence that it was a full moon — but then, as with most astrologically-related matters, it could have been fate for Italian fashion's favourite Sagittarius.
Given an entire generation has adopted astrology and horoscopes as a sort of twenty-first-century religion, it couldn't be more prescient — or smarter, given that there's something universal about stargazing, befitting for a brand as global as Gucci with customers of all kinds of religions and races. The show itself was titled 'Gucci Cosmogonie', taking place on a steaming catwalk circling the pockmarked stone walls of the Castel del Monte in Puglia, which Gucci lit up with projections of shooting stars and faraway galaxies. It will go down as one of those unbelievably fabulous fashion moments: a fairytale castle lit up with stars, literal ones and Hollywood ones, under the glow of a scarlet moon! Every guest was gifted an actual star, too, named in their honour. Yes, really.
It felt fittingly eccentric given the story of the venue, which was built in 1240 by the eccentric King Frederick II, who couldn't have been more #GucciGang (check out his 'peacock throne') if he tried. High on a hill surrounded by acres of olive groves and vineyards, the octagonal castle is shrouded in mystery to this day – no one really knows why it was built, whether it was a hunting lodge or a spiritual fortress. Whatever it was, though, it's architecture belies an almost eery devotion to the number eight. Eight walls, eight towers, and endless theories about what it all means: Frederick was quite the maverick, and presided over a court of astrologers, artists, mathematicians and magicians — but he was also known for taking psychedelics. Which probably means that he'd probably have approved of Alessandro's rave-like gathering, a magical parade of Medieval splendour, fit for modern-day kings and queens — even ones who prefer to dress down in worn-in denim or see-through negligées.
This was Gucci at its best — its Gucci-est! Constellations of crystals adorned suits, pagan priestess jewellery jangled from the noses to ears, and trippy Op Art motifs appeared throughout the show, offering a kind of graphic opacity that sliced through all the sparkly yards of floor-sweeping velvet. In typical Michelian fashion, there was a kaleidoscopic blend of time periods, subcultural references and every colour and texture and archetype under the sun. Or moon, for that matter. Often, the collection felt like a completely incidental symphony of visual chords that struck across time — think: Stéphane Mallarmé's Un coup de dés manifested in cloth! Styles to suit every combination of horoscopes! Every model looked unapologetically individualistic, and even among the hundreds of guests, no two in head-to-toe Gucci ever looked the same, which was remarkable given there were so many. It all just laid bare as a delicious buffet of beauty, a feast of fashion with something for everyone: The prima diva! The 9-to-5 office worker! The porn star! The bourgeoise signora! The 70s-obsessed dandy! The Medieval crusader! The poetic punk! Alll of them united in their quest for spiritual and sartorial euphoria. This was a celebration of everyone who really, really loves clothes — who believes in the spiritual power adorning oneself in something to uplift, to express, to exclaim ourselves to the universe.
What's new about that, you ask? Sure, ever since Alessandro took the reins in 2015, Gucci has become a sort of pick-n-mix candy shop, but during his long tenure, he's consistently maintained the momentum of his time-hopping, genre-blurring aesthetic. Sure, there's repetitions and similarities between collections — but there's always something new, whether it's the way something is worn, or the visual motifs that emerge from his unique process, "which operates through the need of putting together constellations of signs and symbols," as he put it during a preview.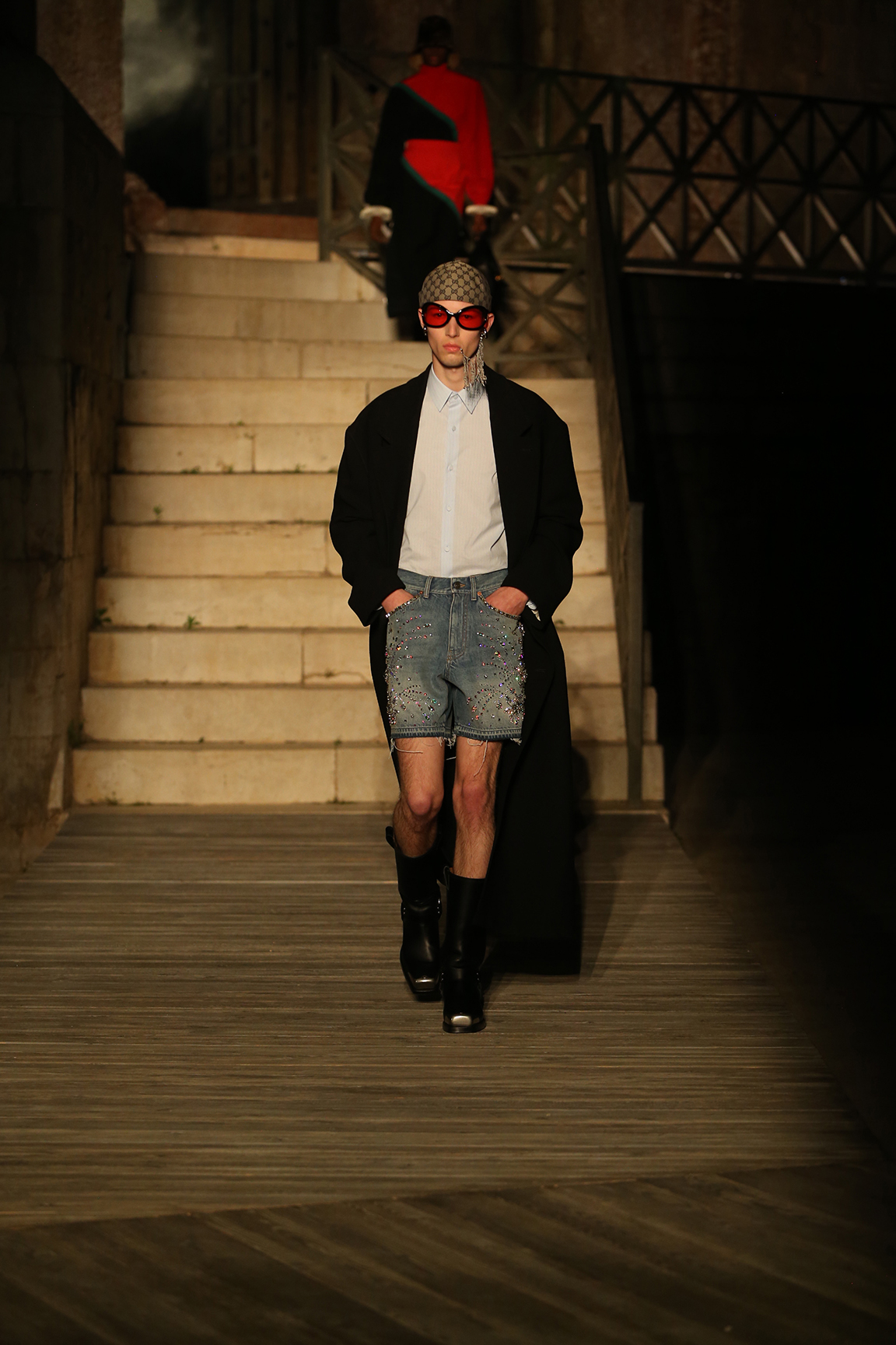 What's really impressive, though, is just how much Alessandro sticks to his guns, consistently finding ways to creatively energise himself with his tried-and-tested recipes. It's the sign of a great designer, one who doesn't need to veer too far away from what they truly believe in. Instead, changes or shifts can be as subtle as a few millimetres — this time, the collection felt moodier, more theatrical, though less kitsch. Despite the eyewatering amount of ornate embellishments, nothing felt superfluous or overwrought. Everything served a purpose, if not functionally then aesthetically. Wide-leg jeans, ripped and worn-in, had just the right amount of rhinestones. Shoulders had the perfect amount of exaggeration, dresses with cut-outs looked sexy without appearing trashy. There was diversity in ideas, enough to satisfy passing trends but good enough to long outlive them. And the tailoring is superb, perhaps some of the best in the business.
Of course, it all comes in the aesthetic blender, a dizzying amount of details to take in in one go. However, look beyond the bright colours and eccentric styling, and you realise that ultimately Alessandro is a traditionalist. Perhaps more than any other designer at a major fashion house right now, he has a deep reverence for history and classicism, for exquisite tailoring and detailed costume design (he learnt to sew from his mother, who was a seamstress at Cinecittà studios, after all). Though he (rightfully) often extolls the need for change, for fashion to evolve and be better, Alessandro is one of the greatest believers in the spiritual powers of fashion, of all its hieroglyphic symbols, its joyous pursuit of beauty, its mythology and legends that are whispered from generation to generation. Just as so many people believe in the power of stars and planets to inform our lives — Alessandro revels in the power of fashion and its rituals to shape ours. It's why he'll be around for a long time to come, continuing to make jaws drop and heartbeats quicken. As the serendipitous full moon showed, that was more or less written in the stars.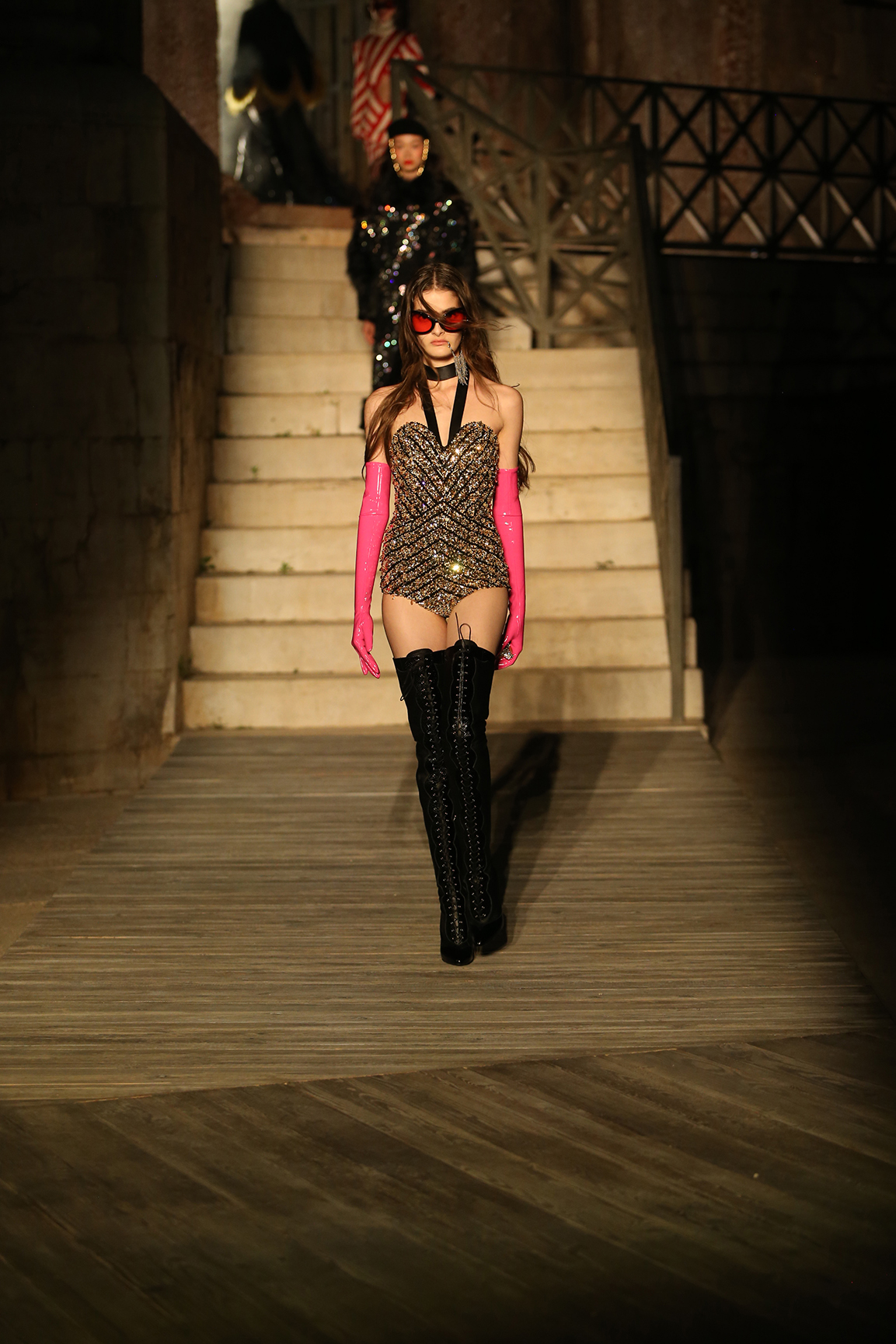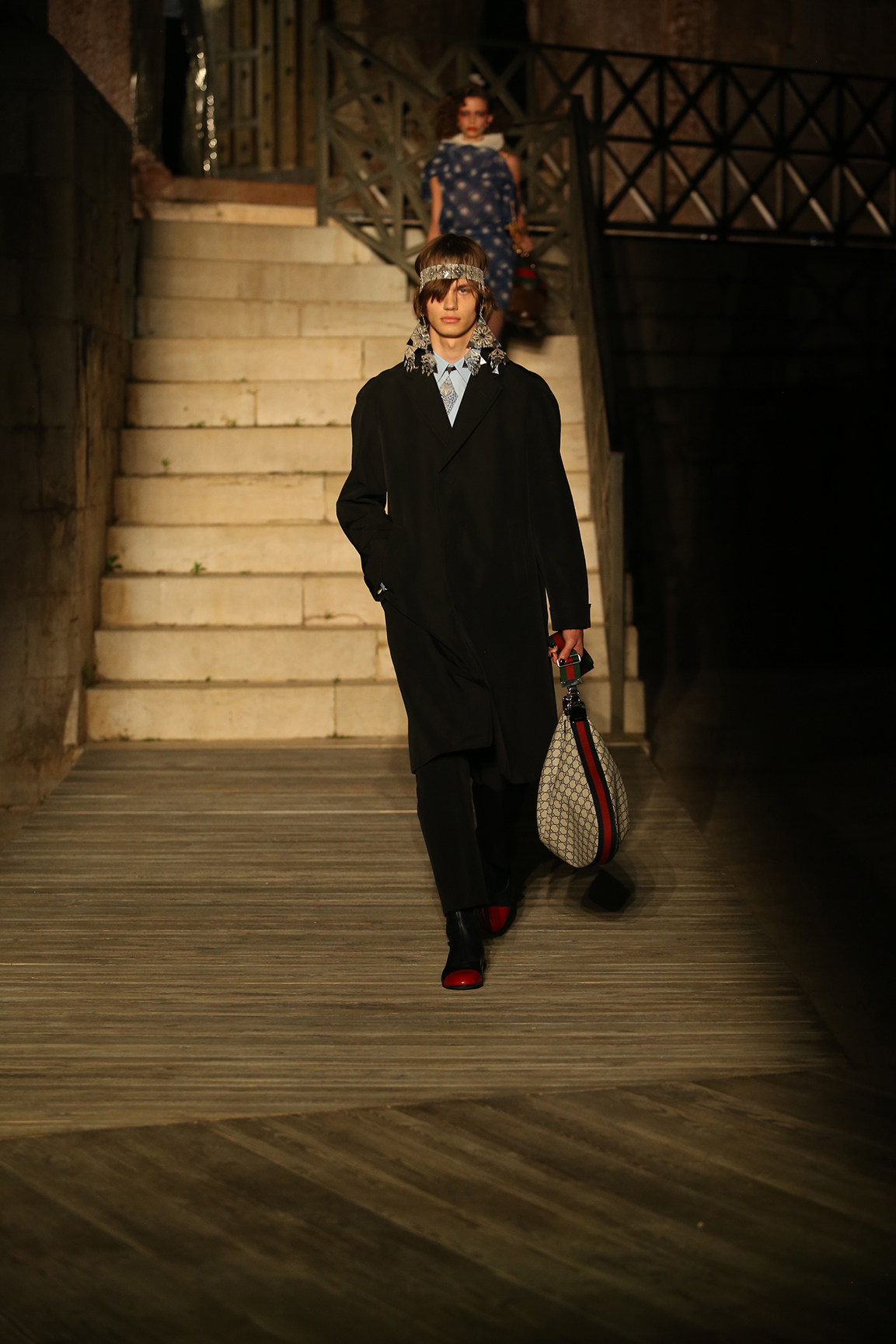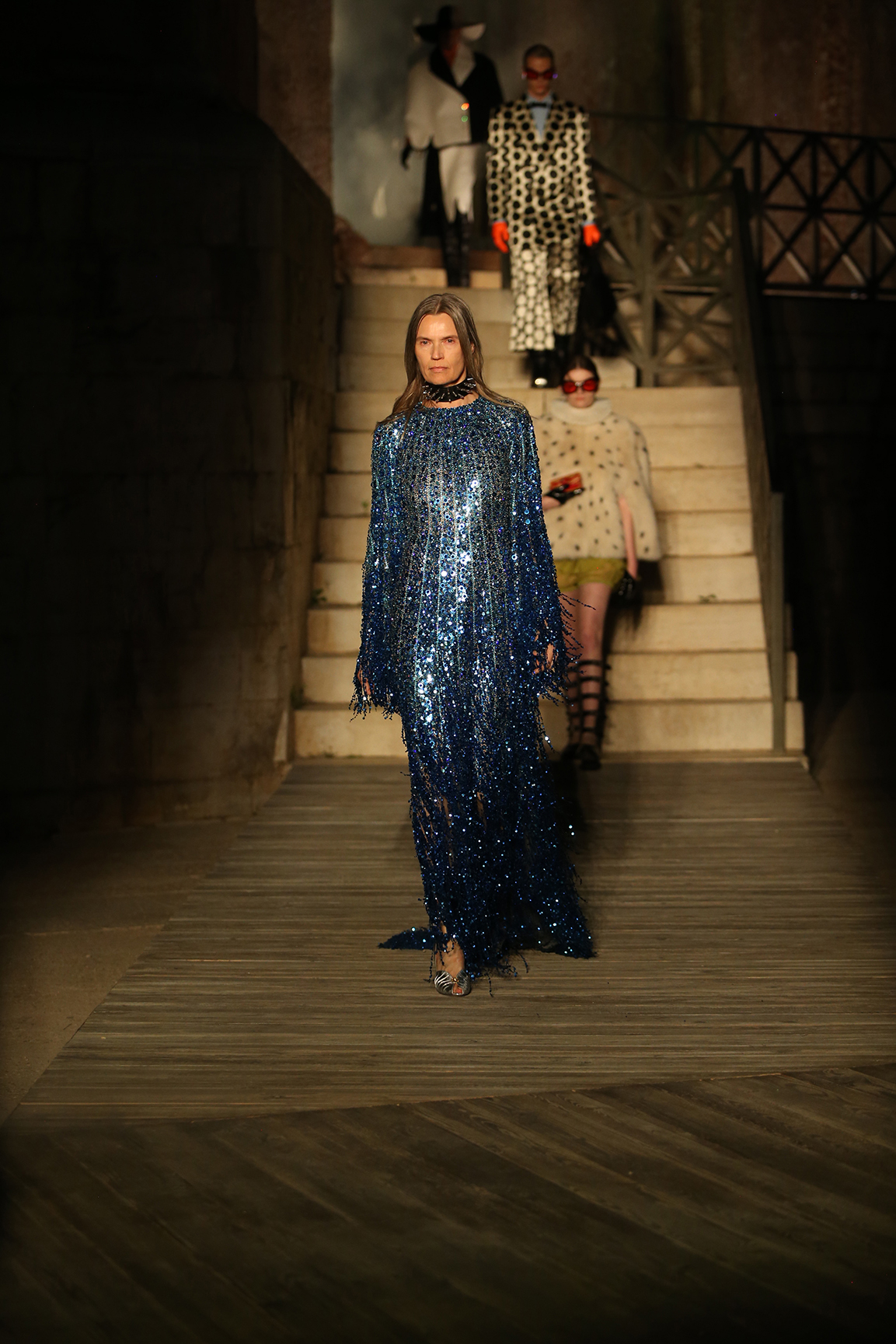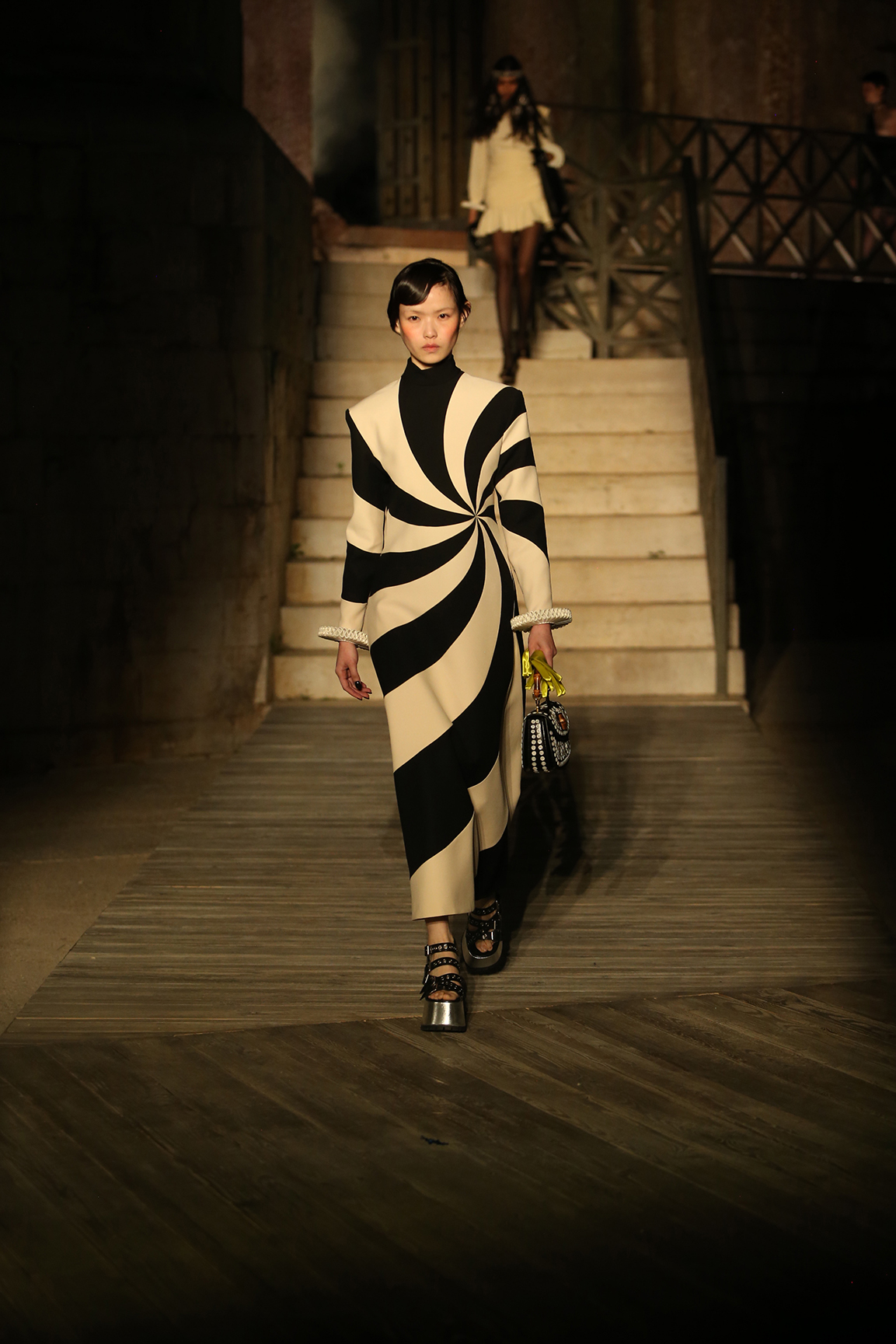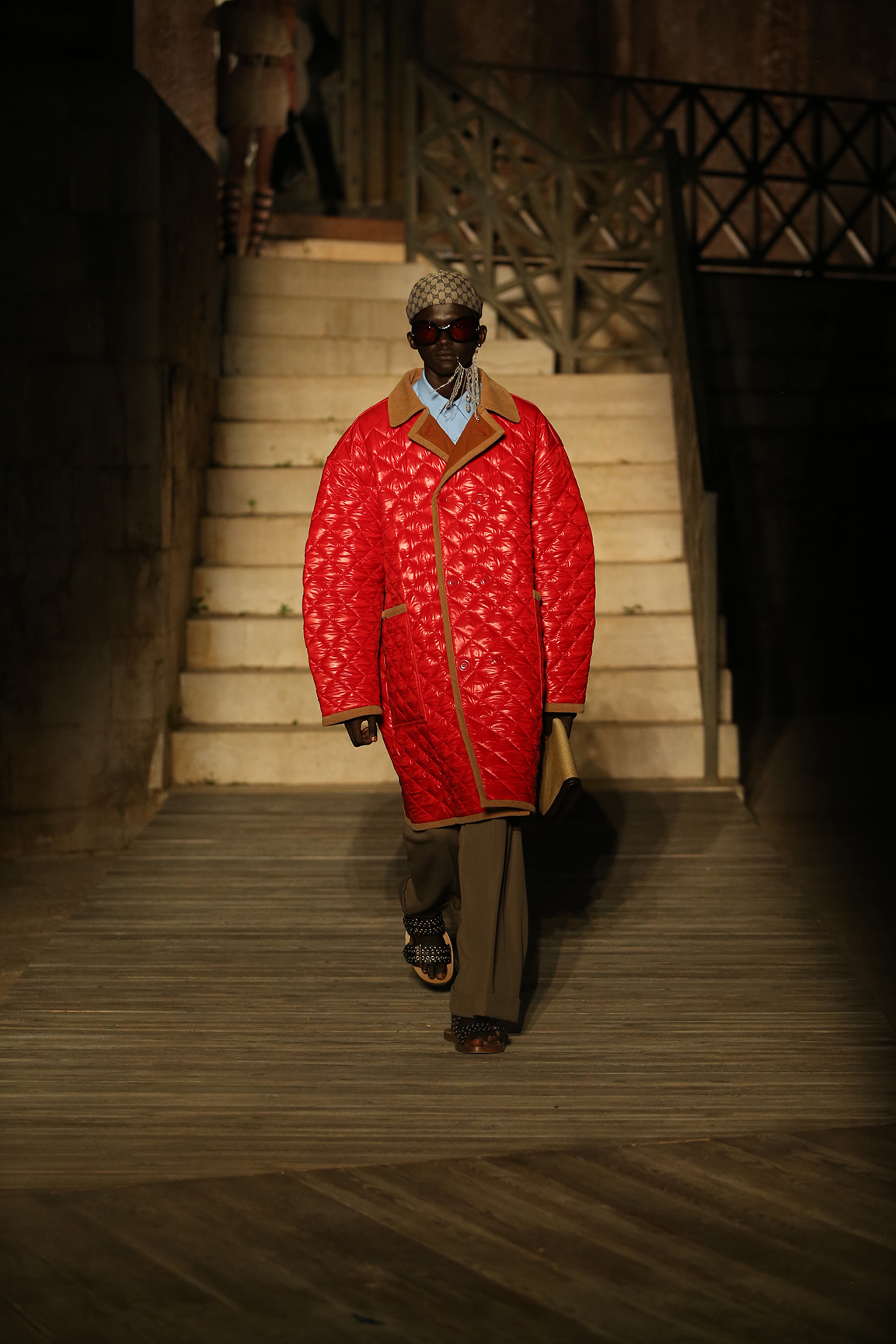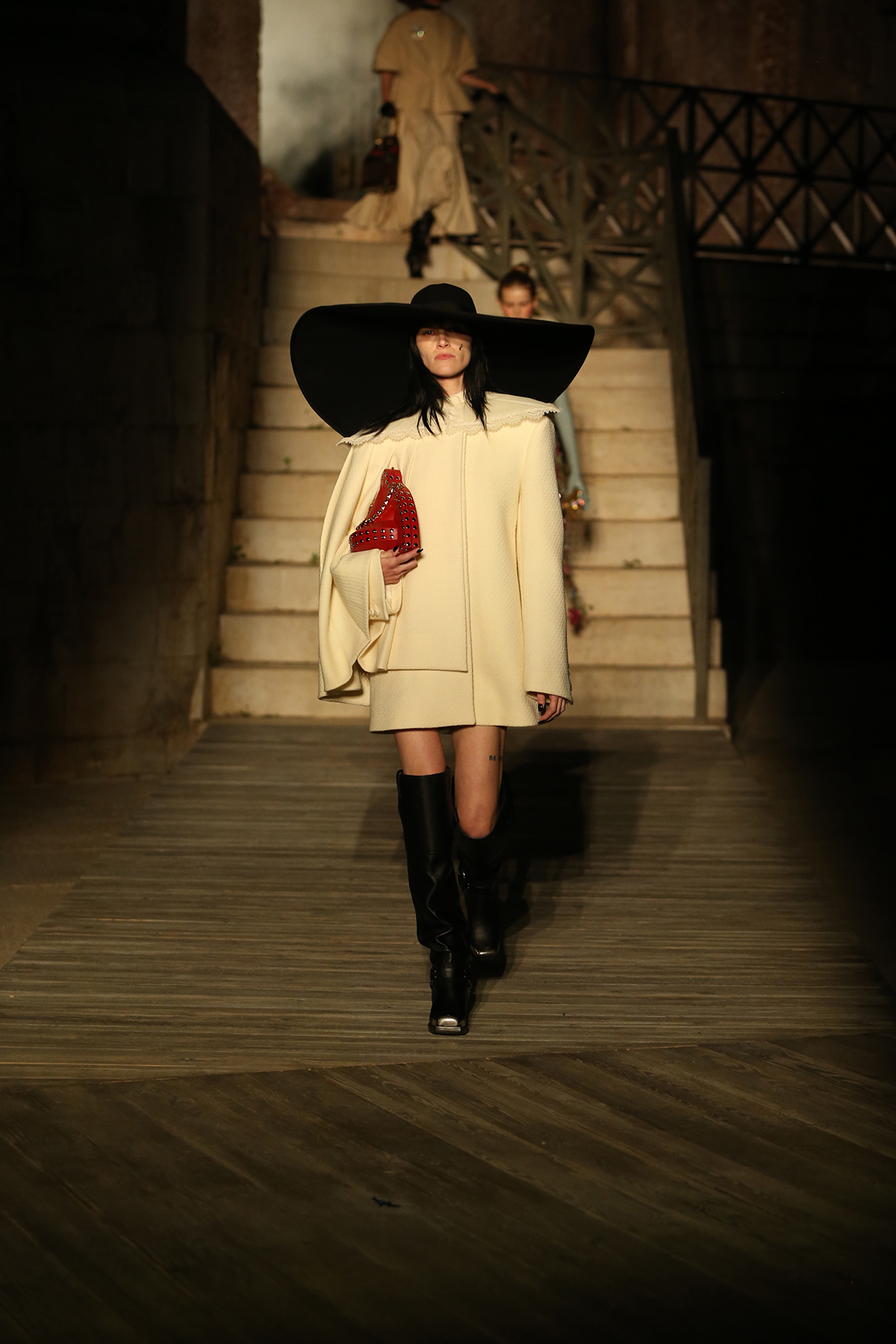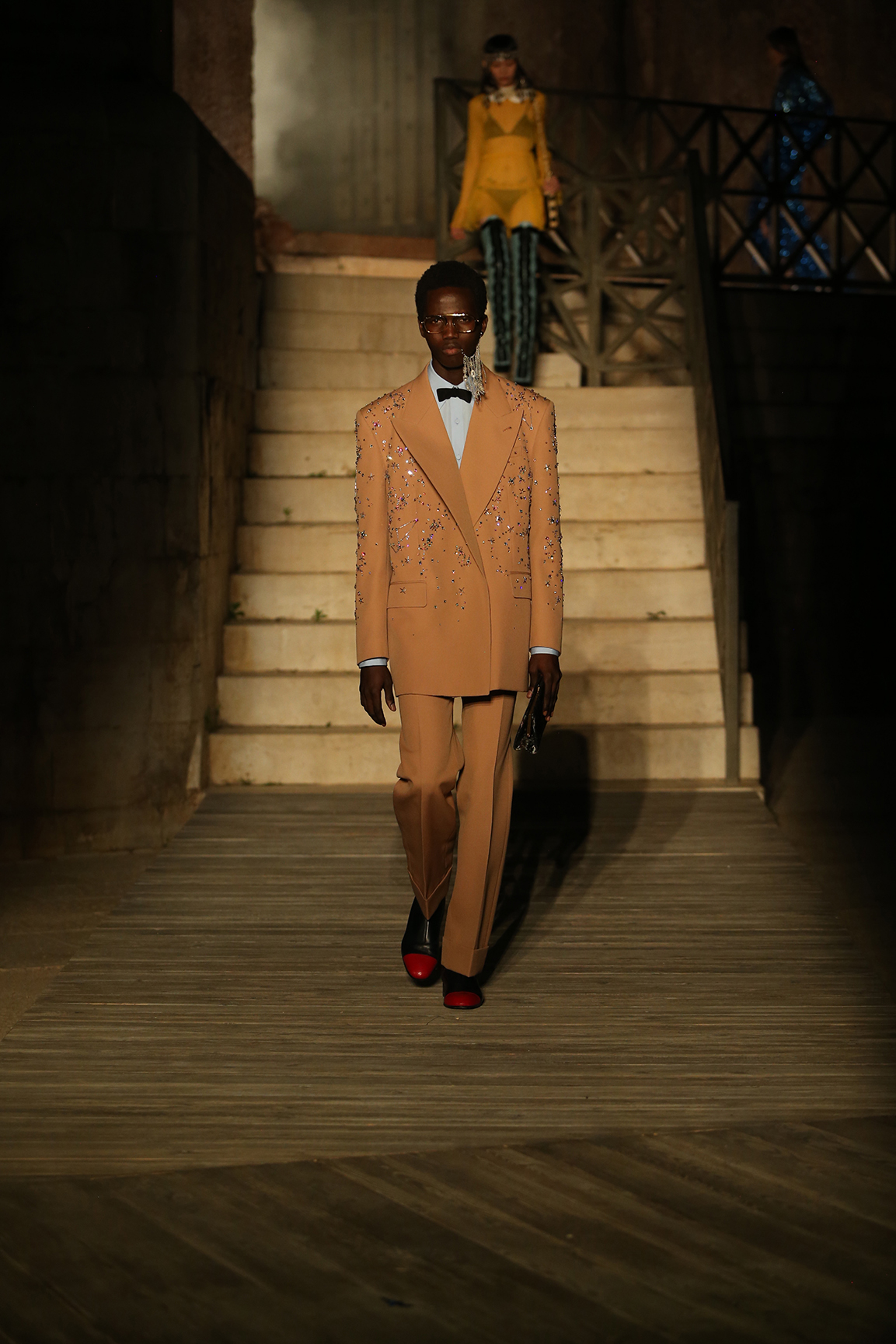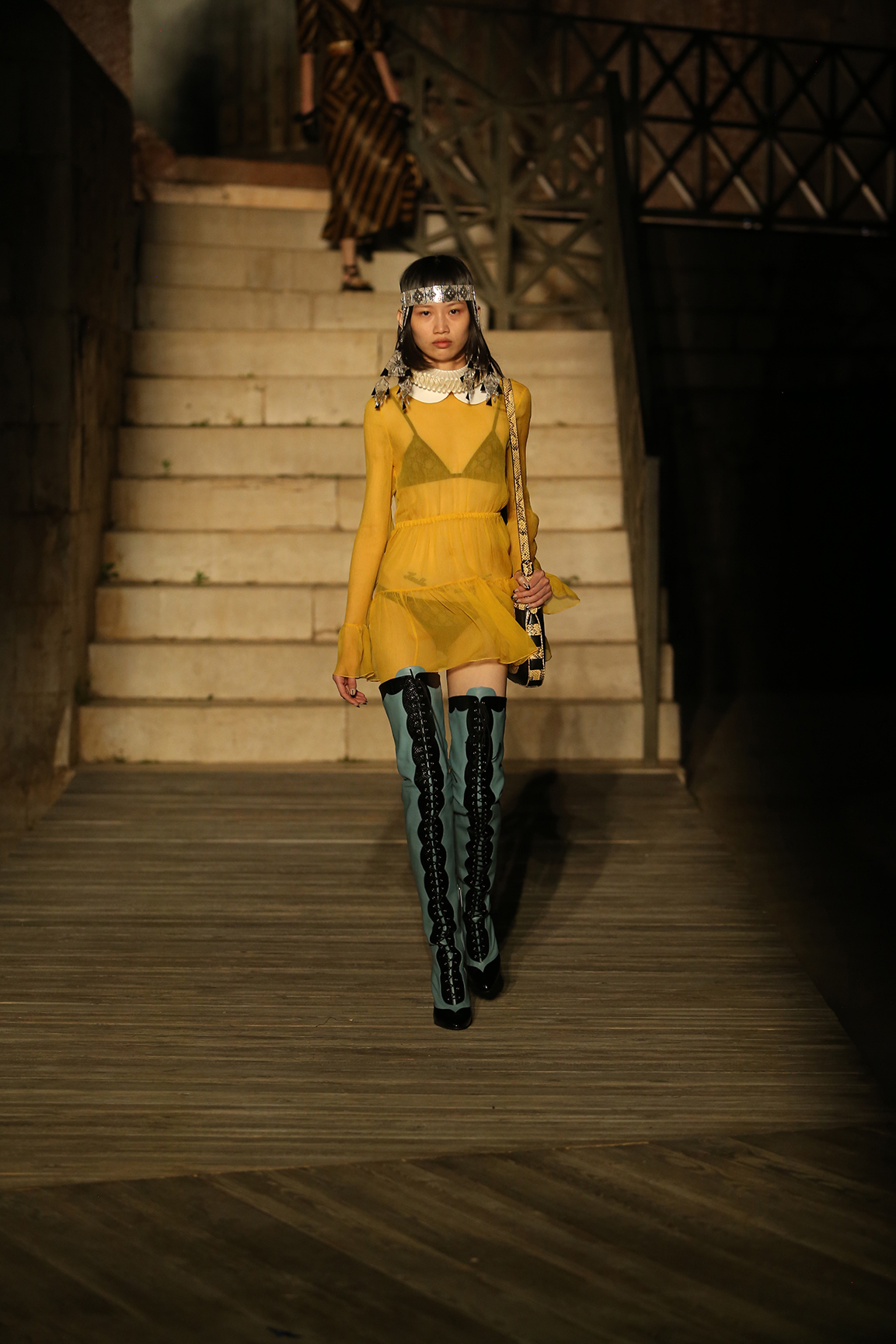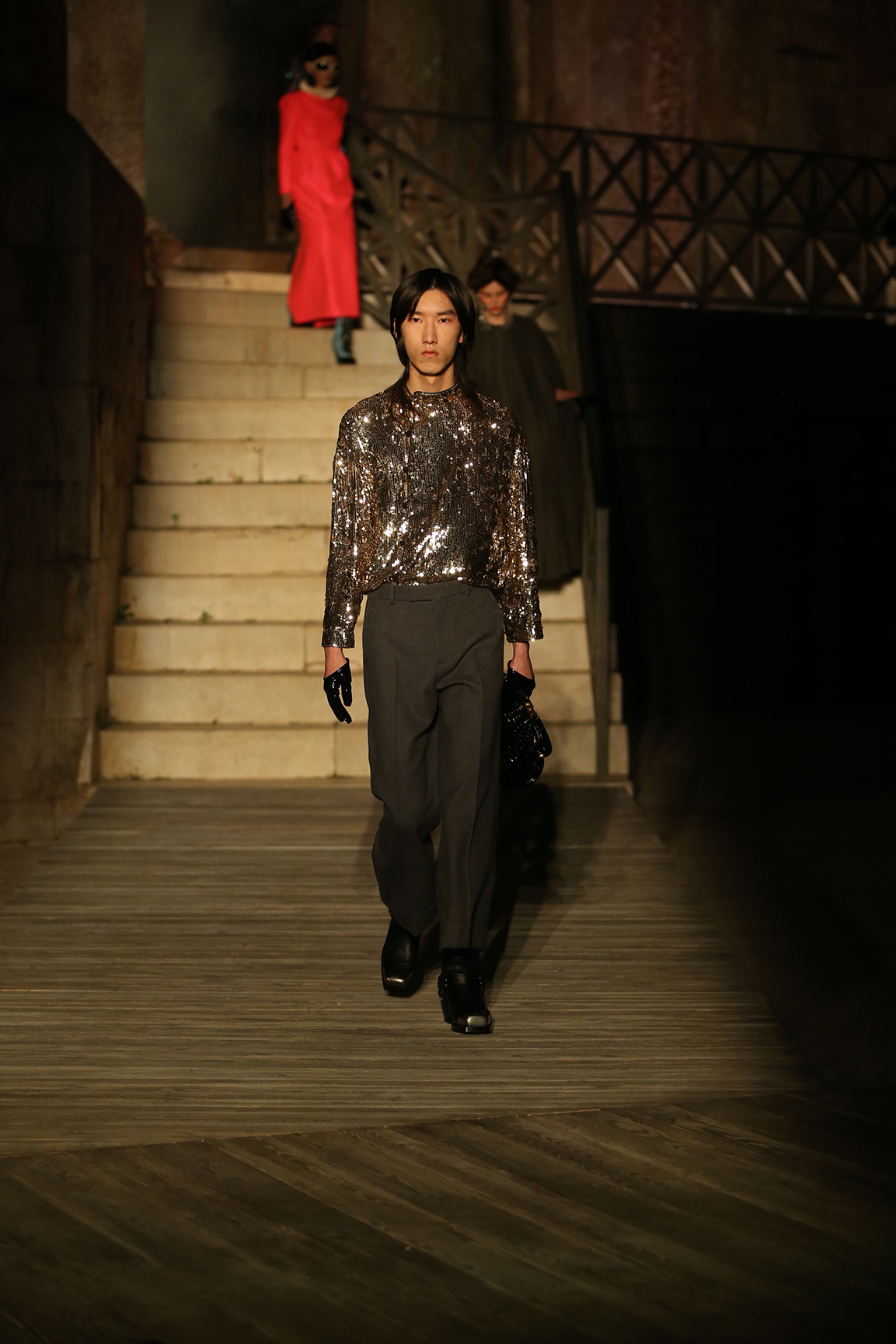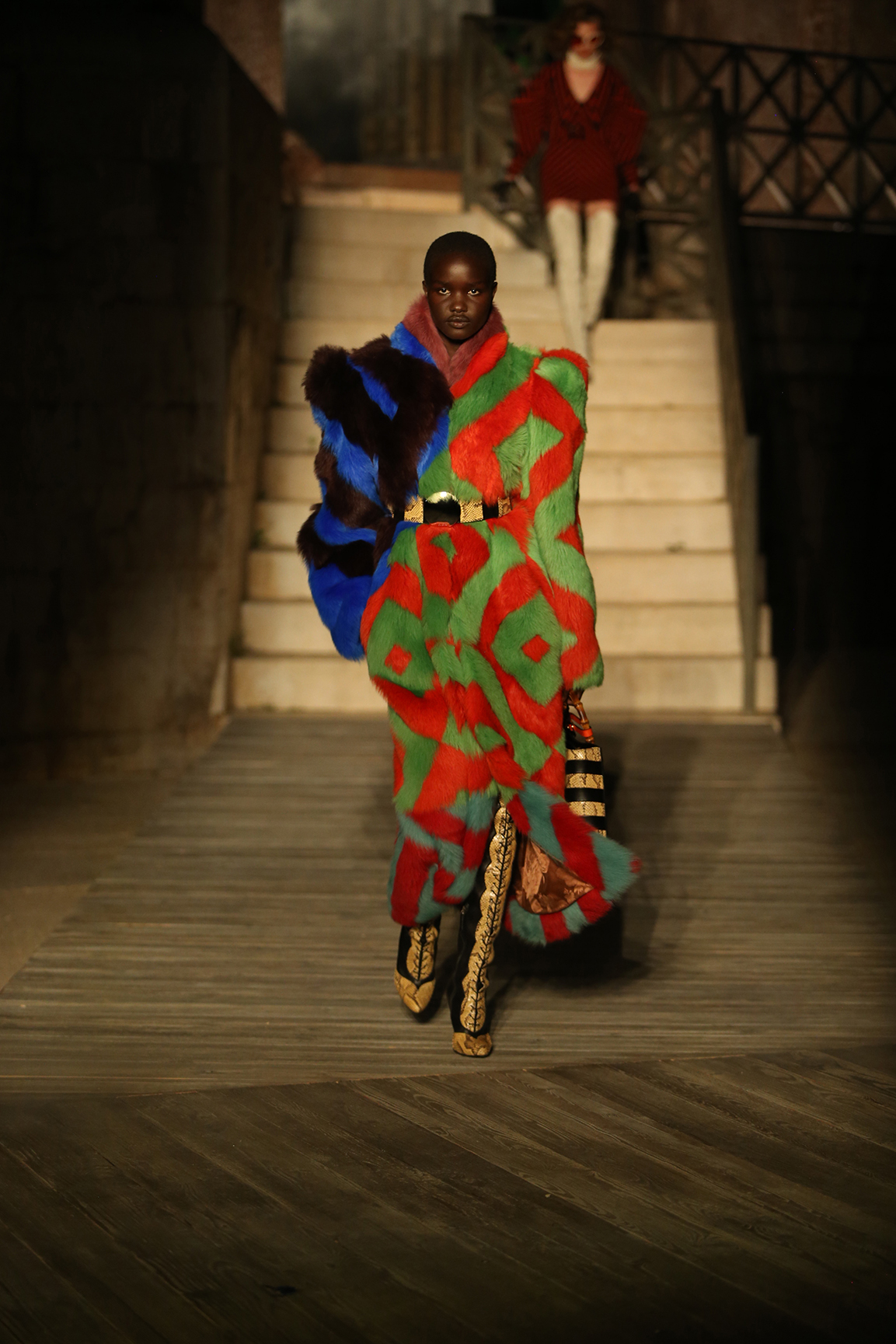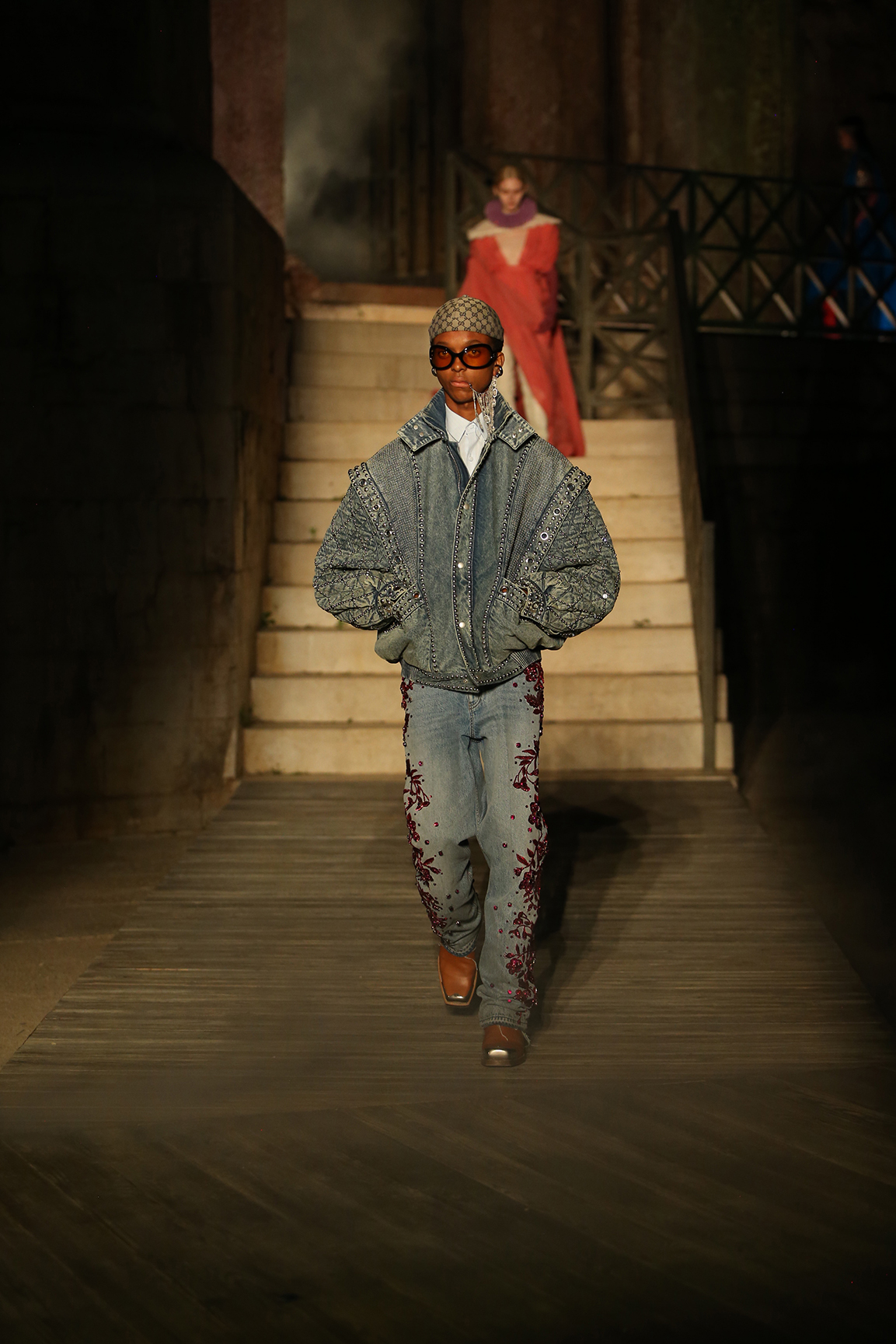 Follow i-D on Instagram and TikTok for more fashion reviews.
Tagged: