The controversial porn drama hitting cinemas this summer
Watch the exclusive new trailer for 'Pleasure', the smart, salacious and critically acclaimed new movie about adult filmmaking.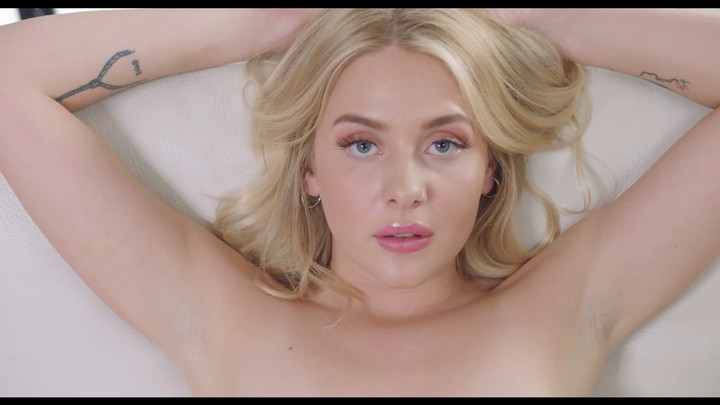 There are roles of a lifetime, and then there's the role of Bella Cherry in Ninja Thyberg's dangerous feature length directorial debut, Pleasure. Played by newcomer Sofia Kappel (who's so good in it she won a Guldbagge last year, the Swedish equivalent of an Oscar), Bella is a young woman from Sweden hellbent on making it as a porn star, and so she makes the journey from her hometown to Los Angeles -- effectively the epicentre of the porn world. There, she learns the tricks of the trade, a mere minnow in a gigantic, male-dominated pond, and realises that, no matter how far her limits can stretch her, there's always someone willing, wanting her to go one step further.
For the past year-and-a-half, Pleasure has been travelling the globe, racking up controversy and catalysing valuable conversations about consent in the porn industry in its wake. The movie -- which premiered at last year's Sundance Film Festival -- is a low-budget indie film loaded with the confrontational bombast of lurid and explicit adult cinema: real porn stars make up much of its cast, the appendages and skin you see is all real.
But it's not for shock value or titillation: this is a film about the harsh realities of a world often viewed through a flattering gloss of perfect bodies and sexual liberation. But in the old fashioned constructs of adult filmmaking -- particularly in Bella's experience -- the reality isn't so rosy. Ninja Thyberg has managed to make a film that is both sex positive and sceptical of the male-built framework of an industry formed around the bodies of women. The question she never answers explicitly is interesting: is this subjugation, or a celebration of personal freedom?
The film has racked up a slew of strong reviews. Thrillist pointed out in their review that Ninja "approaches her subject with such a clinical gaze that it's hard to shake the feeling that she's doing something revolutionary". The New York Times pointed out that "Like Hitchcock, [Ninja] knows how to shock you."
Ahead of its UK release in theatres -- first with special screenings on 15 June and a wider release on 17 June, where it will be available to stream too -- we're giving you an exclusive first look at MUBI's brand new trailer for the project. It's as gripping as the movie it's promoting.