Photo by SGranitz/WireImage, Ron Galella, Ltd./Ron Galella Collection via Getty Images and Jim Spellman/WireImage
7 of Claire Danes' most iconic outfits
From grunge to Miu Miu to the decade's quintessential minimalism, the 'Romeo + Juliet' actress is the ultimate 90s icon.
Photo by SGranitz/WireImage, Ron Galella, Ltd./Ron Galella Collection via Getty Images and Jim Spellman/WireImage
Claire Danes is a bona fide 90s icon. From her 1992 acting debut, Claire starred in some of the decade's most defining and influential films and TV shows, including Baz Luhrmann's avant-garde Romeo + Juliet adaptation and ABC's cult teen drama My So Called Life.
On and off the big (and small!) screens, Claire's style also serves as a survey of 90s fashion: its youth movements, high-fashion trends and buzziest designers. In My So Called Life, Claire's Angela was pure grunge in checkered flannels and cozy slip dresses. While promoting Romeo + Juliet, she was a Miu Miu muse in girlish babydolls straight from the label's runways. By the latter half of the decade, the actress' style had settled into the decade's cool, effortless minimalism in red-carpet knitwear and sleek Narciso Rodriguez separates. To celebrate Claire's birthday, we take a look back at some of her most iconic outfits from the decade that kick started her career.
In My So Called Life, 1994
Claire Danes made her small screen breakthrough at age 15, playing Angela Chase on ABC's teen TV drama My So Called Life. While the show was cancelled after only one season, it has gone on to become a cult classic for its realistic, compassionate portrayal of adolescence and social issues including child abuse, homophobia and homelessness, among others. The show has also garnered a spot within the annals of fashion, as well. With every 90s trend revival, Angela re-emerges as a moodboard staple for her grunge-y style. Think plaid flannels, striped knitwear and baggy, floral slip dresses. Here, during a promotional shoot in the fictional halls of Liberty High School, Claire wears one of Angela's many layered looks.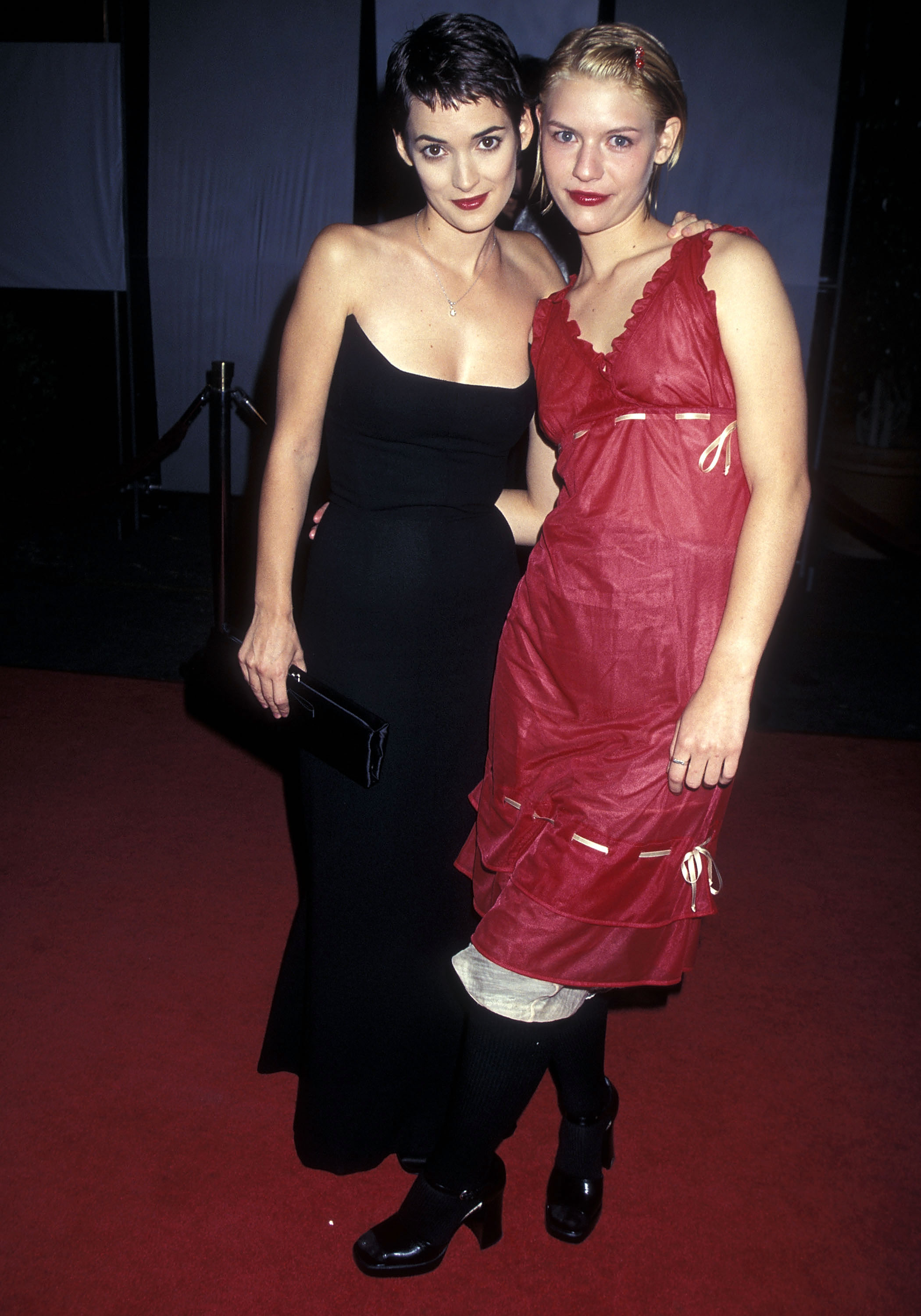 At a benefit ball, 1996
Claire refers to the mid 90s as her "Winona Ryder years." After meeting on the set of 1994's Little Women, the two actresses became fast friends and were frequently photographed together on the red carpets of film premieres and Hollywood benefits. Here, the famous besties attend a ball, Winona wearing a vampy Armani gown and Claire wearing a cutesy look from Miu Miu's AW96 collection topped with a teensy barrette.
In Romeo + Juliet, 1996
Claire kicked off the 90s Shakespeare revival (remember 10 Things I Hate About You and Ethan Hawke's Hamlet?) in Baz Luhrmann's Romeo + Juliet. Set in modern day Verona Beach (rather than Verona, Italy), the movie stars Claire as Juliet opposite Leonardo Dicaprio's Romeo — two star-crossed lovers and heirs to rival business empires. The film retains the original Shakespearian dialogue, and it substitutes swords for guns, hose for board shorts and lute songs for Radiohead. It goes without saying that the film was divisive amongst critics. However, since, it has gone on to become one most iconic and influential Shakespeare adaptations of all time, for its anachronistic setting, highly-stylized visuals and, of course, its costumes. Romeo and his crew wear an enviable selection of Prada Hawaiian shirts. His rivals, in fitted D&G suiting. Mercutio makes a very memorable appearance in glittered brassiere and opera gloves, however, no costume is as iconic as Juliet's Halloween outfit. The angel-winged, slip-dressed look even went on to inspire Euphoria's costume department two decades later.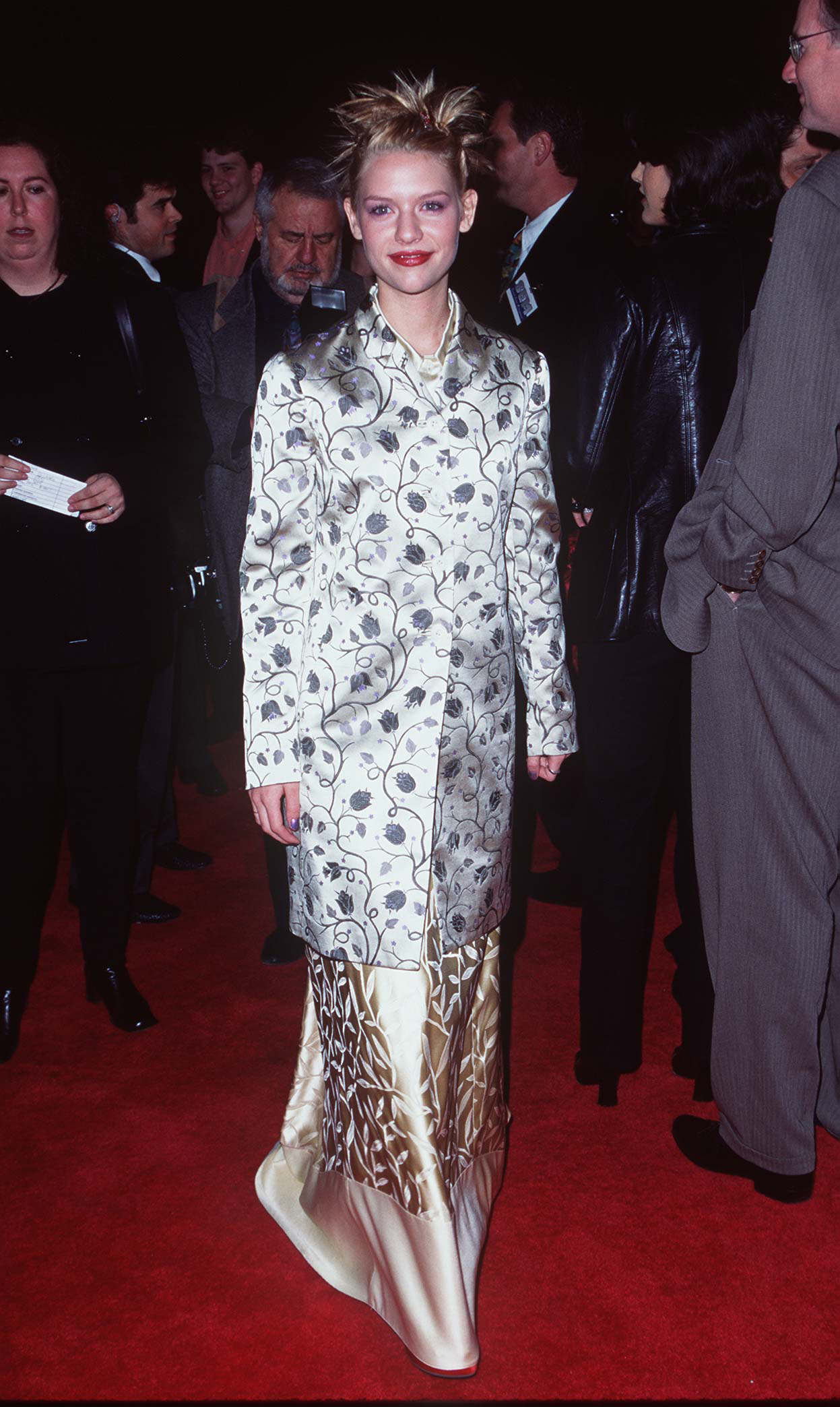 At the Romeo + Juliet premiere, 1996
Claire is a Miu Miu girl through-and-through. The actress' Romeo + Juliet press tour was debecked in the Italian label's girlish gear, including a pair of primdresses from its AW96collection and a floral look from SS97. For the film's LA premiere, the actress switched it up, wearing a patterned ensemble from Miu Miu's sister label, Prada. On the very 90s hair: in 2015, Claire told Allure, "That looks crazy to me now, but how cool."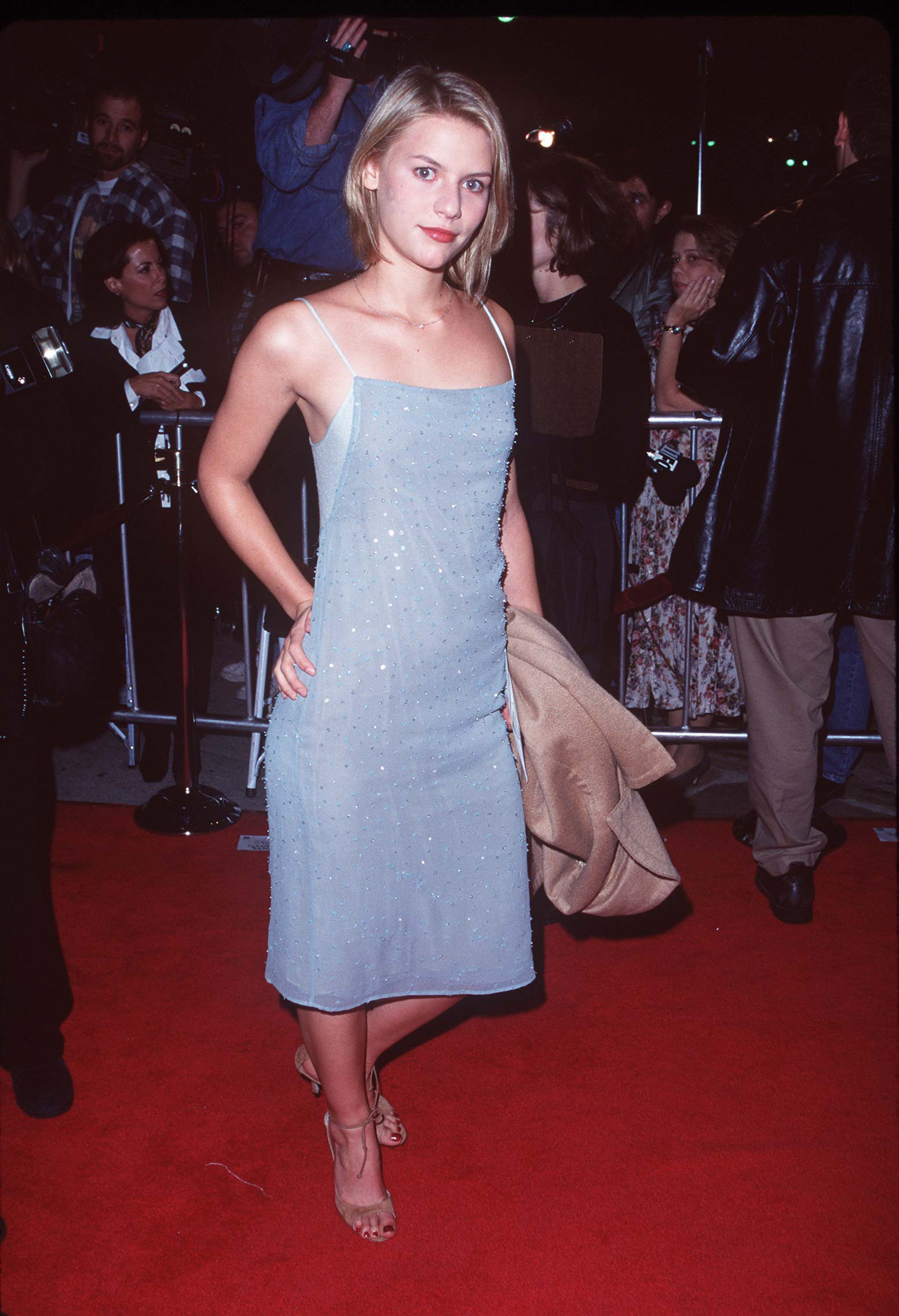 At the Alien Resurrection premiere, 1997
The slip dress was the 90s 'It' girl staple. After wearing the style on screen in My So Called Life and Romeo + Juliet, Claire made it her own with this pastel blue beaded number, worn to the Alien Resurrection premiere in support of her BFF, Winona.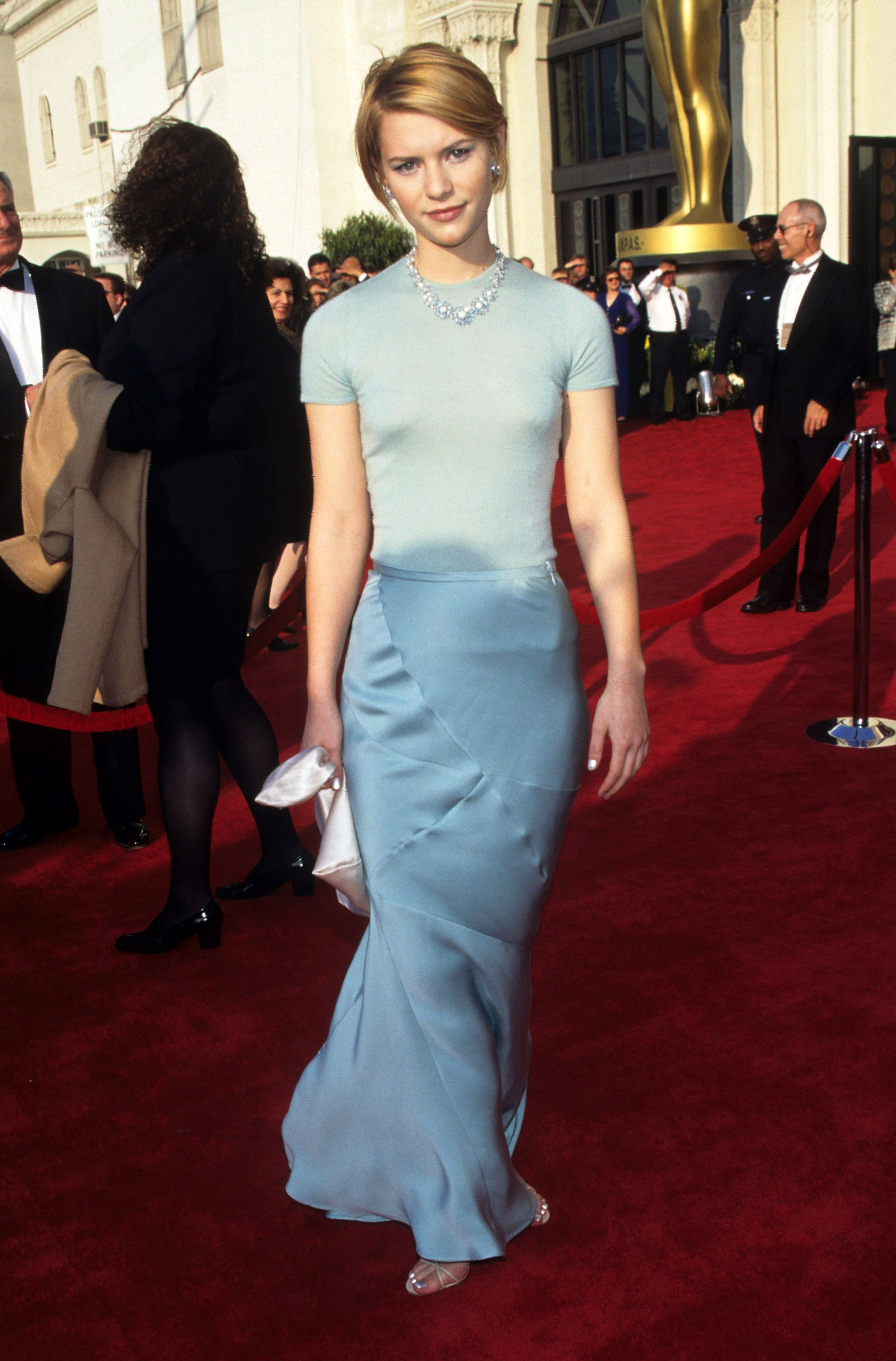 At the Academy Awards, 1997
Evidently, 1997 was Claire's personal "blue period." In 1997, Claire brought a bit of casual elegance to the Oscars red carpet in this baby blue Cerruti by Narciso Rodriguez ensemble.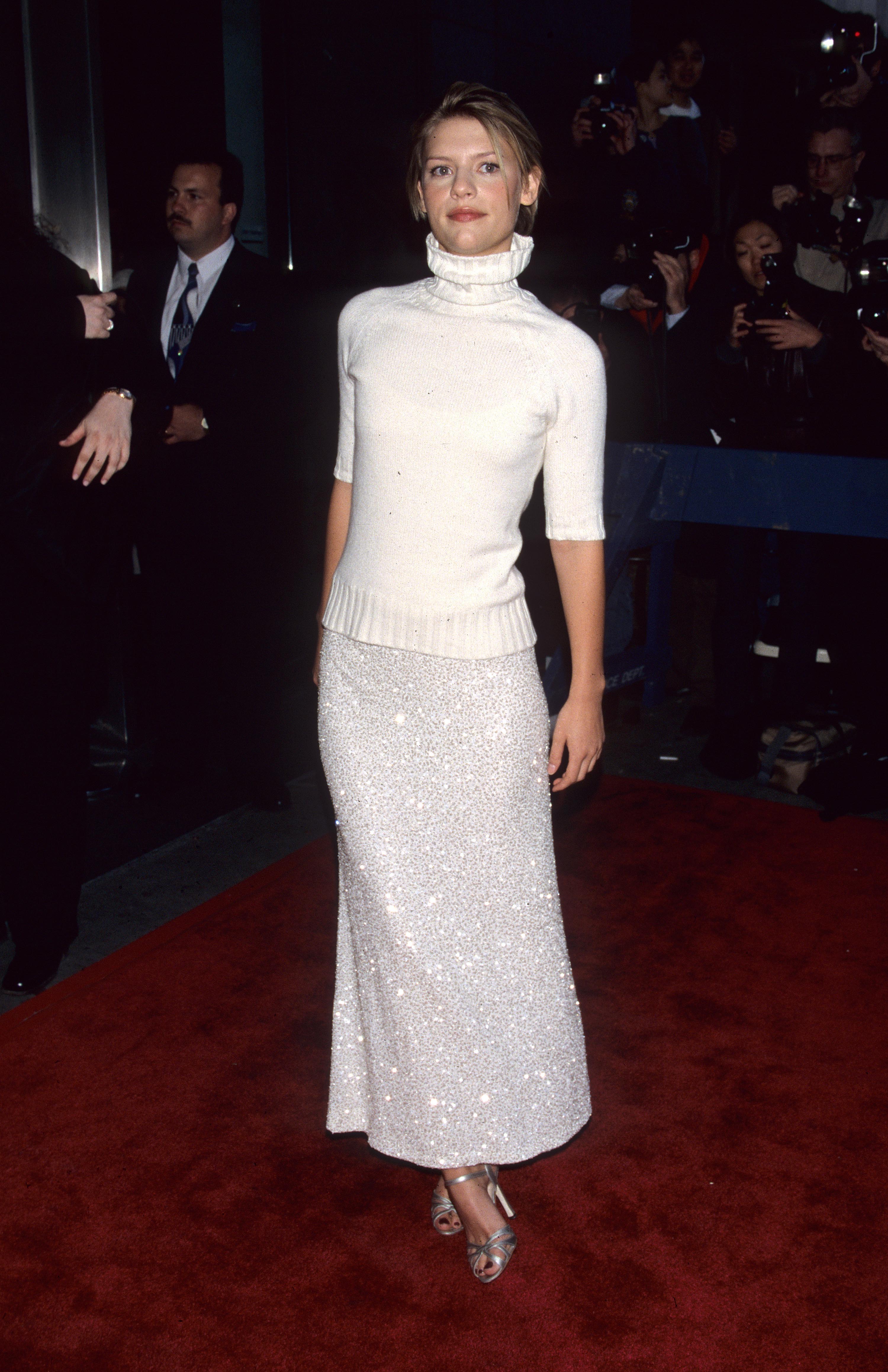 At the premiere of Les Misérables, 1998
Fine knits, intricate beading, column skirts — we're seeing a trend here. To the premiere of 1998's Les Misérables adaptation, where Claire starred as Cosette, the actress took her luxe separates dressing to its pinnacle, pairing a chunky, short-sleeved turtleneck with an intricately beaded skirt. Very 90s — and very Claire.
Tagged: