Image courtesy of Louis Vuitton
Louis Vuitton SS22 is an ode to the birth of rave culture (and Goldie)
Virgil Abloh's SS22 menswear collection for Louis Vuitton was inspired by the most-sampled six seconds of music.
Image courtesy of Louis Vuitton
There's a lot to unpack in Virgil Abloh's cinematic showcase of his new Louis Vuitton SS22 menswear collection. Firstly, it is a film — but before you close this tab in fear of boredom — rest assured, it's an epic Tarantino-esque production with a cast of legendary stars including GZA, Goldie, Saul Williams, Jim Joe and Lupe Fiasco. Directed by Mahfuz Sultan, it explores "the act of passing something from one person to another, activating waves of change across generations, and impacting the lives of others," according to the show notes. In other words, it's about generational tension, and the bridges between past and present, hip-hop and rave, community leaders and young rebels.
Titled 'Amen Break', after the six-second drum loop that is one the most-sampled pieces of music and a foundational backbone for early hip-hop, drum and bass and jungle, the collection has a rich, conceptual story behind it. A bit of background: the loop originated in the track "Amen, Brother" by the funk-soul group The Winstons, released as the B-side of the single "Color Him Father" in 1969. But it wasn't until 1986, when it was part of the sample compilation album, Ultimate Breaks & Beats that it hit the mainstream, going on to reappear in over 1,500 songs across all kinds of genres — from Wu-Tang Clan and NWA to David Bowie and Oasis.
Sampling is all about making new things from old, and nothing could be more apt for Virgil's approach to fashion design. As artist Nate Harrison describes in his 2004 audio installation Can I Get An Amen?, the history of the Amen Break harks back to a period where cultural production "was full of possibilities by virtue of being able to freely appropriate from the musical past to make new combinations and thus new meanings".
Virgil is all about crate-digging the past — even if it's not too distant, and sometimes controversial — to create fashion in the same way that a DJ matches two disparate tracks. For this collection, he looked to rave culture and the impact Goldie's Metalheadz label had on popular culture; riffing on the psychedelic sportswear and bright graphics (the headphone-wearing skull symbol appears throughout, itself a knowing reinterpretation of the Wolverhampton Wanderers F.C. club logo) and fusing it with traditional European tailoring and karate-inspired uniforms.
Yes, karate uniforms. Here's another bit of backstory vital to the collection: the life of Lupe Fiasco's father, Gregory Jaco. According to the show notes, the film's narrative is an interpretation of the story of Lupe and his father, who lived in the Southside of Chicago (Virgil's hometown) amid the gang violence of the 70s and 80s. Gregory was an African drummer and Black Panther who organised martial arts studies as an alternative path for vulnerable young people in the area. "By employing the philosophical values of martial arts as a solution to the problem, [he] impacted a generation of kids with ideas of peace, understanding and empowerment," read the notes. "A local legend, his work in the community served to neutralise archetypical preconceptions and open a gateway of opportunity previously obscure."
Hopefully, it's all starting to make sense now. But what about the clothes? Well, there were a lot of them, but perhaps they're not as important as the overall concept. Instead, they became costumes for characters, symbols of generational divides and a reminder that everything and anything can be spliced together for the sake of fashion.
Since joining Louis Vuitton, Virgil has been experimenting with and hybridising the codes of ultra-luxe tailoring and streetwear. His LV collections always combine elements of both, collaged together in the postmodern bricolage that Virgil has made his calling card. Here, these collaged crowds walking though the space were a pleasure to watch; a reminder that clothes are about tribalism; sartorial ciphers for communities.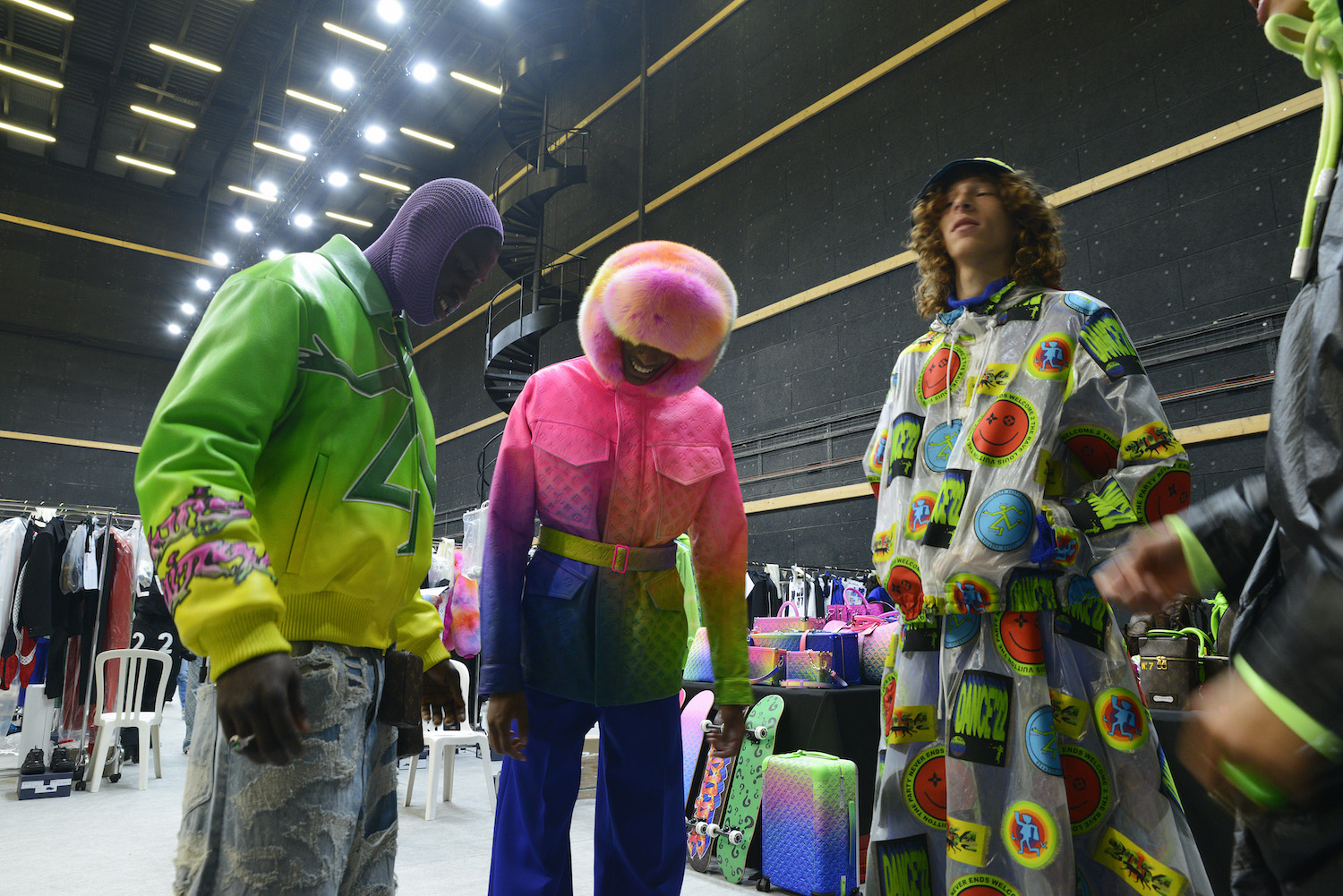 There were elders in elegant tailoring and wide-brimmed top hats, their blazers cinched at the waist by robe fastenings. Youngsters in roomy rave-inspired sportswear, jackets made from 90s Metalheadz flyers (made in LV's Paris ateliers no less) and psychedelic tie-dye hoodies, day-glo neons, and kaleidoscopic sunglasses. Rave, and specifically jungle, was a key point of reference for Virgil. Goldie even made an appearance as one of the film's main characters in a panelled cobalt tracksuit, while the models (many of them dancers, actors and musicians) all carried holographic monogrammed LV bags, adorned with graffiti-esque artwork by Jim Joe.
If Gen-Z killed the sartorial archetype, then 80s and 90s subcultures are arguably the last remaining vestiges of clothes with true meaning, so it's little wonder they're perennial sources of inspiration for designers like Virgil. But even back then, they were appropriated from the past to create memetic imagery long before it could proliferate on social media — and though the original rave flyers were disposable, they became symbols of a time and a place and an attitude.
While these may not be clothes to wear to an actual rave by actual ravers (at least not legally, right now) they serve as a reminder that fashion can be a powerful conduit for telling stories, borrowing from the look of the past but also educating a contemporary audience about those origins. Case in point: "Amen Break", originally just a B-side, is now an important part of pop culture history. And what's the difference between sampling and plagiarism? Acknowledgement and inclusion, two things that Virgil has introduced to his canon of house classics at Louis Vuitton.