LVMH is buying Off-White
The world's largest luxury conglomerate is a majority stake in the house that Virgil Abloh built.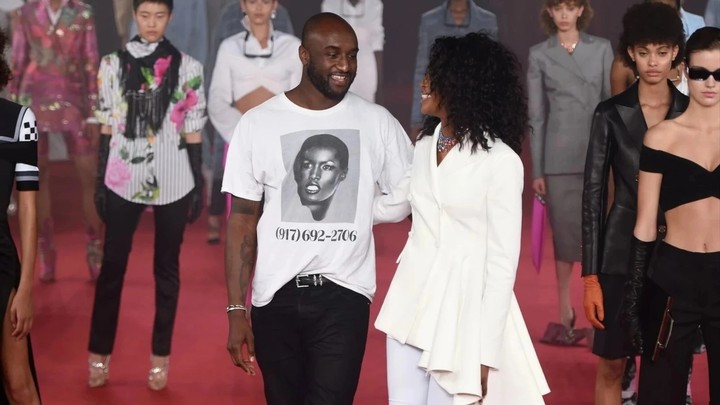 Photography Mitchell Sams
It's no secret that people are 'revenge shopping' in their droves, splashing their hard-earned cash in an attempt to buy back the time lost to a year of international lockdowns. While most of us would settle for a new bag or a coat we've been eyeing up, Bernard Arnault, the chairman of LVMH, has gone much bigger in scale with his purchases. After last week's announcement that he'd taken a minority stake in Phoebe Philo's forthcoming namesake venture, it has today been revealed that the world's largest luxury conglomerate is set to snap up a 60 per cent stake in Virgil Abloh's Off-White.
While the precise terms of the takeover have not been disclosed, it's safe to say that the majority interest in the brand -- which some have estimated to be worth around $170 million in annual revenues -- will cost the world's second-richest man a pretty penny.
Surprising as the announcement may be -- especially given that Off-White has long been the jewel in the crown of its current owners, the Farfetch-owned New Guards Group -- it's a move that makes a good amount of sense. Virgil's relationship with LVMH is both well-publicised and intimate -- as you're probably well aware if you're reading this, he currently serves as the artistic director of Louis Vuitton Men's, among the most high profile creative positions within the LVMH stable of luxury megabrands. It's also of major cultural significance, making Virgil "the most powerful Black executive at the most powerful luxury goods group in the world", as Vanessa Friedman put in in her feature for The New York Times.
Under the terms of the takeover, he'll be remaining both in his role at Louis Vuitton and at the creative helm of Off-White, and will also be holding on to a 40 per cent slice of the label he founded. A pretty sweet deal, if you ask us, and an indication that Virgil is here to stay.
What's more, while details remain scant, it also seems that the remit of his responsibilities at LVMH will be expanding. According to an article published this morning on The Business of Fashion, Virgil will be working alongside the "to launch new brands and energise existing ones, within and beyond its fashion holdings". What exactly that means or will look like remains to be seen, of course, but if what he's managed to pull off in his time running the respective shows at Louis Vuitton and Off-White is anything to go by, there's more than enough cause to get excited.
Tagged: