Everything you need to know about Bella Poarch and Build A Bitch
The 24-year-old viral sensation is coming up in a big way with her major label debut - here's everything you need to know about Bella Poarch.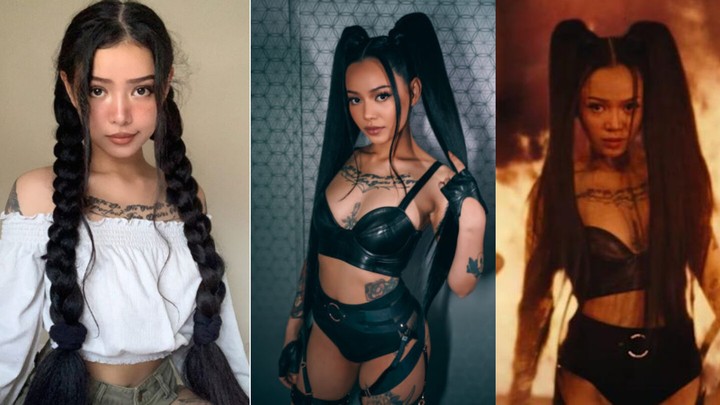 Image via TikTok/Warner
If you're looking for a modern-day Cinderella story, but replacing the glass slippers and a horse and carriage with over 70 million TikTok followers and a debut major label single to match, then look no further than Bella Poarch.
The 24-year-old Filipino American has amassed massive success on the video-sharing app – she's currently the third-most followed creator on TikTok, behind Charli D'Amelio and Addison Rae, naturally.
But Bella is also making big gains away from TikTok, with the release of her major label debut single, the bratty 'Build A Bitch'.
Who is Bella Poarch?
Bella Poarch is a 24-year-old Filipino American, hailing from Texas, where she was raised from the age of 13. A veteran of the US Navy, Bella joined in 2015 and was stationed out in Japan for several years, before returning home and setting her sights on viral stardom.
She first came to prominence on TikTok, joining in January of 2020 and by that August had already created the most-liked video on the entire platform, a lip-sync to rap classic 'Sophie Aspen Send' by legendary British MC Millie B.
At the time of writing, it's still the most-liked video on TikTok, with 49.4 million likes so far.
But Bella's story doesn't even stop there. While she seemed for a time to adhere to a typical E-Girl persona, something deeper seemed to be scratching to come out beneath the surface. She was a popstar in the making all along.
In May of 2021 it was announced that Bella had signed with Warner Records, and so we come to her most defining moment so far: 'Build A Bitch'.
What is Build A Bitch?
'Build A Bitch', Bella's debut single as a recording artist under Warner, is a candy-coated pop track, where the singer coos over the unrealistic standards men hold women to.
"This ain't build a bitch," she states in the songs nursery-rhyme chorus. "You don't get to pick and choose."
The track was inspired, she said, by the hate she received online and her efforts to "[help] people feel more confident in themselves and not judge anyone else."
In the provocative video for the track, Bella is seen being constructed like a doll in a factory, before staging a revolution ala Westworld and leading herself to freedom.
In a statement to Billboard, Bella stated that some of her favourite artists included Prince, Madonna and Dua Lipa. And while you can hear shades of Madonna and certainly Dua on the track, it's clearly also influenced by other viral pop artists like Melanie Martinez and Doja Cat too.
Since its debut on 14 May, the track has seen a sharp rise to not just viral fame but also recognition outside of the TikTok bubble too. Its Bella's first charting single on both the US Billboard Hot 100 (where it's currently sitting at Number 58) and the UK's Official Singles Chart (where it jumped to Number 32, becoming her first Top 40 hit in the country).
Build A Bitch is available to stream now via Warner.
Tagged: