Black merfolk and retrofuturism: what i-D loved this week
Also: can an app get you high?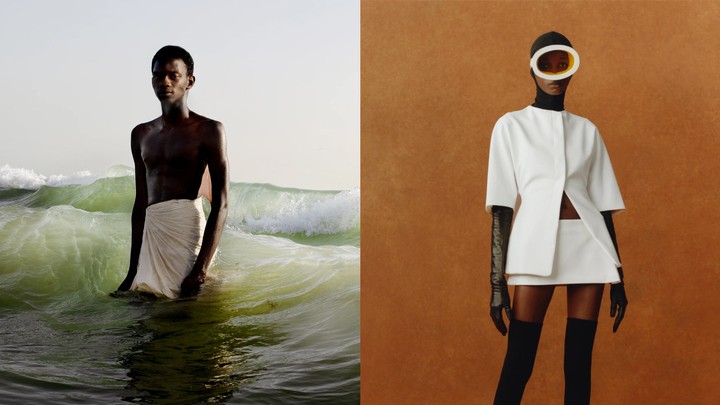 L: David Ozuchukwu; R: Marc Hibbert, courtesy of Fashion East
In i-D Loves, we look back upon the last seven days in our calendar and pinpoint the pieces that best represent the current moment. No matter what you're in the mood for this weekend -- tech-fuelled acid trips and searing photo stories -- we've got you covered. Here's what i-D loved this week.
**David Ozuchukwu's world of mythical Black merfolk
**A childhood fascination with mermaids has culminated in a years-long series for photographer David Ozuchukwu. Since 2016, he has drawn parallels between water and race in his pictures that form a strange seabound fantasy and folklore around Black bodies. Read his story and see these fantastical images here.
**In memory of Alber Elbaz
**Last weekend, former Lanvin stalwart Alber Elbaz passed away at the age of 59, leaving behind an almighty legacy across fashion. In this eulogy, writer Dominic Cadogan reflects on the designer's decades-long imprint in the industry, his friendship with legends like Karl Lagerfeld and his latest venture AZ Factory. Need to get up to speed with his personal history or keen to look back upon his life as a longtime admirer? Read our tribute to him here.
**Missing the trip? These apps could get you high instead
**If you've spent much of the past year craving some sort of out-of-body experience while locked indoors and have been too skint to delve into hallucinogens, your next trip might just be in your app store. Here, writer Abby Moss explores the semantics of how, or if, this process works, and whether it could be your answer to spiritual enlightenment.
Inside Europe's forgotten conflict In 2019, photographer JJ Lorenzo visited south-eastern Ukraine, landing in a district known as Donbas that, at the time, was processing the ongoing conflict between Ukranian and Russian forces. He captured images of what life is like for the people there. You can see them and read about his experiences here.
**Fashion turns to retrofuturism so we all feel a bit less shit
**Fashion likes to look forward sometimes, often predicting the future. But even when they were a little off the mark, designers still understood how imperative the idea of dreaming was. Today's designers are looking back to that time when the future looked bright: promises of boundless space travel and technological advancements guaranteed to make life easier. Here's how they're channeling that into their new collections.
Follow i-D on Instagram and TikTok for more of what we love.
Tagged: