Everything we know about Lorde's album Solar Power
From her fashion in the music video to teasers for the album to come, here's what we know about Lorde's long-awaited new era.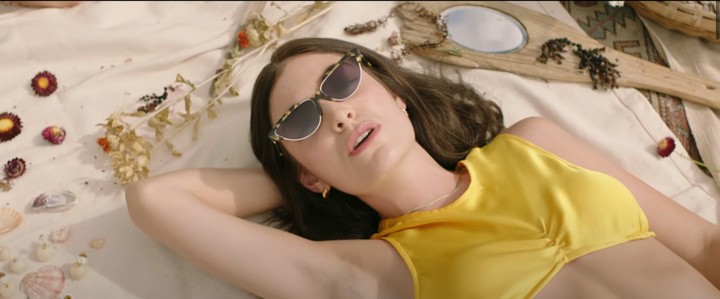 Universal Music
It has been over four years since Lorde released her last album — the critically acclaimed Melodrama — and now she's finally back! Today, the singer dropped the first single from her forthcoming new third record, Solar Power.
In an email sent to her fans, her only way of reaching out to them since her Melodrama tour wrapped in 2018, Lorde explained the origins of the new record. She called it "a celebration of the natural world, an attempt at immortalising the deep, transcendent feelings I have when I'm outdoors."
She added: "In times of deep heartache, grief, deep love, or confusion, I look to the natural world for answers. I've learnt to breathe out and tune in." The album, she said, "is what came through".
But back to the single, for which the artwork was teased days prior to the song's release. The image features a low angle shot of (presumably) Lorde frolicking across the beach with legs for miles, ass cheeks on show and a sunny yellow top.
So what is there to know about the iconic Lordussy photo, the new single and the forthcoming era it ushers in? Here's all you need to know about Solar Power, the single and the album.
What's Lorde's song Solar Power about?
As a track, Solar Power is about that first hit of summer, Lorde said in her newsletter. "It's about that infectious, flirtatious summer energy that takes hold of us all, come June (or December, if you're a Southern Hemisphere baby like me but I know that's literally IMPOSSIBLE for you all to wrap your little heads around so don't worry about it!!!)." Wow, she really did call the entire Northern Hemisphere dumb bitches. And you know what? We'll let her.
The Solar Power cover was taken by Lorde's BFFs
For the artwork of her comeback single Lorde enlisted the help of long-time close friend Ophelia Mikkelson Jones and her partner Ryder Jones. The New Zealand based artists and photographers have been spotted out and about with Lorde since 2016 and honestly, it's not surprising they're behind the photograph. Who else are you going to get but your BFF to lie on the ground and take pics of your ass? In an Instagram story Ophelia confirmed the picture was their handiwork saying "photograph for dearest friend @lordemusic love you" bookended with sun emojis. Very cute.
Fans thought they may not even be Lorde's cheeks!
Before Lorde clarified in her newsletter that they were, in fact, her cheeks, some fans were questioning whether they'd been duped by a doppelgänger on the cover. One stan asked on the Lorde subreddit: "Wait I'm so confused. Is that actually her ass?"
According to the conspiracy, the photo is actually of model Carlotta Kohl who recently provided her butt for a shoot with St. Vincent. We're not sure who is doing the forensic analysis on Carlotta/Lorde's derrière but go off!
Who directed the Solar Power video?
Lorde's "Solar Power" video seems like some kind of beautiful, beach-side Midsommar cult, and we're obsessed with it. It was directed by her old collaborator Joel Kefali, who famously worked on the video for "Royals" with her. What's more, Lorde co-directed the video too!
What is Lorde wearing in the Solar Power video?
Styled by celebrity fashion powerhouse Karla Welch (who counts Justin Bieber and Olivia Wilde as fellow clients) and Karen Inderbitzen-Waller, Lorde wore Collina Strada. Hillary Taymour's New York-based brand focuses on the importance of sustainable production, which ties in nicely to the ecological message at the album's core.
Jack Antonoff co-produced the song
We know that Lorde has been working with Frank Ocean fave Malay on this record as well as reuniting with her Melodrama co-writer and producer Jack Antonoff. "Jack came over to work in the studio in Auckland, and I went to LA," she said in a newsletter. "It flowed. A thing started to take shape. And then, of course, the world shut down." She added that they continued to work together during the pandemic over FaceTime.
Jack — who also produced Lana Del Rey's Norman Fuckin' Rockwell and Taylor Swift's Folklore and Evermore — was announced as the co-producer of the track by Lorde in her newsletter. So now we know!
Is that Phoebe Bridgers and Clairo on background vocals?
Yes! The track does contain backing vocals from our queens Phoebe Bridgers and Clairo. Clairo, in fact, also dropped new music on the same day as "Solar Power", with her track "Blouse".
In the announcement for her new album Sling, Clairo thanked Lorde for contributing backing vocals to the track. We love queens that share talent!
Solar Power is the name of the single, and her third album
While speaking about her upcoming photobook about a trip to Antarctica, Lorde told Newshub: "I actually decided on the album name right around that trip. Just coming back from that trip I thought: 'This is what it is.'". In that case "Solar Power" sounds like it'll be a record about climate change, but also, based on "Solar Power's" sunny feel, not entirely despondent. The Hot Lorde Summer is incoming.