R Patz's Batman has gone neo-noir, in case you couldn't tell
No, really, they're going for a darker take on the character this time.
|
17 October 2021, 11:09am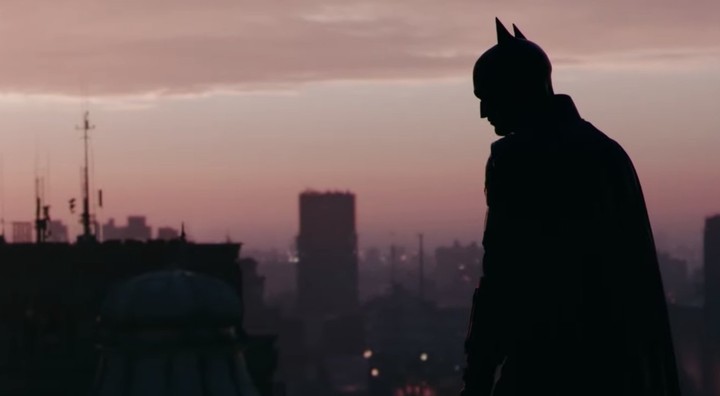 Image via trailer, courtesy of Warner Bros
The first full trailer for Matt Reeves' take on The Batman with Robert Pattinson has dropped and it's gone neo-noir, in case you couldn't already tell.
Finally set for release next year on 4 March, The Batman also stars Zoë Kravitz as Selina Kyle/Catwoman, Paul Dano as The Riddler and Colin Farrell as The Penguin.
Reeves' take on the Batman character and universe as a whole has always seemed indebted to film noir and neo-noir, and if anything the new trailer deepens that connection. Much in the same way that Christopher Nolan's Batman movies used epic crime sagas like Heat to dissect the corruption in Gothan city on macro-level, Reeves seems to be doing the same but from a darker playbook. Shot mostly in darkness, Gotham looks less like a bustling modern city beset by corruption and greed, and more like an ancient city of the damned, like Sodom or Gomorrah.
From the first look in the trailer, David Fincher's Seven and Roman Polanski's Chinatown seem like the most obvious visual and narrative references for what's going on. Plot details are sparse at this point - but we do know the story will follow Bruce Wayne as he investigates corruption in Gotham City that has links to his own family, while facing off against Dano's Riddler, who seems to be less Jim Carrey and more Zodiac Killer/John Doe this time around.
More impressive still is the introduction we get to Zoë's take on Catwoman. From a shot of her coming out of a car, knee-length boots first to her coquettish dialogue with Batman ("maybe we're not so different…who are you under there?") everyone's favourite homicidal cat burglar seems to have been re-cast as a modern-day femme fatale. Think Gilda, but with shit to do. What was that about being too urban for a Batman film, again?
The Batman will arrive next year amongst some heavy expectations. Not only is it looking to re-boot the character after Ben Affleck's patchy tenure in Zack Snyder's Justice League films, but it's looking to kickstart an entirely new cinematic universe as well. Two spin-off series - following the Gothan city police, Wire style and The Penguin - are also in the works for streaming service HBO Max. Not only that, but apparently R Patz, Zoe et. al have signed on for a trilogy of films.
"Fear is a tool," we here Batman say in the trailer. So maybe the fear of failure with push this film to darker, more depraved heights.