Everything we know about R Patz's neo-noir Batman movie
He's the 'dirty', 'slimy' Dark Knight we all deserve.
|
21 February 2022, 10:15am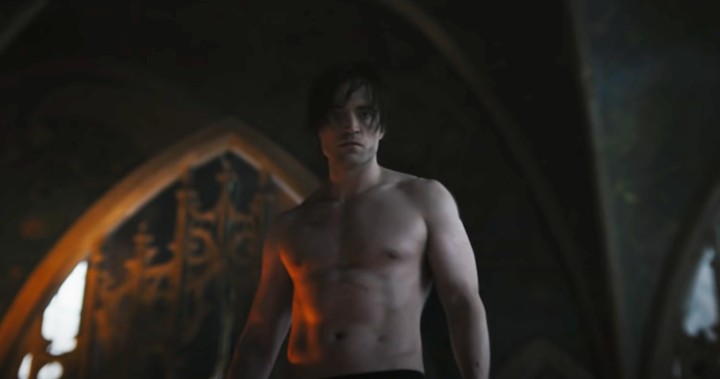 Matt Reeves' take on The Batman with Robert Pattinson will arrive in two weeks with some heavy expectations. Not only is it looking to reboot the character after Ben Affleck's patchy tenure in Zack Snyder's infamous Justice League movies, but it looks to kickstart an entirely new cinematic universe as well: Both R-Patz and Zoë Kravitz (as Selina Kyle/Catwoman) have signed on for a trilogy of films.
Two spin-off series — following the Gotham City police, and The Penguin respectively — are also in the works for streaming service HBO Max. No word on whether Danny DeVito will reprise his iconic and villainous role in the latter, but he's apparently open to it. God bless.
Now without any further ado, here's everything we know so far about The Batman.
Where can I watch a trailer for The Batman? Is there a plot summary?
Right here! From the first look in the trailer, David Fincher's Seven and Roman Polanski's Chinatown seem like the most obvious visual and narrative references for what's going on. Plot details are sparse at this point — but we do know the story will follow Bruce Wayne as he investigates corruption in Gotham City that has links to his own family, while facing off against The Riddler, who seems to be less Jim Carrey and more Zodiac Killer/John Doe this time around.
More impressive still is the introduction we get to Zoë's take on Catwoman. From a shot of her coming out of a car, knee-length boots first, to her coquettish dialogue with Batman ("maybe we're not so different…who are you under there?") everyone's favourite homicidal cat burglar seems to have been re-cast as a modern-day femme fatale. Think Gilda, but with shit to do. What was that about being too urban for a Batman film again?
During the NBA All-Star Weekend on 20th February 2022, the Riddler seemed to hi-jack the broadcast as a Bat signal appeared above the stadium and a new trailer took over the screen. The latest teaser gave more details to the steamy scenes between Batman and Catwoman, as well as Bruce Wayne's vengeful motives and the "scarred" past that haunts him as he flies around Gotham City.
How can I expect The Batman to be different from previous Batman films?
Reeves' take on the Batman character and universe as a whole has always seemed indebted to film noir and neo-noir, and if anything the new trailer deepens that connection. Much in the same way that Christopher Nolan's Batman movies used epic crime sagas like Heat to dissect the corruption in Gothan city on a macro-level, Reeves seems to be doing the same but from a darker playbook. Shot mostly in darkness, Gotham looks less like a bustling modern city beset by corruption and greed, and more like an ancient city of the damned, like Sodom or Gomorrah.
R-Patz has also said in interviews that his take on the vigilante hero will likely be more twisted than audiences might expect, recently sharing, "I want to do a really dirty, dirty, slimy Batman." We're ready if you are, Rob.
Who else is in the main cast?
Besides Pattinson and Kravitz, The Batman also stars Paul Dano as The Riddler, Colin Farrell as The Penguin, Jeffrey Wright as Lieutenant James Gordon and Andy Serkis as butler slash mentor to Batman Alfred Pennyworth.
When is the release date for The Batman?
The film is finally set for release in cinemas on March 4 and on HBO Max on 19 April.
Will there be a sequel?
Despite there being no official announcement yet, R-Patz recently told Den of Geek about the villains he could see himself facing off against in a potential sequel to The Batman. "I'd love to do something like Court of Owls," he said, referring to the underground society, appearing in a 2011 DC Comics horror story, that's secretly ruled Gotham for centuries.
The actor also mentioned the Calendar Ma, a villain known to commit crimes corresponding with specific dates and holidays. "There are elements of The Batman which are kind of horror and I think it really feels quite new for Batman," he added.