Fear Street is the Netflix horror trilogy about to ruin your summer
With a queer love story and a 300-year-old witch's curse, these three films look very good. We've got your first look here.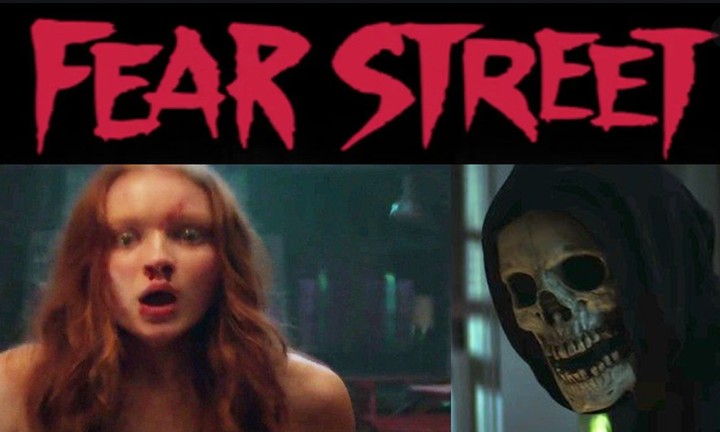 Prepare to feel sp00py in July – Netflix has just dropped the teaser for its new horror movie trilogy, Fear Street, set to be released over three consecutive weeks. The trio of movies could be one of Netflix's biggest drops this year, and promises as much nostalgia as Stranger Things, with each part set in a different era. Fear Street begins in 1994, with a group of teenagers who discover that the series of terrifying events (think: murders by possessed townsfolk) happening in their extremely creepy hometown, Shadyside, Ohio, may all be connected by a 300-year-old witch's curse. I told you it would be sp00py.
Fear Street stars Kiana Madeira and Olivia Welch as a queer couple from different time periods trying to navigate a relationship while evading some very evil forces. Joining them are Sadie Sink, also of Stranger Things, as well as other up-and-comers including Benjamin Flores Jr. and Chiara Aurelia.
The teaser gives a nod to iconic horror Scream, with actor Maya Hawke of Stranger Things fame answering a phone — cue heavy breathing down the line — before being attacked by a ghostface-masked killer.
Based on the children's book series of the same name by Goosebumps author R.L. Stine, the usually PG stories have been given a Rated R twist under the directorial vision of Leigh Janiak — who also worked behind the 2015 Scream TV series.
Part 1, set in 1994 and featuring a ghostface-esque murderer at a high school, will be released on 2 July with Part 2 taking us to a lakeside summer camp in 1978 on 9 July. Finally, as the surviving teens in 90s Shadyside figure out how to end the curse, we also take a leap back to the pilgrims of 1666 and a dramatic witch-hunt that started it all in Part 3 on 16 July.
"We filmed all three Fear Street movies over one crazy, bloody summer. It's a dream that audiences now get to experience the story in the same way," director Leigh said in a statement.
The theme of generational horror isn't a new one within the genre and the idea of sinister acts in the past creating dark malevolent energies in the present has been explored in everything from Poltergeist to American Horror Story. However, rather than implying at an ominous past, Fear Street will showcase its journey, travelling backwards in time to the town's original sin.
Filmed in Georgia in 2019, the movies took a bit of a hit when they were pulled from their initial release date of June 2020 due to the Coronavirus pandemic, however all three were quickly bought by Netflix who then narrowed the gap between films from monthly to consecutive weeks.
The trilogy also already has the approval of the creator of its source material, with R.L. Stine stating: "I can tell you the scares and the screams are more than I ever expected. What fun to see the horrors of Shadyside come to life!"
In the meantime check out the dark and menacing teaser for the movie trilogy below.