Help! I'm obsessed with... this Sims version of the Spirited Away bathhouse
There's something very satisfying about watching other people build your fave Studio Ghibli worlds on The Sims 4.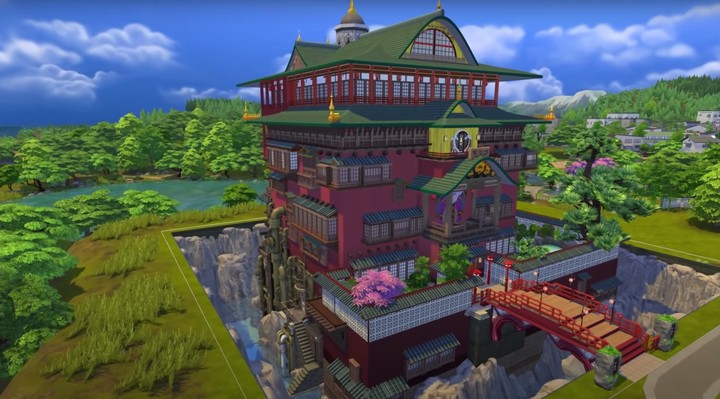 Image via Simproved
People purchase The Sims for many reasons. One might be that it's the year 2000, the very first instalment just launched on the PC and you heard that there's a cheat code that'll let you delete the shower while your Sim is in it, leaving them standing there fully nude. Sexy. Another very good reason for investing in what has broken Guinness World Records for 'Most Expansion Packs' and 'Best Selling PC Game' (it ranks 10th among the top selling franchises ever), is a global pandemic-induced lockdown.
Many of us have found ourselves indulging in gaming with renewed vigour over the past 12 months, and what better game to have invested both time and energy in than one of the most mindful? But what about those of us whose general apathy hasn't quite allowed for the determination required to persevere through building a whole damn house, let alone decorating, furnishing and then managing the lives of those living within it? It's time to say goodbye to your newly-granted freedom.
YouTube creators like Simproved (you'll also find her and other build wizards live streaming their work on Twitch and Discord) share captured footage of their best 'speed builds' to their channels. Note: these are not your average neighbourhood homes. "I'm Fry from Germany. I love playing The Sims," reads the bio of Simproved, who has almost 100k subscribers. "So I thought, why not film it and share the building process with you guys??" Cue hours spent watching her painstakingly create a Viking mead hall, the ultimate cottagecore fantasy home, the bathhouse from Spirited Away, the Coven from American Horror Story and the Spellman Mortuary from Chilling Adventures of Sabrina. The kind of things you could never build yourself, basically. This is real architect shit.
Many builders, including Simproved, upload their creations to The Sims 4 Gallery, so you can actually download them and let your tiny humans explore these hallowed grounds. Let's face it, commanding your Sim to feast in the bathhouse is probably the closest any of us are going to get to experiencing the Studio Ghibli theme park anytime soon; and lurking around chez Spellman is definitely something that'll help us work through the fact that Netflix failed to renew CAOS for season 5.
But it's not just fictional spaces that people are building on The Sims. "Imagine how fun it would be if you had the ability to actually have bands and concerts in TS4," mused Reddit user @rake-in-the-lake recently in an unofficial Sims subreddit with almost half a million members. Almost two thousand individuals agreed with the sentiment. Well, what if we told you that you did have that ability… sort of? London-based live music photographer Nina Rädel has, naturally, had a quiet year. Finding herself left with no gigs to shoot, she instead embraced gaming. "I've spent a big part of lockdown playing The Sims 4 out of boredom," she says. "I missed going to [East London DIY venue] The Shacklewell Arms, so I made a Sims version… people loved it and asked me to do other places." And that she did, crafting 11 much-loved independent music venues from across London, including The Windmill in Brixton, the VICE-owned Old Blue Last in Shoreditch and the shiny gold streamer-laden MOTH CLUB in Hackney.
While Nina doesn't share the process of building her venues ("I lose all track of time when I'm doing it, but I'd say they typically take five hours"), she shoots short films touring the space as though you were attending a gig there -- taking your Sim via the bar for a drink and then through to the event space, where you'll find Sim-versions of actual bands performing. Some of Nina's extremely well-done Sim gigs are fiction -- DFA have never played at Studio 9294, for example; but many, including Dream Wife at Peckham Audio, are Sim depictions of her favourite shows in recent years. "This was one of the few shows I got to see in 2020," she says of the latter. "The show had a lot more moshing irl."
But this voyeuristic Sim realm isn't all just individual gamers sharing their impressive builds for fun. Nope, in 2020, EA and BuzzFeed decided that there must be way more of us out there and so launched The Sims Spark'd, a reality show in which a group of 12 Pro "Simmers" (including the aforementioned Simproved) design not just homes but characters and whole storylines in order to compete for the $100,000 grand prize. The four-episode series was hosted, for some reason, by American Idol finalist Rayvon Owen and featured challenges with "unique themes" like 'Supernatural stories', 'Sell That Fixer-Upper' and 'Gender Not Required'. "The story is of a family bond that cannot be broken… even by death," says one contestant in the show's trailer, close to tears on presenting her storyline to the judges. Beautiful.
So what are you waiting for? Come join us in living vicariously through the people living vicariously through their Sims.
Follow i-D on Instagram and TikTok for more