Ray-Ban's new sunglasses let you take and share photos
Available in their most iconic styles, the brand partnered with Facebook on their new smart glasses.
|
09 September 2021, 4:04pm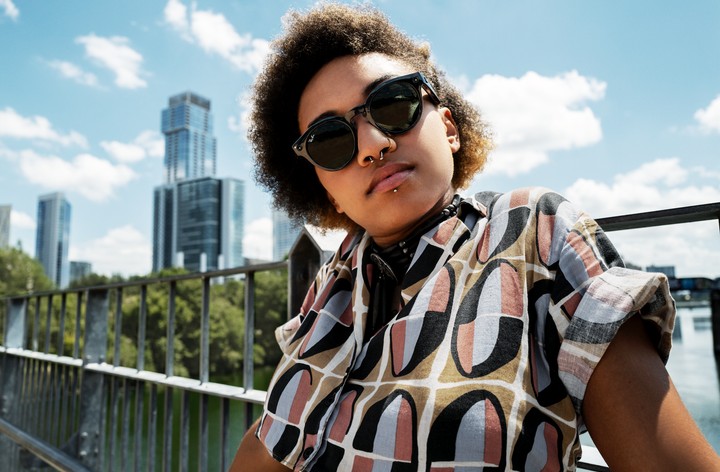 Image courtesy of EssilorLuxottica
Smart glasses have remained relatively within the domain of sci-fi movies and futuristic TV shows, but a new collaboration between Ray-Ban and Facebook hopes to change that with Ray-Ban Stories: glasses with an in-built camera, speaker and microphone. "We believe this is an important step into developing the ultimate augmented reality glasses," says Facebook CEO Mark Zuckerberg in an announcement video set to music that sounds like it was taken from an episode of KUWTK.
Launching today, the new smart glasses have a five megapixel camera on each side of the frame front that can be activated with the push of a button. The thought behind these being that you won't have to get your phone out every time you want to capture a moment for your "day in my life" TikTok, or watch a concert or event through your phone screen while filming. The photos and videos can be stored on a new companion app called Facebook Views that allows them to be edited and then shared across social media platforms. Additionally, in-built speakers and a microphone within the frame allow you to make calls and listen to music and podcasts. The glasses also charge in their case.
The first iteration of Ray-Ban Stories comes in the brand's iconically classic Wayfarer style, alongside other timeless models such as the retro Round and Meteor variations. Each style comes in three different colours and six different lenses that can be tailored to eye prescriptions.
Of course, such a device could raise some privacy concerns due to its discreet recording capabilities, but while the glasses might feel rather Spy Kids-esque, Ray-Ban Stories have a light on the front edge of the frame's rim that turns on while the device is recording or taking a photo, making them not so good for sleuthing. "When your glasses are off, they are completely off," Zuckerberg also promises in the announcement video.
"This is a milestone product that proves consumers don't have to choose between technology and fashion," says Rocco Basilico, Chief Wearables Officer for Ray-Ban's parent company, EssilorLuxottica. "They can live in the moment and stay connected while wearing their favorite style of Ray-Bans."
Rayban Stories are available in-store and online at rayban.com from today in the US, UK, Canada, Ireland, Italy and Australia, with plans to expand more widely soon.
Follow i-D on Instagram and TikTok for more on fashion and technology.
Tagged: