Photos courtesy of Imitation of Christ
20 years on, Imitation of Christ rises again
Tara Subkoff, Chloë Sevigny and Milla Jovovich on the art collective slash fashion label's legacy and how its eco-political ethos is more relevant than ever.
Photos courtesy of Imitation of Christ
Twenty years after its inception, Imitation of Christ has risen once again. The resurrection of the eco-political, art slash fashion label was inaugurated, naturally, by a protest-cum-fashion-show, held guerilla style under the sweltering heat of the Fourth of July and the shadow of the Hollywood sign. Both the date and location of the event were no coincidence. Spurred by the precarity and urgency of the current moment, around the world and especially in America, the second coming of Imitation of Christ -- as with the first -- aims to disrupt the status quo and to affect real social change, all in the label's signature grassroots, sartorially-inclined way.
Imitation of Christ (known as IOC) was initially conceived in 2000, the brainchild of art school dropouts and environmentalists Tara Subkoff and Matt Damhave. The duo, along with Subkoff's good friend Chloë Sevigny, met at a Locust show ("or maybe it was The Replicants," recalls Sevigny) at The Troubadour in West Hollywood in the late 90s. Months later, the pair founded IOC, an art collective slash fashion label hybrid, with Sevigny as creative director. Damhave recalls that the first night of working together on the project, he came up with the label's manifesto: "to put the human hand back into a world that reeked of the mass-produced manufacturing of disposable clothing," to "stand up against the wasteful production that has and continues to harm our planet." Twenty years later, Subkoff tells me over the phone, "We were young kids who were very focused on doing whatever we could to speak about waste and consumerism."
The execution was simple, if not completely ahead of its time: upcycling discarded or unworn garments -- from their own closets, cast-offs from friends and Salvation Army thrift finds -- into one of a kind, wearable pieces of art. Essentially, "to take refuse -- or "undesirables" -- and to make them desirable again," Damhave told The New York Times in 2000. Each IOC garment was re-worked, completely by hand and by a revolving door of designers and craftsmen, "Like Marcella Mullins, a vintage picker who also made clothing. And painter Lilly Ludlow," Sevigny says. It was a means of imagining and creating what we now refer to as a "sustainable" fashion label. "We were, essentially, the first people who started using the word 'upcycling', the word 'repurposing'," says Subkoff. Vogue Archive Editor Laird Borrelli-Persson corroborated this in a retrospective of the label's iconic autumn/winter 01 show: "Upcycling wasn't a word used in fashion then; people wore vintage, or they wore designer."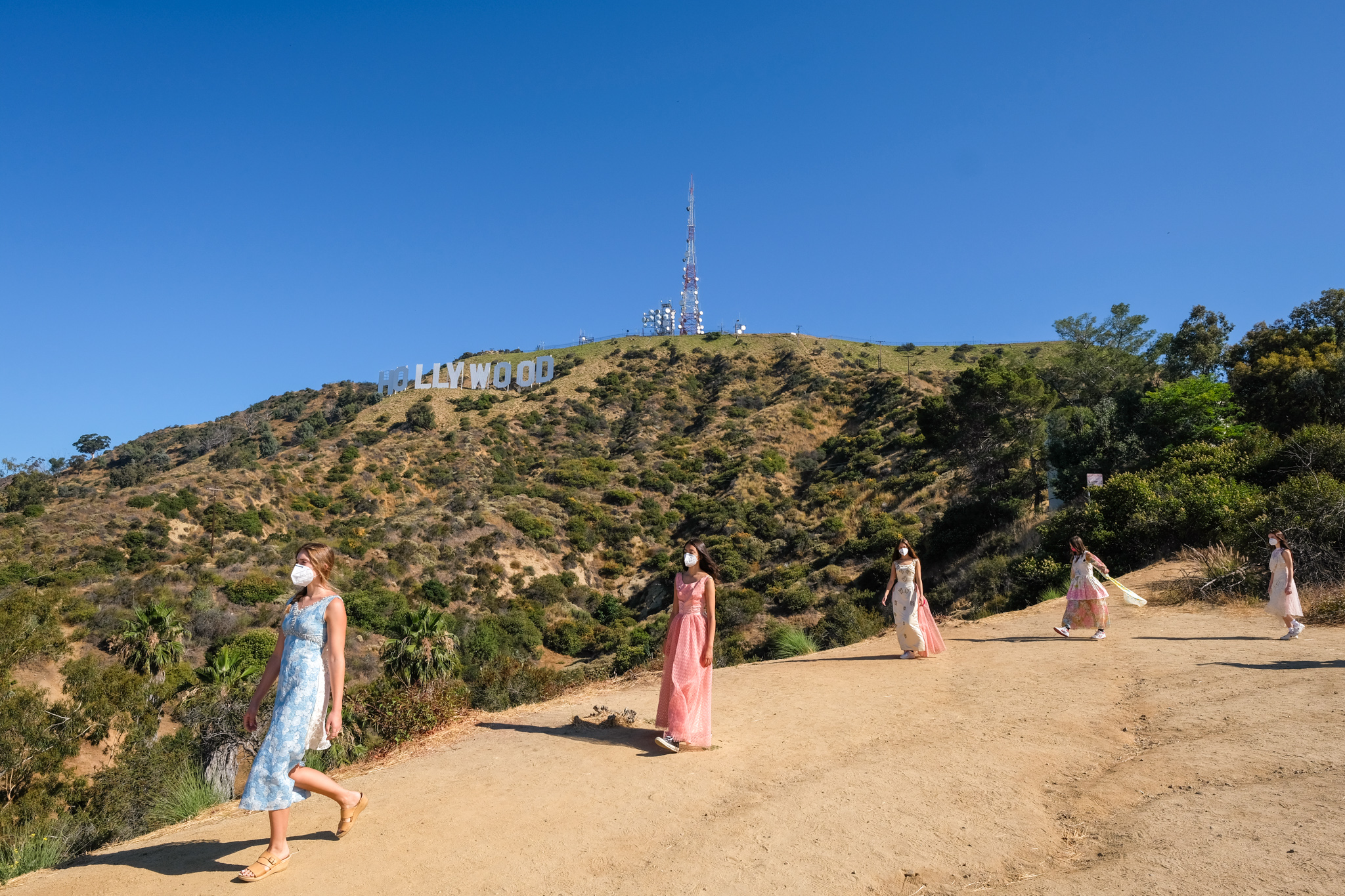 The label was also a means of turning the mirror on a fashion industry driven by hyper-consumerism, wrought with over-production and seduced by hype. While Subkoff says, she and Damhave considered each garment an artwork, due to their one of a kind nature, "We wanted to keep the label in high-end fashion boutiques and out of galleries -- maybe in some ways to a fault -- but I thought it was more important that it be understood as fashion because disposable fashion was rapidly taking over." Other iconic IOC pieces included a vintage Yves Saint Laurent button-down, scrawled with the slogan "Bring Me the Head of Tom Ford", which titillated the era's fashion editors, and a Bavarian tourist T-shirt, "customized" with a wine stain by Damhave himself. "I felt like they weren't given their due attention by the mainstream fashion industry," says Sevigny about the label. "I think it's because they couldn't be commodified because every piece was a one-off -- and quite expensive, I will say that."
Yet after the label's buzzy New York debut, after their pieces had been worn by 'it' girls like Sevigny, Devon Aoki and Milla Jovovich (who described IOC as "the brand to own"), buyers clamored for the label's creations; those who didn't arrive to the showroom on time were shut out. "What captured our eyes first were the garments. We noticed people wearing them, and then you start to investigate and you find out that the designers have this radical manifesto and that catches your eye, too," explained Barneys' VP of merchandising to The New York Times, in a quote that's a little too on the nose. Pieces sold at the retailer's Madison Avenue boutique (including a jumpsuit made from old sweatshirts and an off-the-shoulder cocktail dress) retailed well into the triple-figures. "The price structure is saying this isn't a disposable commodity,'' Damhave explained to The New York Times. Turns out the price-tags were, in part, the point.
Perhaps more important than the clothes in driving IOC's ethos home, however, were its theatrical, postmodern presentations: half runway show, half performance art piece, masterminded entirely by Subkoff. ("I love an event," she told W Magazine in 2015). Moreso than the garments, it was these events that garnered the brand most of its notoriety in the early-aughts. Fashion editors viewed them as curiosities and to New York's scenesters, they were the place to be. "I think that people in the know definitely appreciated everything IOC was doing," Sevigny says. "Especially the shows, and those were all Tara. She was really good at, season after season, coming up with challenging ways to show the clothes, to make it more of an experience and a performance piece. She's really brilliant in that way." The collective's very first presentation was staged in a Los Angeles subway station, where a 150-foot escalator served as a catwalk. Sevigny, who modelled in the show, described it as "renegade, dangerous, and fun."
Next season, IOC's first New York show took place in a Lower East Side funeral parlour, where models wearing upcycled LBDs (some more occasion-appropriate than others) circled a casket, mourning, morose and melancholic. For the label's autumn/winter 01 show, held in Manhattan's Clearview Theatre, Subkoff set up collection tables at the entrance, where attendees were asked to make a donation of at least $150 to either Sweatshop Watch or Free the Children, an international child labor monitor. After a relatively short catwalk, wherein models walked the theatre's red carpet in spangled evening gowns and cocktail dresses, they joined the audience to view a short film, starring Reese Witherspoon and Selma Blair, about the privileged lives of Los Angeles' elite, while a documentary about the unethical working conditions of Central American sweatshops was projected on the corner of the screen. The event raised $25,000.
Cathy Horyn called the label's spring/summer 02 presentation, "a hoot -- a reversal of the runway format," where models took on the role of bored fashion editors, looking on, judging, scribbling notes from the frow, while the real fashion editors shambled down the catwalk. Horyn got it: "In all the chaos, it was hard to focus on the clothes, but that was the point. How can those editors see everything when it's flying at them?" To Tara and Damhave, these situationist shows -- "making a spectacle," Subkoff elaborates -- were about sparking a conversation about the industry, or at least, making these editors and buyers think twice about the copious garments they peddle each season, at an increasingly frenetic pace. "What I love about fashion is the art form," Subkoff says. "I don't love fast fashion; I don't love consumerist-driven fashion. How they get people hooked and keep them on like junkies."
"And [fast fashion] has become pretty bad in the last 20 years," she continues. On its 20th anniversary, IOC's message feels more pertinent -- and urgent -- than ever. In fact, the label's 2020 relaunch was catalyzed by the Covid-19 pandemic, specifically by the social conditions it precipitated and the tensions it brought to a head. "I really feel for young people during this pandemic because it feels like their futures are on hold. They're frustrated; they're not able to individuate," Subkoff says. She's speaking about America's youth at large, but she's also referring to the teenage creatives she knows in her native Los Angeles.
When Subkoff learned that her best friend's daughter, Lulu Syracuse, was frustrated about having to move back into her childhood home after college, due to quarantine measures, Subkoff approached her about reviving Imitation of Christ. Syracuse jumped at the opportunity and recruited her best friend, designer Jersey Bond, and graphic designer Hudson Schaetzke, who began working on what would become the label's autumn/winter 20 couture collection. The designers worked ("Harder than they ever have in their lives, I think," says Subkoff) via Zoom, Instagram and socially-distanced meetings, to pull off the collection in an astonishingly short amount of time. "I want to be of some support for young people looking to be able to move forward and to do something themselves. This is a way for them to have a voice. These are supercharged creative young artists who had something to say and needed a platform during an incredibly challenging time on the planet. All the young artists who worked on this show are also protesting for their futures," explains Subkoff, who, to inaugurate the completion of the trio's debut outing, named them as the label's new creative directors. A passing of the torch, if you will.
Presented two days before Paris couture week, the collection was titled "Americans Not Allowed in Paris", a reference to the EU-instated travel ban and likely a jab at the stuffy, undemocratic fashion system the Chambre Syndicale de la Haute Couture represents. The collection itself -- shown in IOC's now-hallmark guerilla manner -- was hand-sewn and pieced together completely from the teens' own closets, from friends' wardrobes, from Subkoff's immense vintage archive. All in the same way Tara and company did it, back in the day. Asymmetric blazers draped in slices of lace and tulle, slashed-up sequined dresses, distressed jeans -- all familiar to the IOC lexicon, but updated for the now. Slogans -- an IOC signature -- were scrawled in protest across duster jackets and evening gowns. The hem of a skirt read: "The more you consume, the less you live." Across the back of a green jumpsuit: "FUCK ICE." One model walked down the sandy catwalk, raising a fist in resistance.
And the activism didn't end there. The collection came together with the intention that all profits would go to charity. On July 21, the label auctioned off its "Americans Not Allowed in Paris" pieces via Instagram, with all proceeds benefiting Black Lives Matter.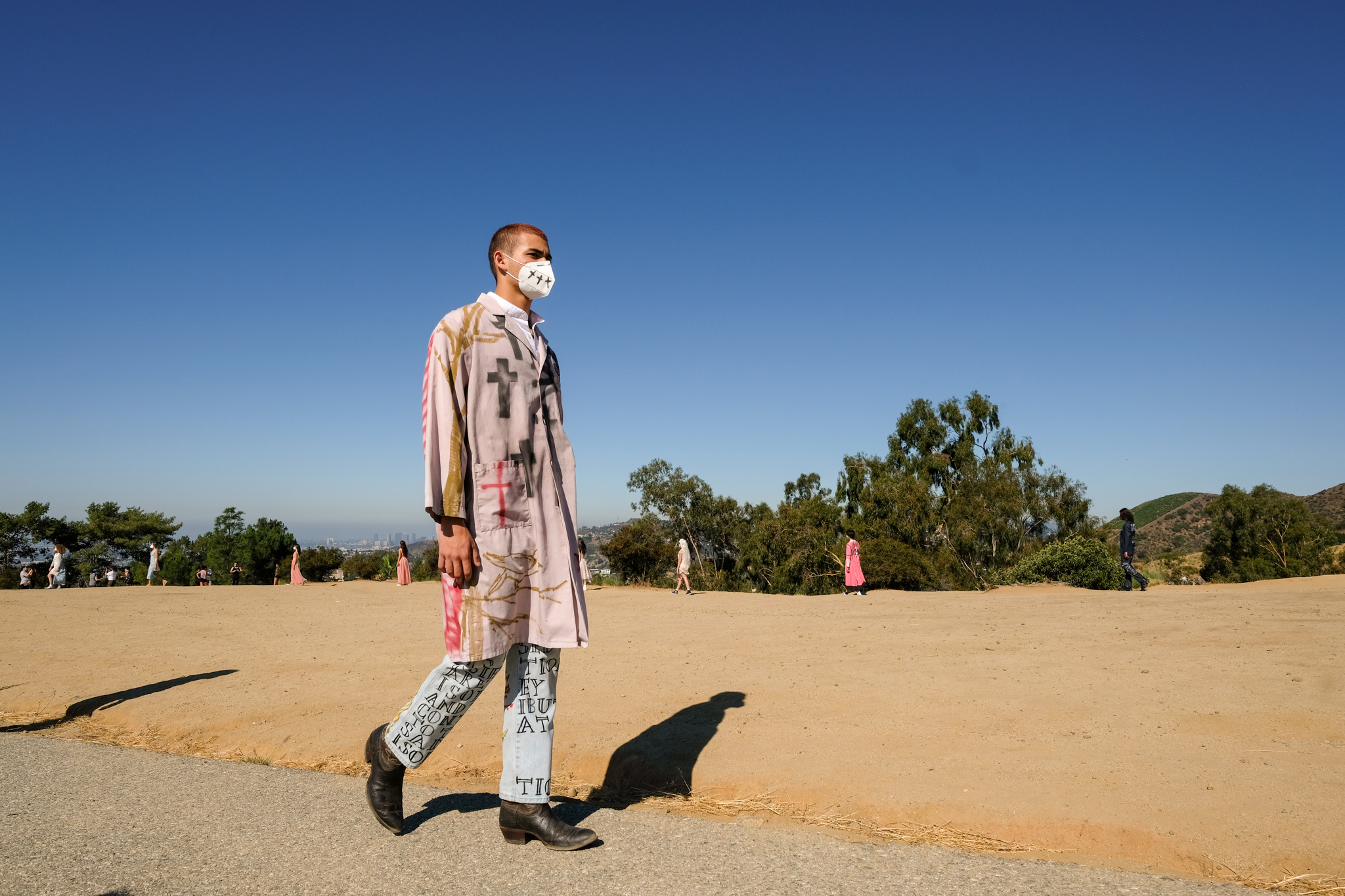 Echoing IOC's former glory days, Subkoff distills the reincarnated label's ethos, "The message is simple, from all of us: it's a small, grassroots, situationist way to try to make the world a better place, so that the younger generation can inherit something better than what we inherited, rather than something that's in shreds." With sustainability finally a massive topic of conversation within the fashion industry -- from the forced labour of Uyghurs in the Chinese factories that supply Zara and Nike (among others), to the fact that clothing manufacturing is one of the world's most pollutant industries -- IOC's message is more relevant than it was 20 years ago. "Back in the day, we were kind of like Greta Thunburg, asking 'Why are we consuming so much at such a rapid rate? How is no one doing anything,'" Subkoff explains. "Now, our problems have become even more severe. It's becoming very clear that we have to make drastic changes in how we live and how we consume."
As for the future of IOC, Subkoff envisions it, once again, as a collective; "a movement," she calls it. "It's an incubator, a platform for different young people to have a voice and to make things, to stay on for one or two seasons and then to have some new young people move forward." And while Subkoff remains unsure about the future of the fashion industry at large, if there's one thing she believes in, it's the power of youth: "I do think that the voices of the younger generation, how passionate they are about affecting change and how willing they are to work for that, that is our hope," she says. "That is truly our hope."