Lili Reinhart isn't afraid of a sad ending
In 'Chemical Hearts', the 23-year-old takes on her first lead role in a movie. Here, she talks about her insecurities as an actor, learning from heartbreak and writing her own poetry collection.
|
03 September 2020, 11:41am
Without giving too much away (spoiler alert here, right in the first line) Lili Reinhart's latest project, the Amazon Prime teen love story Chemical Hearts, does not have a happy ending. Far from the 90s and 00s romcoms we know and love, the star crossed teens — Grace, a mysterious loner with a limp, played by Lili, and her beau, shy and complex Henry, played by Paper Town's Austin Abrams — do not emerge from the fog of their respective individual problems to find that love conquers all. They do not discover the depths of desire and offer platitudes on meeting your soulmate before being old enough to legally drink. And that's okay.
"It's very real," Lili says over the phone from Canada, where she's quarantining with Camila Mendes and Madelaine Petsch ahead of resuming filming on season five of Riverdale. "I like that the ending is not tied up with a pretty little bow, because life rarely works out that way. Especially in young relationships, especially in high school. That's usually when people experience their first heartache. But although there's not a traditional 'happy ever after' ending, Grace and Henry still learn from each other and grow. I personally believe that even in failed relationships, you should learn something from them."
Over the course of Chemical Hearts, based on a YA book of the same name by Krystal Sutherland, Grace and Henry do learn from each other as they strain towards adulthood. Grace — secretive and dealing with emotional trauma and PTSD — struggles to connect to Henry and her classmates, but as joint editors of their school newspaper, they work together on an issue exploring mental health and the biochemistry of adolescence. In taking on the role of the complicated, insular Grace, Lili drew on her own teenage experiences. "Grace really wants to be happy. I could feel her fighting to be happy, you know, and it kind of feels like you're swimming against the current," she says. "When you're experiencing depression or grief, you keep getting swept back in and that's really how depression feels."
"I really struggled to navigate my own emotions as a teenager," Lili adds. "I wasn't taught about mental health in school. I don't think anyone really is. I hope that that's changing, and that mental health issues in teenagers are taken more seriously and normalised. I went through one of the worst spells of depression in my life when I was 16. And I felt like I wasn't necessarily taken very seriously, just because of my age. I think that that's something we need to explore and talk about — especially in films — the depths that young people are able to feel. Clearly you're able to feel heartache, and that shouldn't be dismissed because you're young. It's incredibly important that we validate young people who are going through trauma or break-ups; it really is a foundation for the rest of your life, and for how you view heartache and pain."
Chemical Hearts, released on Amazon Prime a few weeks ago, is not only notable in its departure from the quintessentially happy ever after teen romance storyline. The film is also one of a growing number of 2020 titles that dropped without a red carpet or a traditional press run. Instead the restrictions put into place by the COVID-19 pandemic meant the film's release came with a relative lack of fanfare. "It was a bummer we couldn't have a big premiere all together," says Lili. "But it didn't necessarily bother me that the movie came out like this. I think, especially now, people are looking for escapism. We want to get lost in another world, we want to be taken away from whatever we're experiencing, and we want to be entertained. So hopefully it provided a little bit of entertainment and distraction from the otherwise crazy world we're living in right now."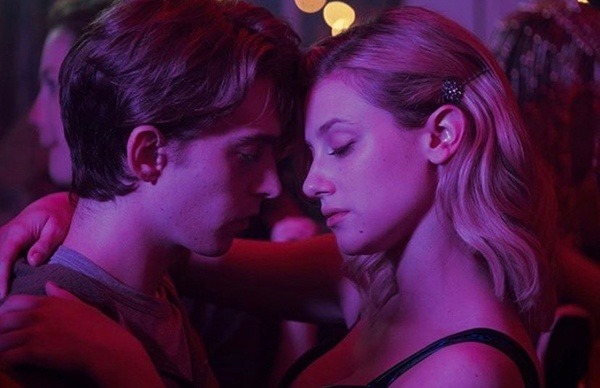 As Betty Cooper in Riverdale, Lili is used to fitting herself into a role that, frankly, is great escapism. The CW show is notoriously extra — The Black Hood, fizzle rocks, Dark Betty, we could go on — and audiences love it regardless. But taking on the character of Grace is a new experience for Lili. It's the first time the actress, used to performing in an ensemble cast in Riverdale and 2019's Hustlers, has taken the lead role in a film. And she's open about how daunting that experience was. "This film was intimidating to me," she admits. "I felt like I was looking for validation through its success, and I felt very unsure of myself as an actress at that point. I felt a lot of insecurity over whether I could play the lead in a movie. As I started filming, I very much eased into it and let that go. I watch it back with a critical lens but I'm happy with my performance. I just view it as a kind of art."
Acting is not the only art in Lili's life. Alongside her work in film and TV the 23-year-old is also preparing to release her first book of poetry, Swimming Lessons, after some unexpected COVID-related delays. "Writing is really new to me," Lili says, nervous about the foray into a new medium. "I definitely feel more confident as an actress than I do as a writer. Putting myself out there in the world in this way makes me feel vulnerable, but I'm trying not to take myself too seriously. I just think, if my poetry can bring some comfort to someone, something they can snuggle up with on a rainy day, then that's all I can ask for. I'm not looking to be a poetry scholar or one of the greats. I just process emotions on a really deep level and I wanted to put my point of view out there. It does feel very vulnerable though, and I'm definitely scared."
Fear, sadly, has been the go to emotion of 2020. We're scared of close contact, scared of getting sick, scared of being trapped inside and bored forever. But tentatively, we're hopeful too. The world is beginning to reopen (carefully, we hope) and we're reminding ourselves and each other, in the unprecedented times we keep hearing about, that putting ourselves, our points of view out there is important, even if it is scary. Lili, sequestered away permanently in Canada until Riverdale resumes filming on 14 September, is similarly uncertain about how things will look for the rest of this year. "I've been FaceTiming my friends in LA a lot," she says. "I probably won't be able to go home for Thanksgiving this year because of COVID. We can't actually leave Canada, now that we're here, which is very daunting and kind of terrifying. I definitely have a lot of anxiety, and it's scary, but I can only hope that we're all going to be okay. We'll see."
Chemical Hearts is available now on Amazon Prime.