Photo courtesy of Vera Powley.
Meet 7 of New York's standout fashion graduates
It may not have been an ideal final semester, but these young designers managed to create their senior collections during lockdown.
Photo courtesy of Vera Powley.
"Throughout my whole time at Pratt, I was looking forward to my senior collection," recalls recent BFA Fashion graduate Hannah Thomas, summing up a sentiment held by fashion students across the globe. The senior collection and, more importantly, the "final show" is a fashion school rite of passage. To be able to finally present your creative vision to a crowd of teachers, peers and press is a climactic send-off to years of hard work and dedication. However, for the fashion grads of 2020, their years of toil didn't culminate in the much-anticipated final show. Due to Covid-19 lockdowns, fashion schools from New York to London were forced to shutter their classroom doors and cancel their senior shows. And the city's top fashion schools -- Pratt, FIT and Parsons -- were no exception. Separated from their studios, sewing machines, materials and models, NYC's class of 2020 persisted -- and got creative with their thesis collections. Did we expect any less?
If we've learned anything from interviewing them, it's that these fashion grads are a resilient and optimistic bunch. Here, we speak with seven standout talents and quiz them on the stories behind their collections, the impact of the lockdown on their final year and their hopes for the future of fashion.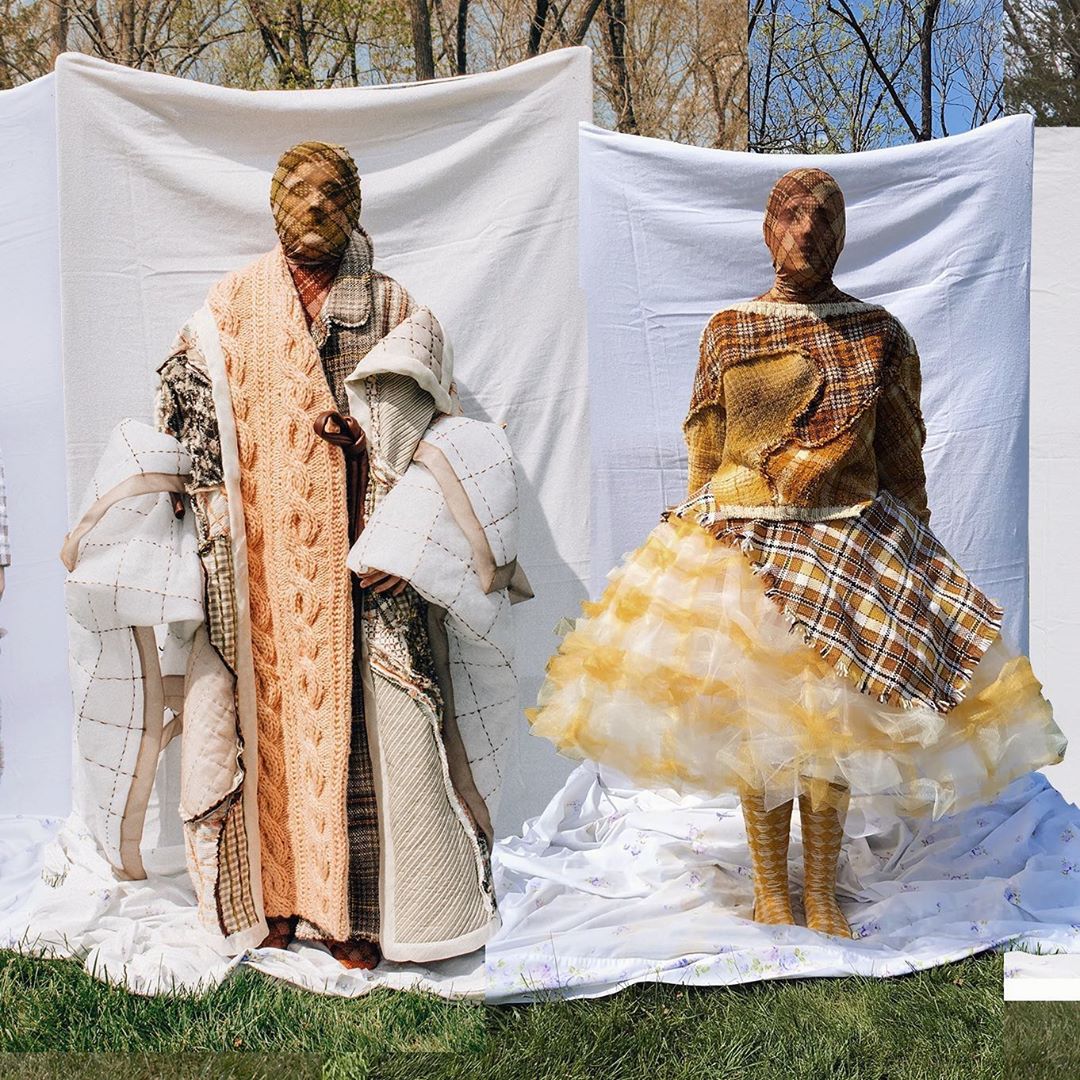 Juliana Gogol, Pratt Institute
"My thesis collection is about the mental space I've been in this past year, about to graduate from college and transition into adulthood. I wanted this collection to feel sentimental and dreamlike, embodying both excitement about the future and nostalgia for my childhood. In a lot of ways, Covid-19 has felt like an extension of this state: the whole world feels like it's holding its breath, either trying to cling to the past or conceive of a 'new normal', a future that feels really hard to imagine right now."
"Covid-19 caused a lot of people to slow down and move through life more thoughtfully. As someone who's always working overtime, this crisis forced me to cut down on my expectations [for myself] and only make what I thought was absolutely necessary, using only the materials that I had available. Due to social distancing, I had to model my own collection -- not something I would ever do under normal circumstances -- which led me to make accessories that would hide my face, and I think they added a lot to the final shoot. This situation has forced a lot of people out of their comfort zones, which is sometimes when you find the most creative ideas."
"As the next generation of fashion designers, we have not just the opportunity, but the responsibility to push for change from within. It will be on us to remember this moment and hire diverse design teams full of different perspectives. We [will] need to make choices that are ethically and environmentally responsible. This generation, and maybe our class in particular, is acutely aware of the issues in the fashion industry right now, and instead of complying with the status quo we need to use the power we have to push for change as hard as we can."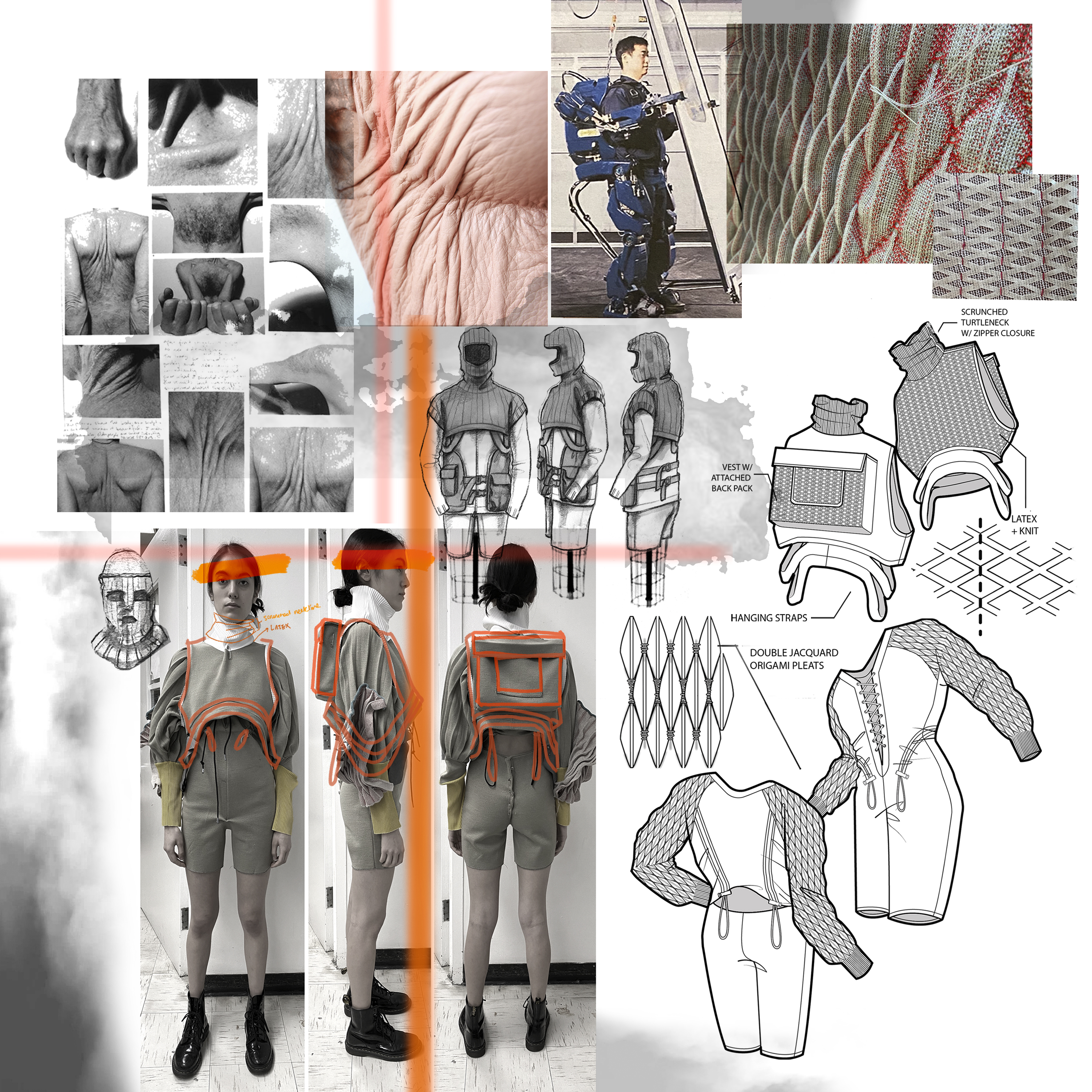 Euijung Jung, FIT
"My graduate collection features knitwear inspired by protective clothing and gear such as body braces and hazmat suits. Humans weaken as the environment affects us in complex and unpredictable ways. The designs and material selections were chosen to cater towards functional characteristics under diverse, hostile conditions and activities, as if to create a 'second skin' protecting the human body."
"After my collection was completed, I had to figure out a professional and efficient way to present my work from home since the senior runway show was cancelled. I thought that 3D garment simulation software, Clo3D, could be a clever way to present my final collection because the process didn't cost me anything and I didn't need to worry about in-person interactions. I taught myself Clo3D through YouTube videos while staying at home under quarantine and used the program to present my final collection."
"Coming from a monoethnic country, Korea, I wanted to study in the US because of its diverse cultural values and respect towards individuality. Ever since I came to the US, I started to face racism, directly or indirectly, that I had almost never experienced in my life. It seems like certain races are perceived to behave in a certain way or have certain personality traits. The problem is that this kind of stereotyping or judging of specific races has been prevalent for so long that it's not always considered to be a problem. While studying fashion, I constantly contemplated what is considered to be more beautiful or supreme than the rest, and where these ideals and supremacy stem from. Because the fashion industry has fostered the idea of uniformity in beauty universally, we are used to consuming Western notions of beauty. With this pandemic, problems that the fashion industry has had for a long time have surfaced. There is a lack of diversity and a wasteful use of resources due to overproduction.
The sudden wake-up call to our own reality has provided the opportunity to change things that we refused to change before. The younger generations are utilizing digital platforms and raising their voices, calling for stronger changes in the fashion industry and reminding industry professionals to be aware of their social influence and responsibility... As a designer, I feel responsible to be fully conscious of unconscious biases and reflect upon the ways of infusing cultural diversity into my perspective, rather than just passively accepting a narrow and pristine image of fashion. Constantly studying and adapting sustainable solutions and innovative technologies to produce fashion is a huge part of my responsibility and commitment."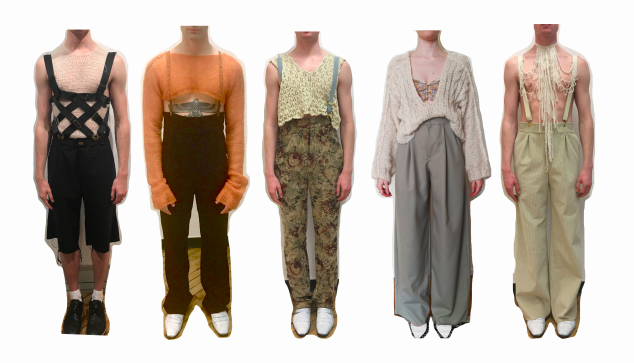 Hannah Thomas, Pratt Institute
"My graduate collection is entitled 'Augury', which means to predict the future. Specifically, I looked at how nature will find a way to reclaim itself even when met with obstacles like concrete and pollution; despite the destruction there is beauty. Visually, I'm drawn to the whimsical ivy-covered cottages of fairy tales, and I'm interested in exploring how they act as the polar opposite of the concrete jungle I call home."
"When everything shut down, being closed out of Pratt's studios was hard to come to terms with. I was incredibly lucky that the bulk of my collection was nearly complete other than some machine knit pieces I was programming. With these setbacks, I was forced to look at processes I had access to, like hand knitting and cross stitching. In the end, the pieces created during quarantine became some of my favorites of the collection. Despite the turbulent ending, I am happy with what I was able to accomplish."
"I hope to see continued expansion of the diversity not only on runways, but behind the scenes as well. While models can often be seen as the face of the industry, designers and their teams can still be incredibly exclusionary. Fast fashion is also an insanely toxic system, not only in terms of sustainability but also in terms of human rights and racism. I'd love to work in a made-by-order system, particularly within knitwear. Fully-fashioned knitwear creates little to no waste and has potential to be the future of sustainability."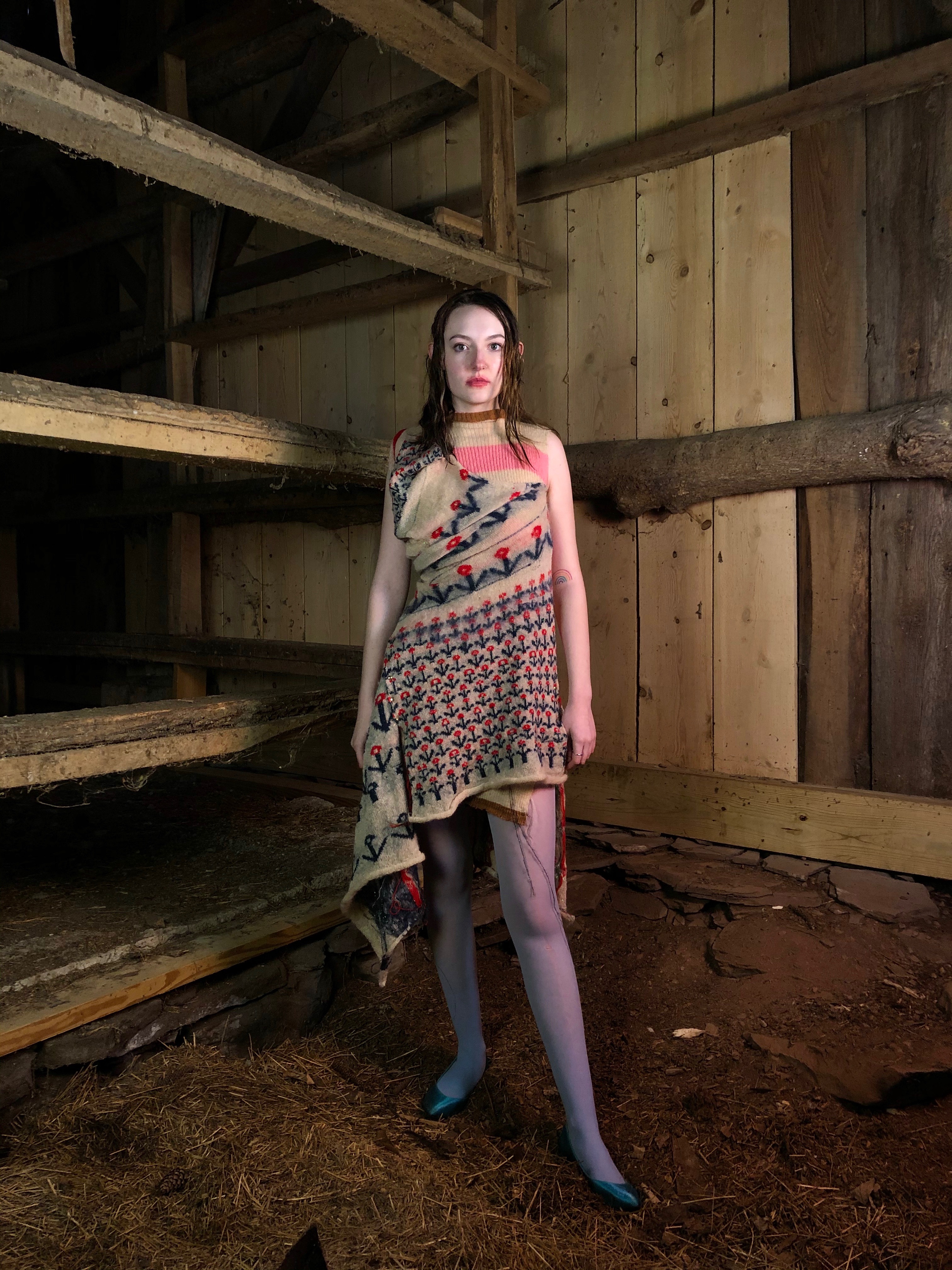 Vera Powley, Parsons School of Design
"My collection was a culmination of my lifelong interest in art, collecting and my hometown. I brought these ideas to life in hand-painted slick latex "canvases" draped on the body on top of my own embellished knits. I have always been very interested in Folk Art, and the ways in which people can make beautiful objects with limited resources. In a way, coming home with restrictions caused by Covid-19 have put my work in a new and relevant context, and made the experience of making come full circle."
"Limited resources due to Covid-19 restrictions, and my return to my childhood home influenced my color and material selection. I live on a dead end street in a very rural area, so this seclusion, supplemented by the natural beauty of the surrounding landscape, emboldened me to create more interesting outcomes. Scarecrows fashioned from barn debris and painted wire mesh masks inspired by the Oddfellows Society, as well as my sister, Lane, modelled the collection."
"Covid-19, as well as the calls for justice, equity and diversity have all put fashion in a new context. On one hand, fashion seems frivolous and unimportant, but it is also a great form of self expression and a bearer of immense joy and excitement. It is now apparent that fashion does not need to be cyclical— seasons are irrelevant and fashion designers and consumers should be motivated by new ideas and feelings rather than trends. I think a drive towards sincerity in forms of independent designers, small batch making, hand making and an emphasis on storytelling in fashion is imminent. People will demand an emotional connection with clothing, and the way they dress [and] buy, and which designers they choose to support, will reflect this."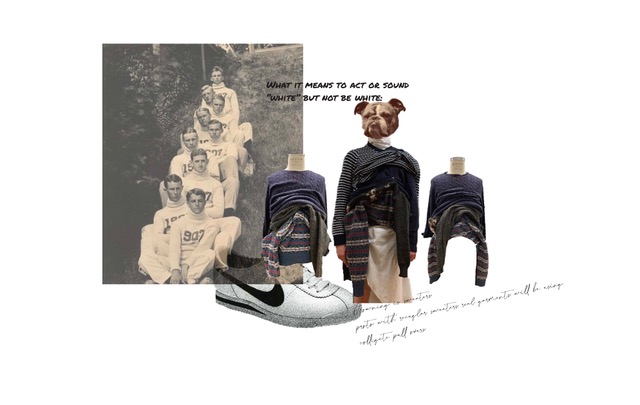 Corie Borgerhoff, Pratt Institute
"The concept behind my thesis explores my experience growing up a young Black woman in a white family, how that has affected my opinion of myself and how others see me. I'm challenging myself with this collection to share my response to many of the racial comments and stigmas of my past and present from acting or sounding 'white.'"
"Completing my thesis under quarantine was definitely a puzzle. I wanted to finish all my garments, which meant I had to get creative with where I was sourcing fabrics. Being in the same tiny NYC apartment put a damper on my inspiration and motivation to complete the work, but ultimately I was determined to follow through with some of the most important and exciting work I feel I've done!"
"I envision a future in the fashion industry that has more representation of designers and creatives of color. Covid-19 has brought many people together through a shared experience and it's definitely making people more aware of the impact fashion has on our world. I see myself contributing by trying to support and lift other designers of color. I didn't see many people in the fashion industry who looked like me when I was deciding to make this my career path, so I think it's super important that I give hope to someone down the line to also chase their goals, even when they don't see themselves represented in that field."
Melissa Posner, FIT
"For my thesis collection, I wanted to explore the personal relationship between me and my twin. It's a one-of-a-kind connection that has cultivated safety and wonder in my life. I illustrated the comforting and repetitious (or 'twin' like) nature of this relationship using a voluminous silhouette made up of multi-layered knitted sleeves and panels. It's difficult to describe in words, but I wanted viewers to understand the language and story between twins."
"As a knitwear major at FIT, I had access to large spaces to work, many different knitting and linking machines, yarn and other equipment. At home, I had access to one knitting machine and a small space to work. I even had to simplify one of my looks to accommodate for time and lack of equipment. Despite my lack of resources, quarantine taught me how to be more flexible and efficient in similar situations where I have to quickly adjust."
"I think the pandemic has really provided the much needed push for companies to become more aware of how they produce and how they represent their brands. In terms of sustainability, I see the industry becoming much more digitized and companies resorting to other sustainable methods such as on-demand manufacturing and using recycled fabrics. I also see most or all companies aspiring to represent all ethnicities and races in a way that is not half-hearted, but in a positive and genuine light."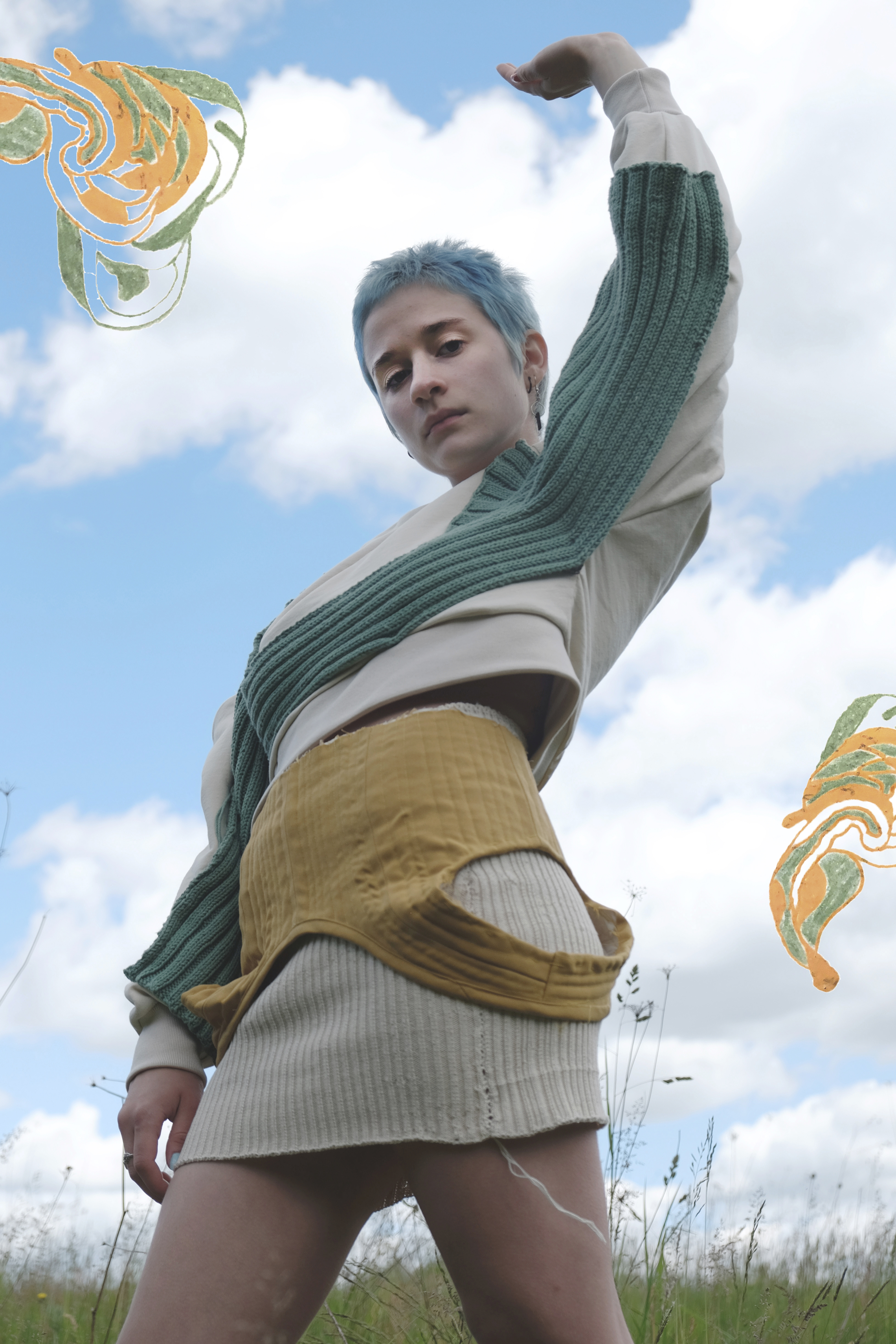 Georgia Baltay, Pratt Institute
"My thesis collection, titled 'symbol project', is about the layering and division of physical space. I began looking at architectural and spatial theory, intro to interior design books and flattened 18th century corsets. The negative spaces, seam lines and floor plans all seemed to relate to me. The collection became an exploration of how interior spaces are divided and expressed. How are they both functional and arbitrary?"
"Due to lockdown, I had more time to sit with the garments and it no longer felt as important to show them on a body. The pieces started to feel like objects, individuals that could coexist with other things I was working on, like my symbol drawings. I ended up working with my brother to create a virtual try-on-slash-collage website with my pieces and outdoor settings from my hometown. That way people could still try the pieces on a photo of themselves if they wanted, or collage with the items how they see fit. It definitely ended up very different than I had originally planned, but felt very refreshing."
"Covid-19 has altered the industry, but more importantly it has exposed a lot of issues that were always there. I see a return to craft and small scale production. A focus on alternative views of fashion. A quieter beauty and more care. More accountability when it comes to representation, ownership and production. A recognition of the privilege that comes with fashion schooling and interning, including my own. Paying attention to material, where it's sourced, and how to use less of it. Reducing carbon footprints, producing locally and crediting the people who are contributing to our work."