This TikTok duo are creating the most gen Z love story ever
Boy meets girl. Boy makes TikTok. Girl duets TikTok. The rest is history.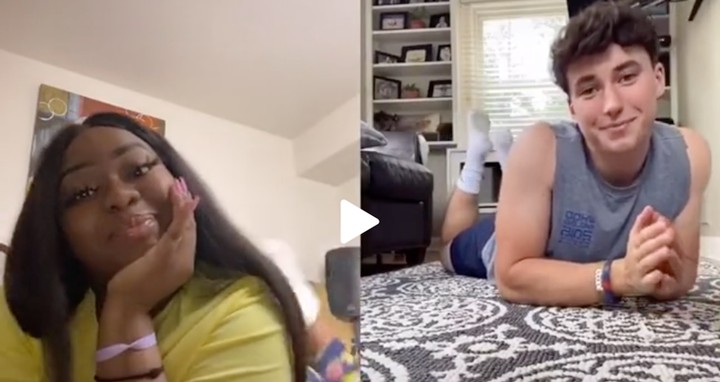 There isn't yet a gap TikTok hasn't filled in the existential void of online culture. Memes, lip syncs, and nearly every new pop culture reference either starts from the app, or finds its way there.
One of the latest TikTok trends entertaining people has been "Tevin", the ship name for Tati Mitchell (@thereal_tati) and Devin Caherly (@devincaherly), two TikTok performers who have used the app to produce a love story like no other through a series of 'duets' -- whereby one user responds to another's in a simultaneous split screen video.
Devin, who is 19 and lives in New Jersey, gained popularity and over 2.6 million followers by creating "POV videos". While these range in tone and seriousness, the general idea is that these are set up to be duetted and reacted to (e.g: he's the CEO of a company and you mistake him for an assistant. It's your wedding day, and he crashes it to confess his love for you).
That's when Tatayanna, who goes by Tati, entered. Originally, the 21-year-old from Michigan started making content on her cooking page (@goodeatswithtati), "just for fun at first". What was originally meant to be a backup page, on the account @thereal_tati, has now become her main platform, with over 3.1 million followers. Tati has made duetting POV videos an art form. Her most popular uploads, amassing over a million views each, are her duets to Devin's POV videos.
Tati's reactions are charismatic, comical and a dramatic contrast to the production of Devin's earnest and serious POVs. It's not that any less thought goes into her videos over Devin's. Rather, Tati's duets feel like organic reactions, thought up on the spot. It's usually just her, holding the camera in selfie mode.
What drew her to his videos was that she found herself laughing watching them. "I thought they were funny because he always cried in his videos and it made me laugh out loud," Tati says. "His videos are extremely unique. He puts a lot of time into them to make them perfect. I respect him for that."
"Tati does it right," Devin says. "She makes it funny. If you're funny and don't try too hard, people will like it. If you think ahead and work together, two is always better than one when it comes to promoting yourself. That's what we did. With reaction videos, people just react to random POV vids and end it there. Not with me and Tati though. Her reactions to my videos kind of started making a storyline, so I'm going to continue to rely on that and add on to it. And that's what I did."
The premise struck romantic comedy gold for the pair, and it wasn't long before Devin caught on. Thus, "Tevin" was born.
TikTok couldn't get enough of these two. "The duo that CARRIES this entire app??" one user commented on a video of Tati and Devin dancing. Another has the comment: "Y'ALL SHOULD GET MARRIED." Comment sections are flooded with users asking for wedding invites, praying that the relationship is real. And their solo videos get the same reactions. In a video where Tati attempts to learn a TikTok dance, a user comments that she should "ask Devin to help [her]".
Devin admits that he's at a loss with how to handle the comments. "I don't know what to think about them," he says. "Half the people think it's a joke and the other half take it seriously. I don't really know. The younger audiences probably think we're going to get married or something."
Tevin shippers aren't just confined to TikTok's comment section. A couple of weeks ago, Devin posted a TikTok video saying that if it got one million likes, he would "fly out Tati to New Jersey to start this crazy journey". To date, the video has over 1.2 million likes.
So the pair met and documented Tati's visit last month in a series of TikToks in which they danced, lip-synced to songs, and even teased fans with a video where they pretend to almost kiss. Both creators also collaborated on videos for each other's YouTube channels: Tati did a "TikTok boy friend tag"; Devin documented their first meeting and a Q&A.
Devin says his first impression of Tati was that she was "a lot shorter" than he expected. "It wasn't really my first collab, but my first huge thing where millions of people were watching," he adds. "I was very excited but nervous to meet her. Someone leaked the address, so there were a lot of supporters outside the hotel and I met a bunch of people. It was crazy because we walked outside and there were like 80 people waiting. We were like, 'what?!'."
Tati also admits to being grateful for -- but overwhelmed by -- the reception. "Becoming viral has been insane, because every time I go out I get recognised, and I never thought that would happen to me. Yes, at times it is very overwhelming with all of the emails I receive, and also trying to communicate with my followers -- the Tati Tots -- but at the end of the day it's all worth it and I am beyond grateful God has given me this chance to shine."
Duetting POV videos isn't a trend that was pioneered by the pair, nor are they its only participants. Creators like @tyler.brash, known for his more intense take on the trend (videos include "POV: The FBI kidnaps me and wants me to post publicly that TikTok is bad for our country"), and @jordybouletviau, who boasts 3 million followers, are other famous contenders on the scene. However, Tevin have become the de facto leaders of a certain subsection of the movement. "I don't think it's really been done before. A POV action back and forth," Devin says. "It was pretty new for a lot of people, and a lot of people thought it was funny. They were so fascinated about this storyline. And I was like 'OK Tati, let's keep on doing this'."
So where does the future for Tevin lie? While Tati and Devin haven't revealed anything concrete yet, they promise this is "definitely not the last of Tevin", and that people will have to "wait and see" what comes next.
But the TikTok romance has recently been on the rocks, with Tavi making duet videos with creator Zach Jelks (@undos) as well. In fact, Tati has made a number of videos about her inability to decide between the two men and calling for a TikTik Bachelorette show (she is accepting audition tapes at info[dot]tatitok@gmail.com). Meanwhile Jelks and Devin have responded with TikToks pushing for her to choose 'Tevin' or 'Zati' and roasting each other. Viewers rushed to proclaim their allegiance to Devin, who some claim "made Tati famous".
Feeling the ground rumble beneath their feet a little, both Tati and Devin have made TikToks commenting on the news that the Trump administration may ban TikTok. Devin created one, in which he comments: "Can't believe I'm going to lose all the memory's [sic] I made with Tati #tevin4life (follow my insta and youtube link in bio)". A Twitter user by the name of @nelsymoraless sums up the general sentiment felt by fans perfectly in a Tweet: "Now that tiktok is dying i just want to thank tati and devin for carrying tiktok for the last 3 weeks".
Tagged: